What Are Indiana Sports Betting Bonuses?
Sports betting bonuses, especially welcome bonuses for new members, are marketing tools used by sportsbooks to recruit players. They are designed to peak the curiosity of the public by offering them the chance to win extra money, or make special savings.
Since 2019, sportsbooks in Indiana have been putting together welcome packages and other bonuses to get players through the virtual door.
This page is designed to give you a comprehensive overview of betting bonuses in Indiana.
In addition to looking at how bonuses work specifically in the Hoosier State, we've also included some information about sports betting bonuses in general. For a more in-depth explanation, check out our full guide to bonuses.
Who Qualifies for a Betting Bonus in Indiana?
To gamble on sports in Indiana you must be at least 21 years old, and the same applies to creating an account with a sportsbook and claiming your bonus. Mobile betting is also permitted, and bonuses are also available on the dedicated sportsbook apps.
Some bonuses can only be claimed using a special link or code, the latest of which you can find in our full betting guide to Indiana.
It's also worth remembering that some sportsbooks don't let players qualify for bonuses until they have fully verified their identity. Verification is standard procedure for all online sportsbooks and casinos, and may involve providing personal info like your SSN number or a copy of your driving licence.
How Do I Claim my Indiana Betting Bonus?
Each bookie is different. Some credit your account with bonuses automatically, and don't require any action on your behalf. Other times, to claim a welcome bonus you need to type in a special Bonus Code during the registration process, which triggers your bonus.
Then there are regular bonuses that sportsbooks offer existing players, which may be credited automatically or may require you to opt-in either in the cashier or betslip. There are also some bonuses that require a special link to access.
Whatever sports betting bonuses are on the go in Indiana, you will find them in our full guide to betting in the state.
If you're looking for football bonuses and promo codes, we have a perfect guide for you with the best Indianapolis Colts sports betting bonuses!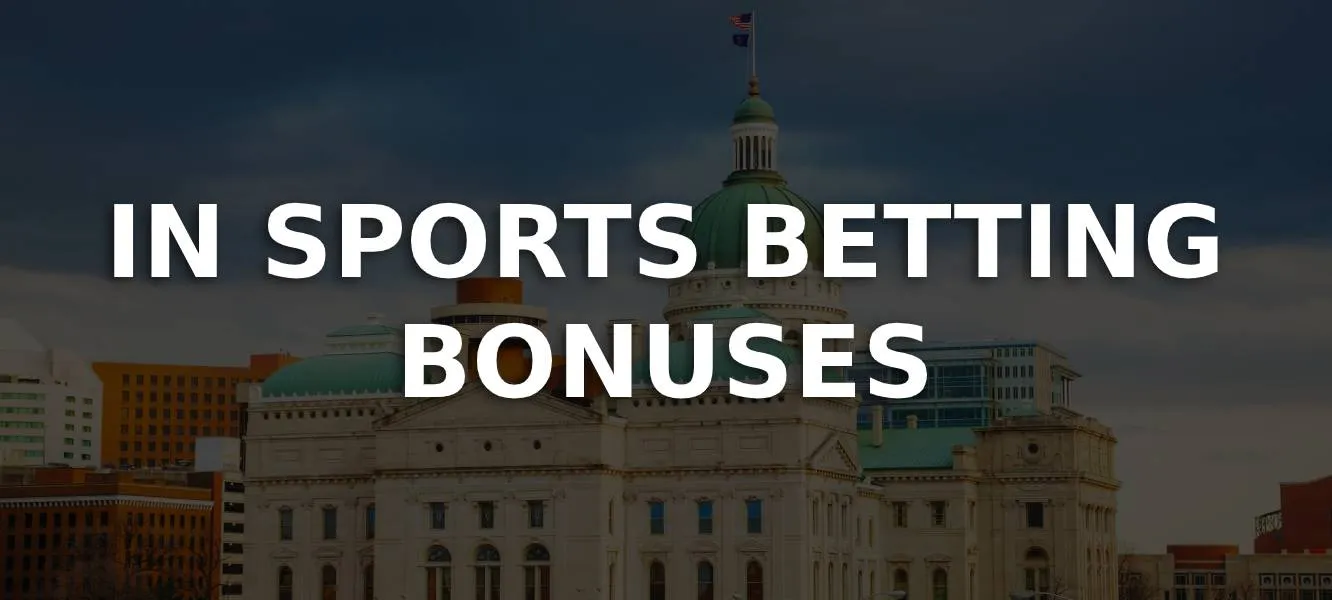 What Are the Different Types of Betting Bonuses Available in Indiana?
In this section we have listed all the most common bonuses you are likely to find available in Indiana. For a description of each, you can visit our full sports betting bonus guide.
Free Bet Bonus
Risk Free Bet
Money Back Bonus
Sign Up / Deposit Bonus
No Deposit Bonus
Reload Bonus
Enhanced Odds
Parlay Bonus
Real Prizes
What Are the Terms and Conditions for Indiana Betting Bonuses?
Reading the terms and conditions should always be your first step when it comes to betting bonuses. Even the best bonuses will have some restrictions or conditions you should be aware of. More information is available in our full guide, but below are the main conditions to look out for:
Rollover Requirements
Minimum Odds
Maximum Bet Size
Restricted Markets
Expiry Date
Which Indiana Sportsbooks Have the Best Bonuses?
There are different types of bonuses, and depending on how you intend to bet some are likely to seem more valuable than others. Given this, there is not really an easy answer to which bonus is the best.
If you love betting on parlays, a sportsbook with a boosted parlay bonus is perfect for you. If you want to dip your toe in the water before committing financially, look out for No Deposit bonuses.
Indiana sportsbooks have a good selection of bonuses, so it's up to you to figure out which one works best for you. Below, we've listed a few of the main sportsbooks' bonuses to give you a sense of the options.
DraftKings
DraftKings is one of the top sportsbooks in the country, and wasted no time setting up shop in Indiana once sports betting was legalized.
The welcome bonus up for grabs is impressive, but definitely more suited to players who intend to deposit big and bet big.
Worth up to $1,000 in total, the package is made up of a risk free bet worth up to $500 and a 20% deposit bonus also worth up to $500. This means to get the full $1,000 benefit you would need to deposit $2,500 of your own cash, and place a $500 bet as your first bet – definitely not something the more casual gamblers are likely to do.
You receive Bonus cash for both the return on the Risk Free bet and for the boosted deposit. DraftKings' bonus policy requires you to gamble $25 on odds of -300 or longer to unlock $1. The good news is you have 90 days to unlock your bonus cash.
Even though it's more suited to high rollers, this is still a good welcome bonus.
To learn more take a look at our in-depth DraftKings sportsbook review.
Get a $1,000 Sign-up Bonus at DraftKings!