Online sports betting is legal in Virginia as of January 2021 after the state legalized betting in March of 2020.
It was made official once the Virginia General Assembly and Senate passed SB 384 and HB 896 to bring legal sports betting to the Old Dominion.
In this guide to Virginia online sports betting, we will walk you through all the most important points, including:
What has changed in terms of sports betting following the passing of SB 384 and HB 896
How to bet on sports in Virginia.
Whether you can bet on daily fantasy sports (DFS) in Virginia.
We will also take a look at some of the sports and teams that are popular in Virginia to see where the local betting action will go.
For more information on how laws are changing in other parts of the country, browse our legal sports betting guides for each US state.
Virginia Legal Sports Betting at a Glance
The first thing you should know about Virginia is that there are currently no casinos (though some are in the works now, see below) and relatively limited gambling in general. That said, the state has quickly adopted a very progressive attitude towards sports betting.
In March 2020 sports betting was made legal in the state, and then in January 2021, it went live. During the start of this new era, sports betting in Virginia will take place via mobile and online sportsbook apps, methods that have become increasingly popular through the legal US sports betting market.
Virginia is an interesting position with several nearby states, including West Virginia, already legalizing sports gambling, creating a sense of urgency around gambling legalization for the first time in the state's history.
There's no real professional sports foothold in Virginia, however, sports betting revenue is expected to clear well into the nine figures once everything is up and running.
Virginia Sports Betting Laws Summary
Sports betting is currently legal in Virginia.
This is the direct result of the passage of HB 896 and SB 384 by the state legislature earlier in the year and the subsequent signing of the legislation into law by Gov. Ralph Northam.
The law is the result of multiple years of deliberation in the normally conservative state.
No casinos exist.
You do not need to live in Virginia to bet on sports in the state. You will, however, need to be physically located in the state to place a wager legally.
Daily fantasy sports players can place wagers at DraftKings Sportsbook, FanDuel, and Yahoo!
Wagering is allowed on college sports as long as they are not from a Virginia college, or as long as the sports bet cast are not live bets.
The Virginia Lottery oversees sports betting in the state with Kevin Hall serving as the Executive Director. Sports betting licenses are distributed by the Virginia Lottery Board.
The Current Sports Betting Situation in Virginia
If you've gotten this far it's obvious that a wave of change is sweeping across the country when it comes to sports betting laws. That's all thanks to a huge decision by the US Supreme Court in 2018.
When the Supreme Court repealed the federal ban on sports betting known as the Professional and Amateur Sports Protection Act (PASPA) it allowed each state to decide for itself what to do with sports gambling.
Virginia is different than many other states that have already legalized sports betting because there are no casinos or other gambling establishments operating in the state. A really common strategy in other places has been to construct land-based sportsbooks within existing casinos and then develop online betting sites to back them up.
For now, that won't be possible in Virginia as sports wagering in Virginia will be done entirely online and on mobile sports apps from sports betting operators.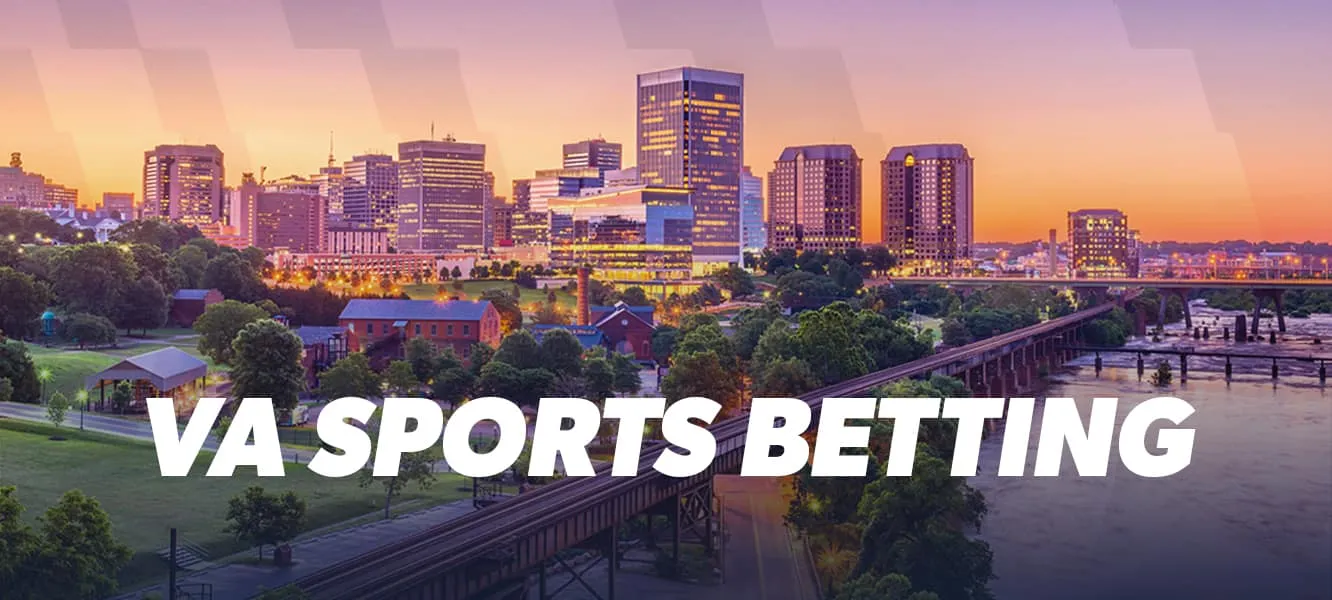 Virginia's New Sports Betting Bill
Here are some of the main aspects of Virginia's new sports betting bill, including subsequent updates submitted by Delegate Mark Sickle:
Virginia state lottery to oversee online, and possibly onsite, sports wagers.
Pro sports and non-Virginia NCAA teams will be available to bet on.
Sports betting revenue will be taxed at a rate of 15%.
Projections based on a study by Oxford Economics predict annual tax revenue will be roughly $60 million.
95% of tax revenue will be allocated towards research projects at state universities.
2.5% of the tax revenue will go to the state lottery corporation.
No royalties or integrity fees to be paid to major sports leagues.
A maximum of giving gambling licenses will be issued in the first three years.
Each license will cost $250,000 with a $200,000 annual renewal fee.
Several bordering states, including West Virginia, Tennessee, Pennsylvania, and New Jersey have already legalized sports betting, which is believed to have created more urgency around Virginia's quest to do the same. Nearby Maryland residents voted to legalize during a sports betting referendum but they must wait until the state legislature finalizes the details.
Land-Based Sportsbooks
On Nov. 3, 2020, voters across the commonwealth in cities of Bristol, Danville, Portsmouth, Norfolk, and Richmond all approved brick-and-mortar retail casinos.
There is reportedly a possibility of a fifth casino in Richmond, however, that city is said to be on a different timeline, and most likely won't put the casino issue to voters until late 2021.
Several of these cities have already selected partners and begun their physical planning.
Right now, it looks like the Spring of 2022 remains a loose target. When that happens look to towns in VA like Martinsville where there are already some casinos, also look to the state's racetracks as possible future venues.
The History of Online Sports Betting in Virginia
Virginia is one of less than a dozen current states that do not have tribal or state-sanctioned casinos.
Pari-mutuel betting on horse racing and the state lottery have been the only consistent gambling options in Virginia's history. Sports betting has always been illegal in Virginia.
Here are the key points from Virginia's gambling history:
1973 – The state institutes its first laws regarding charitable gambling. Oversight is first given to local governments who take the responsibility of overseeing all activities. This responsibility is later allocated to a specific lottery commission in 1995.
1987 – State lottery legalized. Profits are to be given exclusively to the State's education.
1988 – Lottery sells first tickets.
1989 – Virginia Racing Commission (VRC) is created to handle all pari-mutuel betting on races held out of state.
1995 – A bill to legalize riverboat gambling is introduced but it ultimately fails to pass.
1997 – Virginia's first race track, Colonial Downs, officially opens and remains the state's sole horse racing venue.
2003 – Virginia Racing Commission is given the responsibility of managing off-track betting facilities.
2004 – Horse tracks implement betting kiosks for the first time. Machines are called EZ Betting terminals.
2013 – 18 years after the previously denied attempt, a second attempt to legalize riverboat gambling fails.
2020 – Virginia General Assembly and Senate pass SB 384 and HB 896.
2021 – Sports betting in the state of Virginia goes live.
Which Online Betting Sites Are Legal in Virginia?
Virginia sports betting apps give citizens of that state the ability to have a legal sportsbook conveniently in their pocket. These platforms are all top-notch and relatively easy to use, and the best part? Each is offering some fantastic bonuses for new players to take advantage of.
Here are the top options you will have available in Virginia.
Since Virginia does not have any physical casinos yet, the state is offering sports betting through online platforms. So sports bettors will have to sign up and download mobile betting apps or create online accounts to get started.
The text of the law reads that the state will have a minimum of four mobile books and a maximum of 12, though reportedly this could shift.
This is great news for gamblers because it means they will have multiple options for where to bet. It also means there will be competition among the best Virginia online betting sites which always means better bonuses and more competitive odds.
To get a clearer idea of the full range of sports betting sites that may one day be available in Virginia, just look at other states that already offer legal online sports gambling. But look for other sportsbooks like PointsBet Sportsbooks, Caesars Sportsbook, and others to follow shortly.
Right now people in Virginia can bet on horses using the TVG betting app. Not only can you watch the races in-app, but you can also wager on races from over 150 tracks from around the world.
Which Sports Can You Bet on Online in Virginia?
Sports betting in Virginia includes tons of different sports from North America and around the world. As noted above, Virginia-based colleges and youth sports would be excluded from any legalization bills.
Again, we can look at sports betting sites in other states to get an idea of which sports will be available to bet on. We Virginians can bet on:
Virginia's biggest sports teams and come from college, with the Virginia Cavaliers and the VCU Rams producing respected basketball programs.
The Cavaliers sports franchise, in particular, has produced top-ranked men's basketball teams over the last 5+ years, however, the school is still searching for a breakthrough in the annual March Madness tournament.
Unfortunately, gambling on Virginia's NCAA college teams is not allowed under the new law. That does not apply to sports tournaments that included Virginia teams in which other college basketball teams are participating.
How to Bet on Sports Legally in Virginia
Here is a simple breakdown of how gamblers will place legal wagers through an online app or platform.
Fortunately, the signup and betting process will be simple and convenient:
Choose a Virginia online sports betting site and open an account.
You'll have to enter some personal information which may include part of your social security number to verify your identity.
Choose a username and password.
Make your first deposit. This is when you can usually claim a valuable welcome bonus.
Browse the available sports and make your first bet.
Is Betting on Fantasy Sports Legal in Virginia?
Daily Fantasy Sports (DFS) has been fully legal in Virginia since 2016. Players can use FanDuel, DraftKings, Fantasy Draft and Yahoo!. Check out our comparison between FanDuel and DraftKings to find out which one is best for you!
DFS is overseen by the Fantasy Sports Trade Association and the US Gaming Commission so all activity is secure and ensured. Players signed up in states where DFS are allowed can partake knowing their deposits and winnings are 100 percent accounted for.
What Is the Future of Online Sports Betting in Virginia?
The future of online and in-person sports betting in Virginia looks extremely promising.
Oxford did a study that pegged potential net gaming revenue at roughly $380 million for the state. That's a serious amount of motivation for state lawmakers to move quickly on legalization.
Like anything new, though, this entire process will take time to develop, so keep an eye on Virginia as more and more online betting platforms and physical casinos gradually become available.
Virginia Sports Betting FAQ
Is sports betting legal in Virginia?
Yes! As of January 2021 sports betting is legal in Virginia online.
Can you bet on all sports in Virginia?
No, college teams in VA and live betting on college sports are not allowed. But you can bet on college games outside of VA and on professional sports.
Can you bet at casinos in Virginia?
No, only online or mobile sports betting is allowed in Virginia, but that may change in the future.
How do you sign up to start sports betting in Virginia?
Check out any of the sportsbooks on this page to sign up and start placing bets. They are all allowed in Virginia!