Sweeptastic Casino Rating 8.9/10
Promotions and bonuses: ⭐ 8.5/10
Features: ⭐ 8.5/10
Banking options: ⭐ 8.5/10
Games: ⭐ 9.5/10
Security: ⭐ 9/10
Customer support: ⭐ 8.5/10
Mobile app: ⭐ 8.5/10
Sweeptastic is the latest addition to the world of online social and sweepstakes casinos in the US. it's already attracting a lot of attention, and for good reason: with a huge menu of games and the ability to make payments using a variety of different cryptocurrencies, Sweeptastic is already starting to stand out from the competition. It's also available in 47 US states, with Washington, Idaho, and Nevada the sole exceptions.
That's not to say it's totally without weaknesses, however, and our experts did find a couple of teething problems we think could be improved.
We're covering everything - the good and the bad - right here in our Sweeptastic review. We've got details on how the games and coins work, the bonuses, making purchases and redeeming prizes, and much more.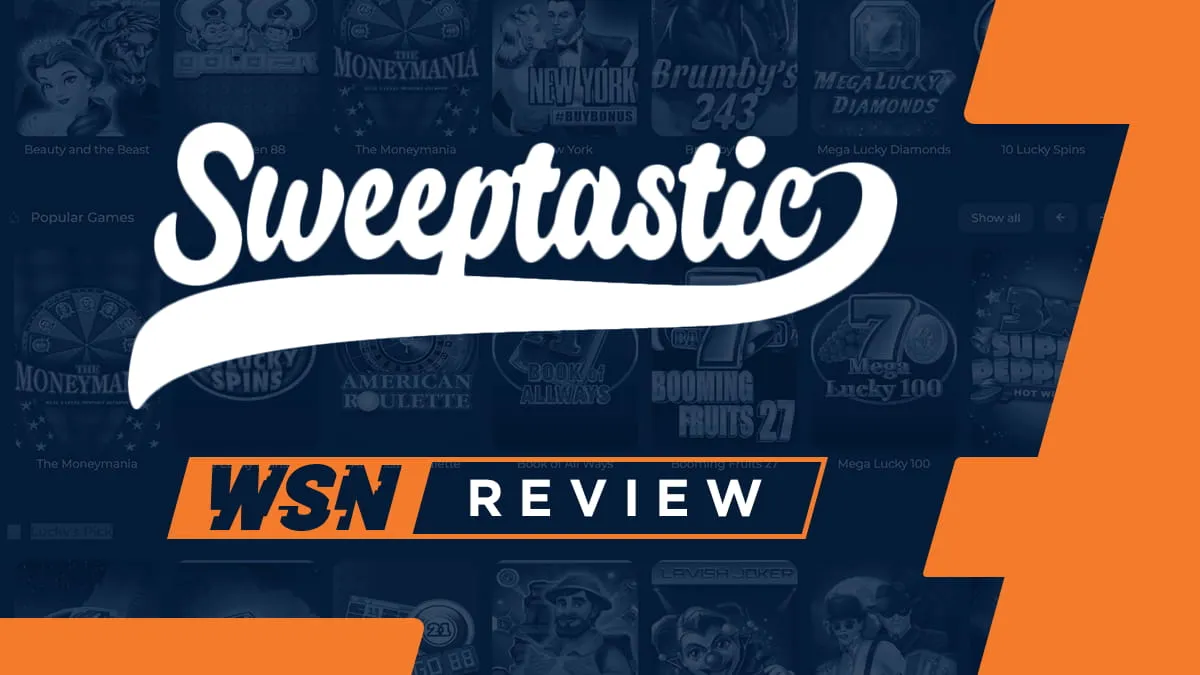 Sweeptastic Quick Facts
Sweeptastic Key Facts
Legal states
All except WA, NV, and ID
Sign-up offer
27,777 Lucky Coins + 2 Sweeps Coins
Promo code
None
Minimum deposit
$1
Real Money Casino
No
Mobile app
No
Games
400
Minimum age
18
WSN rating
⭐ 8.9/10
URL
https://sweeptastic.com/
Sweeptastic Casino Promotions and Bonuses
We're giving Sweeptastic ⭐ 8.5 out of 10 in this section.
There is a solid variety of bonuses at Sweeptastic, for both brand new players and on-running promos for existing players. There are also a couple of tweaks we think could be made, to take the bonus offerings to the next level. We're covering all of them in this section.
Welcome Bonus 27,777 Lucky Coins + 2 Sweeps Coins
Sweeptastic actually has a couple of different bonuses for new players, which can be claimed the deeper you get into the site. First of all, there is the basic supply of free coins you get as soon as you register on the site. Once your initial account is set up, you'll find 10,000 Lucky Coins waiting for you, ready to play the games in Lucky Coin Mode.
Once you complete the verification process - which we go into detail on in a later section - you'll get another 17,777 Lucky Coins, plus 2 Sweeps Coins totally free.
Finally, if you decide to buy some extra coins, you'll also get up to a 50% discount on your first purchase only - meaning you'll get cheaper Lucky Coins as well as some free Sweeps Coins. Here is a full breakdown of the first purchase offers:
| | | |
| --- | --- | --- |
| Package | Price | Discount |
| 20,000 LC + 20 SC | $9.99 | 50% |
| 25,000 LC + 25 SC | $17.49 | 30% |
| 45,000 LC + 45 SC | $29.49 | 35% |
Overall, we're impressed with this three-part bonus. It makes sense that you need to fully verify your account before you can receive free Sweeps Coins (since it's a legal requirement before you redeem prizes), and we like that Sweeptastic gives you both free SCs upfront and a boost on your first purchase. Some sweeps sites only offer one or the other, so having both bonuses is great.
Daily Login Bonus
Sweeptastic gives you a top-up of 1,000 Lucky Coins every single day that you log into your account. Literally, all you need to do is sign in, and you'll be able to claim your free coins. Daily login bonuses are a common promotion at sweeps casinos and are a great way to encourage people to stay engaged with the site.
Our only criticism here is that you don't get any Sweeps Coins as part of the login bonus, which you can find at other sweeps sites. It's something we'd like to see added to really level up this particular offer. There's also no Refer a Friend bonus, which you can get at other sites like TaoFortune.
Sweeptastic Casino Features
Sweeptastic is getting ⭐ 8.5 out of 10 for its general features.
First up, we want to make sure you understand exactly how the gameplay at Sweeptastic works. Like a lot of sweeps casinos we've covered here at WSN, the games at Sweeptastic can be played for free in two different modes, one using Lucky Coins and one using Sweeps Coins.
Lucky Coins are similar to what other sites call Gold Coins. They are used to play games in LC mode and can not be exchanged for redeemed for any kind of prize. LCs can also be accumulated in lots of ways apart from winning them. You'll get some as soon as you create your account, another injection once you verify your identity, 1,000 LCs once a day as a login bonus, and through other giveaways and promos. You can also purchase more LCs if you run out of your free supply.
Sweeps Coins are the other coins at Sweeptastic. They can also be used to play the games for free, but unlike LCs your SC winnings can be redeemed for cash prizes. You need to have accumulated at least 100 Sweeps Coins to request a redemption, and you can only redeem coins you have won (not received for free).
You'll get some free SCs for free when you complete the verification process, and you may also get SCs through social media promos or other bonus offers. You can also send a written request for 5 extra SCs, which is a legal requirement for sweepstakes play. And, you'll also receive some free Sweeps Coins as a bonus when you purchase Lucky Coins.
Software
The software and design of the Sweeptastic is a definite strong point. It's been a whirlwind couple of years for sweepstakes casinos, and in the early days the software was noticeably a little behind real money casinos in terms of aesthetics and ease of use. That gap has considerably closed in more recent years, and Sweeptastic is a great example.
The whole platform feels very complete, from the detailed help section to the way the gaming menu is split up into different categories. It's simple but very effective.
Sweeptastic Social Casino Banking and Payment Options
We're giving Sweeptastic ⭐ 8.5 out of 10 for its banking options.
It's somewhat early days for Sweeptastic and they advertise that we can expect additional payment methods down the line, but for now, there are two options for purchasing Lucky Coins.
The first is bank cards, including Mastercard and Discover / Diners Club. A simple purchase with your debit or credit card is always going to be very popular. Just about everyone has experience paying for something online using a bank card, and your Lucky Coin purchase will be processed instantly.
The second option is one which definitely gets Sweeptastic some extra marks in this category: cryptocurrency. Crypto coins like Bitcoin, Ethereum, and Litecoin are an increasingly popular way to pay for things online, especially for the more tech-orientated players out there. If you have a topped-up crypto wallet, choosing these methods makes a lot of sense: they are fast, cheap, and extremely secure. They are not available at every sweeps casino, so we're happy to see the option at Sweeptastic.
All purchases - whether bank cards or crypto - are processed instantly with no additional fees from Sweeptastic. The minimum Lucky Coin purchase available is 3,000 for just $1. If you want to get some free Sweeps Coins as a bonus, you'll need to spend at least $5 for 5,000 LCs and 5 SCs.
Redeeming Sweeps Coins
Sweeps Coins redemptions are sent directly to your bank account, which must match the personal details you used to create your account. You need to have won at least 100 SCs to request a redemption, which is on the high side compared with some sites. One Sweeps Coin represents $1 in prizes.
All prize requests need to be approved by Sweeptastic before they get processed. During our tests, our prize requests were processed within a day, and then it took another 48 hours on average for the money to hit our account.
Games at Sweeptastic Casino
Our experts were very impressed with the games on offer at Sweeptastic, and they've given it a score of ⭐ 9.5 out of 10.
In total, there are around 400 games on the site - definitely above average for social casinos and sweeps casinos. Compare that to some other new sites like Tao Fortune, which has fewer than 100 games, and you can see why it's an impressive start to life for Sweeptastic.
Slots
Slots are always the most popular game at any social casino, and they make up the bulk of the gaming menu at Sweeptastic. The games come from a selection of different software providers, including Gameart and BGaming, and include titles like 100 Lucky Sevens and Wolf Quest. Our experts were generally very impressed with the variety of the slots on offer, with plenty of different formats and interesting bonus games among the games.
One other feature we loved was the ability to bookmark certain games, which are then saved in the My Games section. When you have a menu of games well into the hundreds, it's a very welcome feature.
Table Games
Slots are the main event but Sweeptastic does also have a great selection of table games on offer. There are multiple types of blackjack and roulette, Sic Bo, and video poker. Overall, it's a great selection of games, one of the most varied and interesting out there.
Sweeptastic Slots Security
Sweeptastic is getting 4 out of 5 for its safety and security. We always have a few question markets over a brand new site, which is exactly the attitude anyone who plays online casino should have. There are plenty of offshore sites out there with dodgy licenses which are only interested in extracting money from players.
It's so far, so good for Sweeptastic. The site is owned by Heuston Gaming Malta Limited, based in the European country, who operate several social casinos. Sweeptastic operates in accordance with the regulations in place in each state. As a social site, Sweeptastic doesn't require a gambling license and is free to operate in states that don't have legal online gambling. It still needs to follow strict legal requirements to offer sweepstakes contests, and from our perspective and research Sweeptastic does just that.
Sweeptastic Customer Support
Customer support at Sweeptastic is good, but with some room for improvement too. We're giving it ⭐ 8.5 out of 10.
Your first stop for any help you need at Sweetastic is the Help Section. We're happy to report that there is a good range of FAQs and other articles available there, explaining how the site works in detail. With sweepstakes casinos, where lots of players might not be fully up to speed with how the two types of coins work and how you can claim prizes, it's very important to provide players with lots of details on how the model works.
If you still need help, you can get in touch with the customer service staff directly by emailing [email protected]. During our tests, we received an answer within a few hours during the day. To go next level, we'd love to see Sweeptastic add a live chat support option - but overall we're happy.
Sweeptastic Casino Mobile App
For our Sweeptastic mobile review, we're awarding ⭐ 8.5 out of 10.
The main reason the platform is losing marks is pretty obvious: there is currently no mobile app available for Sweeptastic, either for iOS or Android. As we've mentioned before in other sections, it's still pretty early days for Sweeptastic and we wouldn't be surprised to see an app developed down the line. For now, however, mobile play is restricted to browsers only.
The good news is that the site works very well on your phone's browser. As you scroll through the platform, a fixed menu remains in place at the bottom of the screen to help you navigate. You can sign up, purchase coins, request redemptions, and more on the app. Overall, it's a really effective way to translate the experience from the desktop site onto the smaller screen.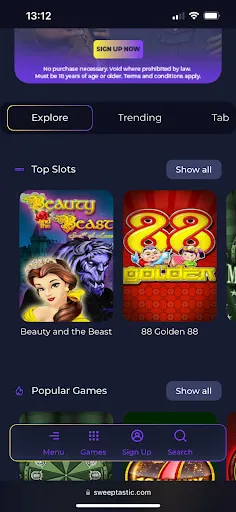 Where Is Sweeptastic Casino Legal?
The wide availability of social casinos and sweepstakes casinos is a big part of their popularity, especially in comparison with traditional real money online casinos - which are much less widespread. Sweeptastic is fully legal and regulated in 47 US states, with Washington, Idaho and Nevada the only exceptions.
How to Sign-Up for Sweeptastic Casino
Most social casinos have streamlined the sign up process to make it as easy as possible to start playing right away, and Sweeptastic is no different. During our Sweeptastic review, our experts were able to create an account, purchase a coin package and start playing all within a couple of minutes.
To get started, click the Sign Up button on the Sweeptastic homepage. You can manually type in some details to get started, or sign up via Facebook using your existing credentials. If you choose the manual option, all you need to type in initially is your email address and a password, and check the box to accept the terms and conditions.
As soon as that's done, your account will be up and running with 10,000 LCs waiting for you to start playing. However, if you intend to play in sweepstakes mode and want to be able to redeem prizes down the line, you'll also need to verify your identity.
You can do this by clicking on the My Account section of the site and filling in all the required information, which you can see in the screenshot below. You'll also need to upload a copy of your passport and utility bill, as part of the verification process.
Once this is done, you'll get another 17,777 LCs plus 2 free SCs.
We're happy with the registration process at Sweeptastic. It's pretty much on par with the other top sweeps sites out there, and we weren't waiting too long for the verification checks to be complete.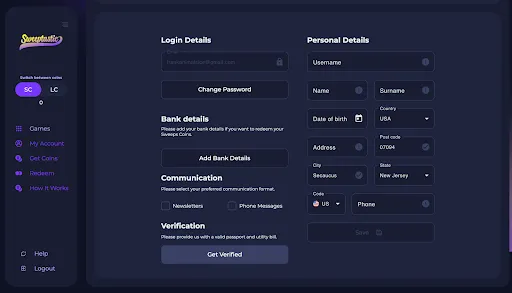 Sweeptastic Final Verdict
Overall, it's a thumbs up from us for Sweeptastic. The site already feels like one of the most detailed and well designed social casinos out there, and it's only just got off the ground.
The gaming menu - with 400 different titles and a great mix of slots and table games - is one of the strongest we've come across. We are big fans of the design of the site in general, and there are lots of features that show how much care and attention has gone into the platform, like the ability to save your favorite games.
A lot of the areas our experts think could be improved are likely to be in the works down the line already, like the addition of more payment methods (which is advertised on the Sweeptastic site already), and the addition of a mobile app. We'd also love to see the daily login bonus amended to include some free Sweeps Coins, which is not currently the case.
The overall user experience of the site is very good. Purchasing coins, requesting redemptions, contacting customer support - all are smooth and easy to accomplish. We're happy to recommend Sweeptastic, especially if you're in the market for a greater variety of casino style games than the standard social casino selection.
How We Rate Social Casinos
We've got one very simple rule for our experts whenever they review a new site: just sign up and play. For us, it's all about exploring every aspect of each site, guided by all of our experience with both social casinos and real money casinos, to know what makes a site stand out from the crowd.
Here are some of the things we make sure to take into account:
How easy is it to get started? Signing up should be fast and intuitive and equally easy for beginners as for more experienced players.
Gaming menu. We like to see as much variety as possible, from slots and table games to scratch games. A range of different software providers represented, and exclusive games, are also good to see.
Bonuses and promos. Again, the more the better. The best social casinos have great offers for new players when you create your account, daily login bonuses for all players, and social media giveaways.
Payment methods and redeeming prizes. Both should be easy, fast, and cheap.
Customer support. We test out all the different channels and explore the help section and FAQs.
Sweeptastic Compared to Similar Social Casinos


Sweeptastic
TaoFortune
WOW Vegas
Chumba Casino
Rating
8.9/10
9/10
9/10
9.5/10
Bonus
27,777 Lucky Coins + 2 Sweeps Coins
88,800 Tao Coins
5,000 Wow Coins + 1 Sweeps Coin
2,000,000 free GC + 2 free SC
Top Features

400 games
Cryptocurrency payments
Lots of table games

24-hour live chat support
Tao Quest leaderboards
Daily mystery prize

Excellent software
Almost 350 games
Great payment options

Diverse selection of games
Lots of banking options
Easy to make redemptions

States Licensed In
All except NV, WA, and ID
All except WY, WA, and ID
All except WY, WA, and ID
All except WA
Payment Methods

Bank cards
Bank transfers
Skrill
Apple Pay

Bank cards
Bank transfers
Skrill
Rapid Transfer

Support
Email support
24-hour live chat support
Email support
Email support / social media
Responsible Gambling
Social casinos and sweepstakes casinos are not technically real money gambling sites, but that doesn't mean you still shouldn't follow responsible gambling practices. Any time you are playing casino-style games online, especially when they include the possibility of purchasing extra coins, you need to be careful.
Remember that games like those at Sweeptastic are a form of entertainment, and you should never think about sweepstakes prizes as a practical way to earn money. Set aside a budget for spending on coins and take regular breaks from the games.
If you find yourself developing a problematic relationship with gambling, remember that there are resources available to help. Both the Responsible Gambling Council and Gamblers Anonymous offer lots of great free advice and support to anyone struggling.