Quick Navigation
Quick Facts about Online Sports Betting in Nevada
Population:
3,080,156
Median household income:
$63,276
Sports betting legal since:
1949
Annual sports betting revenue:
$640,984,932
Licensed sportsbooks:

Caesars Sportsbook

, BetMGM, Borgata, Golden Nugget
The Online Sports Betting Situation in NV
For a long time, Nevada was the only state that offered legal sports betting but that's changing fast since the repeal of PASPA in 2018. You can now find government-regulated sports betting in Delaware, New Jersey, Mississippi, and more and more states as the months go by. State legalization is a rapidly changing scene so check our United States overview map to stay up to date as the legislation is evolving. Who knows, if your state doesn't have legal betting yet they might soon.
The online sports betting industry is already a huge moneymaker for the State of Nevada. In Dec 2019 the Nevada Gaming Control Board reported a sports betting record with a handle of $614.1 million dollars.
Nevada gamblers have tons of options to choose from when picking a place to make sports wagers due to their mature sports betting market. Most major casino brands offer live sports betting as well as sophisticated options for online sports gambling.
Mobile sports betting is also blowing up in Nevada as more apps are flooding app stores, making it more convenient than ever for gamblers to place bets.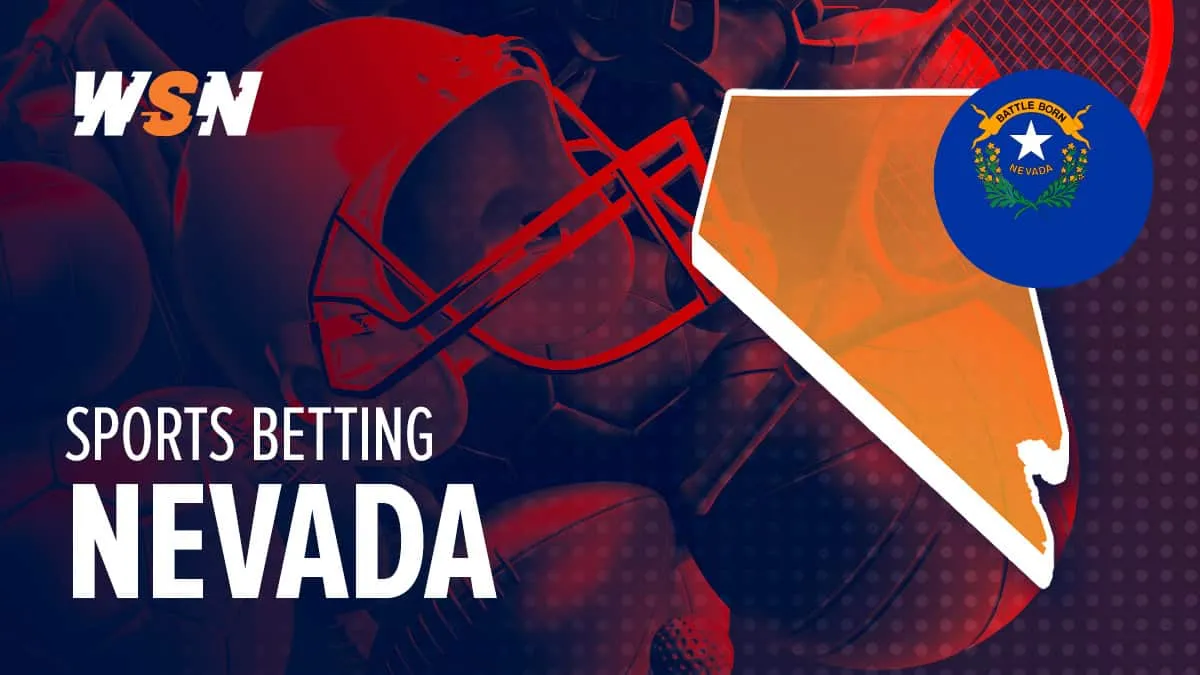 NV Sports Betting Laws Summary
To set up a sports betting account in NV you must appear in person to verify your account before you can proceed with your first bet.
You must bring a government-issued I.D. with you when appearing to finalize your account.
Funds may be deposited into your account with cash at the sportsbook, personal checks, cashiers checks, wire transfers, and money order deposits made directly or mailed to the licensee. Check your sportsbook of choice as options may vary.
Funds may be withdrawn in cash from the sportsbook, mailed personal checks, cashier's checks, money orders, or wire transfers. Winnings may also be released via a sportsbook's payment cards, as credits to a wagering account, promotional credits, or bonus credits.
Nevada levies a tax rate of 6.75% on sports betting. This is comparatively low compared to other states that occasionally go as high as 10%.
Online sportsbooks in NV must operate in conjecture with a physical location in order to help ensure the fidelity of customers opening new accounts.
Betting on sporting events with minors is against the law in Nevada. This includes all high school level sporting events.
How to Bet on Sports Legally in NV
Signing up to bet on sports online in Nevada is easy but it does require going to a sportsbook in person to get approved.
Being a resident of Nevada is not required in order to open an online sports betting account. Even if you're just a tourist visiting the state you can still bet on sports online during your visit to Nevada.
Choose a sportsbook and go in person to get started. You must be at least 21 years old and bring a valid government ID to authenticate and activate your account.
You'll have to provide some basic personal information and make a starting deposit. Once you have that set up then you're ready to start placing bets.
Each sportsbook has slightly different withdrawal options, it is worth comparing the different sportsbook options you have before choosing one to run with. Read up on which sportsbooks have the fastest payout options here.
If you're looking to start betting on sports like the NFL in NV then you'll want to make sure you use a 100% legal sportsbook. Check out the guides listed here to find the best legal sportsbook betting options for you.
In Nevada? Start Betting Online Now – Quick Guide
If you're a fan of online poker and online casino games and want to get started with online sports betting there has never been a better time than now due to the number of sports betting sites operating in Nevada.
If you live in Nevada and you like sports betting then you've got it made. Nevada has the most betting options, both online and live, and it has some of the best promotions and bonuses. But, like many other states it is necessary to go in person to set up your account, this is done to verify that the owner of your account is actually you.
You can also trust that the sites you're playing at are trustworthy and properly regulated. Since all online betting sites must have a valid gambling license to operate legally, there's tons of oversight in terms of the site's security, banking methods, business activities, and overall fairness of games and bets. All sportsbooks are regulated by the Nevada Gaming Control Board, which is one of the most established betting oversight enforcement boards in the nation.
This industry will continue to grow in Nevada as the state leads the country towards a future that's much more inclusive towards sports gambling. Read our sports betting strategy guides and if you live in Nevada and check out our recommended sites to get in on the action now.
Follow the following four steps to get started placing your first bet:
Choosing the Right Sportsbook for You.
Your first step is to choose a mobile sports betting app available in Nevada, here is a list of 100% legal mobile betting apps in NV. Caesars Sportsbook, for instance, is a good sportsbook in NV due to its partnership with 7 Eleven and CVSs across the state. These locations can be used to deposit money into your account.
Go in person to the sportsbook you have chosen with a valid I.D. and open your account.
Download the app for your sportsbook on your iPhone or Android device.
Your sportsbook app will prompt you to fill out some questions to once again verify that it is you. This is also where you will be choosing your deposit and withdrawal methods.
Nevada sportsbook apps are geo-targeted to ensure that you are always in compliance with the law. The apps will not function when you step foot outside of Nevada, but keep in mind that many other states have their own sports betting apps and many times they are offered by the same sportsbook so check your state page here on WSN for states that you know you will be traveling to.
Sportsbooks now offer promotions to get you to sign up and they can be very big with some promotions going up to $500 risk free bets. Check out our guide on risk free bets to compare the best sportsbook offers in Nevada.
Which Online Sports Betting Sites Are Legal in Nevada?
There are several online betting apps that provide Nevada gamblers with an opportunity to legally bet on sports. Some of the most prominent ones include:
MGM Sports
Westgate SuperBook

Caesars Sportsbook

The Wynn
It's recommended that you try a few platforms to determine which one is the best for your sports betting needs. Odds, bonuses, games, and restrictions vary from online casino to casino, so make sure to do your due diligence before making a decision.
Note — it's only legal to place wagers through these apps if you are 21 years old or attempting to place bets outside of the Sagebrush State.
Is There No Deposit Sports Betting in Nevada?
Most online sportsbooks in Nevada will require you to make a deposit after opening an account if you want to make real money sports bets.
MGM Resorts offers a $25 starting bet with no deposits.
Some sportsbooks and casinos offer no deposit bonuses to make it really easy for people to give sports gambling a try. We always recommend paying close attention to the fine print on any type of bonus to make sure you're fully aware of any wagering and withdrawing restrictions.
No deposit bonuses are an awesome way to make free bets and even though it's risk-free it's always better to be informed of any strings attached.
What Sports Can You Bet on Online in Nevada?
If you're looking to expand outside of online poker then sportsbooks operating in Nevada are a logical move. The types of sports you are allowed to bet on in Nevada is dictated by the Nevada Gaming Control Board and is one of the most accessible in the United States. The following is a list of sports allowed to be wagered on but is not a complete list. A good rule of thumb is that if a sport is available on your chosen sportsbook app then it is legal to bet on since the sportsbook apps must be in compliance with Nevada law.
It wasn't always the case but now you can also bet on collegiate sports in Nevada.
Other popular regulated sports available in Nevada include:
Football (NFL + college)
Basketball (NBA + college)
Baseball (MLB)
Hockey (NHL)
Soccer (EPL, UCL, and major tournaments)
Golf (PGA, LPGA)
Most all collegiate sports (excluding those with minors)
Cycling
Tennis
Fighting (Boxing, MMA, UFC)
E-Sports
Auto Racing (NASCAR, Formula One, Indy)
Horse racing
Rugby
Olympic events
Aussie Rules Football
And much more
There aren't many popular sports that are not allowed for betting in NV but those include amateur non-collegiate events and high school sporting events or those with participants that have minors.
Betting on Sports in Las Vegas
Las Vegas is the most famous wagering and gambling Makkah in the world and as such it has some of the most well known and established physical sportsbooks available. Even if you prefer to do your betting online or on your mobile it can still be an exhilarating experience to visit one of Las Vegas' sports lounges. Here is a list of the most well-known lounges on The Strip:
Westgate Las Vegas
Address: Westgate Las Vegas Resort & Casino 3000 Paradise Road, Las Vegas, NV 89109
Website: westgateresorts.com
Phone: (702)-732-5111
MGM Grand Race & Sports Book
Wynn Race & Sports Book
Address: 3131 Las Vegas Blvd, Las Vegas, NV 89109
Website: wynnlasvegas.com
Phone: (702)-770-7000
MGM Mirage
The Book at the Linq, Caesars
Address: Las Vegas Blvd South, Las Vegas, NV 89109
Website: caesars.com/linq
Phone: 1-800-643-6441
Venetian
Address: 3377 S Las Vegas Blvd, Las Vegas, NV 89109
Website: venetian.com
Phone: (702)-677-3830
Caesar's Palace
Address: 3570 S Las Vegas Blvd, Las Vegas, NV 89109
Website: caesars.com
Phone: (866)-227-5938
Is Fantasy Sports Betting and DFS Legal in Nevada?
Daily Fantasy Sports had been legal in Nevada until 2015 when the state decided that DFS constituted a type of gambling, as a result most operations ceased activity in the state since they would need to get licensed in the state in order to continue operations.
As of now only one operator has applied for the daily fantasy sports license meaning that although DFS is legalized and regulated it is not really one of your viable betting options at the moment.
Brick and Mortar Sportsbooks in NV
If you're looking for a brick and mortar sportsbook while in Nevada then you have choices. Nearly every casino in Nevada (not to mention Las Vegas) has a sports betting lounge and a physical sportsbook counter attached to it.
There are almost too many to name so we'll just pick one as an example. MGM Resorts International has sportsbook locations across the US with ten of them being on the Las Vegas Strip itself, including:
BetMGM Sportsbook at Bellagio
BetMGM Sportsbook at ARIA
BetMGM Sportsbook at MGM Grand
BetMGM Sportsbook at Mandalay Bay
BetMGM Sportsbook at The Mirage
BetMGM Sportsbook & Bar at Park MGM
BetMGM Sportsbook at New York-New
BetMGM Sportsbook at Luxor
BetMGM Sportsbook at Excalibur
BetMGM Sportsbook at New York – New York
Types of Legal Sports Betting in NV
Below are the most common types of sports wagers with a brief explanation. For more in-depth explanations to these wagers check out our betting guides.
Point Spread Betting
A point spread is a betting device used to level the playing field when it comes to betting on teams with differing abilities by helping the underdog and handicapping the favorite to win.
Betting strategies can be difficult to understand, this short video is a guide to understanding the point spread.
Money Line Betting
The moneyline is perhaps the most common type of sports betting. In a moneyline bet the bettor picks a side to win the match outright. A moneyline favorite will be shown with a minus value. A bet on a team with a -200, for instance, means that a bettor must bet $200 for every $100 he will receive when they win the bet.
Money lines are present in many types of sports bets and are often associated with point spreads. You'll see these numbers when betting on football, basketball and other sports. Check out our video guide on betting on the Moneyline.
Proposition Bet Wagers
Prop bets are perhaps the most fun types of bets available. A prop bet is a bet on whether or not a given thing shall or shall not happen during an event. They can range from how many yards or points a team will get to whether or not a coin toss will come up heads.
Prop bets can be on just about anything including whether or not the president will say the word "turkey" during his Thanksgiving address. For more information on prop betting watch our video guide on prop betting.
Parlay Betting
A parlay is a type of bet with the potential for a large payout. Parlays are similar to the famous trifecta in horse racing in that you must predict several outcomes and have them all happen in order to win. That is why the payout is so high because it is more unlikely to predict three separate occurrences rather than just one. With higher payouts come higher risks of losing your bet.
For a deeper understanding of parlay betting watch out short video guide explaining parlay betting.
Futures
A futures bet is what it sounds like, a prediction bet on something that will happen in the future. Odds on futures bets change constantly and have lots of factors. A well known example of a futures bet is who will win the Super Bowl.
Futures bets come in all shapes and sizes, check out our video guide on futures betting.
Other Types of Sports Bets.
Other types of sports betting that you can expect to see are Partial game lines, teasers, point totals, pleasers, round robin and in-play bets. For a comprehensive guide on the different types of sports betting check out our other video guides on the many different forms of sports betting.
NV Sports Betting Revenue
Since the repeal of PASPA, Nevada has had a run for its money (literally) in the world of sports betting revenue. Every month brings states like New Jersey closer and closer to Nevada's bottom line now that their monopoly on legal sports betting has dissolved. It may only be a matter of time before more populated states (NY and CA for example) catch up and surpass Nevada's sports betting revenue.
Who are the Regulators? The Nevada Gaming Control Board Explained
Each state that has legalized sports betting has had to create some kind of watchdog entity to police and enforce the revenue stream, but in Nevada where gambling has been legal for over a century there has long been oversight. Que in the Nevada Gaming Control Board Gaming Commission.
The Gaming Commission, which was established from the latest betting bill, is responsible for issuing licenses to sportsbooks in the state and also for monitoring and enforcing the legal sale of sports betting products operating in Nevada. Gaming Control officers can be seen in Las Vegas and they readily stepped up to the challenge of policing the new sports betting legal in Nevada. It is thanks to the Commission that sportsbooks in Nevada can be trusted to be offering 100% legal gaming products across their various platforms.
The History of Online Sports Betting in Nevada
Nevada has the distinction of being America's longest-standing State for progressive and open attitudes towards gambling. However, don't confuse their open view of gambling law for some kind of online sports betting Wild West. On the contrary. Even though gambling is legal, the rules and regulations are heavily enforced.
That said, the fact that Nevada was the first to decriminalize games of chance in 1865 and the first to legalize gambling in 1931 was, and still is, a very big deal.
Nevada legalized and regulated gambling in 1931 as part of their strategy to help claw the state out of the Great Depression.
With regard to sports betting, Nevada also stands alone. While the passed "Wide Open Gambling" bill of 1931 opened the door to legal gambling in Nevada, it took nearly two decades for sports betting to become legalized when it was officially sanctioned by the state in 1949.
Even then it took sports betting a while to become a lucrative business. The State heavily taxed sports bets to the tune of 10%. Slowly that number eventually dropped thanks in large part to two big moves.
First the tax dropped to 2% in 1974 and then further to 0.25% in 1983. That was when the sports side of the Nevada gambling industry began to truly flourish.
In 1992 a bill was passed by the US Supreme Court and it looked like a really bad thing for people who love gambling on sports unless you lived in Nevada. It was called the Professional and Amateur Sports Protection Act (PASPA) and it made it illegal to bet on sports in every State but one: Nevada.
Since then, legislation has continued developing across the United States and in Nevada. The internet, specifically online gambling, is a big reason why.
Currently, there are only five states that allow online gambling with Nevada still holding a big lead in terms of options and sheer size of the industry. Online gaming (casino games and poker) has been legal and fully regulated in Nevada since October of 2013.
As you can imagine, the primary reason for legalizing online gambling was so the State could collect tax revenue off it. However, the benefits and flexibility online sports betting has provided for players all over Nevada has helped push this industry to record-breaking numbers in just a few years.
All the major legal online betting sites in Nevada include a whole suite of gambling options including casino games, poker, and of course, sportsbooks.
What Is the Future of Online Sports Betting in Nevada?
Online gambling is a multi-billion dollar industry. In fact, the industry is currently valued at over $700 billion and is expected to top the trillion mark by 2022. Online sports betting is becoming more and more common all over the United States.
Popularity is growing especially quickly in states like Nevada where online sports betting allows gamblers to make bets from anywhere, not just in real casinos.
As the gambling market as a whole continues to grow, expect the number of online betting apps to grow with it. As more and more money continues to pour into gambling within the State of Nevada, online sports gambling will continue to take a large chunk of the action and may one day overtake land-based sportsbooks.
Another area that's growing quickly is wagering on esports which is already a multi-billion dollar industry with international competitions paying out millions in cash prizes. Esports has also got a boost since the Covid-19 pandemic temporarily rendered traditional sports useless.
Nevada Sports Betting FAQ