The first NFL Week 3 matchup is on Thursday between the New York Jets and the Cleveland Browns, a game that will be a battle between two struggling teams desperate to win but for entirely different reasons.
The 1-1 Jets and their rookie starting quarterback need to prove that their Week 1 crushing of the Detroit Lions by a score of 48-17 was no fluke and that their 20-12 Week 2 loss to the Dolphins was the total exception.
The 0-1-1 Browns and their veteran quarterback need to prove the team can actually win a game, any game, after going winless since December of 2015 and almost beating two possible Super Bowl LIII contenders – Pittsburgh in Week 1 and New Orleans in Week 2 – only to tie the Steelers and lose to the Saints in the final few minutes.
Who's favored to win this matchup?
Which team has a better offense? Defense? Special teams?
Which team's quarterback is more likely to lead his team to victory?
We're going to compare the Jets and the Browns and attempt to answer those questions and more.
The 2018 Jets offense led by a rookie
After a 5-11 last place 2017 season, the Jets used their number three draft pick to select USC's 6-foot-three, 221-pound quarterback phenom Sam Darnold. In August, based on a standout offseason, fourth-year head coach Todd Bowles named Darnold the starter over veteran journeyman backup Josh McCown.
The results have been mixed.
In the Week 1 defeat of the Lions, Darnold threw for 198 yards on 16-for-21 with 2 touchdowns and an interception for a quarterback rating (QBR) of 82.9 and a passer rating of 116.8.
But in the Week 2 loss to the Dolphins, however, Darnold went 25-for-41, threw for 334 yards and a touchdown but had two interceptions for a QBR of 13.8 and a passer rating of 74.6.
After two games, the Jets offense is ranked 18th in the league overall but are averaging 30.0 points per game, which is good enough for 7th best in the NFL.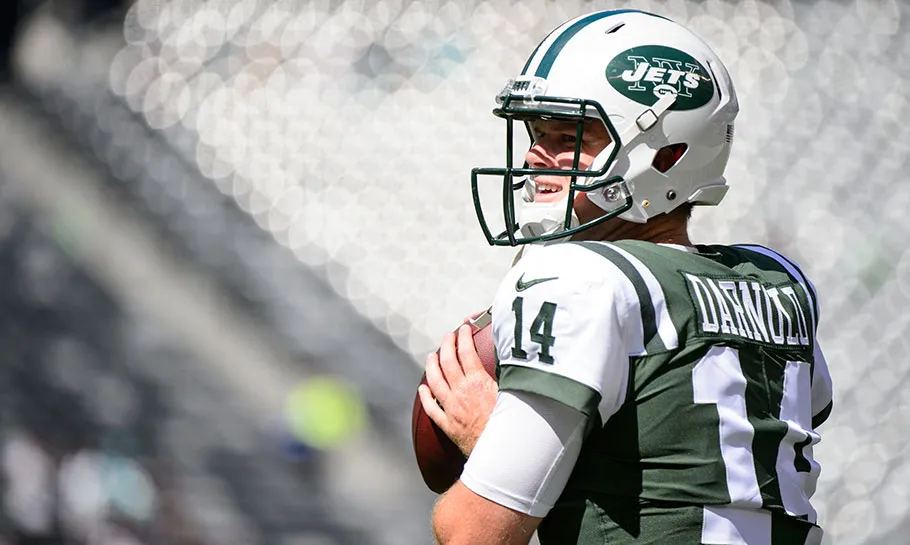 Former Browns running back Isaiah Crowell has had equally mixed results.
In Week 1 Crowell ran for 102 yards and 2 touchdowns to help beat the Lions, but was held to just 35 yards and zero touchdowns against the Dolphins in Week 2. Which version will show up on Thursday when Crowell returns to Cleveland for the first time since signing with the Jets in the offseason?
Two bright spots for the Jets offense have been wide receivers Quincy Enunwa, who in two games has caught 13 balls for 155 yards and a touchdown, and Terrelle Pryor, who so far in the 2018 season has had 7 receptions for 133 yards.
Fortunately for the Jets, the Browns' offense hasn't done much better.
The 2018 Browns offense is brand new
It's difficult to know what to expect out of the Browns' offense since it's made up of mostly new parts.
Veteran quarterback Tyrod Taylor is starting even though the Browns have the number one overall draft pick Baker Mayfield sitting on the sidelines. Taylor brought his previous team, the Buffalo Bills, to the playoffs last season for the first time in 18 years, but so far has put up unimpressive numbers with the Browns.
In two games, Taylor has thrown for 443 yards on 37-for-70 with 2 touchdowns and two interceptions for a passer rating of 70.1. He's seen by many as an ultra-cautious ball thrower whose 2018 winless streak has produced a few calls to start the rookie Mayfield, something head coach Hue Jackson has vowed not to do.
Not a bad idea, since the offensive line, now without future hall-of-fame left tackle Joe Thomas, has allowed 10 sacks already.
With the departure of the unreliable wide receiver Josh Gordon to the New England Patriots, veteran Jarvis Landry (12 catches for 175 yards in 2018) and rookie Antonio Callaway (3 catches for 81 yards and a touchdown) must step up. The same goes for second-year tight end David Njoku, who's caught 7 balls for just 33 yards so far.
New offensive coordinate Todd Haley will also have to do better calling the plays, as his offense has only averaged 19.5 points per game, tied for 24th in the league.
Jets Defense ranks 5th in the league, Browns D ranks 21st
After ranking 25th among defenses last season, general manager Mike Maccagnan added free agent linebackers Avery Williamson (TEN), Kevin Pierre-Louis (KC) and Brandon Copeland (DET) as well as cornerback Trumaine Johnson (LA) to the mix.
The Jets defense, including All-Rookie free safety Jamal Adams and linebacker Darron Lee (2 picks and a touchdown in 2018), has only allowed 596 total yards so far in 2018, which ranks them 5th in the NFL.
The Browns defense has allowed 747 total yards, which puts them at 21st in the league overall -they were 14th in 2017. GM John Dorsey revamped defensive coordinator Gregg Williams' secondary to give the D-line more time for quarterback hunting, and it's already paying off.
Rookie defensive end Myles Garrett has had 2 sacks, and since teams have to consistently double team him, it's allowed defensive tackle Larry Ogunjobi to accumulate 3 sacks of his own.
Special teams have given the Browns trouble
In Week 1, Browns placekicker Zane Gonzales had a potential game-winning field goal blocked, while in Week 2 he missed two extra points and two field goals, including a potential game-tying 56-yarder in the final few seconds.
Gonzales was replaced on Monday with undrafted free agent Greg Joseph, so if this game comes down to a field goal that could come into play.
Jets-Browns prediction and odds
Believe it or not, the Browns are a +3 favorite to win this one, with the Over/Under being 39.5.
CBSSports.com final score prediction: Browns 21, Jets 14.