The 2018 NFL season will be here soon and thank goodness for that.
The first pre-season game between the Chicago Bears and the Baltimore Ravens is scheduled for Thursday, August 2 right before the Hall of Fame Weekend. Then seven days later the four-week pre-season schedule begins, which will take us right up to the first game of the season on Thursday, September 6 between the Atlanta Falcons and the defending Super Bowl Champion Philadelphia Eagles.
Football is coming and the quietest part of the NFL season will be ending soon.
With NFL voluntary Organized Team Activities (OTAs) and mandatory minicamps having finished in mid-June and training camps not starting until July 18 at the earliest, we thought a brief update on all thirty-two teams might help football fans get through this dreadful downtime a little easier.
This is the AFC.
AFC EAST
The New England Patriots
Good News:
After skipping the OTAs, All-Pro and possible GOAT tight end Rob Gronkowski ended all retirement rumors by showing up to mandatory minicamp refreshed and ready to "go through it all again." Gronk says he had thought about retiring, but finally came to the conclusion that he is physically and mentally capable of coming back out and helping the Patriots once again.
Seventh-round pick Danny Etling had a few "impressive throws" during OTAs as he backed up quarterback Brian Hoyer, who took most of the first team reps due to Tom Brady's absence. Etling threw during the 7-on-7 and 11-on-11 drills and showed improved mechanics after having spent some of the offseason working with Brady's throwing coach, Tom House.
The cornerback battle has begun, and the competition looks legitimate. Returning Jonathan Jones and Stephon Gilmore will have to beat out signed free agent Jason McCourty (last season he had 65 combined tackles, 2 forced fumbles, 3 picks and a TD for the Browns) and the two draft picks who stood out at OTAs: Duke Dawson and Keion Crossen. The ultimate goal is to improve the Patriots' 30th ranked pass defense that allowed 251.3 passing yards per 2017 game.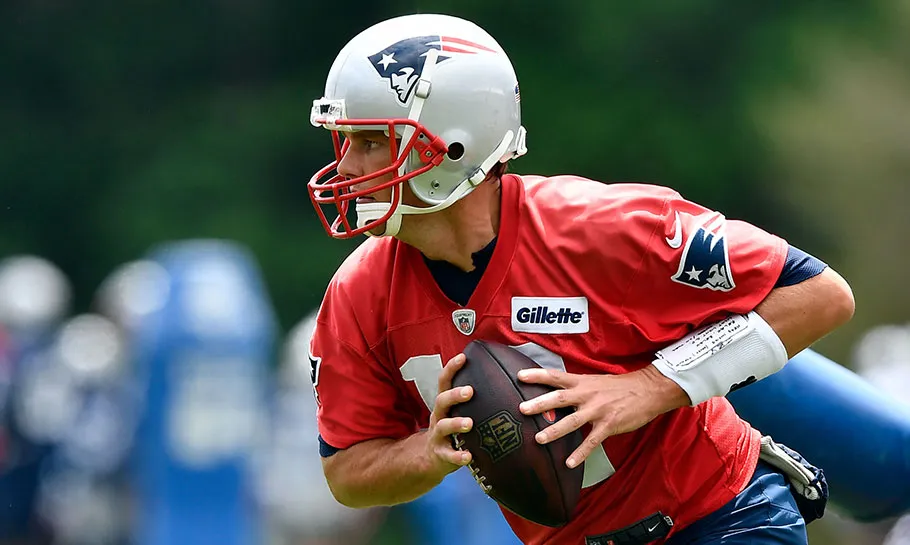 Bad News:
After sitting out last season with a torn ACL, wide receiver Julian Edelman will have to sit out the first four games of 2018 due to a suspension following a violation of the NFL's performance enhancing drug policy. Edelman had appealed the suspension, claiming the league mishandled the documentation and delivery of his sample, but that appeal was denied.
For the first time for non-medical reasons, Tom Brady skipped the OTAs, despite having said in the past that they're the perfect time to build a foundation and trust with his receivers. Is this a sign of the beginning of the end of Brady's NFL dominance, or just a well-deserved break before yet another run at Super Bowl glory? MVP and definite GOAT Brady answered that question clearly at the mandatory minicamp by showing up in top shape and putting in extra throwing work with Edelman and Jordan Matthews after the rest of the team had finished.
Patriots training camp takes place at Gillette Stadium in Foxboro, MA, with rookies starting on July 22 and veterans on July 25.
The Buffalo Bills
Good News:
Bills minicamp ended on a high note for first-round draft pick Josh Allen. On the last day, the rookie quarterback was impressive in the red zone, going 3-for-5 with a touchdown. Then later, after signed free agent AJ McCarron and Nathan Peterman failed to score, rookie Austin Proehl caught an Allen pass and took it 70-plus yards for a touchdown.
Peterman was also impressive, and at times even outshined signed free agent (and, according to the roster, the presumed starter) McCarron. Both split first team reps throughout minicamp, and it was reported that while McCarron appears to be the safer bet, Peterman was the player who dazzled. The battle for starter will continue in training camp.
The Bills' other first round draft pick, linebacker Tremaine Edmunds, showed in OTAs and minicamp that he has no problem being the Mike, confidently calling out defensive plays and signals to veteran teammates. At Virginia Tech last year, Edmunds had 108 total tackles, 14 of those for a loss, 5.5 sacks, 2 passes defended and 3 forced fumbles, good news for a Bills team that only had 27 total sacks last season, tied for third worst in the league.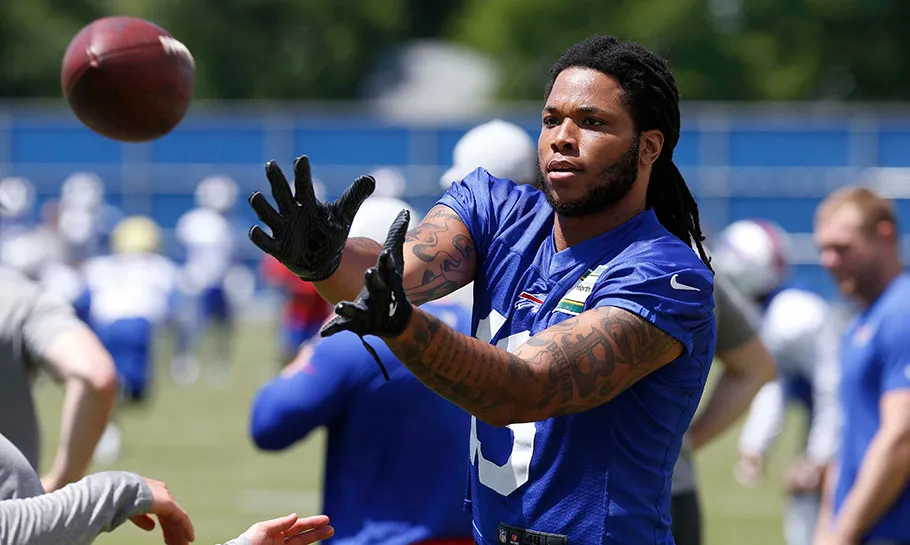 Bad News:
Center Eric Wood has announced his retirement as soon as the Bills released him after he was diagnosed with a career-ending neck injury back in January. By waiting to release him, the $10 million in bonus money owed to Wood only counts against the salary cap this year instead of the remaining two years of his contract. So far, Woods has declined to comment.
Sports Illustrated MMQB writer Jonathan Jones predicted the 2018 Buffalo Bills would finish with a league-worst record of 2-14. Jones stated that the Bills "receiving group shouldn't be feared" and because of their restocked and weak offensive line "good luck running the ball."
Bills training camp takes place at St. John Fisher College in Pittsford, NY with both rookies and veterans starting on July 26.
The Miami Dolphins
Good News:
After missing the last year and a half to recover from his knee injury, quarterback Ryan Tannenill showed up to OTAs and minicamp with a full understanding of the offense and a veteran presence that re-established him as the Dolphins' team leader. Tannehill made big plays with crisp passes that had good velocity, tutored rookies about the offense, even "running his mouth at practice" towards the defense to elevate the competition.
The way perfectionist and newly signed wide receiver Danny Amendola works out and prepares himself for the season shows exactly why he's earned two Super Bowl rings. Amendola is fiery (i.e. cursing at himself, whipping his helmet at a fence) whenever he makes a mistake on the practice field, holding himself to a higher standard, one that seems to be inspiring his new Dolphins teammates.
Linebacker Raekwon McMillan missed his entire rookie season – he tore his ACL in the first preseason game last year – but he didn't miss a beat back at OTAs and minicamp, calling out defensive plays and signals, showing a knowledge of offensive formations and confident leadership. Without him, Miami's defense allowed 24.6 points per game, 4th worst in the league.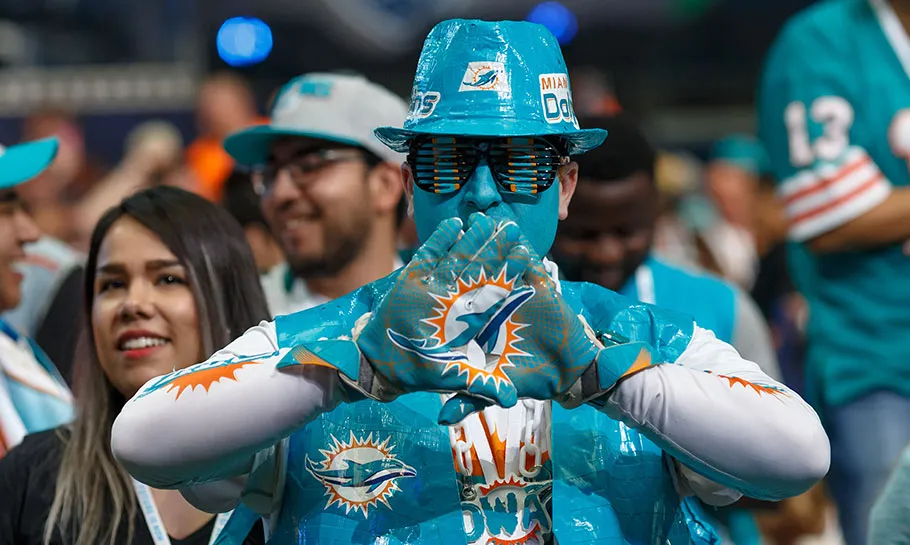 Bad News:
Wide receiver Leonte Carroo had to undergo arthroscopic surgery on one of his knees and missed Dolphins minicamp as a result. Reportedly, Carroo will return for the start of training camp to compete for a roster spot in the crowded Miami receivers' room.
Las Vegas has predicted Adam Gase will be the "second-to-likeliest coach in the NFL to be fired this season." The only head coach at bigger risk is Cleveland Browns' Hue Jackson, who has compiled a league-worst record of 1-31 (.031) over his two Browns seasons. The Dolphin's front office has historically given its head coaches a fourth year, and this will be Gase's third. His career record coaching the Dolphins is 16-17 (.485).
Dolphins training camp takes place at Baptist Health Training Facility in Davie, FL, with rookies starting on July 18 and veterans on July 25.
The New York Jets
Good News:
Head coach Todd Bowles was true to his word and kept the quarterback competition a three-way match throughout OTAs and minicamp. Bowles has given first team reps to returning starter Josh McCown, newly healed former Pro-Bowler Teddy Bridgewater and highly touted rookie Sam Darnold, and says he'll still rank them that way for now going into training camp until the competition "heats up."
During the non-contact offseason workouts, first-round draft pick Darnold has looked like he belongs, showing an understanding of the playbook, leadership on the field and the ability to learn from his mistakes. Bridgewater was reportedly moving around well and appeared to have no issues with his surgically repaired knee. McCown, 39-years-old, was looking "spry and enthusiastic out there" making most of his throws (71.4 percent).
The improved Jets defense – they recently signed predicted starters end Henry Anderson, linebacker Avery Williamson and corner Trumaine Johnson – looked to have "plenty of swagger" during offseason practices. Anderson had 2 sacks and a forced fumble last season, Williamson had 3 sacks and Johnson had 2 interceptions and a forced fumble, all much needed by a Jets defense ranked 25th in 2017.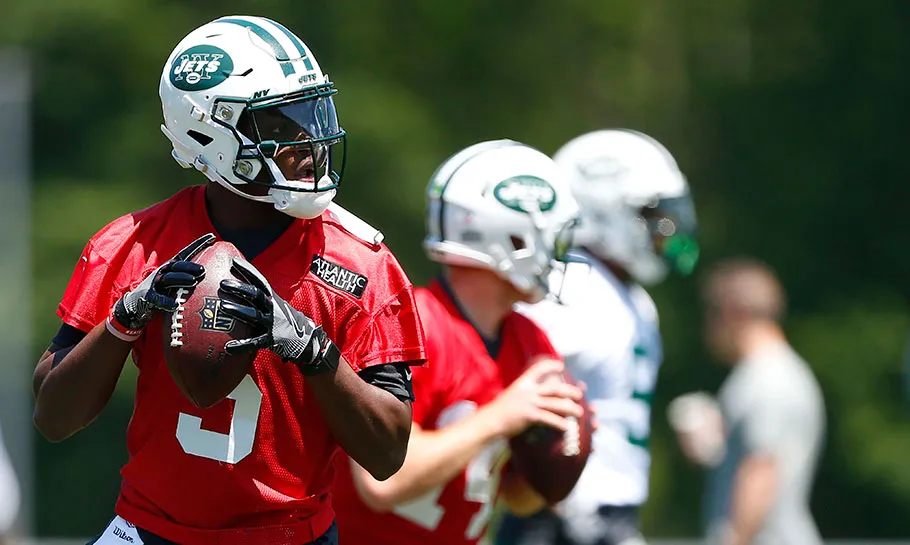 Bad News:
Safety Rontez Miles will be out for 3-4 months after undergoing surgery to repair a torn meniscus. The Jets have signed safety J.J. Wilcox to fill in and help improve a secondary ranked 21st last season in passing yards allowed per game, 234.3.
Signed free agent wide receiver Terrelle Pryor didn't practice this spring, still healing after having surgery on the ankle he injured in Week 2 last season. He's played with McCown when the two were teammates in Cleveland in 2015 and needs to have a big year after his injury-hampered 2017. He's had his ankle boot removed and says he'll be ready for the start of training camp.
Jets training camp takes place at Atlantic Health Jets Training Center in Florham, NY, with rookies starting on July 24 and veterans on July 26.
AFC NORTH
The Pittsburgh Steelers
Good News:
Thanks to All-Pro Le'Veon Bell skipping OTAs while his contract extension is being settled (he says he'll sit out until September if he has to), second-year running back James Conner got to take a lot of first team reps during the offseason workouts and looked healthy and in shape. His teammates have reported that he's made "important strides in areas such as pass protection."
Some of the rookies stood out during OTAs and minicamp and received positive attention from coaches and the media. Safety Terrell Edmunds (first round), running back Jaylen Samuels (fifth round), receiver James Washington (second round) and quarterback Mason Rudolph (third round) all looked confident during the offseason non-contact drills.
The No. 4 wide receiver spot opened up after the trade of Martavis Bryant to the Raiders, and Justin Hunter is proving his name should be part of the conversation. Just as he did last offseason, he caught every pass thrown to him at OTAs and minicamp and looks to be the front-runner to be the primary back up receiver behind All-Pro Antonio Brown, All-Rookie Juju Smith-Schuster and second round draft pick James Washington. The Ben Roethlisberger-led Steelers caught for 273.8 yards per game last season, third best in the NFL.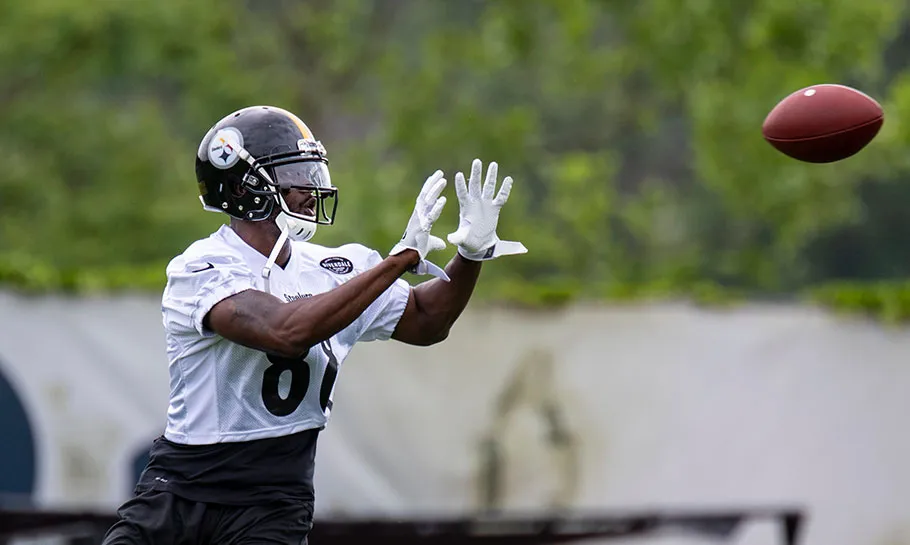 Bad News:
Backup offensive tackle Jerald Hawkins tore his quad during an offseason workout and went on injured reserve. He's been ruled out for the 2018 season, as has backup tight end Jake McGee, who suffered a torn Achilles during the offseason that required surgery.
After suffering a scary spinal injury while making a tackle against the Bengals on Dec. 4 last season, linebacker Ryan Shazier will not play football in 2018 as he slowly recovers. The Pro-Bowler who had 68 tackles and 11 pass defenses before his serious injury says he trusts the rehab process and has "got to get back."
Steelers training camp takes place at Saint Vincent College in Latrobe, PA, with rookies starting on July 24 and veterans on July 25.
The Baltimore Ravens
Good News:
Quarterback Joe Flacco has praised signed free agent wide receiver Michael Crabtree, even calling him "the guy" after practicing with him just a few times. Flacco specifically pointed out Crabtree's ability to get open, something that will help a Baltimore offense that only passed for 189.4 yards per game last season, 29th in the NFL.
"Sleeper pick" receiver Jaleel Scott reportedly "flashed" several times during OTAs, showing a good combination of speed and size. If consistent, the fourth round pick could find himself in the starting lineup. But first he'll have to beat out newly signed free agent Willie Snead, who has much to prove after a poor showing last season for the New Orleans Saints following a three-game suspension for crashing into a parked car and failing a breathalyzer test.
The rookies got scolded at their first day of minicamp when they played a little overly aggressive which created some pileups. Head coach John Harbaugh had to settle them down and remind them of cornerback Tavon Young, who got injured during offseason last year and was out for the season. He told them excitement can turn into being overly aggressive which leads to injuries.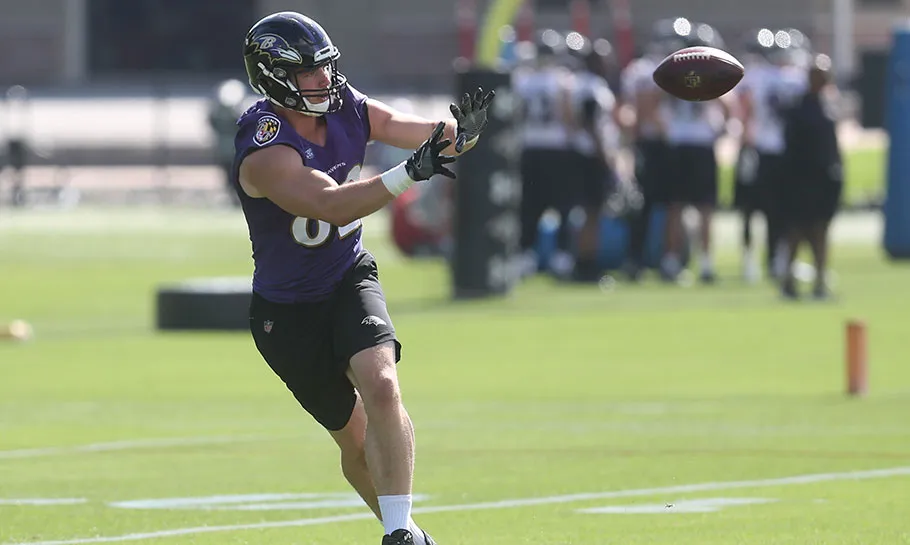 Bad News:
Wide receiver John Brown suffered a knee injury during minicamp that kept him out of the next day's practice. Though it's not considered an immediate cause for concern, given Brown's injury plagued 2017 – quad, back and toe – it's definitely something to keep an eye on.
2nd-Team All-Pro linebacker C.J. Mosley tweaked his knee in an offseason practice and was held out of practices afterwards. It apparently doesn't sound like it's too bad, just coach Harbaugh and company being extra cautious.
Ravens training camp takes place at the Under Armour Performance Center in Owings Mills, MD, with rookies starting on July 11 and veterans on July 18.
The Cincinnati Bengals
Good News:
After injuring himself while benching at the NFL combine, first round draft pick center Bill Price is back to benching above 300 pounds and is "on the way to a full clearance." He'll need all his strength to play for new offensive line coach Frank Pollack, who wants his guys "punching pass rushers in the mouth instead of back-peddling."
Though he saw limited action in OTAs and minicamp, left tackle Cordy Glenn has been cleared with his ankle and foot issues and is slowly getting back to playing shape, according to coach Pollack. For the four healthy seasons prior to 2017, Pro Football Focus gave Glenn a grade of 82.3 or higher, and the Bengals are hoping he can get back to that level of play and protect quarterback Andy Dalton better than the team did last season when they allowed 40 sacks.
Oft-injured tight end Tyler Eifert says he's on schedule to go into training camp at "full speed", though he was limited in OTAs and minicamp. Eifert has played in only 24 games over the last four seasons due to injuries, and was in just two games last season before having back surgery. When he was healthy in 2015, Eifert scored 13 touchdowns in 13 games. He's in a hurry to handle a full workload again, but his trainers are wisely taking his progression slowly.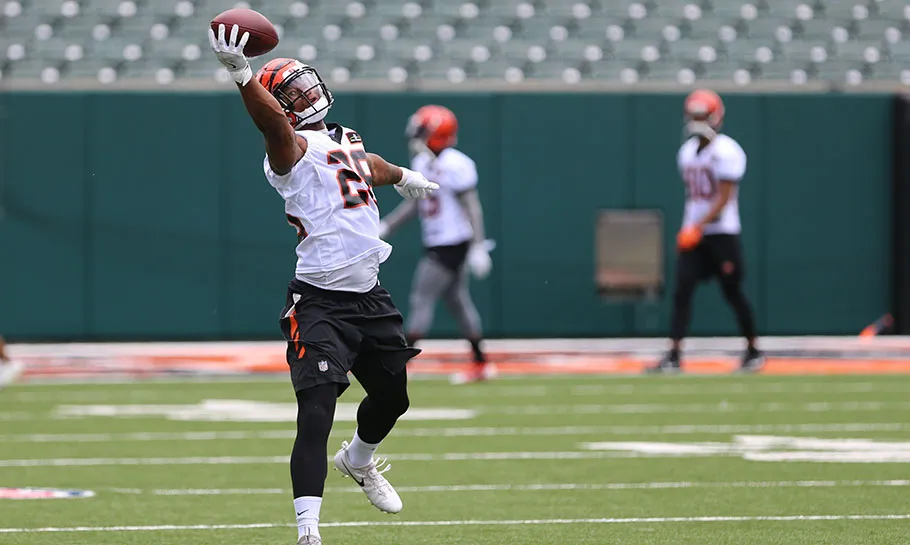 Bad News:
Linebacker Vontaze Burfict will miss the first four games of the 2018 season after the NFL suspended him for violating the league's performance enhancing drug policy. Burfict missed the first three games of last season due to a suspension for an illegal hit in a preseason game, and also missed three games after his first suspension for a helmet-to-helmet hit in 2015. Despite his limited play last season, he still had 69 tackles and 1.5 sacks.
Wide receiver John Ross was not ready to catch passes yet in OTAs and minicamp – he's still rehabbing from labrum surgery in his shoulder. After fumbling his first ever NFL touch and then being on injured reserved for most of his rookie season, Ross blames himself for letting "everything get to me." He's learned to better prepare for 2018 and feels "the best I've felt since I went into my last year of college."
Bengals training camp takes place at Paul Brown Stadium in Cincinnati, OH, with rookies starting on July 23 and veterans on July 25.
The Cleveland Browns
Good News:
Probable Week 1 starting quarterback Tyrod Taylor has impressed his new teammates in OTAs and minicamp. For the Bills last season, Taylor threw for 2,799 yards and 14 TDs with only 4 interceptions while also rushing for 427 yards and 4 TDs, bringing them to the playoffs for the first time in 18 seasons. Signed free agent wide receiver Jarvis Landry has noticed Taylor's "leadership, his arm, his accuracy and he's ready, man. He's the starting quarterback."
And so far, that's also the plan of head coach Hue Jackson, who said, "Tyrod is the starter. He goes with the 'ones' all of the time." That is unless first round draft pick Baker Mayfield pulls a rookie quarterback miracle in training camp.
It's already started – after working with the third team offense in the first two weeks of the OTAs, quarterback Mayfield was promoted to second-team offense in the third and final week. However, coach Jackson says he won't make the mistake of splitting first team reps between different quarterbacks at training camp like he did last season, but this promotion increases the caliber of who Mayfield's working out with.
Defensive end Emmanuel Ogbah saw full action in OTAs and minicamp, which is a great sign that he's recovered from breaking his foot last year. The front office is expecting Ogbah to step up the Browns' pass rushing game with partner All-Rookie Myles Garrett and quiet the complainers who thought they should have drafted Bradley Chubb with their fourth pick.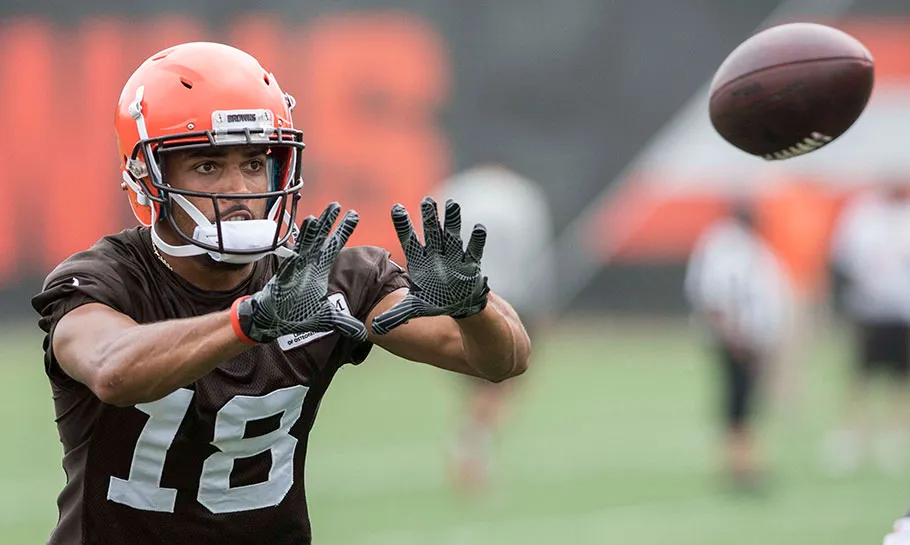 Bad News:
After already losing future Hall-of-Famer left tackle Joe Thomas to retirement, the Browns offensive line took another hit losing tackle Donald Stephenson, who was placed on the reserve/retired list after skipping OTAs and mandatory minicamp and being suspended for two games for violating the league's substance abuse policy. Stephenson forfeited the $1 million that was guaranteed in his contract.
Rookie wide receiver Antonio Calloway suffered a groin injury during OTAs after "doing some good things," according to coach Jackson. As a first year player, Calloway still has a lot to prove, and the Browns say he should be back to full strength by the time training camp happens.
Browns training camp takes place at the Browns Training Complex in Berea, OH, with both rookies and veterans starting on July 25.
AFC SOUTH
The Jacksonville Jaguars
Good News:
After recovering from January's wrist surgery and getting a contract extension, fifth-year quarterback Blake Bortles received strong praise from head coach Doug Marrone and quarterbacks coach Scott Milanovich, who admired his "comfort with the offense and approach to the OTA process." In sixteen regular season games last year, Bortles threw for 3,687 yards and 21 TDs with 13 interceptions while rushing for 322 yards and 2 TDs.
According to multiple Twitter sources, signed tight end Austin Seferian-Jenkins became one of Bortles' favorite targets at OTAs and minicamp. Brought in to fill the hole left when the Jags released their longest-tenured veteran, tight end Marcedes Lewis, Seferian-Jenkins caught 50 balls for 357 yards and 3 TDs for the Jets last season.
Running back Leonard Fournette is losing weight and plans to weigh in at training camp at 224-pounds, which is his college weight. It's also 11-pounds lighter than he weighed in 2017, his rookie season when he rushed for 1,040 yards and 9 TDs while catching 36 balls for 302 yards and a touchdown.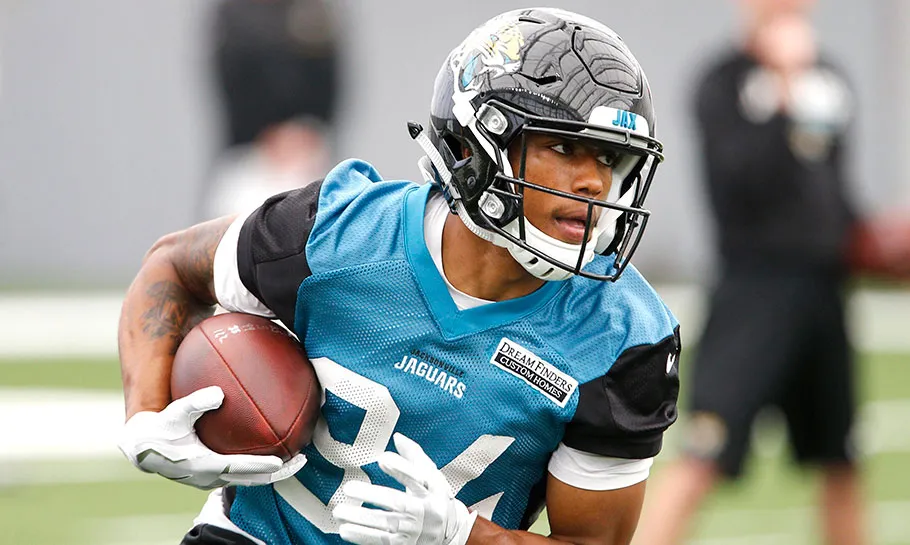 Bad News:
First-team All-Pro cornerback Jalen Ramsey skipped OTAs to work out with his father and brother in Nashville but the good news is he showed up to mandatory minicamp in top form. It was his first healthy NFL offseason – his rookie year he was recovering from knee surgery and last year he had a sports hernia. In 2017, Ramsey had 52 tackles, 4 interceptions and 17 passes defended for the number one defense in the NFL.
The Jaguars revealed their new uniforms, and the overall reaction from fans was not great. The biggest complaint is with the all-teal, zero-drip (skintight) version with only untrimmed white numbers and black knees socks to offset the monochrome ensemble. One fan saw All-Pro defensive end Calais Campbell wearing the new uniform and said, "He looks like a child."
Jaguars training camp takes place at TIAA Bank Field in Jacksonville, FL, with rookies starting on July 18 and veterans on July 25.
The Tennessee Titans
Good News:
Tennessee Titans head coach Mike Vrabel and offensive coordinator Matt LaFleur are new, both having been brought in to better develop young quarterback Marcus Mariota during his fourth NFL season. LaFleur began doing just that in OTAs and minicamp by "tweaking Mariota's technique from the waist down." The idea is for Mariota to throw from a "wider base" to improve accuracy, something he lacked in 2017, throwing a career-high 15 interceptions.
Slot receiver Taywan Taylor did well in offseason workouts and received praise from receivers coach Rob Moore, who was surprised at Taylor's speed and thinks "this kid has a lot of upside." Taylor underperformed his 2017 rookie season and in 16 games only caught 16 balls for 231 yards and a touchdown. That was coming off a 2016 senior year at Western Kentucky where he had 98 receptions for 1,730 yards and 17 TDs.
Tight end Delanie Walker is 33-years-old, but this offseason he said that he could play another four seasons in the NFL. Walker, who has been selected to the Pro-Bowl for the last three years, is a major part of the Titans offense, catching for 807 yards and 3 TDs in 2017. Walker's contract comes up at the end of next season, so a big 2018 will help him no matter where he ends up.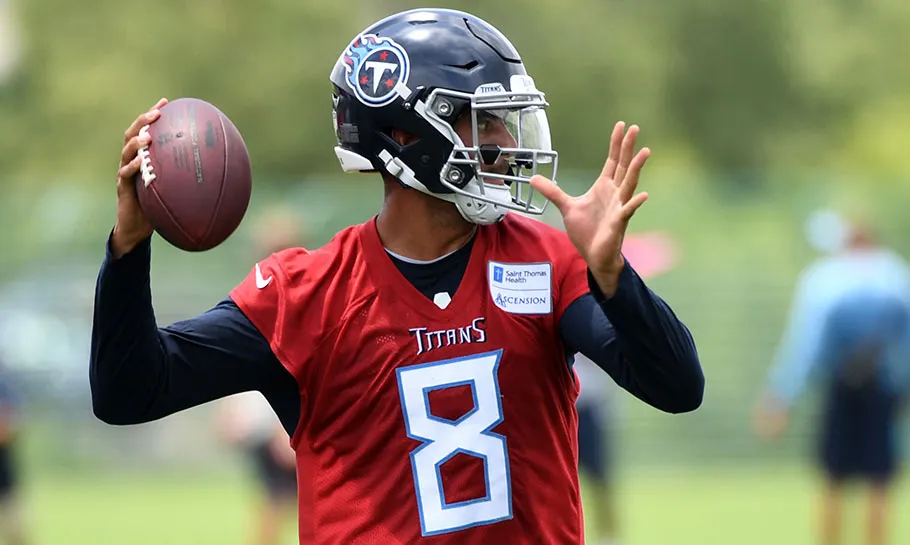 Bad News:
Coach Vrabel has said there is no timetable for offensive tackle Jack Conklin's return from the torn ACL that happened during the Titans' playoff loss to the New England Patriots last year. If it takes the full 9 months to recover, Conklin would miss the start of the 2018 season.
For some unknown reason linebacker Kevin Dodd decided to skip the Titans OTAs and instead worked out at home, a move that surprised those who see him as on the bubble after receiving little playing time in 2017. Besides missing hands-on tutoring from the new coaching staff, he also missed time in the classroom learning coach Vrabel's new offense.
Titans training camp takes place at Saint Thomas Sports Park in Nashville, TN, with rookies starting on July 22 and veterans on July 25.
The Indianapolis Colts
Good News:
After much speculation and wonder if it would ever happen again, 3 x Pro Bowl quarterback Andrew Luck threw the ball in offseason workouts in front of everyone, proving his comeback from shoulder surgery is for real. It was only a college-sized football instead of an NFL-sized one, but it was a big deal since Luck hadn't been able to throw a football until as recently as May. General manager Chris Ballard said he expects Luck to be ready for training camp, and owner Jim Irsay said he expects Luck to have "no limitations" for training camp.
The new and improved offensive line isn't quite settled yet, but it's been said it could be the best line Luck has had in front of him since he's been drafted. The left side is solid, including first round draft pick guard Quenton Nelson, but the right side is still yet to be determined. They must keep Luck safe – last season the Colts allowed a league worst 56 sacks.
Safety Matthias Farley used the OTAs and minicamp to make his case to start next to Malik Hooker in the Colts 2018 secondary. Farley reportedly made plays in coverage on multiple occasions and even finished one of the days with two interceptions.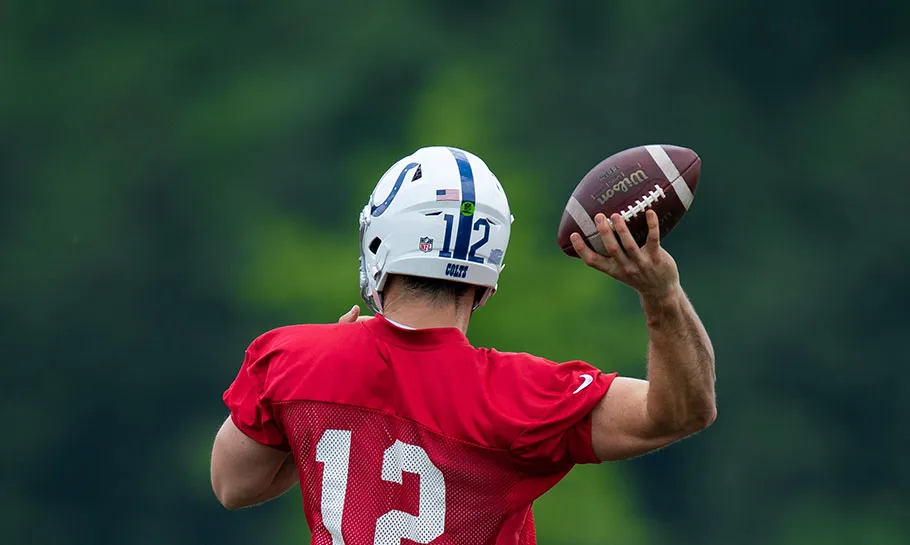 Bad News:
Running back Robert Turbin will miss the first four games of the 2018 season after being suspended for violating the league's performance enhancing drug policy. He's publicly apologized for making a "mistake" and is still allowed to participate in offseason workouts and the upcoming preseason games.
NFL schedule makers have the Colts playing at home for Week 1 on September 9th and one hour after kickoff the Big Machine Vodka 400 at the nearby Brickyard begins. The football game will certainly be sold out, but the Brickyard 400 attendance might take a big hit, a recurring problem.
Colts training camp takes place at Grand Park in Westfield, IN, with rookies starting on July 22 and veterans on July 25.
The Houston Texans
Good News:
Quarterback Deshaun Watson has recovered so well from his knee injury that he spent much of the offseason workouts without a knee brace, a sign he's prepared to restart the promising career that got interrupted by injury during his rookie season. In the seven games he played before getting hurt last year, he threw for 1,699 yards and 19 TDs with 8 picks while rushing for 269 yards and 2 more TDs.
All-Pro wide receiver DeAndre Hopkins "attacked" OTAs and minicamp, according to wide receivers coach John Perry. He says Hopkins is one of those players who's "looking for challenges on a daily basis." Hopkins, who caught 96 balls for 1,378 yards and 13 TDs last season, says he could have caught a hundred had he not dropped some in the beginning of the season, an area of his game he vows to improve.
Kareem Jackson is apparently making the transition to safety during offseason workouts. To help fill the hole created by safety Andre Hal's illness (see below), defensive coordinator Romeo Crennel had Jackson taking reps almost exclusively at safety during minicamp. For the 2018 season, he would pair up with signed free agent safety Tyrann Mathieu, who had 2 picks, 7 passes defended, a forced fumble and a sack last year for the Arizona Cardinals.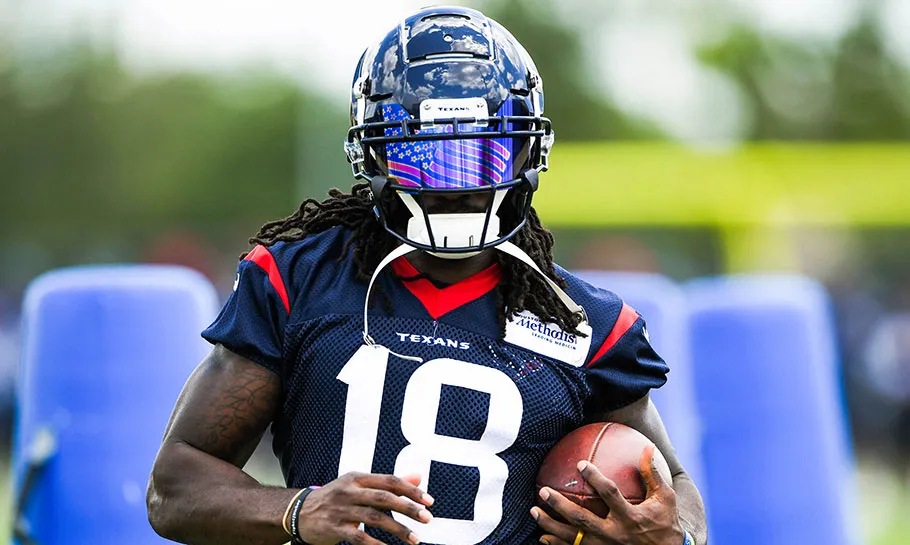 Bad News:
And sad news for safety Andre Hal, who's been diagnosed with Hodgkin's Lymphoma. In a public statement, Hal said he didn't want people to feel sorry for him and that "I will not let this diagnosis stop me from fulfilling my dreams…I know how to beat this and I will beat it." Last season, Hal set a new career high in total tackles with 71 and also snagged 3 interceptions.
Rising star running back D'Onta Foreman missed all offseason workouts as he continues to recover from the ruptured Achilles he suffered in Week 11 last year in his rookie season. If he begins the season on the Physically Unable to Perform (PUP) list, as some suspect he might, he won't be eligible to return until Week 7 at the earliest.
Texans training camp takes place at The Greenbrier in White Sulphur Springs, WV, with both rookies and veterans starting on July 25.
AFC WEST
The Kansas City Chiefs
Good News:
During OTAs, second year quarterback Patrick Mahomes told the media that he feels "a lot more comfortable" calling plays, focusing on "snap counts" and "man zone IDs" and on "what makes this offense so good." With veteran Alex Smith gone, the cannon-armed Mahomes is now the man, and newly promoted offensive coordinator Eric Bieniemy has thrown a lot at him during the offseason workouts to flush out mistakes because "you don't want to make those mistakes in the game."
Bieniemy also had some fantastic words for All-Rookie running back Kareem Hunt during the Chiefs OTAs. He said Hunt's football IQ is very high, and he does "a good job of retaining a lot of information, and trust me, we've been throwing the book at him." He also said Hunt is "working hard", no doubt to repeat his 2017 rookie numbers when he ran 272 times for 1,327 yards and 8 TDs as well as caught 53 balls for 455 yards and 3 TDs.
To help diversify Hunt's workload, head coach Andy Reed expects running back Spencer Ware to return from his knee injury and play the backfield on early, non-passing downs. Ware was said to look good in his offseason drills. In 2016 before his injury, he ran 214 times for 921 yards and 3 TDs while making 33 receptions for 447 yards and 2 TDs.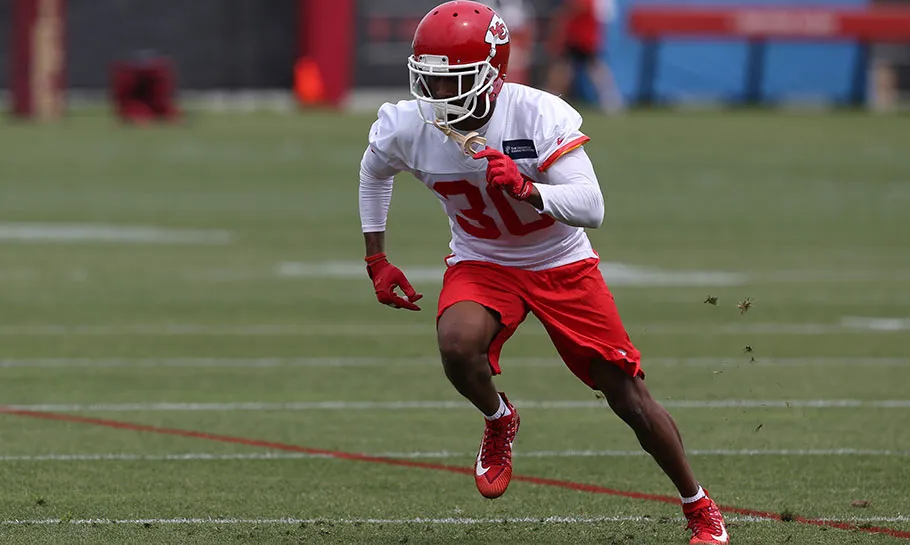 Bad News:
Tight end Demetrius Harris has been suspended for the Week 1 game against the Los Angeles Chargers for violating the NFL's substance abuse policy. In March, Harris served two days in jail after reaching a plea deal following a Marijuana arrest in Missouri. Harris is now on probation and required to do community service and to complete the NFL's drug treatment program.
Wide receiver Tyreek "Fastest Man in Football" Hill was held out of OTAs after he reportedly twisted his ankle. The injury isn't considered serious, and Hill is expected to participate in training camp.
Chiefs training camp takes place at Missouri Western State University in St. Joseph, MO, with rookies starting on July 22 and veterans on July 25.
The Los Angeles Chargers
Good News:
Quarterback Phillip Rivers told the media that the Chargers were ahead of where they were last year at this time since it's now the second year for both being in their L.A. home and being led by head coach Anthony Lynn and "everybody's a little more settled." Rivers says offensively, the challenge for the Chargers is "how quick can we get back to where we were in those last eight weeks?" He's referring to 2017, when during that stretch the team went 6-2.
The Chargers picked up the fifth-year option on running back Melvin Gordon's contract, so he will earn more than $5.6 million in 2019. He'll be aided in 2018 by the upgraded center, signed free agent Mike Pouncey, along with All-Rookie guard Dan Freeny. Last season Gordon ran 284 times for 1,105 yards and 8 TDs while also catching 58 balls for 476 yards and 4 TDs.
Pro Football Focus has officially dubbed the Chargers secondary "The Electric Fence" saying it should "deliver a spark in 2018." That includes "NFL's best cover" and second-team All-Pro cornerback Casey Howard and first-round draft pick Derwin James, who had 186 total tackles, 5.5 sacks, 3 interceptions and a touchdown in his three years at Florida State.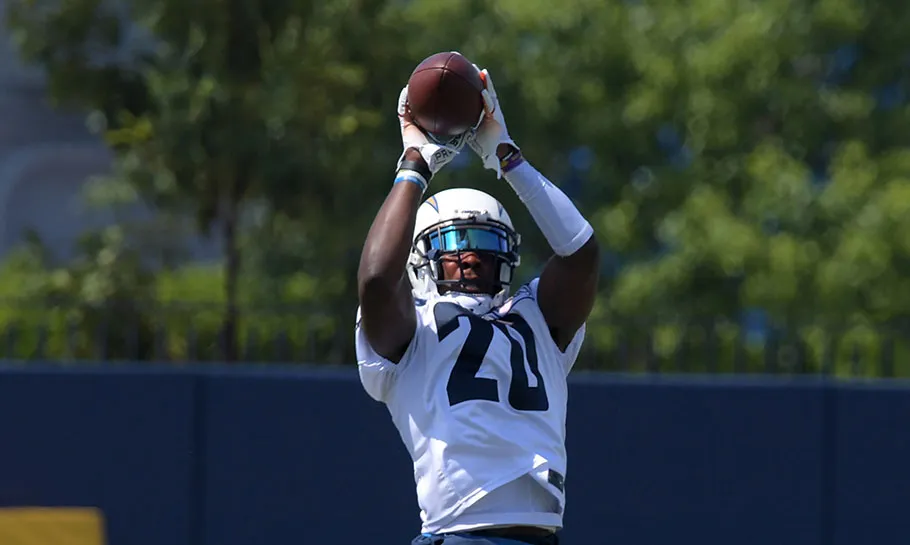 Bad News:
A big blow to the Chargers offense – tight end Hunter Henry suffered a non-contact, (what's thought to be) season-ending tear to his ACL during the first OTA sessions of the offseason. Having already released long time tight end Antonio Gates, the Chargers were counting on Henry to fill that role after catching 45 passes for 579 yards and 4 TDs last year.
Defensive tackle Corey Liuget has been suspended (without pay) for the first four games of the 2018 season after violating the league's performance-enhancing drug policy. In a public statement, Liuget said, "I made a mistake and take full responsibility. Even if you take it accidentally, it's on you." He was supposed to make $8 million in total compensation in 2018.
Chargers training camp takes place at the Jack Hammett Sports Complex in Costa Mesa, CA, with both rookies and veterans starting on July 27.
The Oakland Raiders
Good News:
Despite worries predicting the contrary, quarterback Derick Carr and new head coach Jon Gruden got along well during offseason workouts. And that's despite their verbal differences – Gruden curses and yells, Carr does not. But Carr has said that he wants to be coached hard because he wants to be great and that Gruden is "hard on me. He pushes me. He challenges me. It's everything I want."
Regarding the offseason workouts, coach Gruden told the media, "I couldn't really be more pleased." He commented on everyone getting in a lot of reps, the development of the new players and the "assertiveness" of some veterans, all of which he considers "a huge positive."
The 2017 first-round draft pick Gareon Conly has improved his shin injury and according to coach Gruden he's "regaining confidence." Conly only played in two games his rookie year after suffering a season-ending shin injury that required surgery. He'll line up with signed free agent Rashaan Melvin, who had 3 interceptions, 13 passes defended and 30 tackles for the Colts in 2017.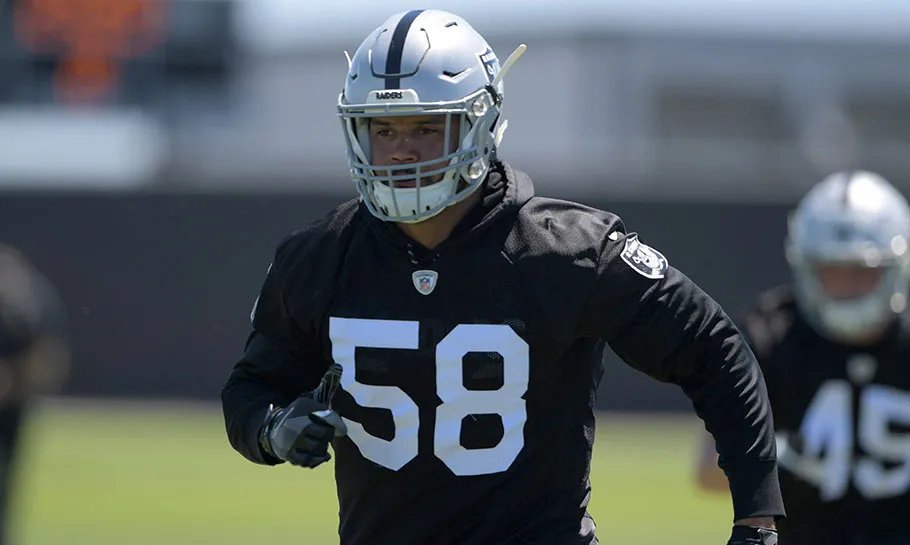 Bad News:
Offensive tackle Vadal Alexander will miss the first four games of 2018 due to a suspension for violating the league's performance-enhancing substance policy. Alexander is the Raiders' primary backup tackle, so his absence leaves the door open for first-round draft pick Kolton Miller, third-round pick Brandon Parker and signed free agent Breno Giacomini (HOU).
Star defensive end Khalil Mack, who's in the fifth and final year of his rookie contract, is an official holdout after skipping the mandatory minicamp (on top of the voluntary OTAs). He's reportedly looking for a deal worth $65 million guaranteed after a 2017 that included 61 tackles, 10.5 sacks, 3 passes defended and a forced fumble and recovery.
Raiders training camp takes place at the Napa Valley Marriott in Napa, CA, with rookies starting on July 23 and veterans on July 26.
The Denver Broncos
Good News:
The Broncos coaching staff had nothing but praise for signed free agent Case Keenum during offseason workouts, mostly because he fills the glaring leadership void at quarterback. Offensive coordinator Bill Musgrave complimented Keenum's work ethic, saying, "He's a winner, number one. He approaches every day the same way, professional." Keenum played in 15 games for the Vikings last season, throwing for 3,547 yards and 22 TDs with only 7 interceptions while also running for 160 yards and a touchdown and taking them to the playoffs.
The Denver defense, ranked 3rd last season, showed off a bit at OTAs and minicamp with deflected passes, interceptions and quarterback pressure. The workout sessions were pad-less, of course, but were helped by hired 'rush consultant' and one of the best pass rushers in NFL history, DeMarcus Ware. The Broncos only had 33 sacks last season, eighth worst in the NFL.
Second-year tight end Jake Butt allegedly "stole the show" often at the 2018 OTAs, making plays in the red zone and developing chemistry with Keenum. That makes the training camp battle between him and Jeff Heuerman definitely worth watching.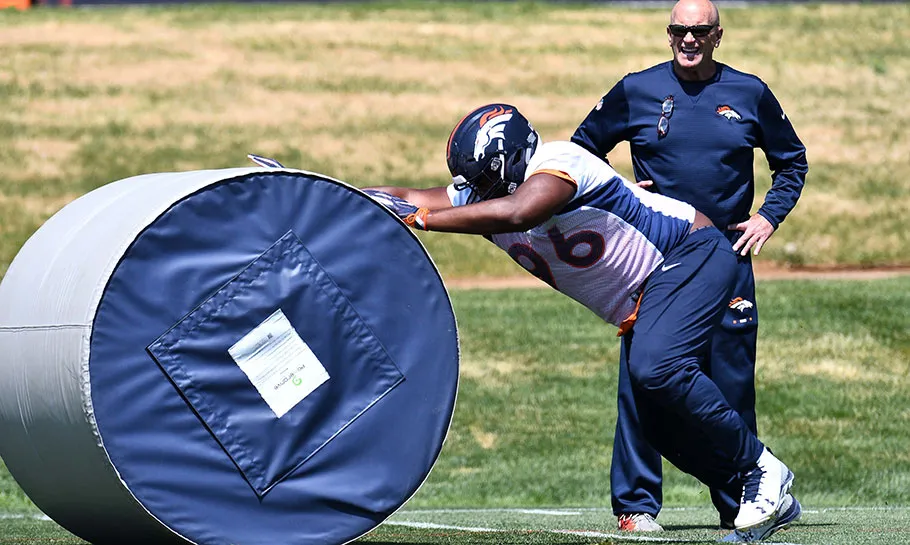 Bad News:
The same wrist injury that sidelined outside linebacker Shane Ray for half of 2017 caused trouble for him at the Broncos OTAs. Ray originally tore the ligament in his wrist during the first week of training camp last season and eventually attempted to play with a cast but ended the season on injured reserve. It's said to be just the normal "swelling and soreness" that happens post-surgery.
Running back De'Angelo Henderson was briefly hospitalized with what's been called "minor injuries" after his car was T-boned by a woman involved in a high-speed chase with the police. His car went airborne, flipped and landed on another car before rolling away. Henderson isn't sure if he was just lucky, or more likely "blessed."
Broncos training camp takes place at the UC Health Training Center in Englewood, CO, with rookies starting on July 24 and veterans on July 27.