What makes football such an exciting spectacle?
It's a combination of many things, but one of the most important of these is the crowd. Whether you're at the match or watching from your couch, a game always feels more intense if the stands are full of noisy fans.
With the help of our map, we're going to work our way through the best-attended leagues in Europe, and will fill you in on some interesting snippets about each place as we go. We'll also find out just why some leagues have more vibrant fan cultures than others. So let's get started.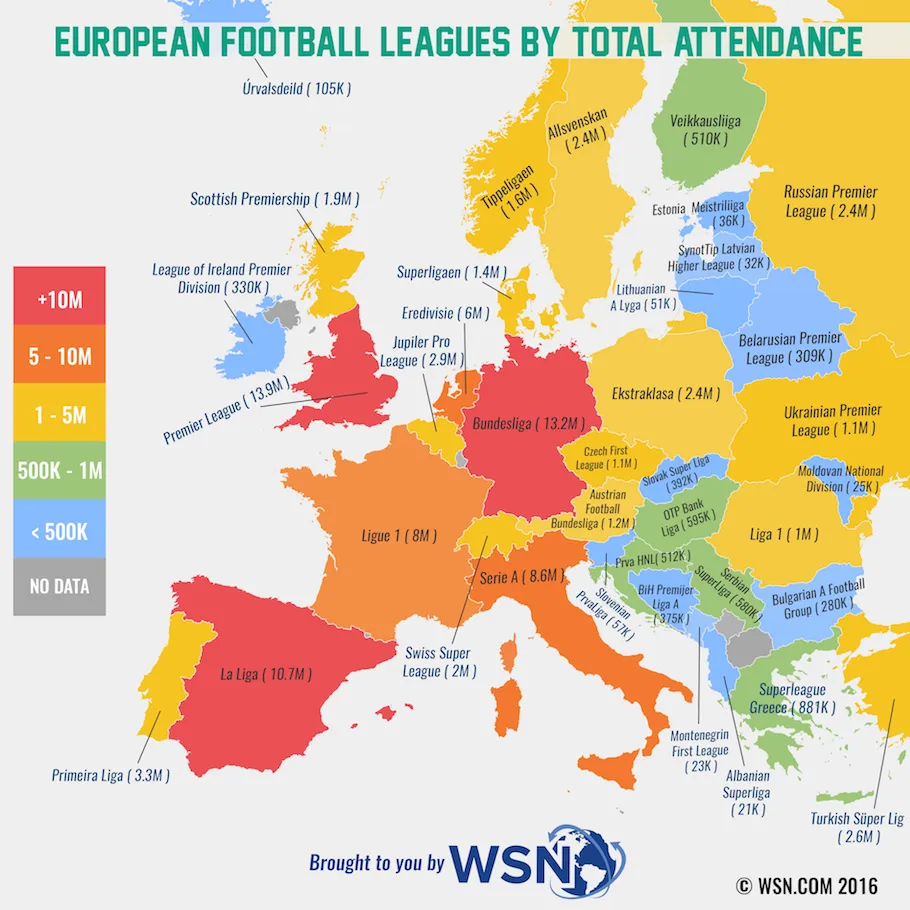 Total Attendance at European Football Leagues

| Country | League | Total Attendance |
| --- | --- | --- |
| England and Wales | Premier League | 13,851,698 |
| Germany | Bundesliga | 13,249,778 |
| Spain | La Liga | 10,703,881 |
| Italy | Serie A | 8,604,537 |
| France | Ligue 1 | 7,970,815 |
| Netherlands | Eredivisie | 5,940,000 |
| Portugal | Primeira Liga | 3,323,289 |
| Belgium | Jupiler Pro League | 2,870,253 |
| Turkey | Turkish Super League | 2,578,561 |
| Poland | Ekstraklasa | 2,442,100 |
| Russia | Russian Premier League | 2,437,341 |
| Sweden | Allsvenskan | 2,392,084 |
| Switzerland | Swiss Super League | 1,956,021 |
| Scotland | Scottish Premiership | 1,897,537 |
| Norway | Tippeligaen | 1,601,774 |
| Denmark | Superligaen | 1,376,137 |
| Austria | Austrian Football Bundesliga | 1,185,374 |
| Czech Republic | Czech First League | 1,138,879 |
| Ukraine | Ukrainian Premier League | 1,111,900 |
| Romania | Liga I | 1,060,209 |
| Greece | Superleague Greece | 881,242 |
| Hungary | OTP Bank Liga | 595,162 |
| Serbia | Serbian SuperLiga | 580,206 |
| Cyprus | Cypriot First Division | 555,840 |
| Croatia | Prva HNL | 511,874 |
| Finland | Veikkausliiga | 509,687 |
| Slovakia | Slovak Super Liga | 392,547 |
| Bosnia and Herzegovina | BiH Premijer Liga A | 375,120 |
| Republic of Ireland | League of Ireland Premier Division | 330,330 |
| Belarus | Belarusian Premier League | 309,059 |
| Bulgaria | Bulgarian A Football Group | 279,713 |
| Iceland | Úrvalsdeild | 105,517 |
| Slovenia | Slovenian PrvaLiga | 57,330 |
| Lithuania | Lithuanian A Lyga | 50,818 |
| Estonia | Estonia Meistriliiga | 36,094 |
| Latvia | SynotTip Latvian Higher League | 32,221 |
| Moldova | Moldovan National Division | 25,050 |
| Montenegro | Montenegrin First League | 23,000 |
| Albania | Albanian Superliga | 20,879 |
Leagues with a Total Attendance under 500K
A quick glance at the leagues at the lower end of the spectrum will tell you that match attendance tallies with the population of a given nation.
Belarus is the only one featured here that is among Europe's 20 most populated countries. And naturally, the size of a city is going to be proportionate to attendances as well.
In all the countries with attendances between under 500K, the only cities among the 36 most-populated in Europe are Sofia in Bulgaria and Minsk in Belarus.
Fewer Teams
It's a given that there will be fewer football teams to support in countries with fewer people, and so fewer matches to attend. The First Professional Football League in Bulgaria has 14 teams, while there are just ten in the Moldovan National Division.
FC Zaria's Stadionul Or??enesc for instance witnessed just 14 home matches in the 2015-16 season.
There are 12 teams in Iceland's Úrvalsdeild. And as we all found out in the summer, the country only has 323,000 inhabitants, which makes their total attendance of 100,000 pretty impressive.
Not Many Big Names
There aren't many sides that have made a dent in European football. The most obvious ones come from the two best-attended leagues in this band.
BATE Borisov of Belarus are regulars in the Champions League group stage, as are Ludogorets, who have taken their place in this season's tournament, sharing a group with PSG, Arsenal and Basel.
Ludogorets average below 2,000 for each home game, and play in a league in which only 200 people will show up for a match at PFC Montana in the far northwest of the country.
Leagues with Spectators That Number Between 500K and 1M
One of the fun things about Hungarian domestic football is that following decades of supremacy by Budapest's Ferencváros you're never sure who's going to win the league.
And something that might keep total attendances low is that the league has been dominated by rural sides in recent years.
Take Videoton in Székesfehérvár, which won the league in 2011 and 2015, and is in a city with just 100,000 inhabitants, pulling in just 1,800 fans a fortnight.
Greek Gods and Mortals
What strikes you when you watch Greek football is how tiny most of the stadiums are. We all know about Olympiakos and AEK Athens from watching European football. They play in large arenas and get healthy attendances.
These sides spike the figures, but they aren't very representative of a league with some island-based teams that have small followings.
Look at Platanias in Chania on the west side of Crete, with a stadium holding just 3,700. Or there's Kalloni on the island of Lesbos, with space for just 3,000 fans.
Finnish Fanatics
Finland's Veikkausliiga gives the impression of being a vibrant league filling its modest grounds with spectators. Only one of the 12 stadiums in the league holds more than 10,000 fans, but total attendance still rose above 500,000 for the year.
It suggest that Finnish football fans are a loyal bunch, especially as none of their sides have made their mark on continental tournaments.
Balkan Beasts
One region that has been traditionally competitive on the European stage is southeast Europe, where the Serbian Superliga and Croatian PRVA HNL register healthy crowds for their size.
It helps to remember that the disparate nations in this part of Europe were once one block, and the combined attendances are considerable when you think that the glory days of clubs like Red Star Belgrade are firmly in the past.
Red Star average close to 20,000 a game, which outstrips half of the teams in Italy's Serie A for example. And a derby against local rivals Partizan will see as many as 45,000 packed into their Marakana Stadium.
It's a similar picture in Croatia, where traditional big guns Hajduk Split get 15,000 every other week, three times as many as their closest rival NK Osijek.
Leagues with 1M – 5M Spectators
The majority of European nations are in this stratum, including large parts of Scandinavia and Central Europe, so don't be offended if we don't mention your league.
Most of the leagues here are from countries that have populations below the largest in the region. But there are some notable exceptions. Russia and Turkey are big nations with relatively low football attendance. Let's see why.
A Steppe Too Far for Russian Fans
It's not hard to explain why match-day crowds might be low in Russia. It has a lot to do with the complete absence of away fans when you discount the three Moscow-based teams.
The dimensions of this country are mind-boggling. If you're a Zenit fan and fancy a road trip to an away match in Tomsk, you'll be in the car for 50 hours without breaks. A flight will take the best part of seven hours.
The Moscow derbies like Spartak vs CSKA will draw more than 40,000 but far flung teams like FK Tom Tomsk, FC UFA and Orenburg pull in far fewer than 10,000 on average.
Turkish Trials
Turkey isn't a small country either, and outside the Istanbul area, where there are five clubs, the Süper Lig's 13 other teams are scattered fairly evenly around this expansive nation.
But that's not the only reason for low attendance. Turkish domestic football has been struggling for a variety of reasons, some linked to political strife.
One controversy has been the introduction of an unpopular e-ticketing system, which involves fans handing over their personal details to the authorities.
When it was launched it was billed as a way to combat hooliganism, but many fans have stayed away because of what they think are ulterior motives.
Other Issues in Turkey
Ticket prices are high, the venues are usually poorly-maintained, and there are also concerns about the integrity of the league.
One of football's largest ever match-fixing scandals was uncovered in Turkey in 2011, but many of the officials and players found guilty escaped punishment after the government intervened.
Beyond this, there are also plenty of minnows away from the biggest clubs. Take Kas?mpa?a SK in Istanbul, who only just break 1,000 for home matches at Recep Tayyip Erdo?an Stadium, named after the current president who's from this part of the city.
Portuguese Powerhouse
On the other end of the spectrum is Portugal, which, for a country of just 10M, has always packed a punch as a football nation, as shown just this summer when it claimed its first European championships
Attendance in the Primeira Liga is concentrated among the three giants, Benfica, Sporting, and Porto.These three teams pack in almost twice as many fans as all the other teams combined, and are clustered around the country's largest cities.
It's Benfica that lead the way, averaging above 50,000 for every home match at the Estádio da Luz, still 15,000 seats shy of its capacity.
Steadfast Scots
You have to hand it to Scottish fans too, because with half the population of Portugal the Premiership still makes it into the 1 – 5M band. In case you needed reminding, this is down to the Old Firm, and the numbers will only increase after Rangers won promotion last year.
Even when Rangers were working their way back through the league system after going bust in 2012, they were posting huge home attendances.
In the Scottish Championship last season they averaged 45,000, which is special when you remember these fans were showing up for matches against Dumbarton and Greenock Morton.
Nothing Rotten in Denmark
With a similar population to Scotland, Denmark's Superliga posts healthy attendances, without the presence of an old firm.
There's just a cluster of mid-sized clubs with capacities in the teens and low-twenties. Larger clubs like Aarhus, Brondby and Copenhagen have the largest bases, eclipsing new kids on the block FC Midtjylland, who post relatively low figures despite winning the title in 2015.
In nations like Denmark it's easy to get to away matches too, although there has been strife about the proposed introduction of "mandatory away cards", which would identify everyone travelling to grounds.
This proposal came about after a match between AaB Aalborg and FC Copenhagen descended into fan violence in 2012. "Football Factory" it definitely was not, but the scuffles and pyrotechnics were enough to provoke an outcry.
Leagues Whose Attendance Is Between 5 and 10M
There are only three leagues in this band, and two belong to nations far larger than the other. We'll start with the smallest: the Netherlands, who do very well when you remember they're in an 18-team league..
Dutch Defiance
Domestic football in the Netherlands is as vibrant as it gets, even at a time when their clubs have faded on the European stage and the international team is in the doldrums.
Attendances are as high as ever, and they're led by the three powerhouses, Ajax, Feyenoord and PSV. Stadiums are full or nearly full every week, and there are lively rivalries between the big three, and especially Ajax and Feyenoord.
For atmosphere, few stadiums can rival De Kuip in Rotterdam. Even if it's been a few years since they won the title, Feyenoord fans are proud of their atmosphere and see their club as the Dutch team with a soul.
Respectable Numbers
These iconic stadiums are practically full most weeks: Ajax and Feyenoord lead the way with crowds in the high-40s, followed by PSV's Philips Stadion, getting near-capacity gates of 34,000 every fortnight.
Special mention goes to FC Twente, Heerenveen, Groningen and Utrecht, none of whom are fashionable names, but all pack in 20,000 or so for their home matches,
Trailing far behind them all are Rotterdam's Excelsior, but it helps to remember that they share a city with Feyenoord and are a feeder club for their larger neighbours.
Big Future for France?
In the build up to Euro 2016, Ligue 1 was endowed with some seriously beautiful, and large, stadiums. Some were updated, like the extended terracing and new roof on Marseille's Stade Vélodrome.
While other teams got shiny new grounds, Nice recently moved into the 35,000-seater Allianz Riviera, and Bordeaux got the ultra-sleek Matmut Atlantique, which can hold 42,000 fans.
Lille got the 50,000 Stade Pierre-Mauroy and largest of them all is Lyon's spanking 59,000-capacity Parc Olympique Lyonnais.
There's no doubt that in the wake of the tournament France now has some of the best infrastructure of any European League.
Attendance Boost
Crowds are larger now than in recent fallow years, even if few of the grounds are ever sold out. Attendance in Ligue 1 is at a respectable 70% – much higher than Serie A, but far below the English Premier League and the Bundesliga.
Only PSG are able to attract capacity crowds, which makes you wonder about the harm done by their monopoly on the league. This is just a theory, but there might be a significant spike in attendances if more teams were able to compete.
In 2014-15, when Marseille looked like they might win the league with Bielsa, the Vélodrome averaged 52,000. Their recent fall from grace has seen attendances dwindle to just 32,000 this season.
It looks like a more competitive league could help French football in more ways than one.
Serial Strife in Serie A
People who haven't been to a Serie A match might wonder why attendance in one of Europe's greatest leagues is so low.
Many of the grounds in Italy are huge, but attendance across the league doesn't get far above 50%.
The reason for this is complicated, but mostly stems from most of the league's stadiums being owned by the local municipalities and rented out to the clubs. It can result in an unpleasant day out for match-going supporters.
City councils are unwilling to spend money on infrastructure or refurbishing creaking old stadiums, but they're happy with the steady income that gate receipts provide.
They've also got no interest in allowing clubs to build their own stadiums, as Juventus have done, because they'd lose out on a decent revenue stream.
Seduced by TV
Some of these stadiums haven't seen so much as a lick of paint since the 90s, so you can't blame fans for watching matches in the comfort of their homes.
And this is easy to do in Italy: if you have a Sky Italia subscription you won't miss a single match.
Location is an issue too. Remember Juve's Stadio delle Alpi? Like many Serie A grounds this was on the outskirts of Turin, and a pain to get to on patchy public transport.
And then you come to the Ultras, organised fan groups that operate like gangs. Roma, Lazio and Verona are notorious for these groups, and often the environment around the grounds isn't worth the hassle.
Juventus Setting New Trend?
The Old Lady are the only club that gets close to full houses, and it's no coincidence that they're also one of only three Serie A sides that owns its ground.
The new Juventus Stadium is half the size of the San Siro and the Stadio Olimpico, but rakes in much more match-day revenue for Juve and is one of the things that has helped turn the club into a European force once more.
Leagues with Over 10M Spectators
These are the countries where football is a way of life. But in some places the match-day experience is more of an institution than others, where TV has crept in.
Spanish Wonders
It's not headline news that Spain is blessed with some glorious football stadiums. Apart from the obvious Camp Nou and Santiago Bernabéu, many teams play their football in grand arenas like Atlético's Vicente Calderón and Athletic Bilbao's fantastic new San Mamés.
The difficulty for La Liga clubs has been filling these stadiums. Attendance is at 70% throughout the league, and you may be surprised by the clubs with the highest percentage.
Eibar's scenic Ipurúa, one of the most beautiful football stadiums in the world is nearly full for most of their matches, but that shouldn't be difficult as it only holds 6,285. Granada, Athletic Bilbao and Atlético Madrid have tended to fill their stadium better and more often than the rest of the league.
Languishing behind are Espanyol, Barcelona other teams, who rarely get crowds of more than 20,000 into their 40,000-seater RCDE Stadium.
Any Explanations?
Some of the causes of low turnouts in Italy overlap with Spain: the economy has had a downturn in the last decade, and every match is televised with Movistar.
This blanket television coverage could be one of the best explanations for why Spanish live football is less popular than in England, France and Germany, even though the quality is as high, if not better.
Lack of competition might be a factor too: before Atlético broke Barcelona and Real Madrid's stranglehold on the league in 2014, the previous winner outside of the big two had been Valencia way back in 2004.
As we saw with Marseille in France, sometimes fans need a reason to believe.
German Giants
Something that makes Bundesliga attendance so impressive is that there are just 18 teams, fewer than England, Serie A, Ligue 1 and La Liga.
So despite being the second-most attended league on the continent, the Bundesliga is still punching above its weight.
Safe Standing
Of the top ten club stadiums in Europe with the highest average attendance, five are found in Germany. One of the reasons for this is because of the provision of safe standing areas that can be switched from seating to standing at the drop of a catch.
In the parts of the grounds where people stand you can generally fit a third more fans than if it was seated.
Awesome Displays
Germany has the distinction of not only boasting vast constructions like Dortmund's Signal Iduna Park, but also being able to fill them regularly.
This creates epic scenes that you won't experience anywhere else: the sight of vast tifos several storeys high, and the sound of thousands of hardcore supporters singing incessantly for the 90 minutes.
Packed Houses
Indeed, like England's Premier League, the Bundesliga does a fine job of keeping its stadiums full. In 2013-14, attendance by capacity was the highest in Europe, at 96%.
Safe standing helps here too, as these are usually the cheapest tickets in the house and help attract people who would usually be priced out. It's one of many reasons football fans in England have started casting envious glances at the Bundesliga.
Berlin's Hertha BSC are the only ones to let the side down for stadium load. They get averages of more than 50,000 but the cavernous Olympiastadion can hold almost 75,000.
English Insanity
So we know that being a football fan has never been about logic. But in England that idea is pushed to its limits.
Premier League fans pay more than anyone else to watch live football. The cheapest match-day ticket at Leicester, known for looking after its supporters, was £22 last season, still almost twice what they charge at Bayern Munich.
In the past year nearly all clubs have agreed on a price freeze for season tickets. But the average price to watch a club like Arsenal is still several times what most fans pay in Spain, Germany and France.
But Amazing Crowds
And yet the fans keep coming. Empty seats were a common sight at English grounds in the 90s, but these days matches for the big sides sell out well in advance.
Attendance is at 95% of capacity across the league, while the totals are only going to grow from here: West Ham and Liverpool have just boosted their crowds this season with a stadium move and revamp.
Meanwhile Spurs are building a new stadium next to White Hart Lane, which will open in 2018 and hold 61,000.
Unlike in Germany, English fans won't sing for the full ninety minutes, but where the Premier League shines is in the spontaneous chants between home fans and the sizeable away contingents.
The fans also live every moment of a match, greeting every foul, piece of skill and goal with a cacophonous response.
Football Cathedrals
England may lack arenas on the record-breaking scale of the Camp Nou or San Siro, but it has a growing collection of large grounds. Eight Premier League stadiums can seat more than 40,000 now.
Anfield, Old Trafford and Goodison Park are some of the last of the historic grounds, as sleek new homes are built for teams with money to invest on their infrastructure.
All that's missing for English teams is some European success to make their palaces feel like home.
Thanks for Your Support!
That's the long and short of it. Premier League fans are charged through the nose, but still show up in greater numbers than any other league on the continent.
Maybe it's fashionable to say so, but the Bundesliga is the league that gets most things right. Like the Premier League, the stadiums are modern and have good infrastructure, but tickets are affordable too.
If Italy, France and Spain want to catch up, it might help to give the smaller clubs more of a fighting chance, and maybe make it easier for fans to watch matches in person rather than on TV.
Other than that, it's a good idea to stoke up the rivalries: nothing fills a stadium better than a derby!