We're obsessed with the topic of football stadium capacity and to indulge our curiosity we've trawled around Europe to find the largest football stadium in each country.
Some of them are international icons hosting momentous events, while others are obscure and home to teams we guarantee you have never heard of. So join us for our definitive list, beginning with the smallest in Europe.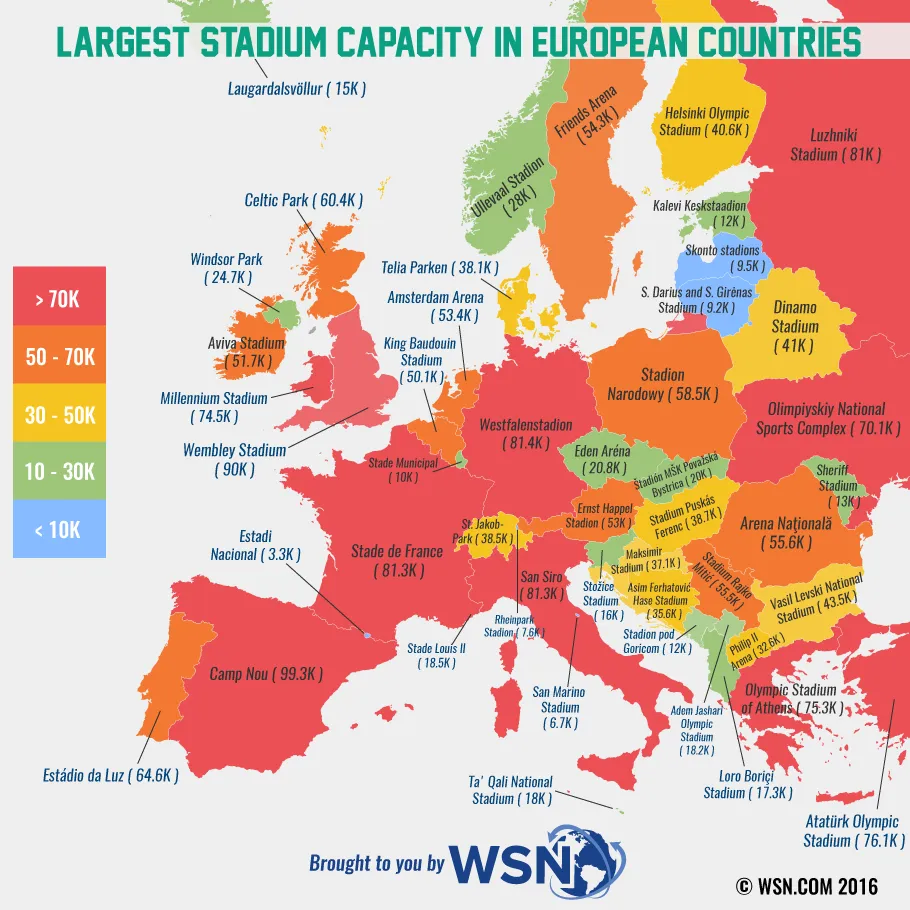 Football Stadium Capacity in Europe

| Rank | Country | City | Stadium | Capacity |
| --- | --- | --- | --- | --- |
| 1 | Spain | Barcelona | Camp Nou | 99,354 |
| 2 | England | London | Wembley Stadium | 90,000 |
| 3 | Germany | Dortmund | Westfalenstadion | 81,359 |
| 4 | France | Paris | Stade de France | 81,338 |
| 5 | Italy | Milan | San Siro | 81,277 |
| 6 | Russia | Moscow | Luzhniki Stadium | 81,000 |
| 7 | Turkey | Istanbul | Atatürk Olympic Stadium | 76,092 |
| 8 | Greece | Athens | Olympic Stadium of Athens | 75,263 |
| 9 | Wales | Cardiff | Millennium Stadium | 74,500 |
| 10 | Ukraine | Kiev | Olimpiyskiy National Sports Complex | 70,050 |
| 11 | Portugal | Lisbon | Estádio da Luz | 64,642 |
| 12 | Scotland | Glasgow | Celtic Park | 60,411 |
| 13 | Poland | Warsaw | Stadion Narodowy | 58,500 |
| 14 | Romania | Bucharest | Arena Na?ional? | 55,634 |
| 15 | Serbia | Belgrade | Stadium Rajko Miti? | 55,538 |
| 16 | Sweden | Stockholm | Friends Arena | 54,329 |
| 17 | Netherlands | Amsterdam | Amsterdam Arena | 53,502 |
| 18 | Austria | Vienna | Ernst Happel Stadion | 53,008 |
| 19 | Ireland | Dublin | Aviva Stadium | 51,700 |
| 20 | Belgium | Brussels | King Baudouin Stadium | 50,093 |
| 21 | Bulgaria | Sofia | Vasil Levski National Stadium | 43,530 |
| 22 | Belarus | Minsk | Dinamo Stadium | 41,040 |
| 23 | Finland | Helsinki | Helsinki Olympic Stadium | 40,600 |
| 24 | Hungary | Budapest | Stadium Puskás Ferenc | 38,652 |
| 25 | Switzerland | Basel | St. Jakob-Park | 38,512 |
| 26 | Denmark | Copenhagen | Telia Parken | 38,065 |
| 27 | Croatia | Zagreb | Maksimir Stadium | 37,168 |
| 28 | Bosnia and Herzegovina | Sarajevo | Asim Ferhatovi? Hase Stadium | 35,630 |
| 29 | Macedonia | Skopje | Philip II Arena | 32,580 |
| 30 | Norway | Oslo | Ullevaal Stadion | 28,000 |
| 31 | Northern Ireland | Belfast | Windsor Park | 24,734 |
| 32 | Cyprus | Nicosia | GSP Stadium | 22,859 |
| 33 | Czech Republic | Prague | Eden Aréna | 20,800 |
| 34 | Slovakia | Považská Bystrica | Štadión MŠK Považská Bystrica | 20,000 |
| 35 | Monaco | Monaco | Stade Louis II | 18,523 |
| 36 | Kosovo | Mitrovicë | Adem Jashari Olympic Stadium | 18,200 |
| 37 | Malta | Ta' Qali | Ta' Qali National Stadium | 18,000 |
| 38 | Albania | Shkodër | Loro Boriçi Stadium | 17,300 |
| 39 | Slovenia | Ljubljana | Stožice Stadium | 16,038 |
| 40 | Iceland | Reykjavik | Laugardalsvöllur | 15,000 |
| 41 | Moldova | Tiraspol | Sheriff Stadium | 13,000 |
| 42 | Estonia | Tallinn | Kalevi Keskstaadion | 12,000 |
| 43 | Montenegro | Podgorica | Stadion pod Goricom | 12,000 |
| 45 | Luxembourg | Oberkorn | Stade Municipal | 10,000 |
| 44 | Latvia | Riga | Skonto stadions | 9,500 |
| 46 | Lithuania | Kaunas | S. Darius and S. Gir?nas Stadium | 9,180 |
| 47 | Liechtenstein | Vaduz | Rheinpark Stadion | 7,584 |
| 48 | San Marino | Serravalle | San Marino Stadium | 6,664 |
| 49 | Andorra | Andorra la Vella | Estadi Nacional | 3,306 |
A micro-stadium for a microstate, Andorra's Estadi Nacional holds just 3,306 spectators but is also the newest stadium on the map, inaugurated in September 2014.
The turf is artificial and the Andorran national football side shares it with their national rugby team. Before this one opened, Andorra would play many of their matches against larger nations at the Estadi Olímpic three hours away in Barcelona.
We can't really call the new stadium a good luck charm, as they're yet to record a win here. But they have scored against Wales and Belgium since the move, so that's something.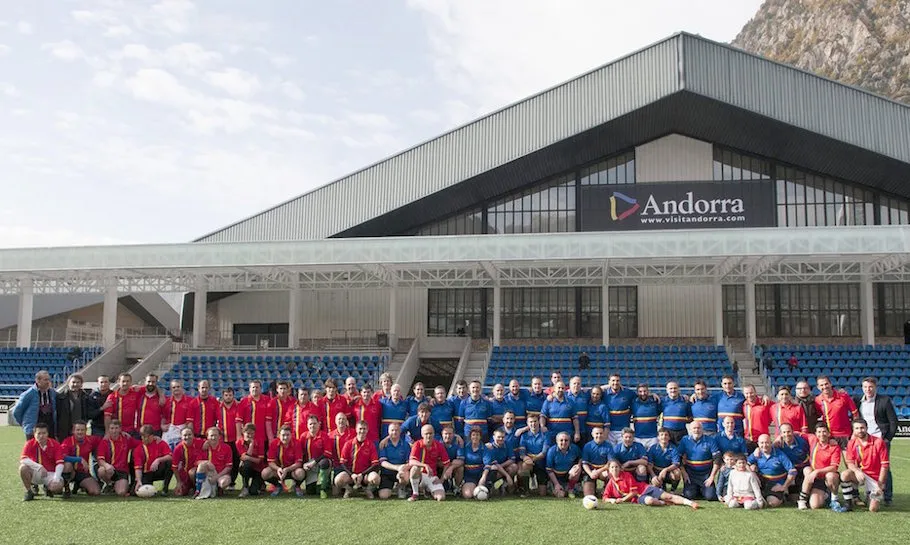 Little Lithuania
The largest football ground in all of Lithuania is the Darius and Gir?nas Stadium, built in 1925 in the city of Kaunas and seating 9,250. Fair to say it's not one of the largest stadiums in Europe.
The Lithuanian A Lyga side FK Kauno Žalgiris play their home matches here, getting maximum gates of only 794.
Despite outstripping all the other stadiums in the country, it's only ever a temporary home for the national team, as they also play in the capital Vilnius and the city of Klaip?da.
But maybe Lithuania should play there more often, as the minnows have beaten Poland, Georgia and Scotland, and drawn with Italy on this turf.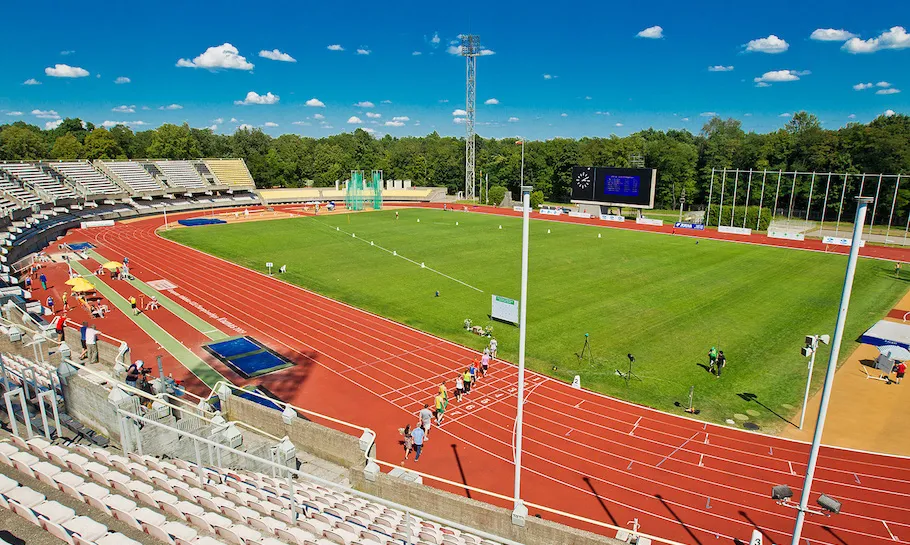 Cozy in Riga
The Baltic Nations like to keep things compact when it comes to football, as Skonto Stadium in neighbouring Latvia isn't much larger.
This is where the Latvian national team and the club side Skonto Riga make their regular pushes for bigger competitions. But things haven't really worked out for either; Skonto have been hit with financial problems, and only just made it back to the Latvian First League this season.
And Latvia continues to wait for its first post-occupation international championships. Well, if Iceland can manage it then the Latvians can live in hope.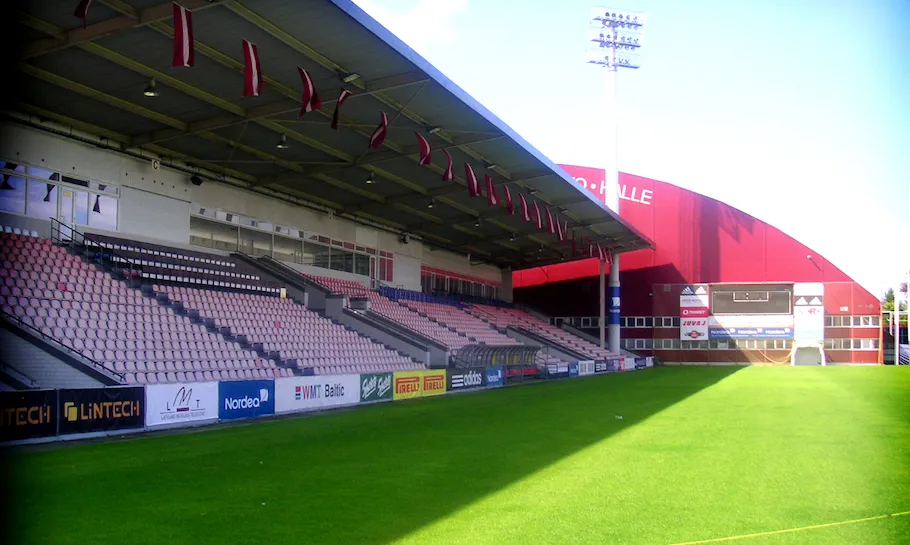 Stadiums with 10,000 – 30,000 Capacity
Laugardalsvöllur in Iceland can fit 15,000 spectators, but that doesn't tell the full story as the seated capacity is just 9,500. And as the national team has improved, demand for tickets has gone through the roof.
Every international match since 2013 has been sold out, even the friendlies. So plans are afoot to expand Laugardalsvöllur. The idea is to do away with the current running track and lay the pitch several metres below where it is now.
This will bring the seating down to the side of the turf and increase the capacity by tens of thousands. A retractable roof will be added so even an Arctic winter won't halt the charge of the team that has taken the football world by storm.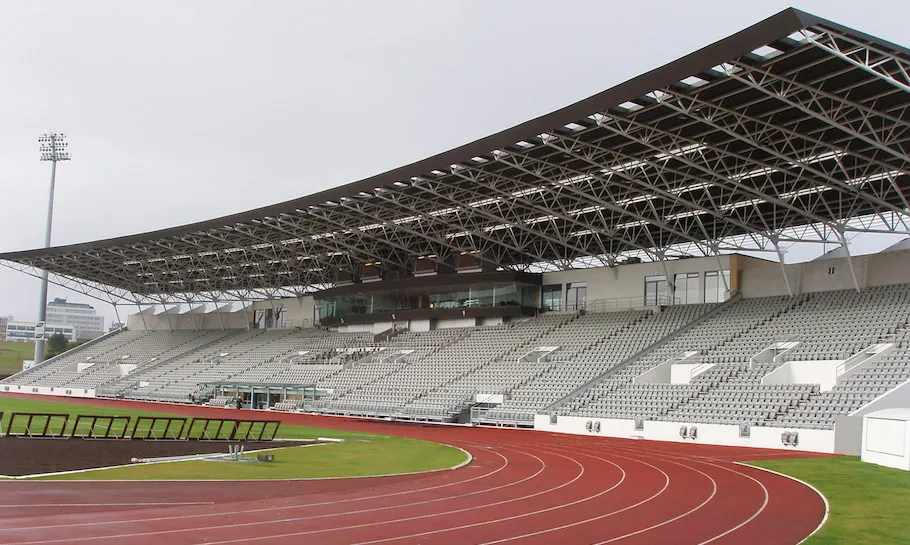 International Groundshare
Kosovo have only been a UEFA member since 2016 and are embarking on their first ever World Cup qualification campaign right now. There have been a few things to work out, like the question of whether Kosovar Albanians will come to play for the new Kosovo national team or stick with nations like Albania or Switzerland.
The other head-scratcher is where the team will play their football. The largest stadium in Kosovo is the Adem Jashari Olympic Stadium in Mitrovica, and this was the site of Kosovo's first ever Fifa approved match, against Haiti.
But they'll actually play their qualifiers across the border in Albania's largest ground, the 16,000-seater Loro Boriçi Stadium, which has just gone through a big upgrade and is now a UEFA four star ground.
Is this history's first ever international groundshare?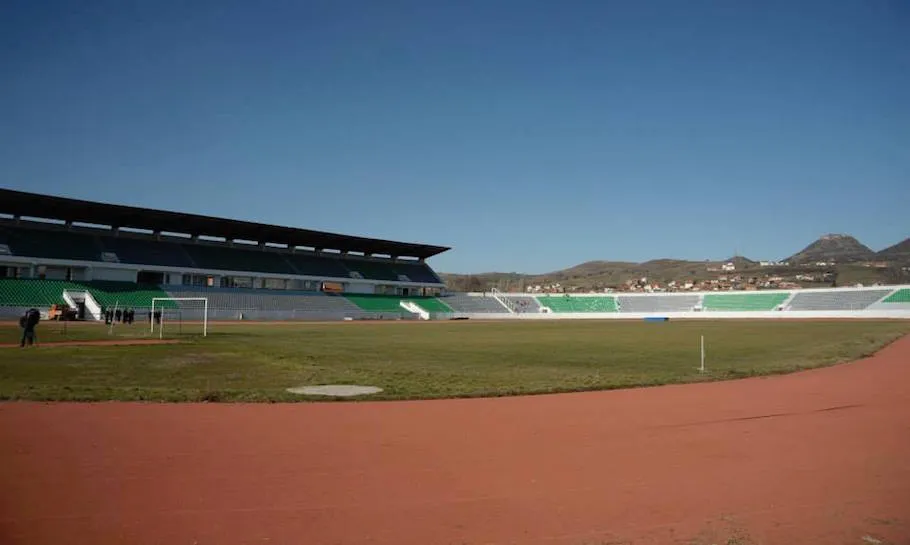 Dog Shows and Dance Festivals
Back to the Baltic, and Estonia, where the 12,000-capacity Kalevi Keskstaadion is the largest in the country, and hosts JK Tallinna Matches.
When the Esiliiga side isn't performing here you might catch Estonia's annual canine exhibition or the Estonian Youth Song and Dance Celebration.
Typically this event at the start of July will involve 8,000 performers. So no wonder the turf was deemed unplayable for football games after the festival a few years back.
The stadium was built in 1956 and is showing its age, so the Estonian national team prefers the newer but smaller A. Le Coq Arena, also in Tallinn. This was completed in 2001 and holds 10,300.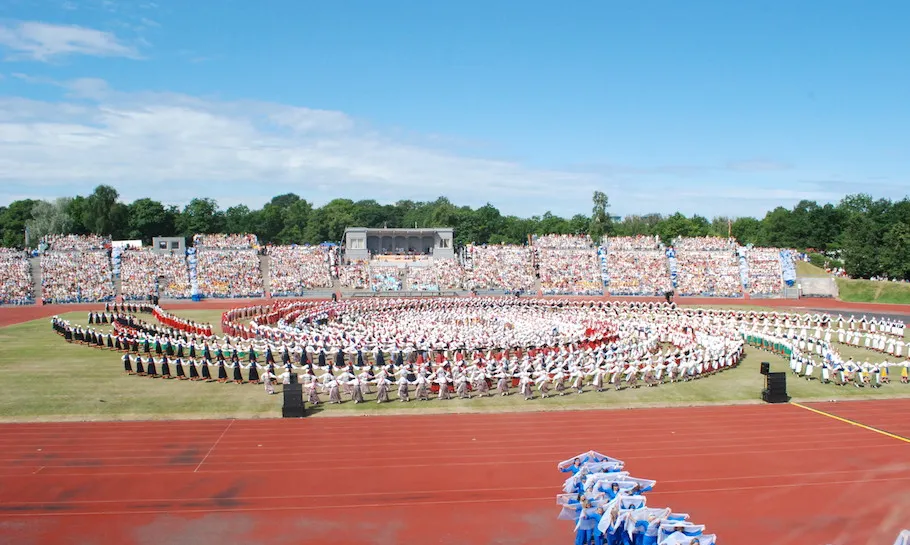 Who Are You?
It's not your fault if you've never heard of MŠK Považská Bystrica, because they play in the seventh tier of Slovak domestic football.
They got up to the old Czechoslovak First League a few times many years ago, but have never made it near the top division of Slovak football.
Why's this important? Well their home, Štadión MŠK Považská Bystrica, has the largest football stadium capacity in the country, holding 20,000, with 14,000 seats.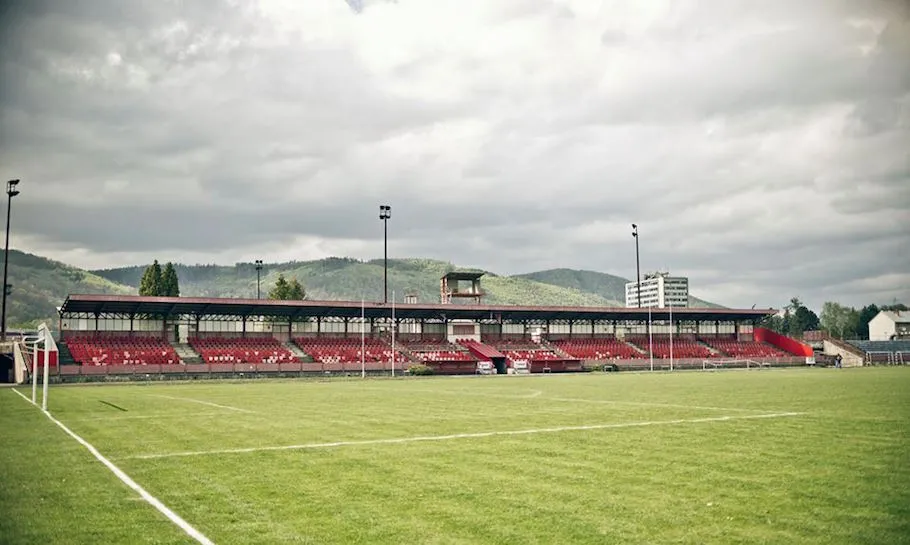 Garden of Eden
Across the border SK Slavia Prague play in the Czech Republic's largest football stadium, Eden Aréna, seating 21,000 and built in 2008.
It's a much plusher arena than the Slovak counterpart, with a hotel, restaurants and a bank all part of the complex. The Czech Republic is one of those roving national teams without a fixed home, but has played here several times.
They haven't won here since 2010, and the most recent was a friendly defeat to South Korea so it may be a while before they come back.
Also in Prague, the Strahov Stadium would blow any arena on this map out of the water. It can fit 200,000, and is easily Europe's largest stadium, but is far too big for football matches: There's room for nine football pitches on the turf and the First League side Sparta Prague use this behemoth as their training ground.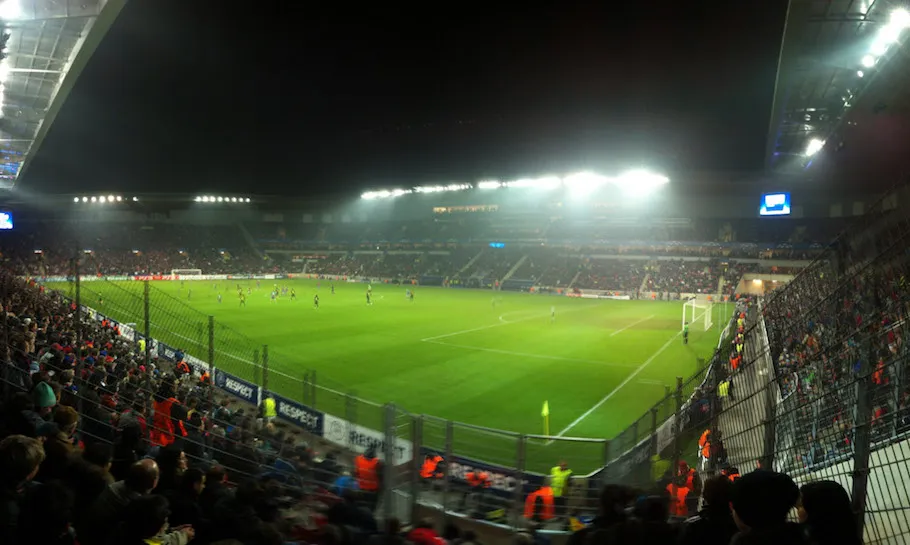 Stadiums with 30,000 – 50,000 Capacity
The home stadium for FK Vardar, FK Rabotni?ki and the Macedonian national team, Philip II Arena, is a beauty, and will be seen by the world when the European Super Cup is played here in 2017.
In 2013 it completed a multi-million pound overhaul and can seat 36,460. There have been some crunch international matches in the ground, but so far this magnificent stadium with its sinuous curving roof has yet to witness a Champions League game.
One of Vardar or Rabotni?ki usually gets to the qualifying rounds but falls short. Perhaps the new format will give them a better opportunity in the future.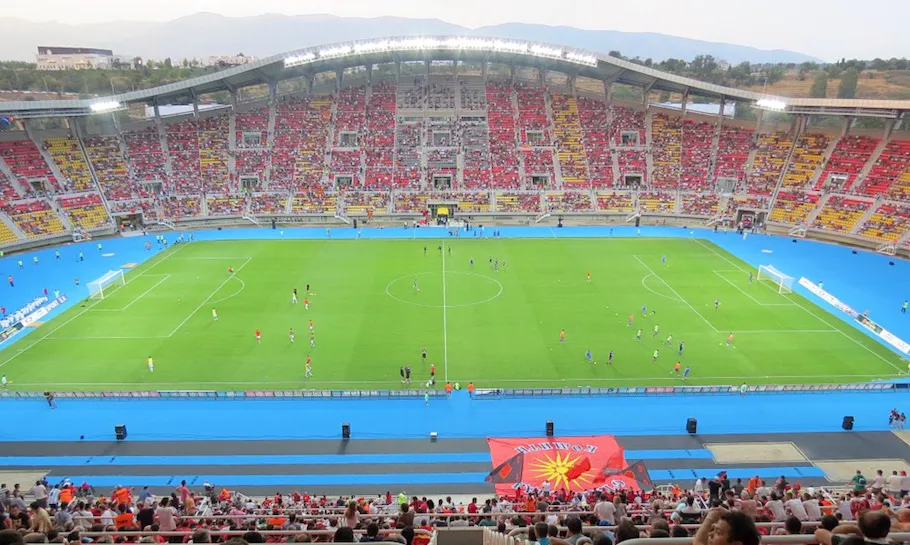 Long Goodbye
International football has been played at Oslo's Ullevaal Stadion since 1927 when Norway were defeated 0-1 by Denmark. Getting on for 90 years later the Football Association of Norway is looking at plans to build a new 50,000-seater stadium.
Ullevaal is currently at 28,000 but despite renovations as recently as 2013 it has been deemed too costly to upgrade. The stadium's offices host the Norwegian Football Association and the country's Olympic Committee.
And footballers love it too; in 2012 the captain of each team in the Norwegian Tippeligaen was surveyed about their favourite away day. And Ullevaal, where Vålerenga have played their home matches since 1999, came out on top.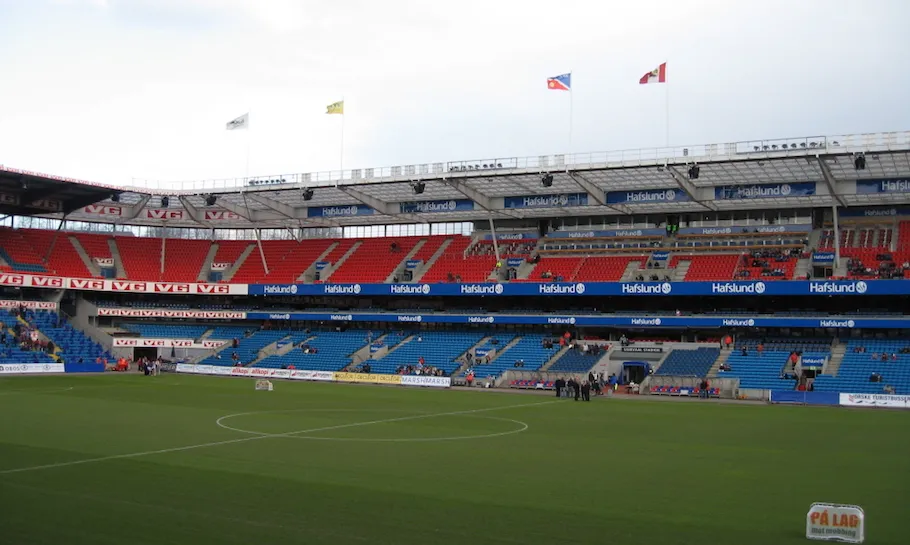 Olympic Relic Still in Use
You may have seen the images of Sarajevo's abandoned and decaying Olympic venues, including the ski jump and bobsleigh track. But one structure still going strong is Stadium Asim Ferhatovi? Hase, which was renovated for the games in 1984 and held the opening ceremony.
It's been updated since then and is a UEFA three star stadium, with a capacity of 35,600. Bosnia and Herzegovina play their home matches here, as do FK Sarajevo.
As for the name, Asim Ferhatovi? Hase was one of FK Sarajevo's great players, leading them to their first Yugoslavian First League title in 1964 and then into the European Cup. His retirement in 1967 is still seen as a landmark event in Sarajevo.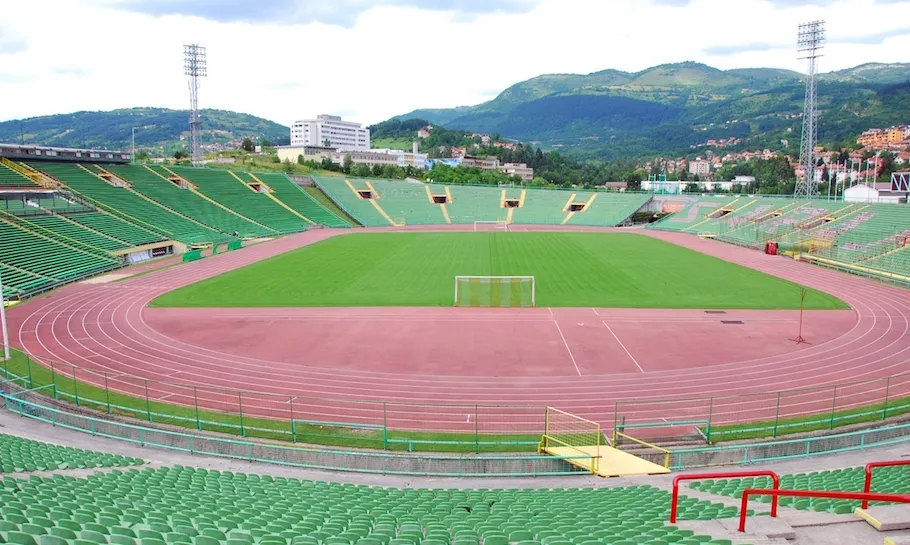 Music Venue… and Football Stadium
Sofia's Vasil Levski Stadium is where Bulgaria plays its home matches, and the football ground capacity is 43,500. The only other occupant is a regional team, CSKA 1948.
So naturally the arena is used for rock concerts: Metallica, AC/DC and Slayer have all "shredded" here, and pack in crowds of over 50,000.
When Madonna performed at the Vasil Levski in 2009 the turf was badly damaged, which didn't impress the national team who had to play on it a few days later.
Back to football: Although no big Sofia sides use the stadium regularly, it does host the Eternal Derby between Levski Sofia and CSKA Sofia twice a season. The clubs experimented by using their own grounds for the derby a few years back but soon went back to this emblematic arena.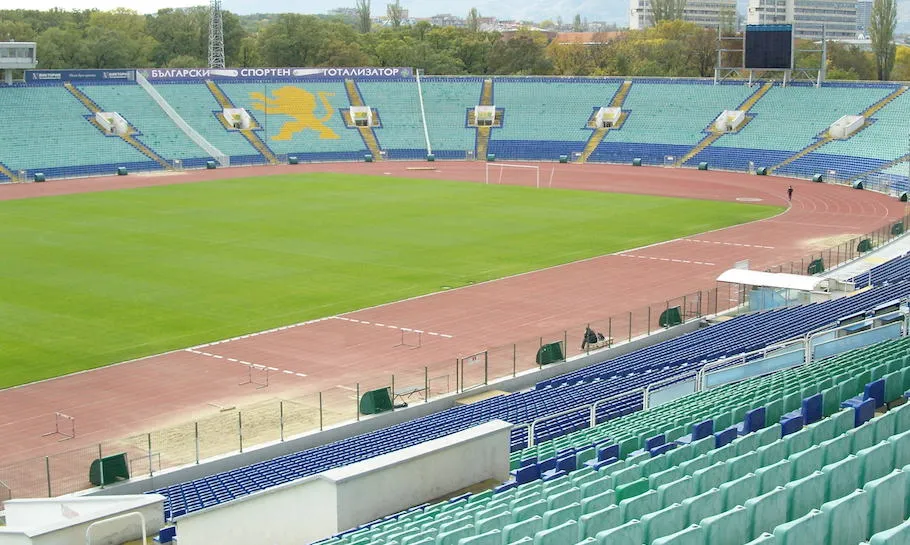 Basel's Base
In 2001 St. Jakob Park replaced a stadium that had been here since the Second World War and hosted World Cup matches in 1954. Basel was a host city for the 2008 European Champions and the ground was expanded to its current 38,500 for the tournament.
There's a museum in the building devoted to the owners, FC Basel, who are Champions League perennials and expected to win the Swiss Super League most seasons.
In 2006 it was the site of the title decider between Basel and FC Zürich on the final day of the season. The away side scored the winning goal in injury time, which triggered a mini riot that was only quelled after several hours with the help of tear gas and rubber bullets.
St. Jakob Park was also in the limelight back in May when Sevilla beat Liverpool here 3-1 to lift the Europa League.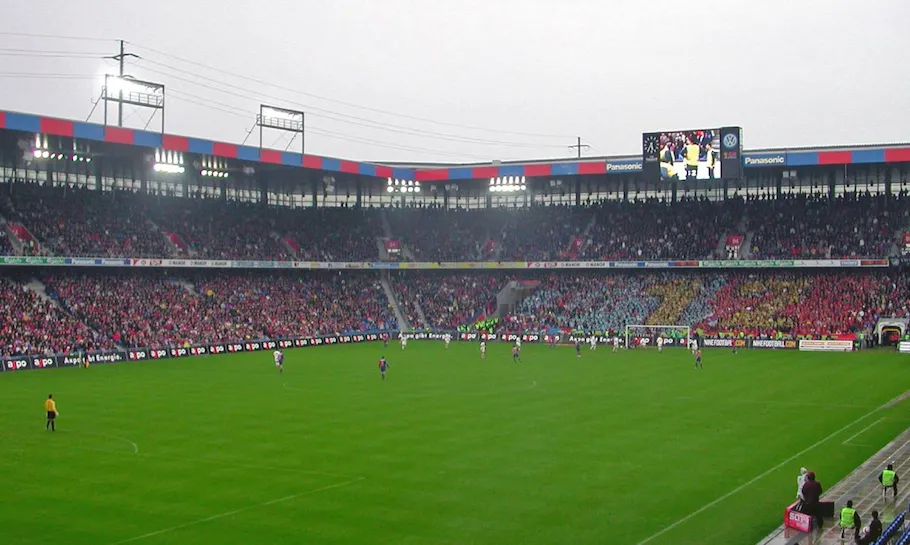 Stadiums with a 50,000 – 70,000 Capacity
And now we come to some of the largest stadiums in Europe, starting with the Ernst-Happel-Stadion in Vienna, where Spain defeated Germany in the Euro 2008 final.
From the 60s to the 90s, the stadium also held four Champions League finals, the last one being a young Ajax team's 1-0 victory over AC Milan.
And if you don't know who Ernst Happel was, he was an Austrian defender-turned-manager who took the Netherlands to the World Cup Final in 1978 and won the Champions League with Hamburg in 1983.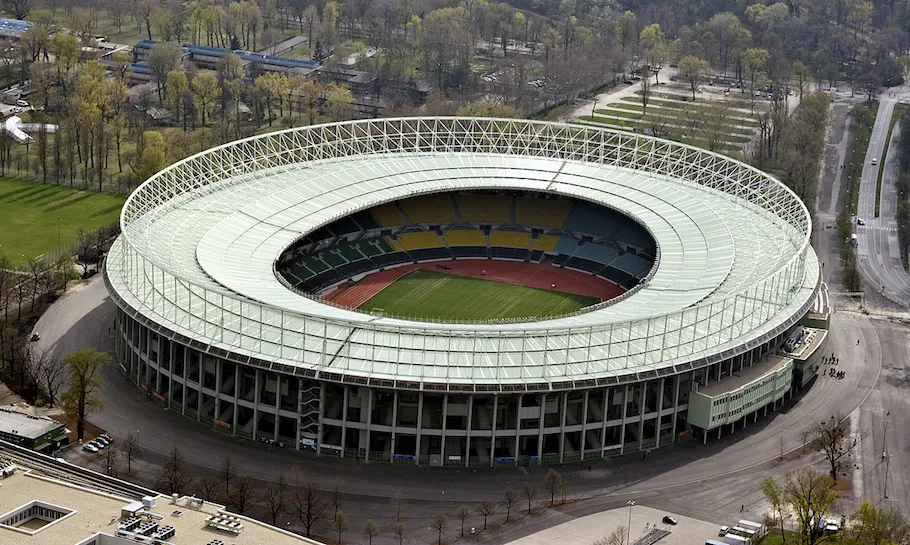 A Stadium with Two Names
One of the newer buildings on the list, Aviva Stadium was finished in 2010, and replaced the old Lansdowne Road, which had been in use since 1872.
When it was completed the stadium attracted some criticism for its size: At 51,700 it's about 30,000 seats smaller than Croke Park, the Gaelic sports arena, which is one of the largest stadiums in Europe.
But it's going to be involved in Euro 2020, holding three group matches and a round of 16 tie, and has already been the scene of a Europa League final in 2011, which Porto won against Braga.
Due to UEFA's rules on stadium sponsorship, the ground is known as Dublin Stadium when it holds continental events.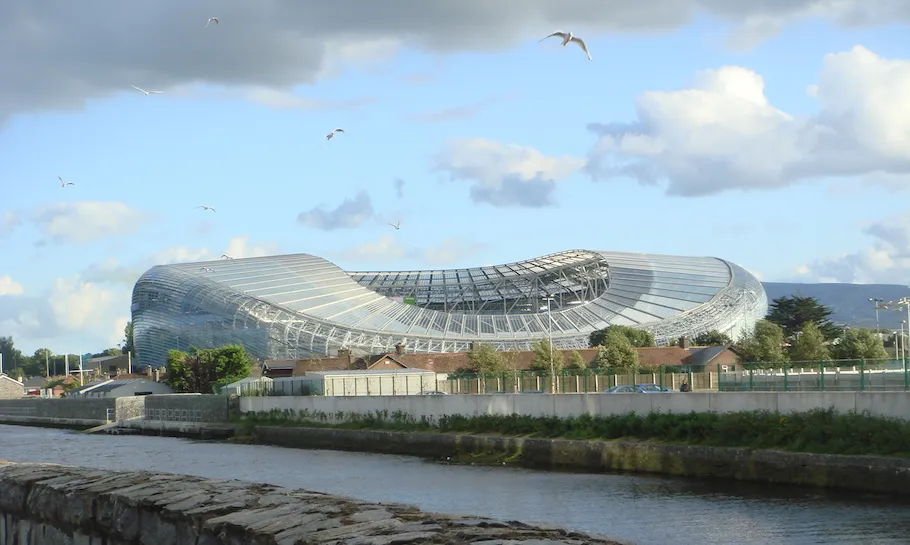 Steep Showpiece
If you suffer from vertigo, think twice before getting a ticket for the upper tier at the Amsterdam ArenA. With an incline of 37°, it's the fourth steepest stadium in Europe.
The stadium seats more than 53,000 and has now been open for 20 years. In this time it's hosted the Euro 2000 semi-final between the Netherlands and Italy, which the Azzurri won on penalties.
And on the 20th anniversary of that tournament it will be a part of Euro 2020 and some 3,000 seats will be added in the next couple of years.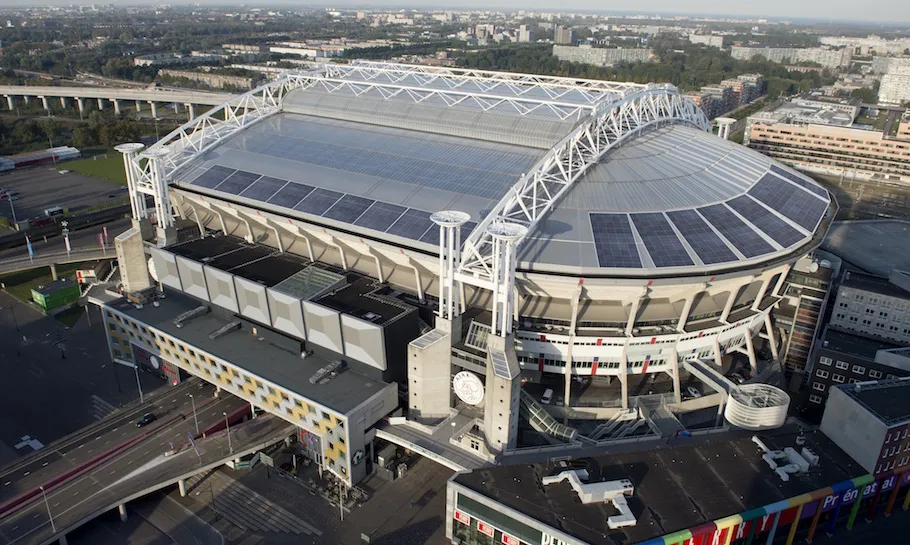 Warsaw's Euro Cathedral
Euro 2012 helped furnish Warsaw with a splendid stadium for the Polish national side. During the tournament neither Poland nor co-hosts Ukraine got too far, but the National Stadium got a crowd of 55,540 for the semi-final, in which Italy beat Germany 2-1 with goals from Balotelli.
The arena has a retractable roof, which can be opened or closed in 20 minutes, although the mechanism only works if the outdoor temperature is warmer than 5°C and there's no rainfall. Hmmm. But still, the record shows that it's Europe's largest stadium with a retractable roof.
Anyway, when there isn't a match going on the amenities around the stadium make sure it's not an empty shell, with several thousand people using the offices, shops, a hotel and fitness centre every day.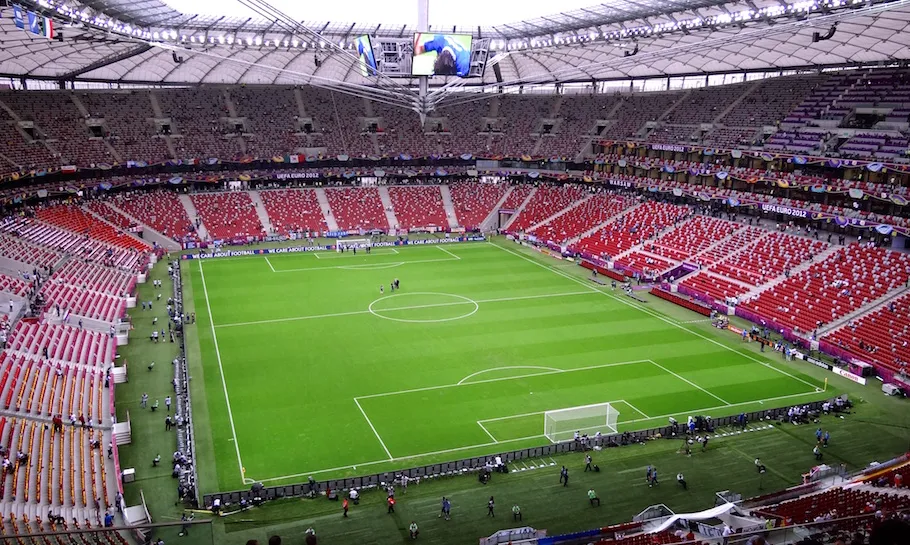 Romania's Stadium Fit for a Championship
Euro 2020 will be a pan-European affair, with matches played in several cities around the continent. One of these will be Bucharest, at the glorious Arena Na?ional?.
This was a completely new construction that opened in 2011 and straight away welcomed the Europa League final in 2012, when Atlético Madrid overcame Athletic Bilbao.
Steaua and Dinamo Bucharest both play their matches here, so the arena puts on one of the most combustible derbies in European football.
But all parties had to find temporary accommodation elsewhere from November 2015 to April of this year when the Arena Na?ional? was shut down for not having a permit for its retractable roof.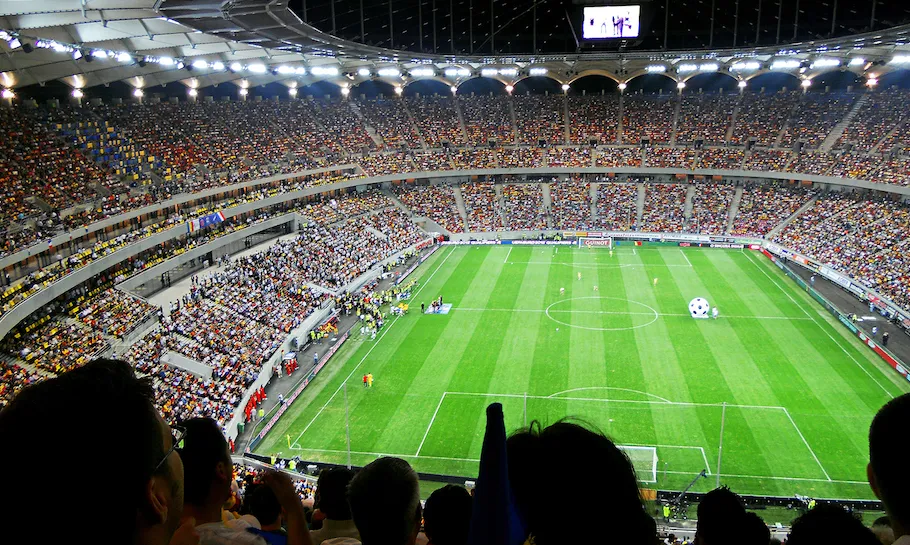 The Marakana
Serbia's largest football stadium by capacity, Red Star Stadium can seat more than 55,500 fans, and gets its largest crowds for the infamous Eternal Derby (Serbian this time) between Red Star and Partizan Belgrade.
The stadium was built in the early 60s and over the next couple of decades saw some important matches, such as the Champions League final that Cruyff's Ajax won against Juventus in 1973.
But if you're a fan of football trivia you'll be pleased to know that this was also the location where Antonin Panenka scored the original panenka penalty.
It was the deciding penalty in the final of the European Championships in 1976. The Czechoslovakian midfielder chipped his spot kick down the middle, bamboozling the German keeper Sepp Maier and earning a special place in football folklore.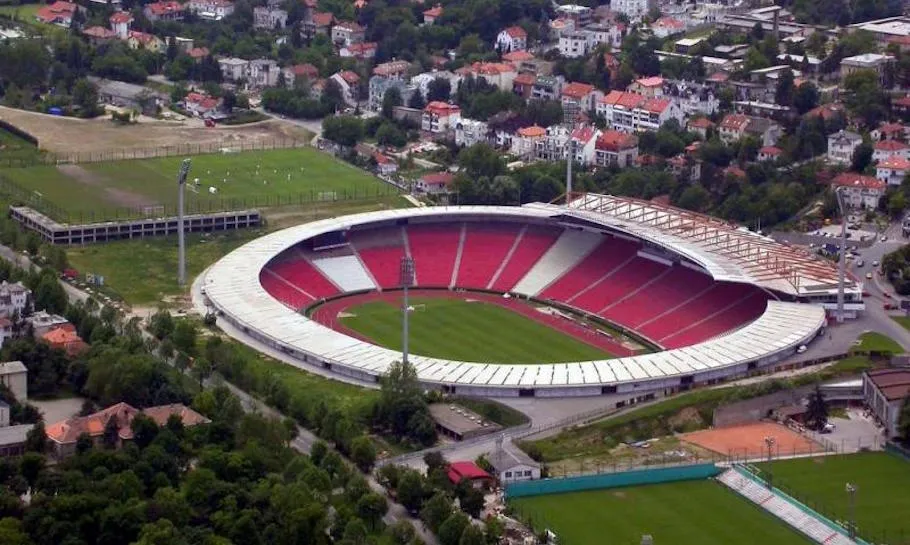 Estádio da Luz: A Myth Reborn
Until 1994 the old Stadium of Light would have easily made it to the top of the pile: It could seat 130,000 and witnessed the UEFA Cup final in 1983 and the Cup Winners' Cup final in 1992.
The new stadium holds just under half that capacity but is still one of the largest club stadiums in Europe by capacity. The Euro 2004 final took place here, as did the climax to the Champions League in 2014.
Benfica play their Primeira Liga matches in this ground, and usually expect to win on their home turf, having won the last three editions of the competition.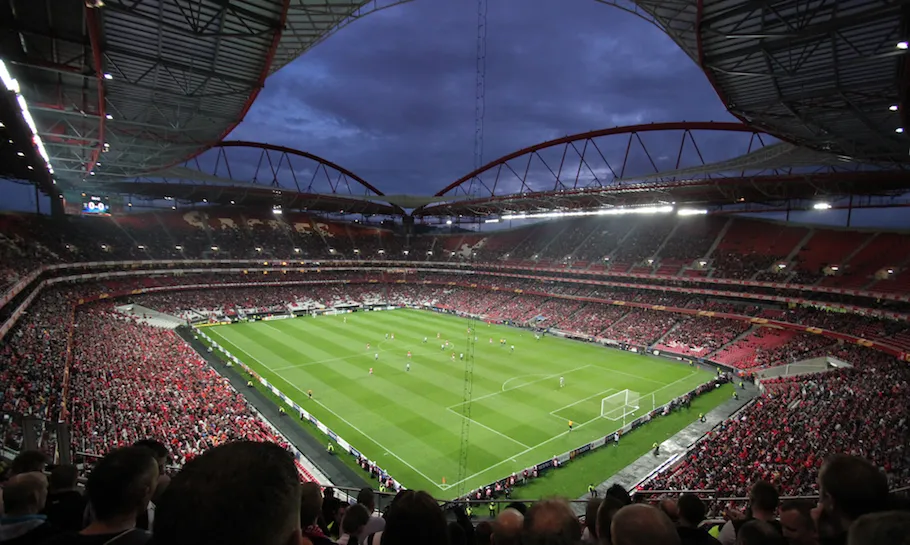 European Stadiums Larger Than 70,000
If there's a pattern for the largest football stadiums in Europe, it's that many of them were built or renovated for large events. Dynamo Kiev's Olimpiyskiy National Sports Complex is no different as it was refurbished for Euro 2012, during which it hosted the final.
Kiev share the ground with the Ukraine national team and in 2018 the stadium will hold the Champions League final.
The stadium dates to 1923 and was expanded in the early 40s: The opening ceremony took place on 22 June 1941, the very day that the Luftwaffe's bombing campaign against Kiev began. Much later it welcomed a number of football matches during the 1980 Moscow Olympics.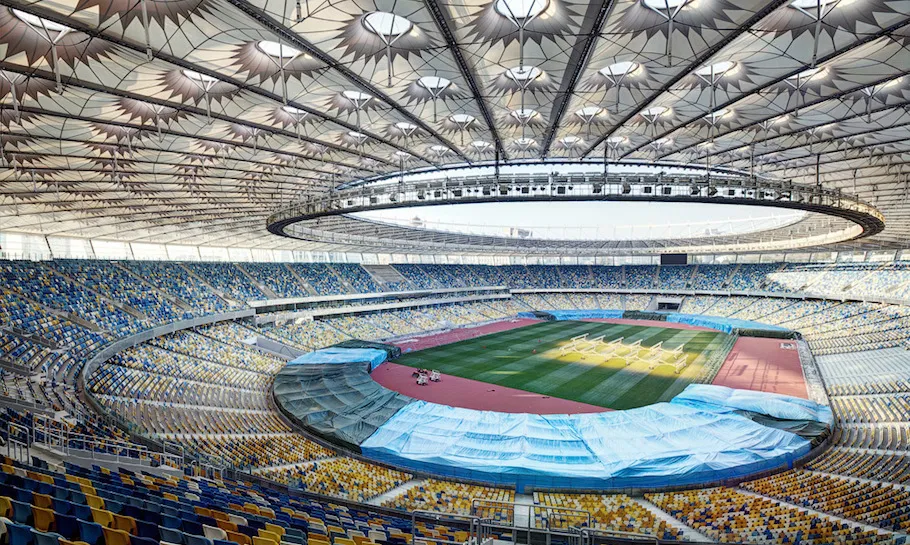 Greek Theatre
AEK and the Greek national side play their home games at Athens' Olympic Stadium. It was built back in 1979 but was modernised for the 2004 Olympics, becoming one of the largest stadiums in Europe. The architect was the neo-futurist Santiago Calatrava, known for his impressive buildings that aren't the most practical to use.
His famous bridge in Bilbao had to be shut down because it got too slippery in the rain: In one of Spain's rainiest cities.
Anyway, unlike the other arenas constructed for the games in 2004, the Olympic Stadium lives on, as a club stadium. The average gate at AEK so far this season is just 11,677, but unlike many of the other venues from 2004, at least it's being used!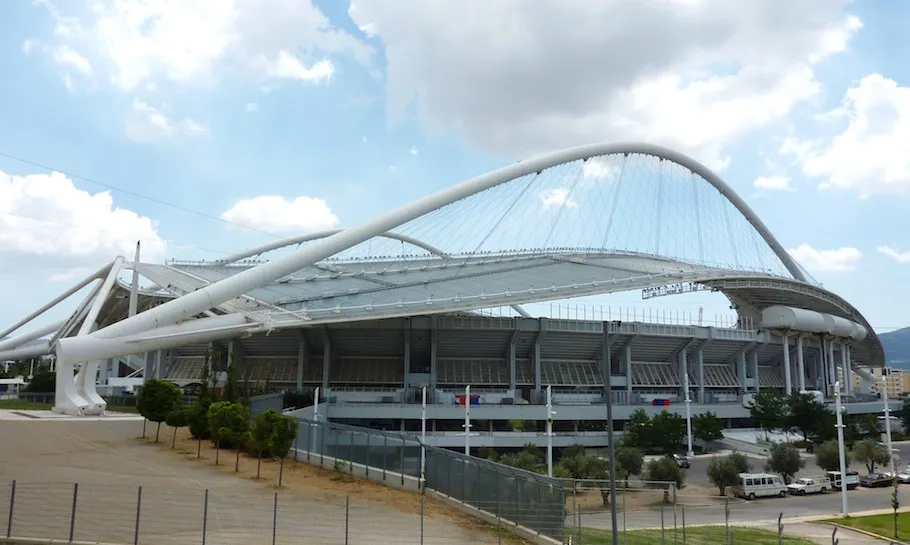 Legendary Luzhniki
The Luzhniki Stadium has been closed since 2013 for renovations in the build-up to the 2018 World Cup. In the meantime the Russian national team has been playing its home matches at Spartak Moscow's Otkrytie Arena.
In 2008 Chelsea and Manchester United faced off here in the Champions League final, while in 1980 it was the main arena for the Moscow Olympics. And in 2018 it will be the venue for the World Cup Final.
When the current improvements are made the stadium will regain its four-star status, shared with the best arenas on the continent.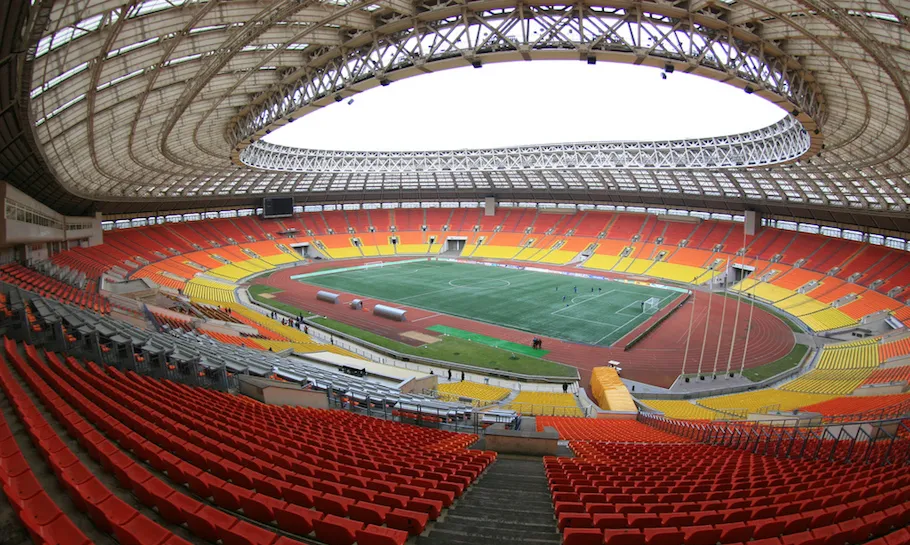 Stade de France: A World Cup Winner
In its 18 short years of existence the Stade de France has witnessed one World Cup final, one European Championship final, the Rugby World Cup final in 2007 and two Champions League finals, in 2000 and 2006.
The most historic event would have to be the World Cup in 1998 when Zinedine Zidane led France to a 3-0 win against Brazil and caught the whole country's imagination. It was the last time a host nation has won football's biggest prize.
When it was built it contained a large number of innovations, like an elliptical roof that completely shelters spectators. It filters out red and infrared radiation but allows blue and green light through to help the turf grow.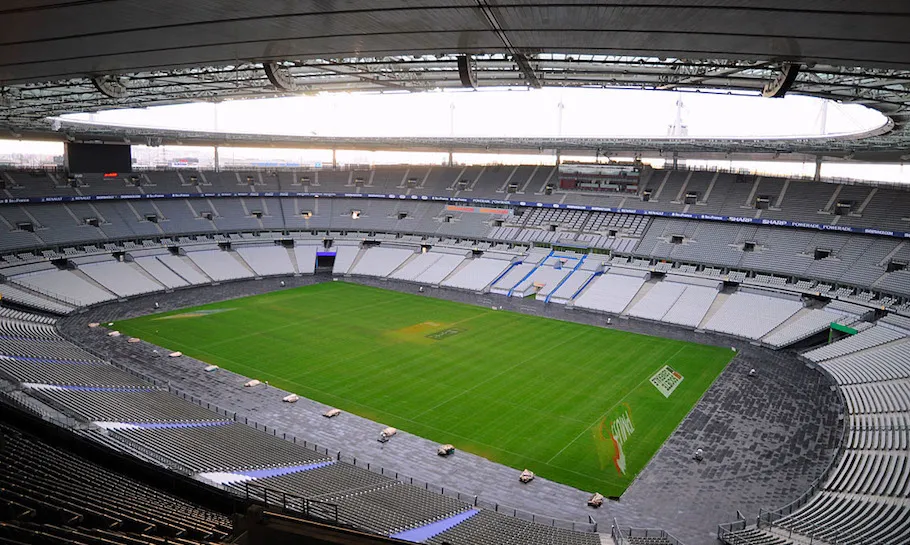 Sublime San Siro
Officially known as the Stadio Giuseppe Meazza, the home of AC and Inter Milan is named after a two-time World Cup winner in 1934 and 1938, who played for both Milan clubs.
Now it's one of the largest football stadiums in Europe to be used by club teams, recognised around the world for the eleven concrete towers that encircle the arena.
These were built as part of enhancements for the 1990 World Cup, during which six matches took place at this fabled stadium. Of course, twice a year the Derby della Madonnina is played out in this amphitheatre, and it's one of the only major cross-city derbies played in the same stadium twice a season.
Four Champions League finals have taken place on this turf, including the most recent, when Real Madrid defeated Atlético on penalties.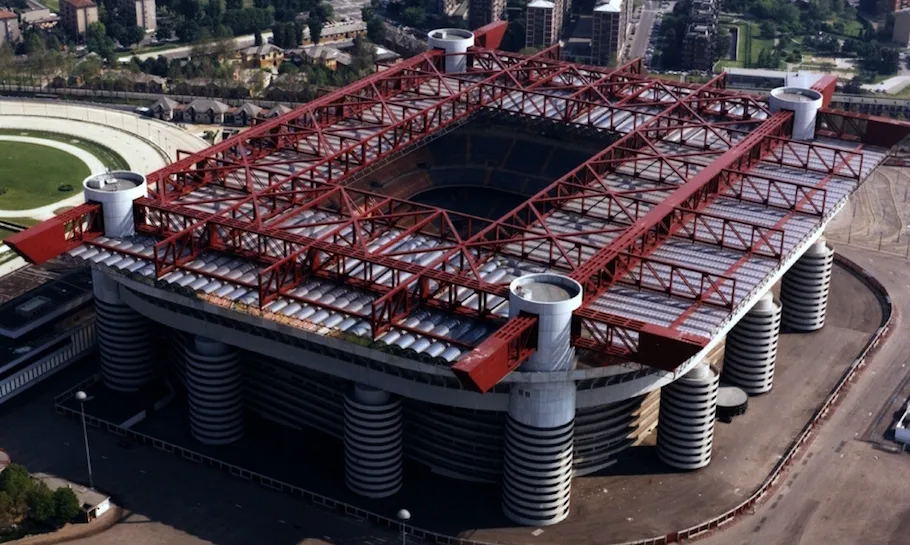 The Wild Westfalenstadion
There's a big gap between the capacity of Borussia Dortmund's stadium for European and domestic matches. This is because of the humungous Südtribüne, a terrace for 24,454 standing fans.
Due to UEFA rules on standing, this section is shut down on European nights, reducing the stadium's capacity from 81,360 to 65,829. So if you've ever fancied a trip the best time to come is for a Bundesliga match, especially against big rivals like Bayern and Schalke.
This is when the Südtribüne is in full effect, creating a wall of noise that is unmatched in club football.
And despite having a smaller capacity than the Camp Nou, the Westfalenstadion has regularly broken European club attendance records across a season, and is guaranteed to sell out every week. This formidable arena accounts for a big share of the Bundesliga's strong attenance figures.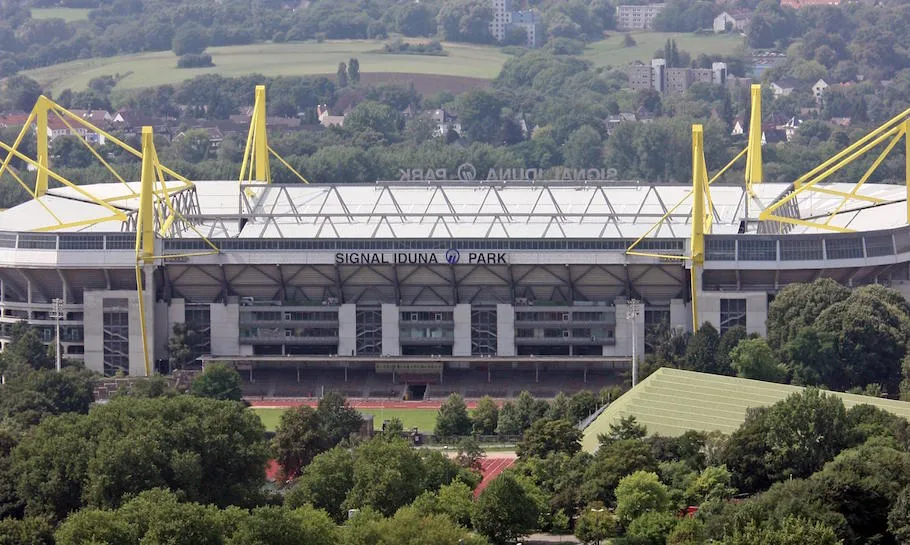 Wembley: A Royal Ransom
Wembley is second on the list of the largest stadiums in Europe. It replaced the old Wembley Stadium, which had been on this site from 1923 to 2000.
It was built at vast expense, costing an eye-watering £800 million, and can seat 90,000 spectators. As with many on the list, Wembley will host matches at the pan-European Euro 2020.
On a clear day the stadium's arch is visible across London. This spans 315 metres and reaches a height of 133 metres, making it the largest structure of its type in the world.
Just as Arsenal occupied the old Wembley for its Champions League matches in the late-90s, Tottenham Hotspur are playing their European matches at the new one this season while White Hart Lane is demolished and their new stadium is built.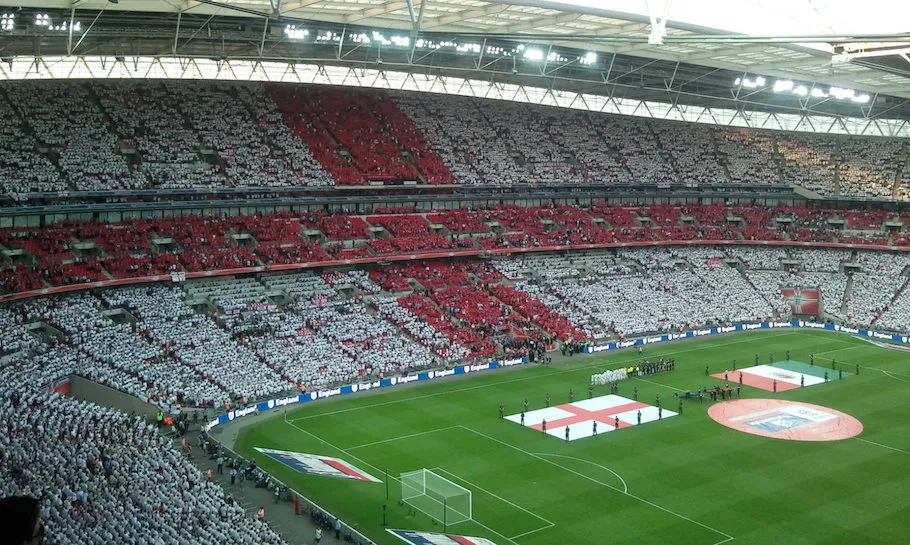 Camp Nou: A Catalan Giant
And finally, after our epic journey across the continent we get to the epic Camp Nou, the largest stadium in Europe. For football stadium capacity it eclipses all the rest, seating just over 93,000 fans.
The incredible scale is part of the Camp Nou's allure and one of many reasons it gets on lists of the most beautiful football stadiums in the world.
And it's a testament to FC Barcelona's popularity that the stadium's museum should be the second-most visited museum in the community of Catalonia.
The biggest is just about to get even bigger. Barcelona get average crowds of just over 75,000 for league matches. But by 2021 the capacity will be increased to an staggering 105,000.
Anyone who's ever sat in the uppermost General Tier on Level Four will know how hard it can be to make out the players already.
Sold Out
Well, that's your lot. We're sorry if we didn't include your nation in the list of the largest stadiums in Europe, but we had a whole continent to travel through.
And as for the Camp Nou's position at top spot, it doesn't look like anyone's going to knock them off their perch any time soon, especially once their capacity is bumped to 103,000.
When it comes to everyone else, if you want to get further up the list then bid for a World Cup or European Championships. Into the bargain you'll qualify to host the most exciting event in club football: The Champions League final (cue the music).