It's no secret that the majority of NASCAR drivers are from the United States, making it a very Americanized sport with a small audience in other parts of the world.
For that reason and because it's unusual, it's always intriguing to see a NASCAR driver from elsewhere in the world. That's what makes Alon Day a pioneer of sorts.
Day was born in Tel Aviv, Israel, and became the first NASCAR driver of Israeli descent when he joined the Xfinity Tour in 2016.
Keep reading to learn more about Day's background, along with his career highlights, stats and bio.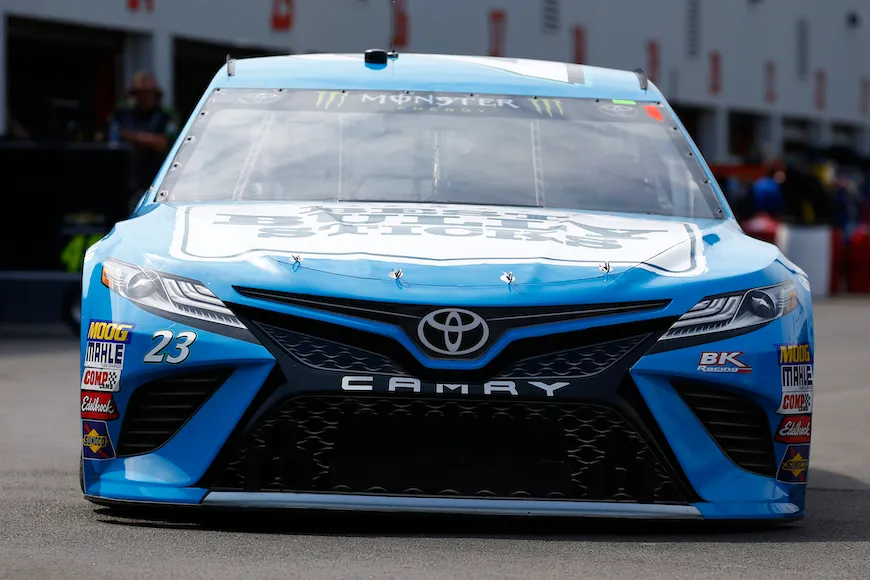 Fast Facts:
Full name: Alon Day
Current Home: Tel Aviv, Israel
Date of birth: November 4th, 1991
Hometown: Ashdod, Israel
Height: 5'9"
Age: 27
Learned about NASCAR from playing video games.
Used NASCAR simulators at home to practice.
Career Highlights:
Won Asia Formula Renault challenge in 2009 (17 years old)
First driver of Israeli decent to win a NASCAR race (Whelen Euro Series)
First driver to compete in Indy-sanctioned car series
17 wins in 48 races on the Whelen Elite 1 Series
Top 3 finishes in each of four seasons in Whelen Elite 1 Series (1st overall in 2018)
2017 Israeli athlete of the year (Motorsport Category)
Alon Day Bio
Alon Day is the only NASCAR driver who can say that he was born and raised in Israel. Day grew up with his Israeli father and mother who emigrated to Israel from France.
It's not too often the drivers end up making NASCAR after growing up on the other side of the world, so what led Day to chase this profession?
Day actually learned about NASCAR through video games. At 10 years old, Day was obsessed with the game, and started racing in real life on go-karts soon after.
His father, Avi Day, owns his own geological engineering company and was able to support Day's growing hobby. For his Bar Mitzvah, Alon's father bought him a go-kart that was worth over $5,000 USD.
He soon turned his hobby into success when he won the Asia Formula Renault Challenge at 17 years old. He then transitioned to European racing where he competed in German and Austrian leagues.
However, Day's racing career was put on hold when he finished high school. In Israel, everyone has to do three years of military service once they graduate. Day's experience there piqued an interest in flying fighter jets, something he says he would do if he wasn't racing cars.
When his service was done, he started making an even bigger impact in the racing world. In 2012, Day was able to crack the Indy circuit and was the first player of Israeli descent to do so. However, his big break came a couple years later.
Day Dominates in Europe
Without many racing opportunities in Israel, Day had to make his mark elsewhere in the world. Where he really started garnering attention was in the NASCAR Whelen Elite 1 circuit in Europe. He drove the No. 22 Chevrolet and won three races during his rookie season.
Day got better as the season went on, winning three of the final four races that year.
His success in the 12-race circuit would continue, winning three more races in 2016, four in 2017 and a whopping seven of 12 races in 2018.
By the time 2016 rolled around, Day was starting to get some attention at the epicenter of NASCAR hype.
Day Hits America
Day made it to the North American NASCAR circuit in 2016, becoming the first Jewish person and the first person of Israeli descent to do so. To this day, he only has six races since joining in 2016, two in Ganders Outdoor Truck, two in Sprint and two in Xfinity.
His first race was quite successful, as he finished in 13th place in the Xfinity series after starting in a brand new car on a track he was unfamiliar with. His finish was even more impressive considering he started in 22nd place.
It was announced in September of 2018 that Day would be joining BK Racing to participate in the race in Richmond, Despite all of his accolades in Europe, Day is still looking for more concrete sponsorship opportunities in order to cement himself as a mainstay in America.