A Daytona 500 winner, Austin Dillon was born into a racing family with his father Mike Dillon a former driver and Dillon's grandfather, the legendary Richard Childress. Austin's younger brother, Ty also races for the family team.
Dillon has found success wherever he competes and quickly moved up the ranks in the racing world. Dillon has dominated in both the Outdoor Truck Series and Xfinity Series and now flexes his muscles in NASCAR's top league: the Monster Energy Cup Series.
Already a well-established racing star ar 27 years old, the future looks even brighter for Austin Dillon. Keep reading to learn more about Austin Dillon's racing background, career highlights, stats and more.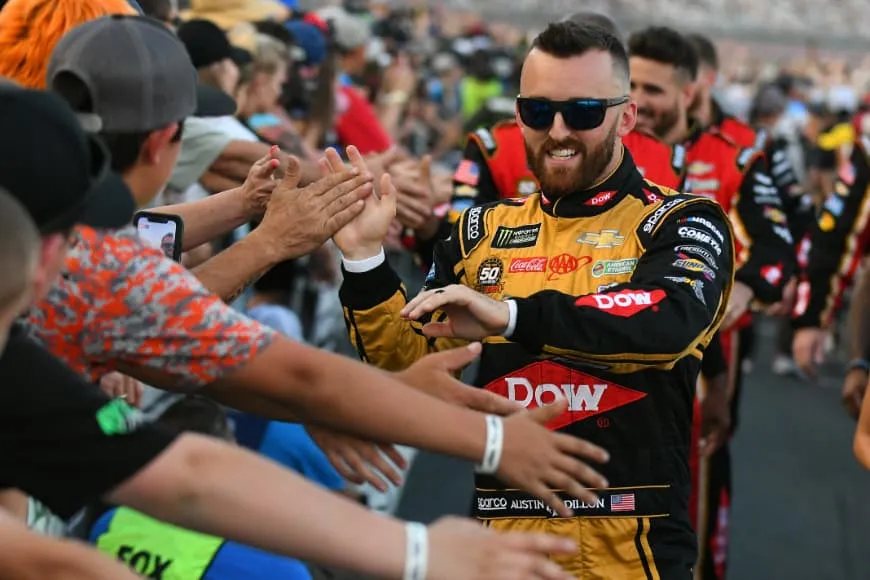 Fast Facts:
Nickname: "The Ace"
Birthplace: Welcome, North Carolina
Birthdate: April 27th, 1990
Height: 5'8"
Parents: Mike Dillon, Tina Dillon
Brother: Ty Dillon
Grandfather: Richard Childress (RCR Racing Founder)
Wife: Whitney Ward (Former NFL Cheerleader)
Career Highlights:
NASCAR Rookie of the Year in Outdoor Truck Series (2010)
2012 Nationwide (Xfinity) Series Rookie of the Year (2012)
2011 NASCAR Ganders Outdoor Truck Series Champion
2013 Nationwide (Xfinity) Series Champion
2017 Coca-Cola 500 Winner
2018 Daytona 500 Winner
Played in the 2002 Little League World Series
Austin Dillon Bio
It's well-known that Austin Dillon has racing in his blood, with his grandfather Richard Childress founding RCR Racing almost 50 years ago. Dillon has helped keep the family name in the winner's circle with a number of stellar performances throughout his racing career.
Dillon started racing Bandolero and Legend Car series as a 16-year-old in 2005. Soon after, he was racing in NASCAR's Camping World Series, where he quickly showed off his chops by winning Rookie of the Year in 2008 as an 18-year-old.
Spoiler Alert: it wouldn't be the first "rookie of the year" win in Dillon's career.
Dillon quickly found success in the NASCAR Ganders Outdoor Truck Series. During his first full season in 2010, he was named Rookie of the Year again after winning two races and finishing fifth overall.
In the next season, he proved it wasn't a fluke, winning two more races, finishing in top-five ten times and finishing the season first overall in points.
He continued his meteoric rise into NASCAR's Nationwide Series the following season. In 2012, he finished in the top-five a whopping 16 times, winning two races and ranking third overall in points.
For that performance, he was named the 2012 Nationwide Rookie of the Year. He followed that up in 2013 by setting a record for winning four-straight poles, and seven overall on the season. He had another 13 top-five finishes and ended up first overall in points.
He's only raced sporadically in the Xfinity Series since then, but right now in his career, he has nine career wins on the circuit and more than 100 top-ten finishes.
After working his way up the ranks, Dillon soon found himself making an impact on NASCAR's top tier.
Dillon Brings Monster Performances to Cup Series
Since 2014 Dillon hasn't missed a race on the Monster Energy Cup Series, racing in 180 consecutive races.
Dillon had his first top-five finish in Daytona in 2014, a precursor of what was to come later in his career. He stayed competitive during his first and second season in the Cup Series but truly broke out in 2016 with four top-five finishes and 13 top-tens.
During his fourth season in the Sprint Cup series, Dillon won his first career Sprint Cup race, the 2017 Coca Cola 500.
His most memorable victory came in the following year when he won the Daytona 500 in a rare overtime victory. Even though he was a lap down with 20 laps to go, Dillon was able to claw his way into second place on the final lap, before finally winning in overtime.
Dillon has now finished between 14th place and 11th place during his last three seasons in the Sprint Cup Series. At just 28 years old, Dillon is hungry to make his way into the top ten in NASCAR's best circuit, something he did with ease at previous levels.