The Auto Club Speedway, which, up until February 2008, was known as the California Speedway, is located in Fontana, California.
Having first launched in the mid 90s, the Speedway is now going into its 22nd year of hosting multiple varieties of racing and non-racing events.
Throughout the years the track, with its multiple course alignments, has played host to several events across many different major racing series.
Currently the three fixed annual events are:
The Pepsi Max 400 in the Monster Energy NASCAR Cup Series
The Campingworld.com 300 (Xfinity Series)
Shell Eco-Marathon (A global competition hosted by nine cities in nine different countries.)
Looking back to the track's beginning, the Auto Club Speedway had an auspicious beginning.
Just one day after the announcement that construction of the site would commence, Championship Auto Racing Teams (CART) signed an agreement to hold an annual event at the track. Then, only three months later, NASCAR followed suit and agreed to add a Winston Cup Series event to its schedule at the track.
It marked the first time in history that NASCAR would make such a deal before a site was fully constructed.
Another historic change that had its roots at this speedway was, unfortunately, in the aftermath of a fatality to revered Canadian CART driver Greg Moore. After a fatal crash at the 1999 Marlboro 500, CART mandated a head and neck support system in all vehicles participating in oval races and the rule subsequently expanded across all course types.
This article will explore some of the other interesting tidbits that give the Auto Club Speedway its distinctive character. We'll start with some fun facts including track length, where Auto Club Speedway is located and what races it hosts, and then we'll also look at some memorable race highlights from its 22-year history.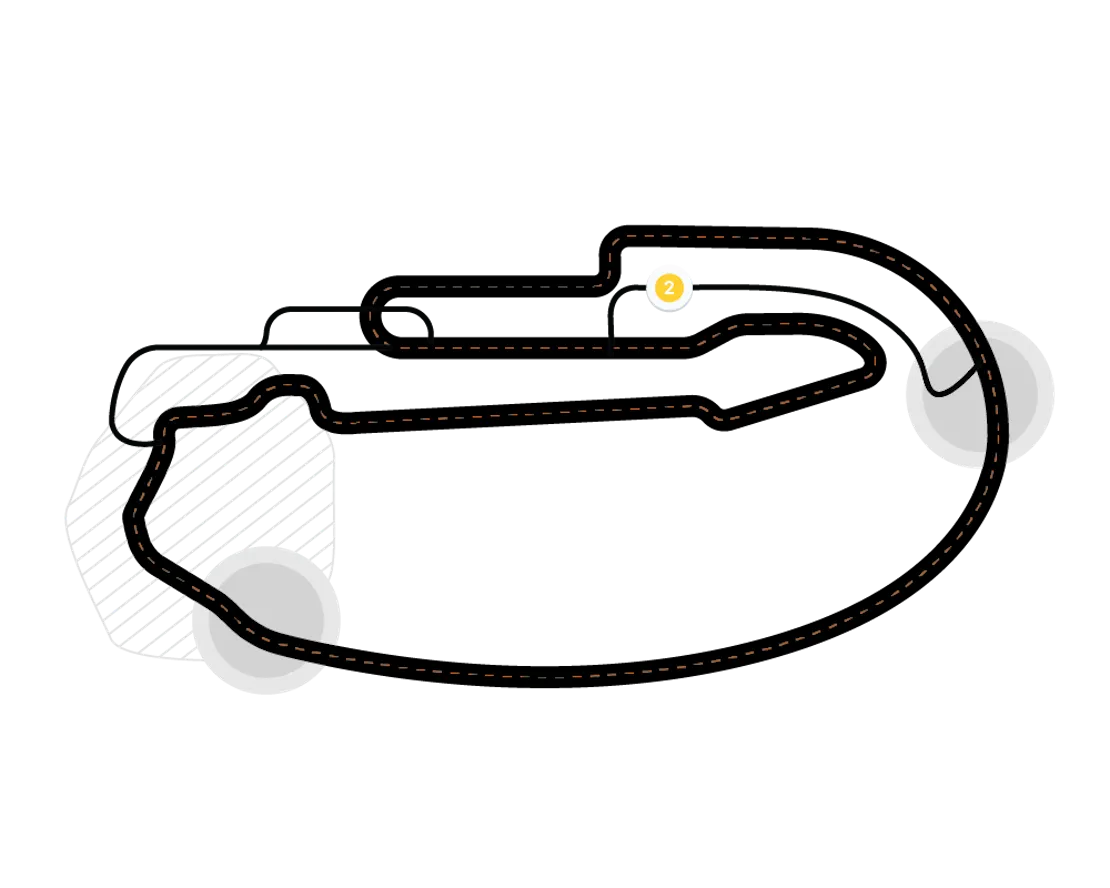 Fast Facts:
Location: Fontana, California
Built in: 1995
Owned by: International Speedway Corporation
Track Type: D-shaped oval, sports car course, motorcycle course, interior test circuit, and drag strip
Track length: NASCAR oval is 2 miles (3.22 km)
Turns:4, banked 14 degrees
Straightaways: Frontstretch banked 11 degrees, backstretch banked 3 degrees
Race lap record: 241.428 mph by Gil De Ferran, CART, 2000
Capacity: 122,000
Major Events: (current) NASCAR Cup Series, NASCAR Xfinity Series, Shell Eco-marathon (several others discontinued)
Biggest Race: Auto Club 400 (NASCAR Cup Series), Roseanne 300 (Xfinity Series)
Auto Club Speedway History
Before the California Speedway (now Auto Club Speedway) was built, the area was home to the Kaiser Steel Mill which was owned by Henry J. Kaiser. After it had been abandoned for years, Kaiser was approached by business man and NASCAR veteran Roger Penske with the intention of striking a deal to transform the land into a racetrack venue.
There were many hoops and hurdles to navigate in terms of legislation and legal issues but as long as two main criteria were met, the construction proceeding could commence.
Those two stipulations were that the below ground toxic waste remnants would be removed and the iconic 100-ft water tower remain as part of the grounds. Both requirements were met and the water tower is now used as a base for the stadium scoreboard.
Ground was broken in 1995 and on January 10, 1997 the track was officially christened by Team Penske driver Paul Tracy who made the inaugural test drive on the new speedway. NASCAR would have a test session in the first week of May and the first official race, a NASCAR West Series race, kicked off on June 21.
Since then, the venue has seen a lot of racing.
With the facility equipped to handle multiple versions of racing, the site has hosted many different varieties of vehicular speed. On top of the NASCAR Cup Series, Xfinity Series, and Truck Series racing we still see today, the Auto Club Speedway has also welcomed motorcycle, CART, IndyCar Series, Rolex Sports Car, IROC, and Super TG racing.
On February 21, 2008 the track officially changed its name from California Speedway to Auto Club Speedway after the Automobile Club purchased the naming rights for the next decade.
The Two Weekend Per Year Experiment
The Auto Club Speedway got off to a strong start from a technical and financial standpoint. As things improved, a decision was made in 2004 to enhance and expand operations around the grounds.
The changes included added seating in the grandstands, 28 new luxury boxes, a ¼ mile dragstrip called the Auto Club Dragway, and a massive lighting system to allow for night races.
That same year also saw the construction of a multi-purpose road course in the infield.
With the new changes and the recently added lighting, NASCAR approved a bid to add a second weekend of racing at the track which would be run "under the lights". Initially considered a success, the experiment lasted seven years and in 2011 the Speedway was forced to remove the second weekend for financial and environmental reasons.
The estimated drop in attendance for the second event was close to 20,000. Many claimed that there was too much entertainment and sporting competition in Los Angeles for people to be interested enough to come out for two major events.
Others pointed to weather being the main concern as the sporadic and unpredictable nature of the local climate either made it far too hot or, conversely, too wet and rainy to attend.
The 2011 return to single-race standing was also followed by a stadium downsizing in 2014 when organizers decided to reduce the grandstand capacity from 92,000 to 68,000. In its place they added a hospitality section and a brand new scoreboard. They also increased the average seat size thanks to the increased available space.
The Hollywood Limelight
By virtue of it being the closest major race track to Hollywood, the Auto Club Speedway is famously used in many films, commercials and television.
Not only was it the venue for the memorable Bucket List scene with Morgan Freeman and Jack Nicholson, who each take a spin around the track in vintage Dodge and Mustang, it was also brought to life in two blockbuster kids animation movies: Pixar's Cars and Disney's Herbie: Fully Loaded.
You might also recognize the course as the feature location in the 2000 adaptation of Charlie's Angels with Cameron Diaz, Lucy Liu, and Drew Barrymore.