Danica Patrick is the most successful and famous female race car driver of all time, hands down. Patrick has raced in both NASCAR and IndyCar competition and is the only female to ever win an IndyCar Series race.
As a youngster, she honed her skills on the go-kart track winning three national championships and in 2000, at just 18 years of age, posted the best finish ever for an American driver in the Formula Ford Festival in England.
Her impressive entrance into the IndyCar scene in 2005 is what really turned heads and kick-started the "Danica Mania" that blew up the sporting world. That year she placed 12th in the overall standings and won Rookie of the Year honors.
It would take another five years before Danica made her debut appearance in NASCAR racing when she joined team JR Motorsports as a part-time Nationwide (now Xfinity) Series competitor. Eventually, by 2013, she switched her full focus to NASCAR and took on a full-time schedule. The rest, as they say, is history.
In this article, we'll take a closer look at Danica Patrick's driving career history, highlights and more.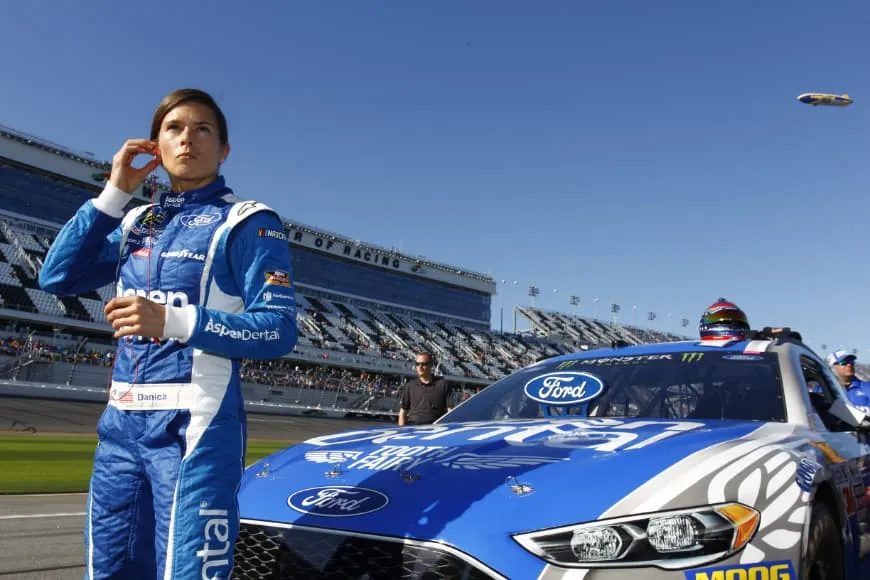 Fast Facts:
Full name: Danica Sue Patrick
Height: 5'2"
Born March 25, 1982
Hometown: Beloit, Wisconsin
Was married from 2005-2013 but after divorce dated NASCAR driver Ricky Stenhouse Jr and then Green Bay Packers quarterback Aaron Rodgers.
Appeared in commercials for her sponsors GoDaddy.com and Secret deodorant.
4th woman to ever qualify for Indianapolis 500.
One of 14 drivers in history to have led both the Daytona 500 and the Indy 500.
Biggest Results:
2005 – Ties IndyCar rookie record with 3 pole wins in a season and earns Rookie of the Year honors
2008 – Indy Japan 300 at Twin Ring Motegi Superspeedway (winner)
2009 – 3rd place Indianapolis 500
2011 – Sam's Town 300 at Las Vegas Motor Speedway
2012 – DRIVE4COPD 300 pole position winner (38th place finish)
2013 – Daytona 500 pole position winner (8th place finish)
Danica Patrick Bio
Even at first glance, there are a lot of 'firsts' on Danica Patrick's driving resume.
Two of the most famous are her IndyCar Series race win in Japan in 2008 and her podium finish at the Indianapolis 500 in 2009. Both of those results were history markers for a female in race car driving competition. She is also the first woman to ever have a lead in the Indy 500.
In 2018, after racing one last time in the Indy 500 and Daytona 500, she decided to officially hang up her driving gloves and call it a career.
NASCAR Xfinity Series and Monster Energy NASCAR Cup Series
Danica raced 191 times at the Cup Series level in her career with 7 top-10s and a pole position win at Daytona.
That accomplishment makes her the first and only woman to ever win a Cup Series pole position. The top-10s, plus the amount of starts and laps lead, are all records for a female driver at the Cup Series level.
Danica's Xfinity results mirror her Cup Series results precisely with 7 top-10s and one pole win. The only difference between those statistics as that she only competed in a total of 61 Xfinity Series races.
First NASCAR Win
Patrick's only career win came in the Indy Japan 300 in 2008. The historic victory still stands today as the only time a woman has won an IndyCar Series race.
Career-Best Season
Speaking strictly in terms of top-level NASCAR Cup Series season's, Danica's best showing was 2014 when she finished 9th in the 5-Hour Energy 400 in Kansas, 8th in the Coke Zero 400 at Daytona, and 6th in the Oral-B USA 500 in Atlanta.
Perhaps her most iconic and memorable season was 2005 which was somewhat of a coming out party. She won both Rookie of the Year honors in the IndyCar Series and the Indianapolis 500.