Daniel Hemric knew very early on in life that the thrill from racing was something that would constantly drive him.
Hemric once said In an interview, "The first time I sat in a go-kart at Concord Speedway, I knew right then that I wanted to race."
At age 5 Hemric was already dominating 1/5-Mile races, taking home 11 race wins and the track championship. Hemric continued racking up wins and experience through his early and late teens at Bandoleros and Legends level competition.
In 2013 he made his NASCAR debut (in the Camping World Truck Series) and since then has proved over and over again he's capable of competing at the sport's highest levels.
Hemric is only now entering the prime of his career and expectations for future achievements are big. Let's take a closer look at some of the most prominent NASCAR moments from Daniel Hemric's career so far.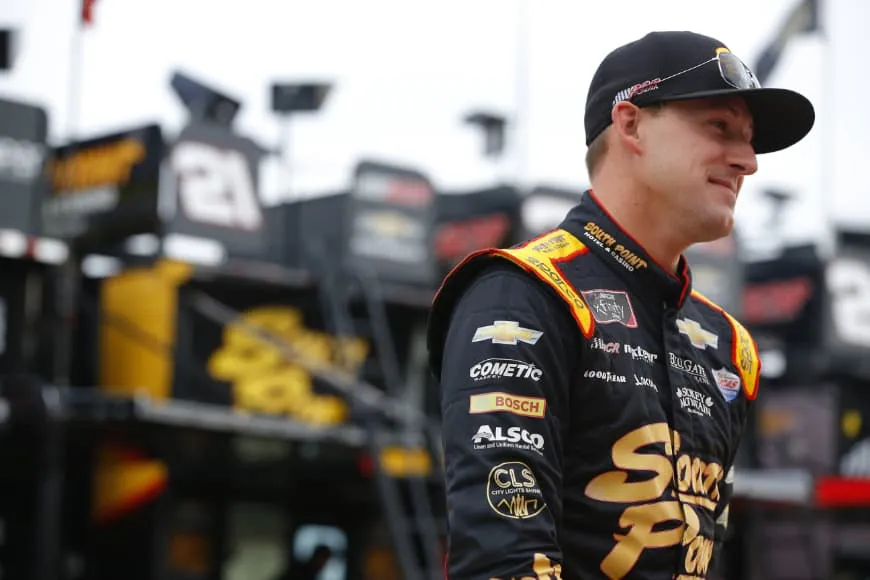 Fast Facts:
Born: January 27, 1991
Hometown: Kannapolis, North Carolina
Married to fellow NASCAR driver Mackenzie "Kenzie" Ruston
Broke a course qualifying record in 2009 at Concord Speedway in the Pro Late Model category
Won four pole positions in Xfinity Series racing in 2018 alone
Biggest Results:
2018 Kansas Lottery 300 at Kansas Speedway
2018 Bar Harbor 200 at Dover International Speedway
2018 Sparks Energy 300 at Talladega
2018 PowerShares QQQ 300 at Daytona
2017 ToyotaCare 250 at Richmond International Speedway
Daniel Hemric Bio
While he's still in search of his first career win at one of NASCAR's top divisions, Hemric's impressive back-to-back playoff berths in consecutive Xfinity Series seasons (2017/2018) is certainly his most notable professional-level career achievement so far.
In both years he made it to the Champion 4 round as well marking his territory as a top dog to be reckoned with.
Hemric will most definitely be in contention for Rookie of the Year honors in 2019 at the Monster Energy NASCAR Cup Series Hemric signed a deal with Richard Childress Racing to drive the team's No. 31 Chevrolet full-time.
NASCAR Xfinity Series and Monster Energy NASCAR Cup Series
For someone who gets into the top-10 as often as Hemric does, it's a wonder he hasn't had a top podium finish yet. Over his two years racing at the Xfinity Series level Hemric has competed in 66 races, taking home 5 poles and 39 top-10s.
It must be frustrating for the young driver as he's been runner up five different times and has come in third on nine separate occasions.
At the Monster Energy NASCAR Cup Series level, Hemric is still as raw as it gets for rookies. He's only had two races so far but with his full-time status with team RCR in 2019, we expect to see a breakout year and hopefully his first career win.
First NASCAR Win
As the saying goes, always the bridesmaid, never the bride. It must feel that way for Hemric, who has been close but has never won.
Hemric's had especially close calls at the Xfinity Series level. He's repeatedly come in second and third place. A lot of people are rooting for Hemric to pop his first bottle of NASCAR victory champagne in 2019. He's definitely earned it.
Career-Best Season
2016 and 2018 were Hemric's best years so far. In 2016, at the Truck Series level, he had 17 total top-10 finishes and eleven of those were top-5. He was edged out twice for shots at a race win.
His 2018 Xfinity Series season was excellent as well. 4 pole wins and 23 top-10s. Yet again we have to report that he had four-second place results. Ouch, you've gotta feel for the guy. Perhaps it will make the (hopeful) inevitable first win that much sweeter when it happens.