Darlington Raceway
in South Carolina might have some of the most unique traits and alliterated taglines in the entire NASCAR racing industry.
Aside from the inauspicious nickname "The Lady in Black" which is daunting enough, many drivers, teams, and fans refer to Darlington as the "Track Too Tough to Tame."
Add to that a unique track shape that makes it very challenging for crew teams and you can see why this speedway is so often discusses and scrutinized. People seem to either love it or hate. Either way, its iconic history commands respect from all parties.
Darlington's strange shape is actually caused by a minnow pond located on the west half of the track that the previous owner refused to destroy during construction. As such, rather than a symmetrical oval, the track has a distinctive egg-shape.
In this article we'll shine the spotlight on the most important facts about Darlington Raceway including its history, length, location, capacity and lots more. Let's start with the track's key stats: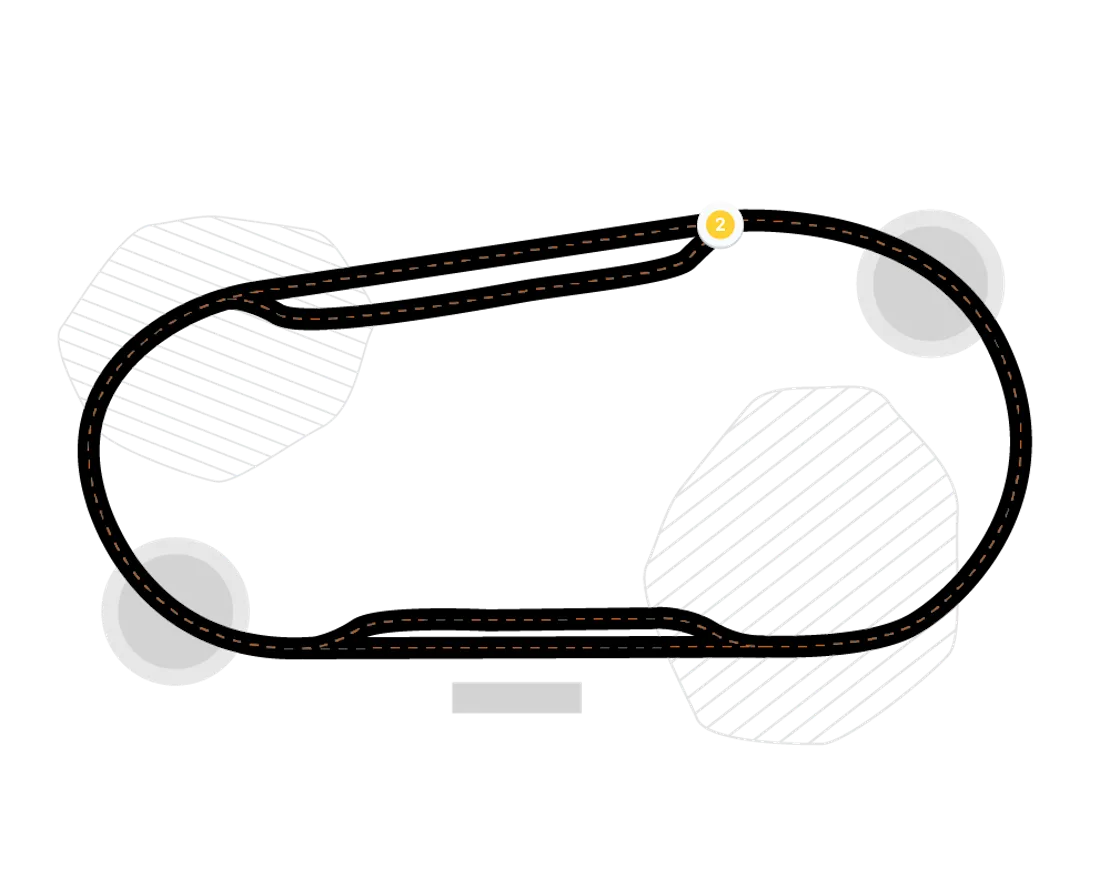 Fast Facts:
Location: Darlington, South Carolina
Built in: 1950
Owned by: International Speedway Corporation
Track Type: "Egg-shaped" oval
Track length: NASCAR oval is 1.366 miles (2.198 km)
Turns:4, Turns 1 and 2 banked 25 degrees, turns 3 and 4 banked 23 degrees,
Frontstretch: banked 3 degrees
Backstretch: banked 2 degrees
Race lap record: 0:26.705 Aric Almirola (Qualifying), April 11, 2014
Capacity: 47,000
Major Events: Monster Energy NASCAR Cup Series:Bojangles' Southern 500, NASCAR Xfinity Series: Sport Clips Haircuts VFW 200, USAC Silver Crown Series: Silver Crown Showdown at Darlington
What NASCAR Races Happen at Darlington?
For old school racing-film buffs, you may recognize the speedway in the 1960 film Thunder in Carolina starring Alan Hale, Jr. and Rory Calhoun.
Although no longer the case, Darlington Raceway used to host two top level NASCAR Cup Series races per season.
The Rebel 400 was held in the spring and the Southern 500 on Labour Day weekend. However, the Labour Day slot on the NASCAR calendar was passed to California Speedway in 2003. The news wasn't all bad considering Darlington's 500 was instead given a November playoff date as part of the Chase for the Nextel Cup.
That didn't last long, however. Due to legal complications in 2002 the race was rescheduled once again, this time for Mother's Day weekend. And wouldn't you know it, history tends to repeat itself. The race, now known as the "Bojangles' Southern 500", was rescheduled for April and Kansas Speedway took over the Mother's Day spot.
Darlington Raceway History
Having broken ground in 1949 and hosted its first race in 1950, Darlington Raceway is the second oldest track in all of NASCAR and the oldest of all superspeedways. Only Martinsville Speedway in Virginia is older and has it beat by just one year.
The idea and funding to build a venue in Darlington came from two retired drivers: Harold Brasington and Bill France, Sr. It was Brasington who approached France to partner up after seeing the success of the Indianapolis Motor Speedway.
The land they purchased was previously used to cultivate cotton and peanuts and the previous owner only had one stipulation in the negotiation which was to not destroy his minnow pond; hence why the track has an oblong shape.
They opened the track with a bang and posted a record prize purse of $25,000 for the winner of the inaugural Southern 500. The race had a massive 80 entrants who attempted to qualify for the 75 available spots. The eventual winner, Johnny Mantz, raced in a now infamous Plymouth car owned by track co-founder Bill France Jr.
Over its near seven-decade history, one driver has amassed an incredible 65 races at the track. For NASCAR savvy trivia buffs, you'd be right if you guessed it was Richard Petty. Somewhat surprisingly, however, it isn't Petty who holds the track record for most wins. That honor goes to David Pearson with ten.
It should also be noted that its Xfinity Series race, the Sport Clips Haircuts VFW 200, is also a massively attended event that takes place each year on the day before the Cup Series race. Denny Hamlin has been the king of this event winning it on five separate occasions, most recently in 2017.
Location and Financial Concerns
Part of the reason that Darlington had so many scheduling changes with its famous Southern 500 is because of where the track is located and an inability to meet financial goals to sustain operations.
Unlike many tracks that are located in or near large metropolitan cities, Darlington's spectator market is a lot smaller. Located in a part of the state known as the Textile Belt, the locals started to struggle to afford tickets when the textile industry began to suffer through a lengthy economic decline.
Another issue for Darlington, especially in the 90s when NASCAR ratings were on the rise, is that the sport wanted to expand its presence in more locations throughout the country. Unfortunately that plan subsequently backfired for the industry as they began to spread themselves too thin. More and more arge scale complexes with massive seating capacities began having trouble filling seats.
Good news finally arrived in 2007 and 2008 when Darlington secured $16 million in investment capital to refurbish the venue and the track to keep the superspeedway running smoothly into the current decade and beyond.
Darlington Raceway Stock Car Museum
Race car lovers young and old also come to Darlington to check out its world famous Stock Car museum.
The idea for the museum was in part a dedication to former NASCAR racing champion Joe Weatherly who died in a crash at Riverside International Raceway in 1964. In fact, from 1965 to 2003, before they expanded and changed to its current name, the venue was called the Joe Weatherly Stock Car Museum.
The museum holds memorabilia from dozens of racing legends as well as some of the cars they drove at Darlington over the years. One of the most treasured items is the 1950 Plymouth that Johnny Mantz drove to victory in the first ever Southern 500.
The site is also the location of the NASCAR Motorsports Press Association Hall of Fame and has inducted, amongst others, such race legends as David Pearson and Richard Petty.