David Gilliland is the definition of seasoned veteran. With nearly 400 total races between Cup Series and Xfinity Series, there's not a single NASCAR turn in America that Gilliland hasn't navigated.
Prior to his racing career Gilliland played competitive golf, teaming with Tiger Woods at Western High School in Anaheim.
But racing was always in his blood. David's father Butch Gilliland was a NASCAR driver and now his son, Todd Gilliland, is also racing in NASCAR for David Gilliland Racing.
The family become the first in history to have three generations of race winners when Todd won at the Toledo Speedway in 2015.
As he's gotten older, David Gilliland has scaled back his racing and now mainly does spot appearances throughout the year. In this article we'll take a look back at his career history, highlights, stats and more.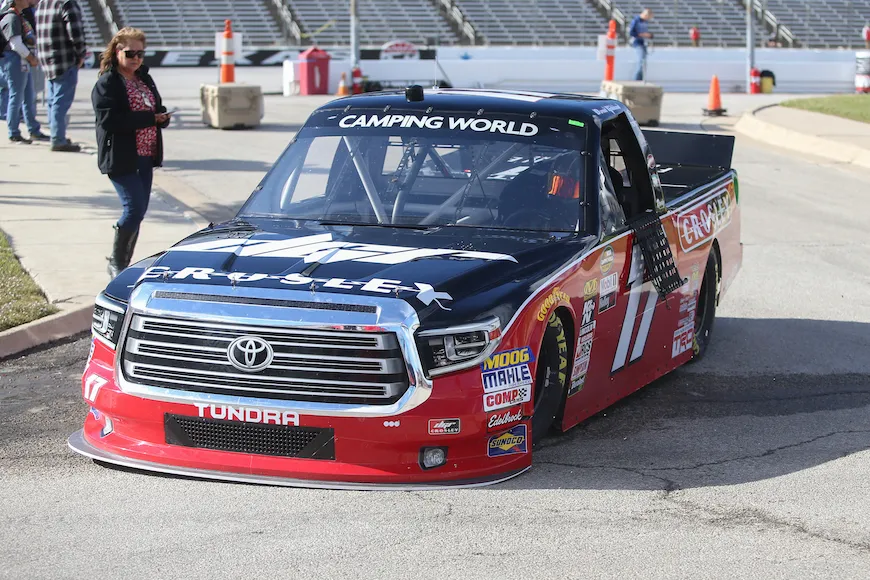 Fast Facts:
Born: April 1, 1976
Hometown: Riverside, California
Height: 5'9"
330+ Cup Series starts over 12 years
50+ Xfinity Series starts over 6 years
2004 NASCAR West Series Rookie of the Year
Placed 18th at the 2018 Daytona 500
Held the pole at the 2007 Daytona 500
High school golf teammate of Tiger Woods
Oldest soon, Todd, is also a competitive racer
Biggest Results:
2006 Meijer 300 presented by Oreo at Kentucky Speedway
2007 Winn Dixie 250 presented by PepsiCo at Daytona
2008 Toyota / Save Mart 350 at Infineon Raceway
2009 Copart 300 at Auto Club Speedway
2011 Daytona 500 at Daytona
2013 Aaron's 499 at Talladega
David Gilliland Bio
David Gilliland is one of the longest standing veterans in the Cup Series with over 330 career starts over his 12-year career. Most recently in 2018, Gilliland raced for RBR Enterprises for the first time, after spending the previous seven years with Front Row Motorsports.
Gilliland's son, Todd, is also a competitive racer and races under the David Gilliland Racing team banner. When Todd won the K&N Pro Series West race at Phoenix International Speedway in 2015, it made history as three generations of Gillilands had registered wins in the division.
Gilliland recently completed a Camping World Truck Series season, where he finished with a career high three top-5 finishes.
NASCAR Xfinity Series and Monster Energy NASCAR Cup Series
In his career, Gilliland has competed in 56 Xfinity Series races, winning once and finishing in the top-10 three times. His last season took place in 2010.
At the Cup Series level, Gilliland has competed in 333 races across 12 different seasons. His best finish has been second place, where he's accomplished that in 2008 (Infineon) and 2011 (Daytona). He finished 54th overall in the 2018 season.
It should also be noted that Gilliland has three career pole wins at the Cup Series level on his resume as well.
First NASCAR Win
Gilliland's first NASCAR win came at the Kentucky Speedway during the 2006 Xfinity Series. He also has three pole position wins at the Cup Series level in 2006, 2007, and 2014. Two of those came at Daytona International Speedway.
Career-Best Season
Gillland's best season was in 2008 at the Cup Series level. He ended the season 27th overall, with one top-5 finish, an additional top-10 finish, and 10 top-20 finishes. The second-place finish during this season took place at the Infineon Speedway during the Toyota/Save Mart 350.
It should be noted that Gilliland had a strong 2018 season in the Truck Series division with three top-5 finishes and won two poles.