It's safe to say that having a pro race car driver for a father may have steered David Ragan towards becoming a driver himself. It definitely helped get him started early.
Son of former professional driver Ken Ragan, David made a name for himself behind the wheel before he even hit his teens.
At 11 years old David Ragan won the Bandolero car racing national championship and repeated the feat just two seasons later.
Eventually, as he grew older, he graduated to full-sized vehicles and by the time he was 18 was ready for his NASCAR debut in Truck Series, Busch (now Xfinity) Series, and ARCA Racing Series competition.
Since then David has been amassing an impressive resume racing in those divisions. In this article we'll explore his David Ragan's driving history, career highlights, bio, stats and more.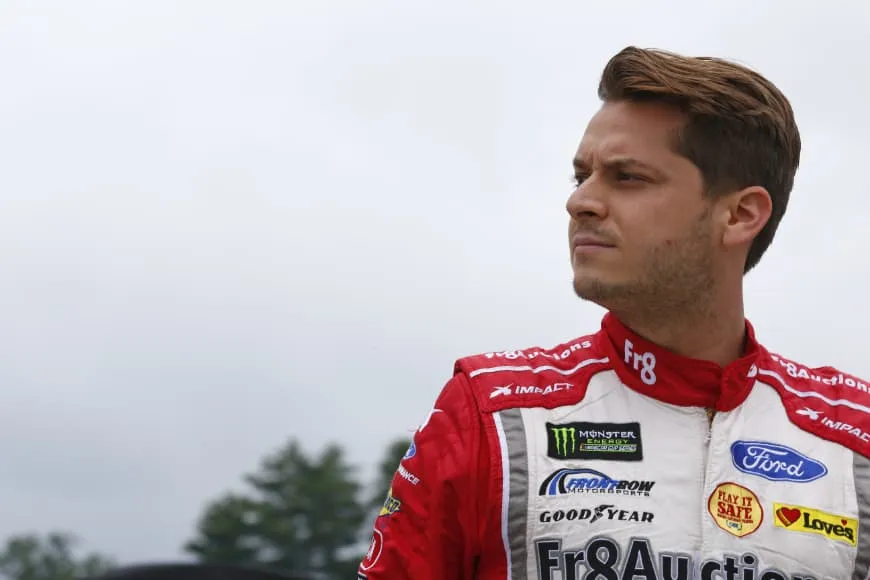 Fast Facts:
Full name: David Lee Ragan
Born: December 24, 1985
Hometown: Unadilla, Georgia
2007 Busch Series Rookie of the Year
2007 Nextel Cup Series Rookie of the Year (runner up)
Earned the first every Cup Series victory for team Front Row Motorsports in 2013
Biggest Results:
2005 – Williams Bros. 200 at Lanier National Speedway
2009 – Aaron's 312 at Talladega
2009 – Food City 250 at Bristol Motor Speedway
2011 – Coke Zero 400 Powered by Coca-Cola at Daytona
2011 – Sprint Showdown at Charlotte Motor Speedway
2013 – Aaron's 499 at Talladega
David Ragan Bio
Having spent many seasons driving for different teams including BK Racing, Roush Fenway Racing, Joe Gibbs Racing, and Michael Waltrip Racing, Ragan was proud to announce his extension with Front Row Racing through the 2019 season. It marks the sixth season he's been with Front Row.
He will drive the No. 38 in Monster Energy NASCAR Cup Series competition for the team and hopes to rekindle the historic magic they found together in 2013.
NASCAR Xfinity Series and Monster Energy NASCAR Cup Series
Ragan made his Xfinity Series debut in 2004. While it took him a while to find success at the level, he now can proudly call himself a two-time champion as well as the 2007 Busch Series Rookie of the Year.
In 107 races over 11 years, he has 3 poles and 49 top-10s to accompany his two race victories.
At the Cup Series level, Ragan also has two race wins which came in 2011 at the Coke Zero 400 at Daytona and the Aaron's 499 in 2013 at Talladega Superspeedway.
First NASCAR Win
Ragan first tasted NASCAR level victory on the ARCA Series in 2005 at just 19 years of age.
When talking about wins competing against the big dogs, his (only) two Xfinity Series (then Busch Series) wins were both in 2009. The first coming at the Food City 250 at Talladega in April and then he scooped his second a few months later in August at Bristol.
His first ever Cup Series win was the Coke Zero 400 in 2011.
Career-Best Season
At the Xfinity Series level, you could say that the 2008 season prepped Ragan for his breakout year in 2009. While his notable race wins were both in 2009, his 21 top-10s in 2008 (7 of which were top-5) clearly gave him a lot of confidence going forward.
2011 would have to be his best Cup Series season as it had his first ever victory at the top and eight other top-10 performances.