David Starr, at 51 years of age, is an elder statesman and veteran on the NASCAR scene and while he has experience at the Xfinity and Cup Series levels, his bread and butter was always the Camping World Truck Series.
That being said, his last Truck Series race was in 2013 and he's spent the majority of the past few seasons honing his Xfinity Series chops.
In 2018 he finished the Xfinity Series season in 23rd position overall and hopes to improve on that next year.
As a teen, he learned about cars while helping his neighbor do pit crew work. By 16 he was already involved in street stock car racing. He won a championship in that first year and hasn't looked back since.
In this article, we'll take a closer look at David Starr's storied career including highlights, stats, bio and more.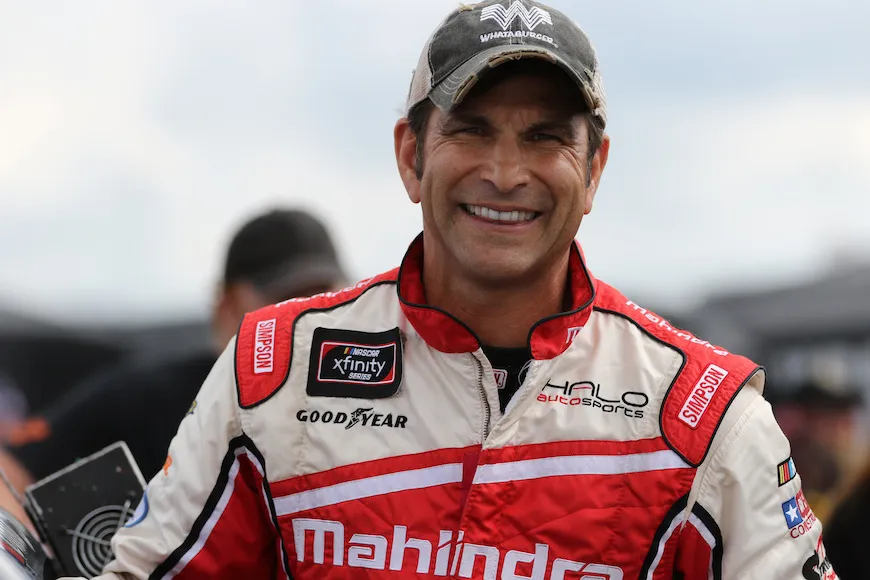 Fast Facts:
Born: October 11, 1967
Hometown: Houston, Texas
Height: 5'9"
In 1996 he became first-ever rookie to win a race in the Texas International Driving Association.
2002 NASCAR Craftsman Truck Series Most Popular Driver
One of the first drivers for African owned company Obaika Racing and was given first attempt into Monster Energy NASCAR Cup Series for the team in 2018.
Two top-5 finishes at Talladega in Truck Series competition
Biggest Results:
2014 – Aaron's 312 at Talladega
2015 – Alert Today Florida 300 at Daytona
2017 – Coca-Cola Firecracker 250 at Daytona
2002 – Las Vegas 350 at Las Vegas Motor Speedway
2004 – Missouri-Illinois Dodge Dealers Ram Tough 200 at Gateway International Raceway
2004 – Chevy Silverado 150 at Phoenix International Raceway
2006 – Kroger 250 at Martinsville Speedway
David Starr Bio
David Starr currently drives full-time in the Xfinity Series for Jimmy Means Racing but has represented many teams throughout his career. If he does compete in Cup Series races in 2019 it will most likely be in the No. 51 Chevrolet Camaro ZL1 for Rick Ware Racing and/or with the No. 97 Toyota Camry for the African owned Obaika Racing team.
Although he's experienced the most success in his career in the Truck Series division, he has not participated in a race there in over half a decade.
NASCAR Xfinity Series and Monster Energy NASCAR Cup Series
At Xfinity Series level, Starr has 163 total races spanning 13 years. He has finished in the top-10 on three occasions.
As experienced as Starr is, it may come as a surprise that the 51-year-old only has nine races over three years at the Cup Series level. He intends to continue competing as long as his mind and body remain strong so we assume these numbers will continue to rise for the next few years.
First NASCAR Win
Starr has four Truck Series victories under his belt. The first one came in 2002 at the Las Vegas 350. He also has a race win at the K&N Pro Series West (then called the Winston West Series) in 2000 that came in the Orleans 150 which was at the same Las Vegas Motor Speedway track.
Career-Best Season
2004 was Starr's most statistically impressive season and it comes as no surprise that it was in the Craftsman Truck Series. He had two race victories, won a pole position and had 16 total top-10 finishes of which eight came in the top-5.
All told, he had six podium finishes that season.