There's no question that Denny Hamlin will go down in history as one of the all-time greats of NASCAR racing.
After breaking through as a rookie in 2006, Hamlin has been a model of consistency on both the Xfinity and Cup Series circuits.
Hamlin was born in Tampa, Florida but grew up in Chesterfield, Virginia. He was attracted to racing early and was behind the wheel of a go-kart by the age of seven.
In 2004 Hamlin signed his first development contract with Joe Gibbs Racing. It didn't take long for him to make a name for himself as his 2006 season earned him Nextel Cup Series Rookie of the Year honors.
Hamlin, the youngest of five siblings, has continued to race at the sport's highest levels for the past decade and shows no sign of slowing down.
In this article, we'll take a closer look at Denny Hamlin's career history, highlights, stats, betting odds and more.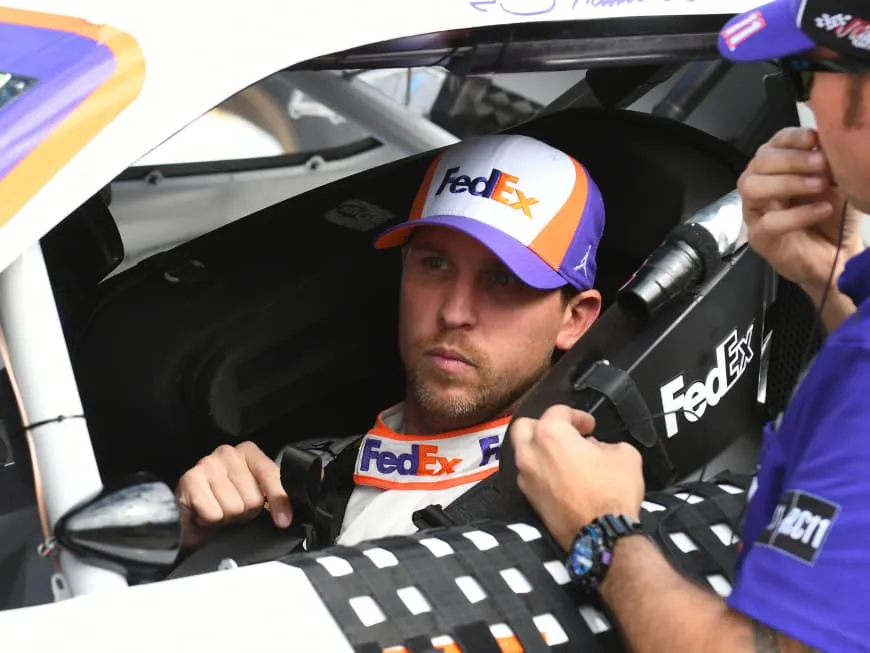 Fast Facts:
Born: November 18, 1980
Hometown: Tampa, Florida
Height: 6'0"
Was a playable character in EA Sports NASCAR Racing Game
Won at least one Cup Series race each year from 2006 – 2017
2016 Daytona Cup Winner
Best finish in the Monster Energy NASCAR Cup Series is 2nd place (2010)
Considered by many to be one of the all time greats
Biggest Results:
Cup Series level: 31 career victories, 235 top-10s, and 30 pole wins
Xfinity Series level: 17 wins, 99 top-10s, and 21 poles.
Truck Series level: in 16 career races has 2 wins, nine top-10s, and 2 pole wins
2016 Monster Energy NASCAR Cup Series at Daytona 500
2017 Monster Energy NASCAR Cup Series at Bojangles' Southern 500
2017 Xfinity Series at Spot Clips Haircuts VFW 200
Denny Hamlin Bio
Denny Hamlin is one of the most consistently successful drivers in NASCAR history. Period.
Going back to 2006, there has never been a season where Hamlin has finished the year without a win. Furthermore, he's won a combined total of 48 races in both the Xfinity and Cup Series, with his signature win coming in 2016 at Daytona International Speedway.
His rookie season in 2006 is believed to be one of the most impressive debut seasons of all time, as he finished third place in the Nextel Cup standings.
NASCAR Xfinity Series and Monster Energy NASCAR Cup Series
In his career, Hamlin has competed in 160 Xfinity/Busch races over the course of 15 years. He has a total of 17 wins.
At the Cup Series level, Hamlin has competed in 480 races across 14 seasons. He has a total of 31 wins and his best overall finish was in 2018, when he placed second to Jimmie Johnson, despite having the overall lead heading into the final race of the season..
First NASCAR Win
Hamlin's first NASCAR win came in Mexico City at the Telcel-Motorola 200 during the 2006 Xfinity Series.
2006 also marked his debut Cup Series victory when he took home first place at the Pocono 500.
Career-Best Season
Hamlin's best season came in 2010, where he finished second to legendary driver Jimmie Johnson in the Cup series standings. Hamlin actually held a 10 point lead heading into the final race of the season but ended the year 39 points back of Johnson.
The 2010 season saw Hamlin win an impressive eight wins, which lead all drivers. He even pulled off a back to back in the middle of the season, giving him three wins over a five-week span.
In the Cup Series races alone, Hamlin took home a staggering $8,636,773 in 2010.