Erik Jones is a ferocious front runner. He likes to drive fast, pass and then stay in front. The 22 year old is making huge waves on the NASCAR scene already and is proving to be a real force at the sport's highest levels.
Lots of drivers in his age range hone their skills with a few seasons in Truck Series competition followed by Xfinity Series racing and then, if they're lucky, move up to compete against the top dogs at the Cup Series level.
Erik Jones has been on the fast track and breezed through each division to earn the right to drive against the best.
He blasted through the Camping World Truck Series in 2015 becoming the youngest ever to win a championship, also taking the Rookie of the Year award.
He then had four wins at the Xfinity Series level in 2016 while also winning Rookie of the Year and, in case you're sensing a pattern, quickly moved up to the Monster Energy Cup Series in 2017 and took home Rookie of the Year honors there as well.
This made him the first driver in history to win all three Rookie of the Year awards in the top three NASCAR divisions.
Let's take a look at some of the other amazing early career accomplishments of Erik Jones including his bio, stats and more.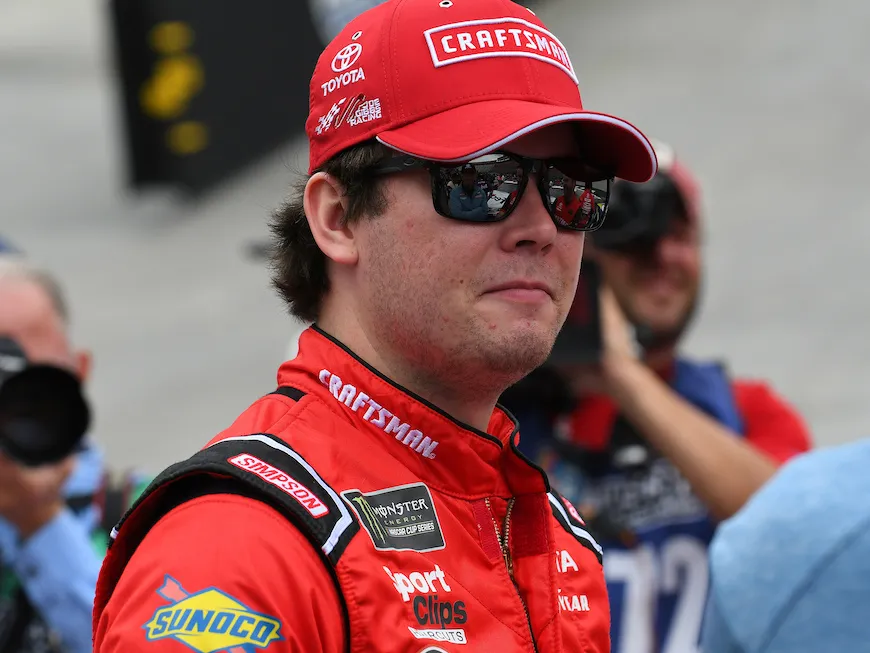 Fast Facts:
Nicknames: EJ and "That Boy Jones" which he got from announce Ken Squier.
Born: May 30, 1996
Hometown: Byron, Michigan
Enjoys scuba diving and golfing.
Favorite sports teams: Detroit Lions and Michigan Football
First driver ever to win Rookie of the Year at all three top NASCAR divisions
Youngest-ever Oktoberfest Race winner in 2010
Youngest-ever ARCA Series driver at age 15
First 16 year old to compete in a Truck Series race since Kyle Busch (2001)
Biggest Results:
2018 Cup Series winner of Coke Zero Sugar 400 at Daytona
9-time Xfinity Series winner
7-time Camping World Truck Series winner
2015 – Truck Series season champion
2012, 2013 – Snowball Derby winner
2013, 2014, 2015 – Winchester 400 winner
Rookie of the Year at all three top levels – 2015 Truck Series, 2016 Xfinity Series, 2017 Monster Energy NASCAR Cup Series
Erik Jones Bio
At 22 years old, Erik Jones already has the resume of a retired Hall of Famer. It seems like there's nothing he hasn't done and nothing he cannot yet achieve.
Literally every time he's moved up a level he's had immediate success. The proof is in the fact that he made history as the only driver to win Rookie of the Year awards in all three top levels of NASCAR.
As he heads into 2019, driving the No. 20 for Joe Gibbs Racing, the sky truly is the limit as we haven't even seen what this kid's prime years will look like. It's scary to think that he's only going to get better.
NASCAR Xfinity Series and Monster Energy NASCAR Cup Series
In just four years on the Xfinity Series scene Jones scored 50 top-10s in 77 races. So basically he's in contention for a win in two out of every three races which is incredible.
And it's not like he's not getting those wins either. He has nine Xfinity Series victories and 15 poles in those same four years.
At the Cup Series level he has maintained a competitive edge with 32 top-10 finishes in 75 races including two poles and his first ever top-level victory in 2018 at Daytona Motor Speedway.
First NASCAR Win
First Truck Series win (2013) – Lucas Oil 150 in Phoenix
First Xfinity Series win (2015) – O'Reilly Auto Parts 300 in Texas
First Monster Energy NASCAR Cup Series win (2018) – Coke Zero Sugar 400 at Daytona
Career-Best Season
We have to break this down into categories because he's been such a beast at every level.
For his best Camping World Truck Series year we have to choose 2015. He had three wins, 5 poles, and 20 top-10s.
His most productive Xfinity Series season was 2016 when he won four races, 9 poles, and had 20 top-10 appearances.
2018 was Jones' best Cup Series year as he won his first race and also added a pole position in 18 separate top-10 performances.