25-year-old Harrison Rhodes honed his driving chops in midget car racing, placing second in the national championship, and it's already clear that those same skills are going to pay off at the sport's highest levels too.
Having worked his way up the ranks, including the Legend Car Series, NASCAR Whelen All American Series, CARS Pro Cup Series, and the NASCAR K&N Pro Series East, plus five years of Xfinity Series, Rhodes made his Monster Energy NASCAR Cup Series debut in February 2018.
What's even more remarkable is that he's gotten to where he is in NASCAR while also obtaining a degree in Business Entrepreneurship with a minor in Graphic Communications from North Carolina State University.
In this article, we'll take a closer look at some of the young driver's other impressive early career accomplishments.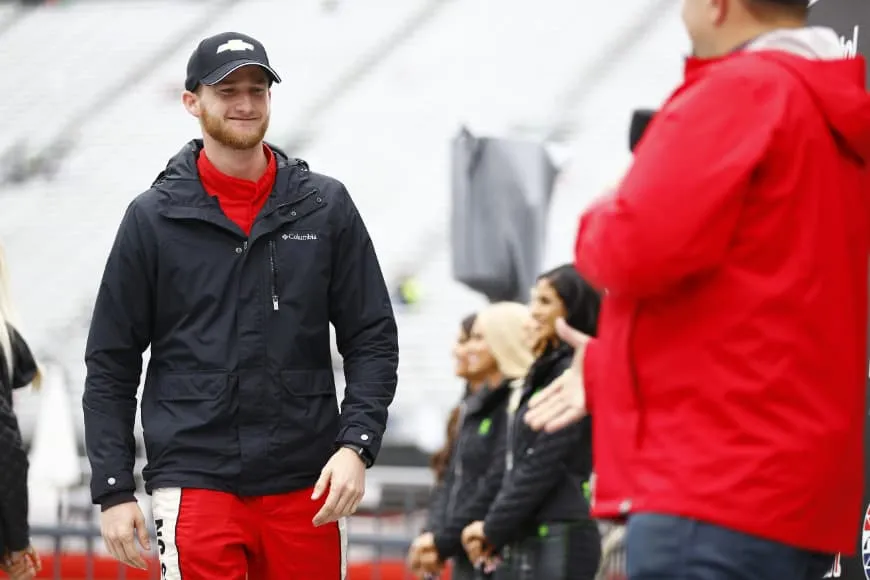 Fast Facts:
Born: July 15, 1993
Hometown: High Point, North Carolina
Non-racing hobbies include hunting, fishing, wakesurfing, snowboarding, videography, and photography.
Graduated from N.C. State in 2016.
Best ever NASCAR K&N Pro Series East race was his first. A 4th place finish in 2012.
Two top-10 Xfinity Series finishes which both came at Daytona.
Biggest Results:
2012 Samuel 150 at CNB Bank Raceway Park
2012 – NASCAR Hall of Fame 150 at Bowman Gray Stadium
2015 – Subway Firecracker 250 at Daytona
2017 – PowerShares QQQ 300 at Daytona
Harrison Rhodes Bio
We need to take a moment to recognize Rhodes' single-season success in 2012 at the X-1R Pro Cup Series.
It was here, as a 19-year-old, that Harrison's confidence really began to flourish at a pro-level.
Of his four races that year, he was top-6 in all of them but one and in that one he failed to finish due to a crash he actually held the lead for 61 laps.
This confidence carried over into the K&N Pro Series the following year as well as his debut season in the Xfinity Series in 2013.
NASCAR Xfinity Series and Monster Energy NASCAR Cup Series
To date, Rhodes has five years of Xfinity Series experience with a total of 84 races. He's posted two separate top-10 finishes which came in 2015 and 2017, respectively.
2018 marked his debut on the top-level Cup Series division and thus far he's had six total races.
He's never started higher than 30th and hopes that moving forward, that statistic can be improved. His best result came at the O'Reilly Auto Parts 500 at the Texas Motor Speedway in April.
First NASCAR Win
Harrison Rhodes is still looking for his first career NASCAR win. With more experience and having his educational efforts completed, we are excited to see his improvement in the coming years.
Career-Best Season
2012 is most certainly Harrison Rhodes' most prolific season to this point in his young career. Along with three out of four top-10 finishes in 1-XR Pro Cup Series competition, Rhodes also had two top-10 finishes in the K&N Pro Series East.
He posted an eighth-place finish at the Samuel 150 at CNB Bank Raceway Park and a career-best 4th place finish at the NASCAR Hall of Fame 150 at Bowman Gray Stadium in June that same year.