When talking about the legends of NASCAR racing, especially over the last 20 years, no conversation is complete without mentioning Jamie McMurray.
Ever since McMurray broke onto the scene in 2002 he's been one of the most consistent and decorated drivers in the sports, racing in an incredible 582 straight races over 17 NASCAR seasons.
McMurray is perhaps best known for winning the Daytona 500 and the Brickyard 400 in the same year.
However, McMurray's legendary career is coming to a close. At 42 years old, McMurray announced that he will retire after racing in one final Daytona 500 early in 2019. There's no question he'll leave the sport as one of the best drivers of his generation.
To learn more about McMurray's career achievements and biography, keep reading below.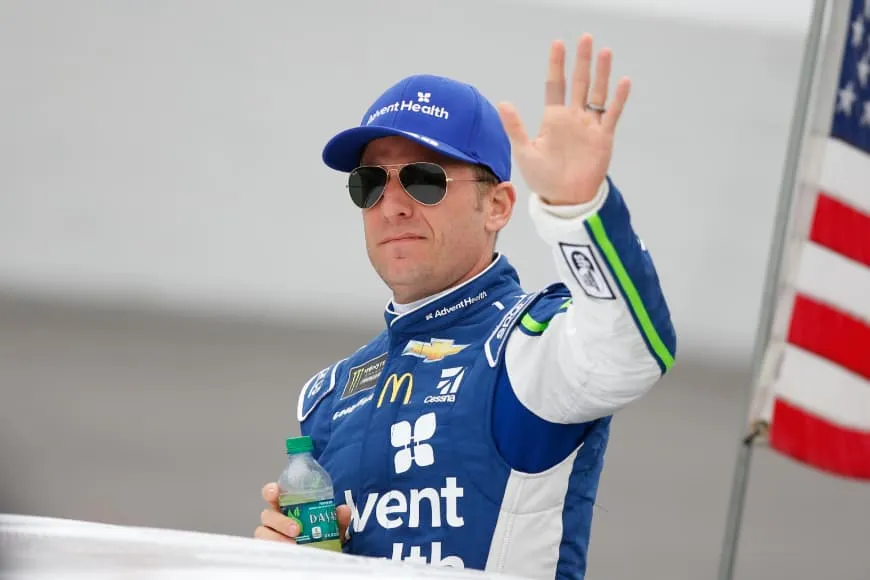 Fast Facts:
Born: June 3rd, 1976
Birthplace: Joplin, Missouri
Wife: Christy Futrell (married in 2009)
Height: 5'8"
Weight: 150 pounds
NASCAR analyst for NBC Sports
Career Highlights:
Three top-ten finishes in rookie Xfinity season
Won first Sprint Cup race in a second career event.
Two wins and 6th in overall standings during second Xfinity season
2003 Monster Energy Cup Series rookie of the year
Best Monster Energy Cup Series season in 2010 (3 wins, 12th in overall standings)
500th career Cup Series start in 2016
Jamie McMurray Bio
Many young drivers boast about winning championships while they're young, but Jamie McMurray even topped the career of the most talented kids. For example in 1991 at the age of 15, McMurray was named the World Karting Champion. It was clear early on that McMurray was going to be special in racing.
He didn't jump straight into NASCAR however, racing in late-model series before eventually competing in the NASCAR Remax Challenge series from 1998-99. In 1999, he did make his debut on the Gander Outdoors Truck Series, competing in five races. He turned some heads the following year in 2000 by finishing in the top ten for during four of his last six races.
That performance earned him a shot on the Xfinity Series in 2001, where he continued to impress with three top-ten finishes on the year. By slowly climbing the ranks, McMurray set the stage to make NASCAR Cup Series history in 2002.
McMurray Explodes onto the Scene
In just his second career race in 2002, McMurray beat Bobby Labonte and Tony Stewart to win the UAW-GM Quality 500. To this day, it is considered one of the greatest upsets in NASCAR history. However as time has gone on, it's clear that McMurray is a special talent behind the wheel.
He competed in his first full Cup Series season in 2003 and won Rookie of the Year by a staggering 37 points. However, McMurray learned how difficult it is to actually win a race. During his first four full seasons, McMurray had 53 top-ten finishes without winning a race.
McMurray did finally pull home his second-career Cup Series victory in 2007, winning in Daytona. That was another sign of bigger things to come for McMurray, who won the Daytona 500 in 2010, after leading for a record-low two laps. It was a huge win for McMurray who switched teams after a career-low five top-tens in 2009.
Throughout his NASCAR career, McMurray has been an absolute fixture at the sport's highest level, finishing in the top ten in 168 of his 582 Cup Series races. He also ended up with seven wins and 11 poles during that time. His career has winded down to a close, as he announced that the Daytona 500 in February 2019 would be the final race of his career.
McMurray Outside of Racing
Now that he's moving onto life outside of racing, McMurray is aiming to pass on his expertise to the viewers. While announcing his retirement, he also broke the news that he will appear on NBC Sports full-time as an analyst for NASCAR.
McMurray has seen time in front of the camera before as an analyst, but also made it to the big screen as well. He had a small role in one of the most famous racing films of all-time, Talladega Nights.
An avid athlete, McMurray recently got into running marathons. He competing in his first in 2017 and did so once again in 2018. McMurray has also worked on building the Jamie McMurray Foundation, which has donated money to Autism and other children's charities.