North Carolina native Jesse Little was born to race and he's racked up a solid list of accomplishments in NASCAR so far.
The son of former NASCAR driver Chad Little, Jesse has been around the track for as long as he can remember. That experience quickly translated into Little being the youngest ever driver to race in the NASCAR K&N Series at just 15 years old.
Now at nearly 22 years old, Little has his sights set on the same checkered flags as his father before him.
In this article we'll explore Jesse Little's NASCAR driving career including highlights, stats, bio and more.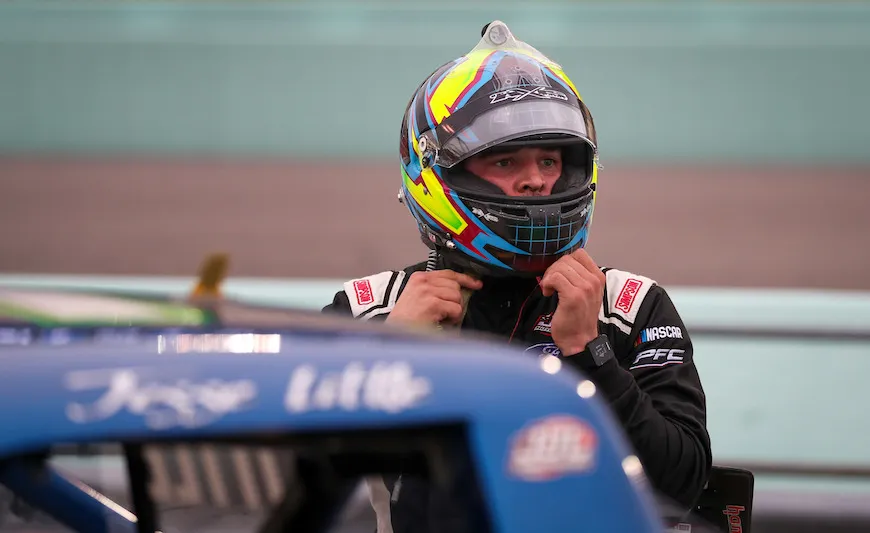 Fast Facts:
Full Name: Jesse Carter Little
Born: April 15th, 1997
Hometown: Sherrills Ford, North Carolina
Parents: Chad Little, Donna Little
High School: Bandy's High School
Current College: University of North Carolina: Charlotte
Career Highlights:
Over 50 feature wins in go-kart, midget car and late model series by 15 years old.
Youngest driver to ever race in the NASCAR K&N Pro Series (15 years old, 2012)
2013 K&N Pro Series East Rookie of the Year
First K&N Pro Series win in 2014 (17 years old)
Gander Outdoors Truck Series debut in 2015
Monster Energy Cup Series debut in 2018
Jesse Little Bio
There are certainly advantages to having a dad who competed in NASCAR's top circuit: A childhood around the track plus truckloads of inspiration and early driving experience..
Jesse Little made the most of those childhood advantages by becoming one of the youngest drivers to compete in a number of different racing circuits. By the time he was 15 years old in 2012, Little had already competed in go-kart competitions, midget car races and late model series events.
When he made his NASCAR debut on the K&N Pro Series East circuit in 2012, he was the youngest driver to ever race in K&N history. By that time, he had collected over 50 feature wins on all of the divisions he raced on previously between 2009-2012.
Little impressed early with two top-five finishes in seven races that season. That performance earned him a full-time look for the 2013 season.
Teenage Dreams Come True for Little
His success on the K&N circuit continued for the next two years. In 2013, Little had six top-ten finishes in 14 races, finishing 9th overall in the standings and earning Rookie of the Year honors.
Entering his second full-time season on the circuit, Little had his best season to date. In 16 races that season, Little finished 6th overall in the final standings after earning 10 top-ten finishes, four top-five finishes, along with his first career win on the circuit in Loudon.
In 2015, Little went part-time on the K&N circuit as he was striving to move up the ranks. Nevertheless, he still had a win and two top-five finishes in six races that season. He also made his debut on the Gander Outdoor Truck Series in 2015, competing in four races. His first two races ended up in 20th overall finishes, but Little cracked the top-fifteen (14th & 15th) in his next two races.
Little has been consistent in racing part-time on the Gander Outdoor Truck circuit since then, and in 2017 he earned his first top-ten finish. 2018 was another huge step forward, with six top-ten finishes in nine races. His best finish was 6th overall at Iowa.
Little also made his Monster Energy Cup Series debut in 2018 at 21 years of age, competing in two races. With most drivers, Little is still scraping by, trying to find sponsors to compete in more races on both the Gander Outdoors Truck circuit and the Cup Series.
The number of races he competes in moving forward will certainly depend on sponsors, but at 21 years old and some great success in K&N and Gander Outdoors, Little is a good candidate to keep on climbing the ranks.