When you're writing a bio for someone as legendary as Jimmie Johnson it's hard to know where to start.
Johnson has won almost everything at every level of NASCAR and there's no question he'll go down in history as one of the sport's all-time greats.
Jimmie Johnson is a seven-time Cup Series champion. In fact, he holds a record for five consecutive seasons as champion (2006-2010). That's an accomplishment that many think will never be replicated.
As a child Johnson was already racing motorcycles at age four. As he moved up through the ranks and graduated to full stock model vehicles, Johnson took home Rookie of the Year awards in almost every new division he entered.
With more than 700 NASCAR races under his belt and more wins and accolades than most racing teams combined, the legend of Jimmie Johnson will live on in NASCAR lore forever.
In this article we'll run down Jimmie Johnson's career highlights, stats, bio and lots more.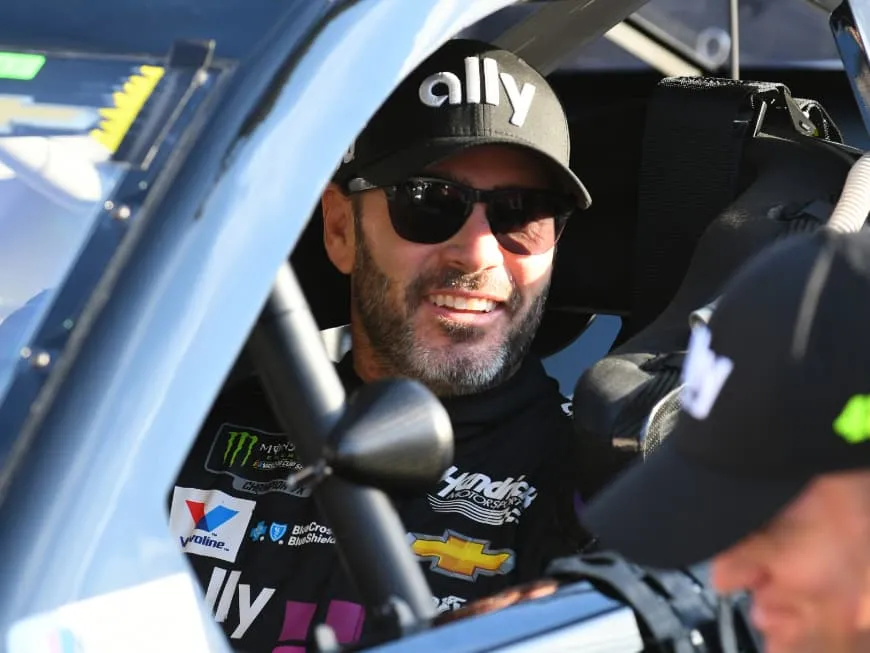 Fast Facts:
Born: September 17, 1975
Hometown: El Cajon California
Height: 5'11"
Only racecar driver to win Associated Press Male Athlete of the Year
Sponsored by Lowe's Home Improvement for entire Cup Series career
Has co-hosted SportsCenter and been a guest on several daytime and late night talk shows.
Featured twice on cover of Sports Illustrated
Competes in several marathons and triathlons yearly
Biggest Results:
7-time Cup Series champion
4-time NASCAR All-star race winner
4-time Coca-Cola 600 winner
4-time Brickyard 400 winner
2-time Daytona 500 winner
Track wins: 11 at Dover International Speedway, 9 at Martinsville Speedway, 8 at Charlotte Motor Speedway, 7 at Texas Motor Speedway
Jimmie Johnson Bio
Many drivers go through many teams, cars and sponsors throughout their careers. Not Jimmie Johnson. He's driven his now famous No. 48 Chevrolet for Hendrick Motorsport for the entirety of his Cup Series career.
His 83 career Cup Series wins puts him in a tie for 6th overall and in the lead amongst all active drivers.
Johnson's intuition and understanding of vehicles is almost as legendary as his winning record. His pit teams have said repeatedly that Johnson is able to sense subtle issues with the car and relay that information to his mechanics.
NASCAR Xfinity Series and Monster Energy NASCAR Cup Series
The numbers for Johnson are truly outrageous. In 18 years of Cup Series driving he's been in 615 races taking home wins in 83, pole position in 35, and placing top-10 in a staggering 352 different races..
He's had far fewer Xfinity/Busch Series races in his career since he's been a rather permanent fixture at the top division. In his 93 Xfinity/Busch races he's had one win and two pole positions.
First NASCAR Win
Ironically, with all the success that Johnson has had at the Cup Series level his first ever NASCAR triumph was also his one and only Xfinity/Busch Series win and it came in 2001 at Chicagoland Speedway.
His first Cup Series wins came one year later in 2002 in the NAPA Auto Parts 500 at California Speedway.
Career-Best Season
It's hard to pick a best season from Johnson's incredible career. Strictly looking at the numbers, his 10 wins in 2007 has to be in contention. That year he earned Driver of the Year honors and took home the Cup Series Championship.
It was his second highest revenue grossing season with $15,313,920 in terms of on-track earnings.
It should also be mentioned that 2007 is the year he hired a personal trainer to not only get into better shape but also fix a tension that had developed on one side of his body from year after year of g-forces applied to his body from constant left turning.