Kevin O'Connell is the most scholarly driver in all of top level NASCAR, literally. As the first an only top division driver with a Masters degree, he is proud to hold this unique distinction.
While the 51 year old has only raced in one Monster Energy NASCAR Cup Series race, and 8 Xfinity Series races, he does have a wealth of experience in various other lower division NASCAR series including the Rolex Grand-Am Sports Car Series, K&N Pro Series (East and West), and the Canadian Pinty's Series.
Like a lot of drivers who prefer turns and heading both left and right, O'Connell is known more for his road course skills than his oval 'left turn only' NASCAR chops. That being said, he truly is passionate about NASCAR and it was amazing to see him make his Cup Series debut at 50 years old in 2017.
In this article we'll take a closer look at the interesting driving career of Kevin O'Connell.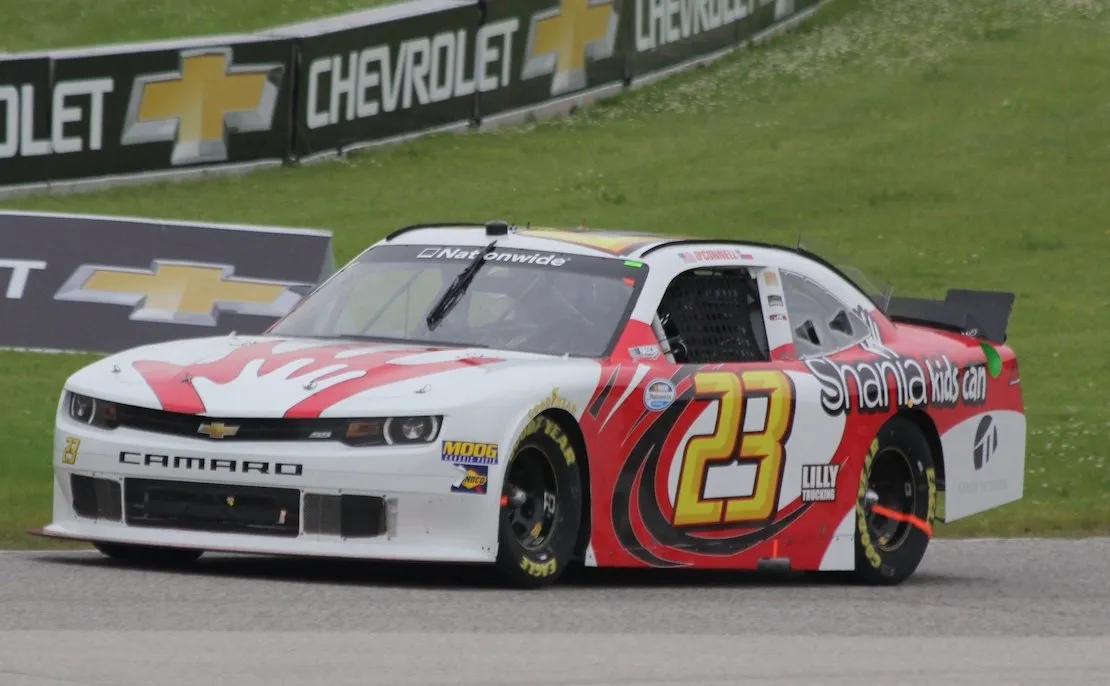 Fast Facts:
Born: April 29, 1967
Hometown: Newport Beach, California
Height: 6'5″
Father Gus O'Connell was also a race car driver.
First NASCAR driver with a Masters degree.
First driver to compete in all International NASCAR series.
Mainly races road courses.
Started racing cars in street races in Rankin Road, Texas.
Three-sport athlete in high school: basketball, baseball, and track & field.
Biggest Results:
2008 – Corona Mexico 200 in Mexico City
2013 – Johnsonville Sausage 200 at Road America
2015 – Road America 180 at Road America
2014 – Gardner Denver 200 at Road America
2017 – Toyota / Save Mart 350 at Sonoma Raceway
Kevin O'ConnellBio
Aside from being the "smart guy" of racing with his Masters degree, Kevin O'Connell is also uniquely known for being the only American driver to race in every NASCAR international series which extends to Europe, Canada, and Mexico.
Add to that his vast experience in driving different model cars on different types of courses and you can see how extensive his abilities truly are. He even enjoys racing Lamborghinis in the Rolex Series and the IMSA Blancpain Lamborghini Super Trofeo Racing Series.
NASCAR Xfinity Series and Monster Energy NASCAR Cup Series
O'Connell has most of his driving experience on road courses so his NASCAR Xfinity and Cup Series experience is quite limited. He's been in one Monster Energy NASCAR Cup Series race. That was in 2017 at the age of 50 and was the Toyota / Save Mart 350 at Sonoma Raceway.
From 2008 to 2015 he competed seven times at the Xfinity Series level with his third-place showing at 2014 Gardner Denver 200 by far his best performance.
First NASCAR Win
There are no wins to report at this level for Kevin O'Connell. Most of his considerable success has come on road courses and his experience in top-tier NASCAR divisions has been limited.
Career-Best Season
From a strictly NASCAR racing perspective, the highlight moment for Kevin and his team was most definitely the third place podium finish in 2014 at Sonoma.
O'Connell earned the Mobil 1 Driver of the Race award and has called that performance his career's signature moment.