For some people having a nickname like the "Greatest of All Time" might feel like a lot of pressure but for Michael McDowell, it's just business as usual.
Now, he's not actually the greatest NASCAR driver of all time, but McDowell has carved out a very successful NASCAR career. To put things in perspective, McDowell has racked up more than $17,000,000 in career winnings since joining NASCAR's Xfinity Series in 2007.
After starting out on BMX bicycles as a three-year-old, McDowell has truly dedicated his life to racing. McDowell was dominant in his teens and early 20s before cracking the top NASCAR circuits at the age of 23.
Keep reading to learn more about Michael McDowell's journey to NASCAR's biggest stage including career highlights, stats, bio and lots more.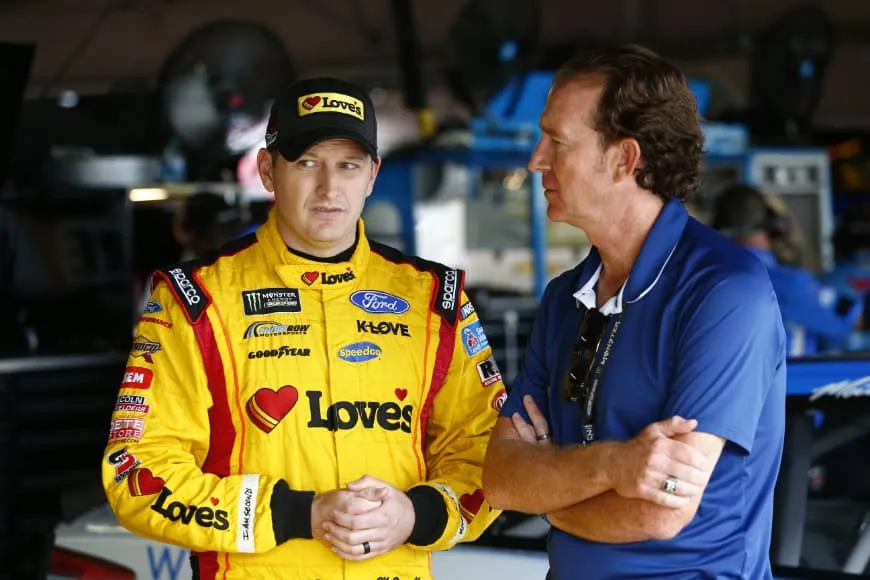 Fast Facts:
Full name: Michael Christopher McDowell
Nickname: The Goat
Born: December 21st, 1984
Birthplace: Phoenix, Arizona
Wife: Jamie McDowell
Children, Trace, Emma, Riley
Owns karting facility in conjunction with retired NASCAR driver Justin Marks
Former instructor at Bob Bondurant School of High-Performance Driving
Career Highlights:
Formula Renault USA Champion
2003 Star Mazda Series Rookie of the Year
2004 Star Mazda Series Champion
2007 ACRA Racing Series Rookie of the Year (2nd in final standings)
Six-time Rookie of the Race winner in Sprint Cup series
2016 Road America 180 winner on Xfinity circuit
Five top-fifteen finishes in Daytona 500
Michael McDowell Bio
As mentioned, McDowell was racing in BMX competitions starting at the impossibly young age of three years old.
He eventually traded in the BMX for a go-kart and competed for most of the 1990s. McDowell's karting career was hugely successful. He won both the World Karting Association Championship and International Kart Federation Championship.
McDowell then moved onto the Star Mazda Series where he was named Rookie of the Year in 2003, followed by winning the season championship in 2004. He continued to rise the ranks in the Grand-Am Cup series and Rolex Sports Car series.
In 2007, McDowell joined the ARCA Racing Series on a full-time basis after a couple of spot races the year prior. He had a fantastic year that saw him win another Rookie of the Year award. McDowell also finished second in the overall ARCA standings.
Scary Start to NASCAR Career for McDowell
What usually draws the attention of non-NASCAR fans is the incredibly frightening collisions that happen from time to time in the sport. McDowell was involved in one of those collisions early in his career back in 2008.
At Texas Motor Speedway, McDowell's front sway bar broke at the turn, causing the car to hit a barrier at 185 miles per hour (mph). The car went from 185 mph to 0 mph in one second, spun around once and barrel-rolled eight times.
Shockingly and luckily, McDowell escaped the car unharmed and waved at the crowd.
Better Days for McDowell
That bad luck for McDowell in 2008 was shortlived and McDowell has since enjoyed a hugely successful NASCAR career. In 2009, McDowell had 15 top-fifteen finishes in Xfinity, including five top-five finishes.
2010 ended up being a busy transition year for McDowell, as he raced in more than 20 races on both the Xfinity and Sprint Cup circuits. He's only raced part-time on the Xfinity circuit since 2011, but McDowell has been wildly successful when he does compete on the circuit.
Since 2011 he has 14 top-ten finishes in 22 races. That includes his first career win on the circuit in 2017 (his last race in Xfinity) during the Road America 180.
Of course, McDowell is a part-timer on the Xfinity circuit because he's been a mainstay on the Monster Energy Cup series since 2011. McDowell has found success at Daytona specifically, with five top-fifteen finishes in the race. That includes a career-best 4th place finish in Sprint Cup at Daytona in 2017.
Outside of NASCAR, McDowell is working on becoming an entrepreneur for life after NASCAR. He owns a karting facility in conjunction with retired NASCAR driver Justin Marks. The facility is called GoPro Motorsports, and it's located near Charlotte, North Carolina.