55 year old Michael Waltrip has been an accomplished driver on the NASCAR scene through the better part of four decades.
As well as being a checkered racing champion, he also is a best-selling author, Cup Series race analyst, Xfinity Series color commentator and Truck Series broadcaster.
Michael is the younger brother of veteran driver Darrell Waltrip, and said in his biography that he was turned down when he requested help from Darrel to become a NASCAR driver. Refusing to give up on his dream, Michael asked his other brother Bobby who accepted the request.
After hundreds of races and a long, steady climb through the driving ranks, Michael is now one of the most successful racers NASCAR has ever seen.
Perhaps most well known for winning two Daytona 500s, Waltrip is also in the record books for several other vaunted accomplishments. Keep reading to learn more about Michael Waltrip's driving career, history, highlights and more.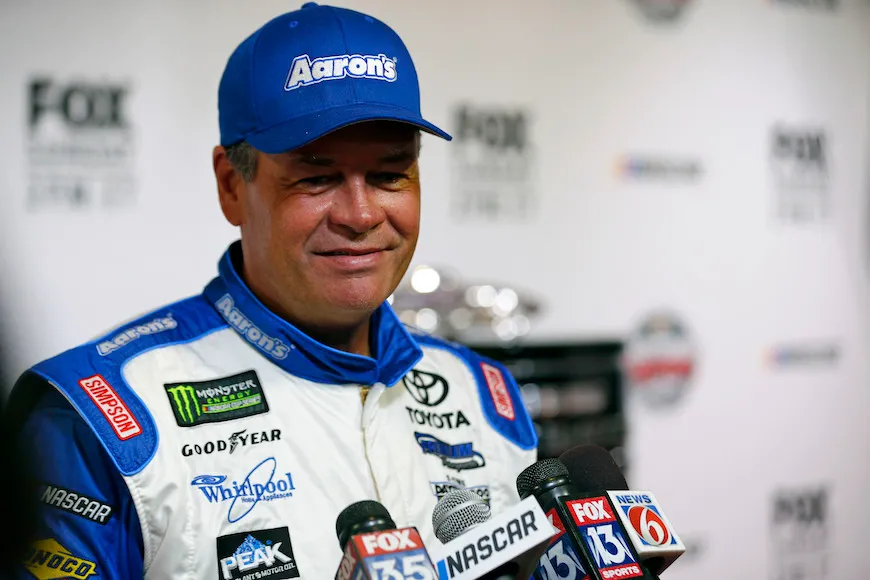 Fast Facts:
Full name: Michael Curtis Waltrip
Born: April 30, 1963
Hometown: Owensboro, Kentucky
Height: 6'5"
Owns Michael Waltrip Racing
1983 Darlington Dash Series champion
1983, 1984 Darlington Dash Series Most Popular Driver
1996 The Winston winner
2011 – Became 22nd member of NASCAR's Triple Threat Club (total of 31)
Biggest Results:
2001, 2003 – Daytona 500 winner
2002, 2005 – Gatorade Duel winner
4-time Cup Series winner
11-time Xfinity Series winner
2011 – NextEra Energy Resources 250 at Daytona
Michael Waltrip Bio
In 2011 Michael Waltrip joined an elite group of drivers in the Triple Threat club which is a distinction given to any driver who has won a race at all three top NASCAR national divisions: Monster Energy NASCAR Cup Series, Xfinity Series, and Camping World Truck Series.
His career, however, has been marred with some unfortunate controversy. In 2007, his team was accused of using an illegal substance in their Toyota vehicle's fuel and in 2013 the team was fined $300,000 for trying to manipulate a race result in the final event of the year.
NASCAR Xfinity Series and Monster Energy NASCAR Cup Series
Waltrip has an incredibly long resume. He has over 1,000 combined races in Monster Energy NASCAR Cup Series and Xfinity Series.
He's competed in 784 Cup Series races over 33 years. In that time he has four race wins, four poles, and 133 top-10 finishes.
In Xfinity Series he has 279 total races. In those he has 11 wins, 14 poles, and 105 top-10 finishes.
It needs to be mentioned that although he only has nine total Truck Series races, the one victory he earned put him in to the special Triple Threat group of drivers.
First NASCAR Win
Michael Waltrip's first NASCAR win came in the Busch Grand National Series in 1988. The race, the Grand National 200, was held at Dover International Speedway.
His first Cup Series win was a big one; the 2001 Daytona 500.
His first and only Truck Series win was in 2011 which was also at Daytona.
Career-Best Season
Of the many years to choose from, we think 2003 was Waltrip's most successful season. He won two Cup Series races including his second Daytona 500. His other Cup Series win that year was the EA Sports 500 at Talladega.
That season was also special as he earned one of his 11 Xfinity Series wins at Bristol Motor Speedway in the Food City 250.