Paul Menard is a talented NASCAR driver who has racked up over 100 top-10 finishes and multiple victories in some of the sport's highest divisions. Like most drivers who rise to the top of the racing world, it was clear from a young age that Menard had a future behind the wheel.
After winning a long list of karting races as a youngster in Wisconsin, Menard eventually worked his way up the ranks all the way to NASCAR's most elite division.
While Menard has enjoyed a long career with many top-ten finishes, he knows as much as anyone how hard wins are to come by, especially in the Monster Energy Cup Series.
Keep reading to learn more about Menard's successful NASCAR career, along with his biography.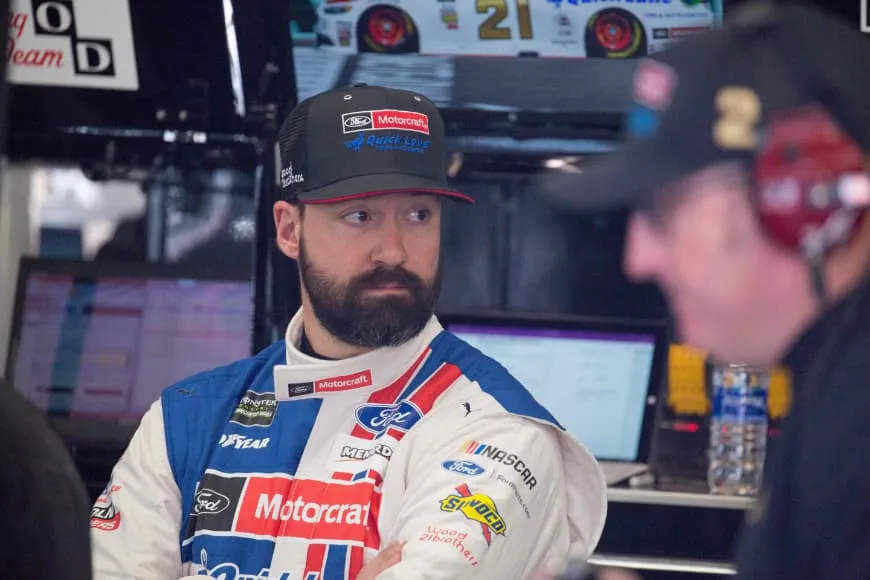 Fast Facts:
Born: August 21st, 1980
Birthplace: Eau Claire, Wisconsin
Current Home: Charlotte, North Carolina
Education: University of Wisconsin Eau-Claire
Wife: Jennifer Menard (married in 2012)
Height: 5'10"
Weight: 180 pounds
Career Highlights:
Won 10 International Ice Racing Association races
First ARCA win came at Talladega Superspeedway
Three career wins in Xfinity Series
Three top-six finishes in final Xfinity Series standings
100 career top-ten finishes in Xfinity Series
20 career top-fives in Cup Series Series
2011 Brickyard 400 Champion in Cup Series
Paul Menard Bio
Growing up in Wisconsin, Paul Menard had a bit of a different path to work his way up the racing ladder. Like many, he started racing competitively on the go-kart circuit, but what came next for Menard was a bit unusual.
Well, it wasn't necessarily unusual if you're from Wisconsin. During his teens, Menard entered races in the International Ice Racing Association. Everything from quads to Volkswagon Beetles are raced on the circuit, making for some entertaining competitions.
Menard was a serious factor in the league, winning ten career races on the circuit.
Even though racing was part of his life at a young age, Menard's decision to go the stock car route was surprising to some. Paul's father is the owner of Menards, a retail construction company that was involved in Indy Car racing.
Early 2000s Leaderboard Climb for Menard
Menard was able to crack the Gander Outdoors Truck Series in 2003. After one top-ten finish in five races, he earned a bigger shot on the Xfinity Series the following year.
2004 was a tough season for Menard, although he did win his first career pole in Xfinity. However, during the 2005 season, things started to click for the young driver.
In fact, in Menard's three full seasons on the Xfinity circuit, he had two sixth-place finish and one fifth-overall finish on the final standings. He also won his first career Xfinity race in 2006 at the AT&T 250.
Since 2007 Menard has competed in every single race on the Monster Energy Cup Series. He nearly won his first career race in 2008 towards the end of the season, when he finished second during the AMP Energy 500 at Talladega.
There were a couple of rocky seasons for Menard in the two years following. In 2009, he was the only driver to race in every race without earning a top-ten result. 2010 produced better results, but Menard really broke through after switching to Richard Childress Racing in 2011.
That year, Menard won his first race during the Brickyard 400 at Indianapolis Motor Speedway. It was his first (and only) career win on the Cup Series circuit. Menard eked out the victory by the narrowest margins after being passed by Jamie McMurray late in the race. He regained the lead and barely held off Jeff Gordon for the win.
Menard did pull out another incredibly memorable win during the 2015 season on the Xfinity circuit. In August that season, Menard won the Road America in Elkhart Lake, Wisconsin. As a boy, Menard grew up only a few miles from the raceway.