Reed Sorenson
is a 14-year NASCAR veteran with over 500 races under his belt. Not too many people can say that.
Coming up through the ranks Sorenson dominated at every age and in multiple types of vehicles. As an 11-year-old he won the quarter-midgets national title in 1997 and followed it up that by winning 13 of 25 races in Legend cars in the Southeastern division championships.
All told, after three years of Legends car racing he had won 84 times.
Over the early part of Reed Sorenson's career he was one of the most consistent threats on the NASCAR circuit, racking up an incredible 100 top-10 finishes between 2005 and 2011.
Sorenson parlayed that success into four wins on the Xfinity Series, including 2 victories during his rookie year in 2005. Over the last few years, Sorenson's raced less in the Xfinity Series and even dabbled into Truck Series, which he didn't participate in until 2015.
In this article we'll delve into the interesting life of Reed Sorenson including his driving history, highlights, stats and more.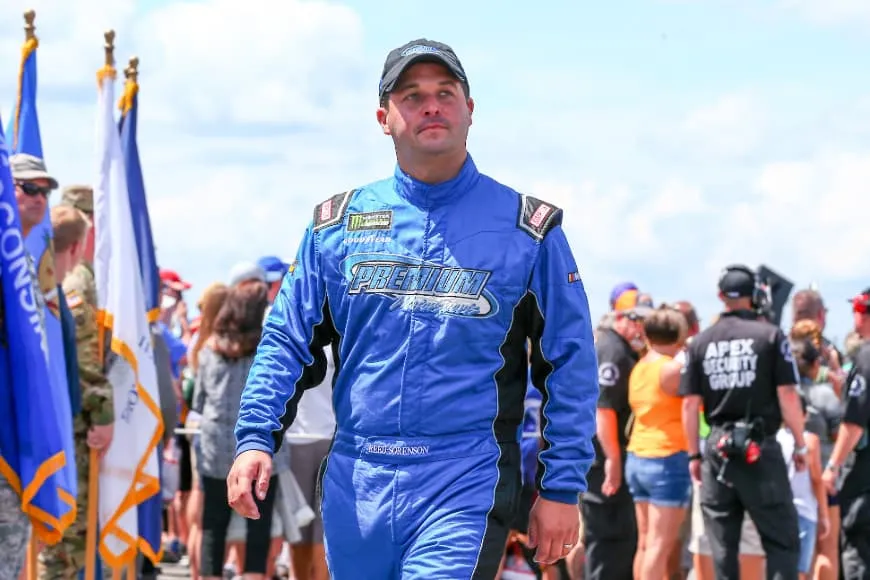 Fast Facts:
Born: February 5, 1986
Hometown: Peachtree City, Georgia
Height: 5'10"
Began racing at age 6.
Won the 2003 ASA National Tour Rookie of the Year award.
2 top-10 finishes at the Daytona 500
Began his career with Chip Ganassi Racing.
Made his Xfinity Series debut in 2004 at the age of 18.
Biggest Results:
2005 – Nashville 300 at Nashville Superspeedway
2005 – 5-Hour Energy 250 at Gateway International Raceway
2007 – 5-Hour Energy 250 at Gateway International Raceway
2011 – Johnsonville 180 at Road America
Finished 2nd place on 6 different occasions
Earned the pole position on 3 different occasions (Cup and Xfinity Series total)
Reed Sorenson Bio
Reed Sorenson has made a living finishing in the top-10 in NASCAR races. Over his entire career, Sorenson has 100+ top-10 finishes, 40+ top-5 finishes, and four career victories across both the Cup Series and Xfinity Series.
He began his career suiting up for Chip Ganassi Racing and then bounced around to a few different outfits, before racing for Premium Motorsports over the last couple of years.
Sorenson does not participate often in the Truck Series, only having raced 11 times over a two-year span.
His ARCA Series numbers, while also low in quantity, are nothing short of marvelous. In three races he has a first, second, and fourth overall finish.
NASCAR Xfinity Series and Monster Energy NASCAR Cup Series
In NASCAR Xfinity Series races, Sorenson has competed in 207 races over 11 years. He has four wins, with 86 top-10 finishes, and 2 poles. His best overall finish came in 2005 when he placed 4th.
In his Monster Energy NASCAR Cup Series career, Sorenson has competed in 304 races over 14 years. He has not win a race on the Cup Series, but has 15 top-10 finishes, and one pole victory. He's been pretty close to winning, however, and had a sniff at victory (3rd once, 4th once, and 5th three times).
His best overall finish came in 2007 when he placed 22nd in the season standings.
First NASCAR Win
Sorenson's first of four victories was during the 2005 Xfinity Series season, where he won the Nashville 300 at the Nashville Superspeedway.
Career-Best Season
Sorenson's best season came in 2005 when he finished in 4th place in the Xfinity Series. He boasted an impressive list of stats with 2 wins, 12 top-5s, and 19 top-10s over the course of the 35-race season. This season also saw Sorenson earn two pole victories and finish with over 4,400 points.
In Cup Series action, 2007 was his most notable season as he had six top-10s, of which three were top-5 finishes (one of which was a third place in Atlanta).
The 3rd place finish was the first and only time he's had the chance to stand on a podium at the Cup Series level.