Ricky Stenhouse Jr. is a giant in the racing world. At just 31 years of age he has accomplished more than many drivers have in their entire careers and Stenhouse still has a long road in front of him.
The signs were clear early on that the Ricky Stenhouse Jr. was special. He started competing in go-karts at age six and by the time he reached stock car racing he had 47 wins to his name.
Driving for Roush Fenway Racing, and signed through 2021, Stenhouse Jr. has plans to continue padding his resume with podium finishes.
He got off to a hot start in his NASCAR career and was able to win back to back Nationwide Series championships in 2011 and 2012. Winning just once is challenging enough. Going back to back is near impossible.
It should be mentioned that sandwiching those two impressive seasons are Rookie of the Year wins in 2010 (Nationwide Series) and 2013 (Spring Cup Series).
There is so much more to talk about regarding this legend of racing. Let's take a closer look.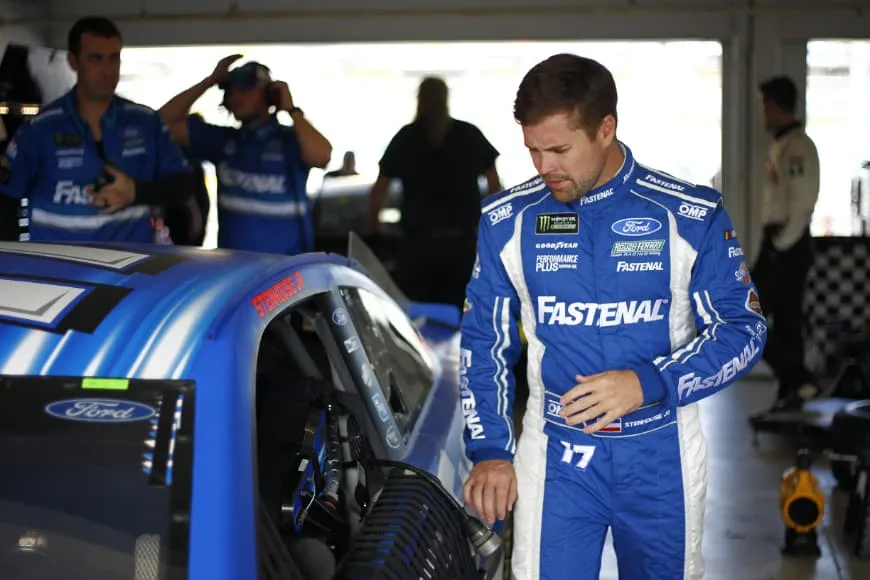 Fast Facts:
Full name: Richard Lynn Stenhouse Jr.
Born: October 2, 1987
Hometown: Olive Branch, Mississippi
Height: 5'9"
Won his first Monster Energy NASCAR Cup Series race in 2017 and earned pole position in the same race.
Back-to-Back Xfinity Series winner in 2011 and 2012; a first for Roush Fenway Racing
Enjoys country music and playing golf and basketball.
2003 – Won National Sprint Car Hall of Fame Driver poll
2003 Dirt Winged Sprint Car Rookie of the Year.
2003 Memphis Motorsports Park Rookie of the Year
Biggest Results:
2013 – AdvoCare 500 at Atlanta Motor Speedway
2017 – GEICO 500 at Talladega
2017 – Coke Zero 400 at Daytona
8-time Xfinity Series race winner
8-time Xfinity Series pole winner
2-time ARCA Series race winner
Ricky Stenhouse Jr. Bio
The path hasn't always been smooth for Ricky Stenhouse Jr. in NASCAR.
While his back-to-back season championships in the Nationwide Series might make it seem so, it came on the heels of a rough 2010 campaign in which he had multiple crashes and failed to qualify for races from obvious mental mistakes.
Thankfully the Roush Fenway team had faith as he was obviously capable of bettering his early performances.
Once he regained his confidence and began dominating at the Nationwide (now Xfinity) Series level, Stenhouse Jr. made the move to permanent full-time driver at the Cup Series level.
Since making his MENCS debut in 2013 and winning Rookie of the Year honors, Stenhouse Jr. finally tasted victory at the highest level in 2017, twice that year, in fact.
Moving into 2019 and beyond, Stenhouse Jr. has high hopes to do continuing bringing wins to the Roush Fenway Racing team that his supported him through the years.
NASCAR Xfinity Series and Monster Energy NASCAR Cup Series
At the Xfinity Series level, Stenhouse Jr. has 63 top-10s in just 108 races. Of those, eight were wins and another eight saw him earn pole position.
At MENCS level he has 220 races under his belt in eight years of racing at the top. Of those, 31 were top-10 performances and he has two pole wins to go along with his two victories in 2017.
First NASCAR Win
It seems like Stenhouse Jr. likes to do things in pairs.
His first NASCAR wins in the Xfinity Series were both in 2011. The first came in May at the Iowa John Deere Dealers 250 and the next one was in August at the same track.
His first MENCS wins both came in 2017 at the GEICO 500 and the Coke Zero 400, respectively.
And his first two ARCA Menard Series wins both came in 2008.
Career-Best Season
2017 was a breakthrough year for Stenhouse Jr. as he tasted Cup Series victory twice in the same season.
If we rewind the clock a bit further back, however, it needs to be mentioned that he won an incredible six times in 2012 at the Nationwide Series level which came off the heels of his 2011 series championship.