The more Ross Chastain has begun to make a name for himself in NASCAR circuits, the more his likability and driving chops have started to shine through.
The Florida native made his NASCAR debut in 2011 in the Gander Truck Outdoor Series, before he made it to the Xfinity series in 2014. He started racing in the Sprint Cup series part-time in 2017, but it was his 2018 performance in the Xfinity Cup series that really started to raise some eyebrows.
Right away Chastain did what many NASCAR drivers have failed to do during their entire career in either Xfinity or in the Sprint Cup: win a race. Chastain won the DC Solar 300 in Las Vegas, only to announce after the race that he wasn't getting paid to drive the winning car.
It's a fascinating story so keep reading to learn more about Ross Chastain's career highlights, bio, stats and more.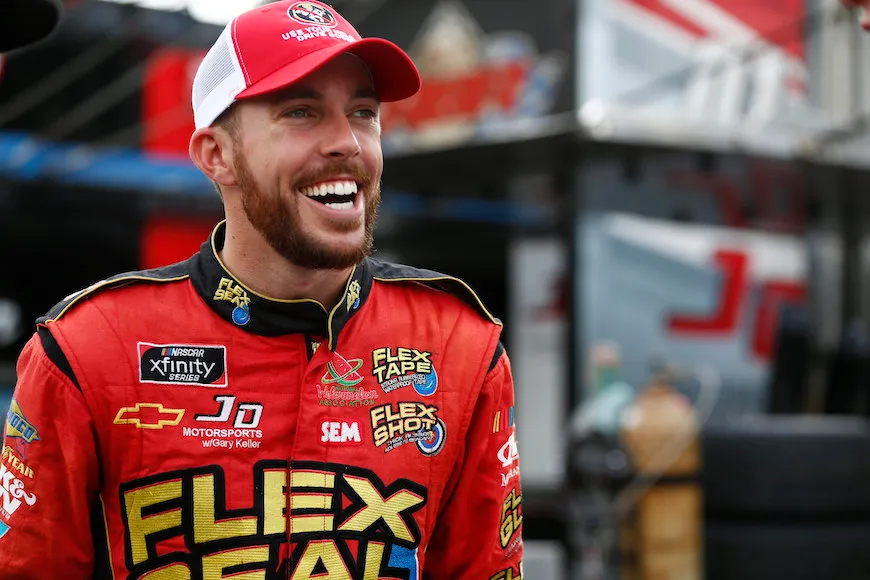 Fast Facts:
Full name: Ross Chastain
Hometown: Alva, Florida
Date of birth: December 4th, 1992
High School: Riverdale High School
Third generation race car driver
Eighth generation watermelon farmer
Notable Results:
Won over 50 state races in Florida
7 top-ten finishes in 14 races in 2013 Ganders Outdoor Truck
Xfinity: 4th place at Iowa (June, 2017)
First Monster Sprint Cup Series: 20th place at Dover (June, 2017. Started 26th)
Sprint Cup Series Monster Energy Open, 17th place (best Sprint Cup finish)
Xfinity: Won DC Solar 300, first career NASCAR win (Sept. 15th, 2018)
Xfinity: Finished 2nd place at Richmond (Sept. 21st, 2018)
Ross Chastain Bio
There were two things that Ross Chastain was born into: watermelon farming and racing. It shouldn't come as a surprise, but he has found ample time for both in his life.
It's mainly the racing that's earned him success and fame, however.
Chastain has been racing ever since he was 12 years old. His father raced before him, but for the senior Chastain driving was a hobby more than a money-making endeavor.
The Chastain family business is actually watermelon farming, and Ross Chastain is the 8th generation that has kept it up.
When Ross did make it to NASCAR he even drove a car with sponsorships from his family business. One of the cars he drove had the tagline "protect your melon" plastered on the front end.
Before he made it to the big leagues, though, Chastain made a name for himself driving in his home state of Florida. He raced in a number of late model and Fastruck short track series events, winning over 50 of them before he moved on.
His wins include a victory in the 2011 World Series of Asphalt, where he was victorious in three of eight events.
Before he was even 19 years old, it was time for Chastain to make the move to NASCAR.
Early NASCAR Days
Chastain started making his mark in the Ganders Outdoor Truck Series, where he competed in his first race in July, 2011 in the AAA Insurance 200 event. Chastain had an eye-opening debut, finishing 10th overall.
He really made his mark on the Outdoor Truck series in 2013, where he finished in the top ten for 7 of 14 races that he competed in that year. That strong performance led to him joining the Nationwide Series (now Xfinity) in 2014.
He joined Xfinity full-time in 2015 as part of the JD Motorsport squad, replacing Jeffrey Earnhardt. He had one top-ten finish that year but it was really a precursor of what was to come for Chastain.
2017 was a mini-breakout year for Chastin. He finished 13th overall in points, narrowly missing out on the playoffs. He also had a 4th place finish in Iowa and another 6th place finish in Daytona.
His solid results helped him move up to compete in the Monster Energy Cup Series, although his shining career achievement happened in the following NASCAR Xfinity season.
First Career Win
September 15th, 2018 was undoubtedly one of the most memorable days of Ross Chastain's life. After 200 career races in NASCAR, he was finally rewarded with his first victory. Chastain's first win was at the DC Solar 300 in Las Vegas.
One of the most shocking stories to come out of his win was that he drove the No. 42 car for Chip Ganassi basically for free. He jumped on the opportunity to drive one of the best cars in NASCAR and did so for no extra money.
The win occurred in Chastin's second start for Ganassi and it looks to have been a shrewd move as he's signed on to race in all three top NASCAR leagues for 2019, including Ganassi in the Xfinity circuit.