LeBron James Under 24.5 Points (-102 at FanDuel)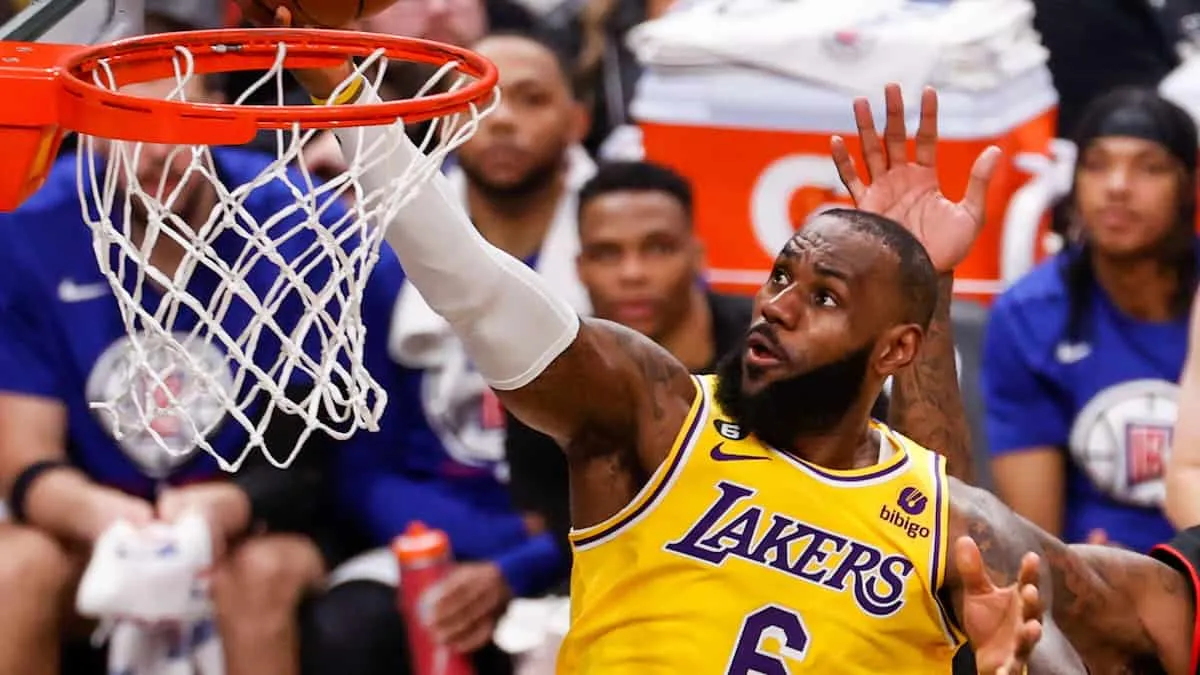 LeBron is known for spending the majority of the summer training his body instead of practicing his on-court game, which has led to him starting slowly a few times in recent memory. He went over 30 points in each of the last two season openers against his rival Warriors but doesn't have the same motivation to score against Denver.
The Lakers also welcomed a host of capable scorers and ball-handlers and are expecting developmental jumps from players such as Austin Reaves and Rui Hachimura. That combined with his age should lessen his minutes and shot opportunities as he finishes with somewhere around 22 points (calling our shot).
Head over to FanDuel to bet on our picks!
Anthony Davis 2+ Made Threes (+360 at FanDuel)
Davis made at least one three in all five preseason games after being encouraged by coach Darvin Ham to take at least six attempts per game. The Lakers' big man has not shot better than 26% from long range in any of the past three seasons but did hit a 33% clip on 3.5 attempts per game in his first season in the purple and gold.
A safer alternative here would be Davis for 1+ three at about -140 odds. But Davis is going to spend a lot of the time on the perimeter defensively guarding Nikola Jokic, and he can do damage by dragging the Joker away from the basket on the other end.
Register at FanDuel using our exclusive link and claim $200 in bonus bets!
Nikola Jokic Over 9.5 Assists (-113 at FanDuel)
Jokic is coming off one of the greatest playoff runs in league history (30 points, 13.5 rebounds, 9.5 assists per game) and posted a ridiculous line of 27.8 points, 14.5 rebounds, and 11.8 assists against the Lakers. Similarly to LeBron, we expected him to function as more of a facilitator in tonight's matchup.
Davis is arguably the best interior defender in the league but was taken to school by Jokic during the WCF, a memory that now doubt burned deep during the offseason. Davis recorded six blocks in the final preseason game and will be hungry to challenge the reigning Finals MVP defensively, which should turn him into a passer (and he is as brilliant as they come as moving the ball).
Place your bets at Fanduel and win 3 Months of NBA League Pass.
Steph Curry Over 29.5 Points (-122 at FanDuel)
Curry has been the Warriors' system for years, but now more than ever he seems like a one-man band. Golden State only survived the first round of the playoffs last year because he scored 50 points in Game Seven, and he averaged 29.4 for the year as a whole.
Draymond Green is out with an ankle injury, meaning that Curry should have the ball in his hands even more than usual. Klay Thompson is as streaky as ever, Chris Paul isn't a guaranteed fit in the offense, and Jordan Poole is no longer with the team, meaning that the two-time MVP and four-time champion will bear a majority of the scoring burden Tuesday night.
Bet $5 at FanDuel and get $200 in bonus bets + 3 Months of NBA League Pass.
Devin Booker Over 26.5 Points (-115 at FanDuel)
The "sexy" picks are for Durant or Beal to have big nights, but Booker is a player who is going to get his shots no matter what. He averaged 20 field goal attempts in eight regular-season games with Durant, who averaged 16 and also averaged 1.5 more attempts during the playoffs (while also scoring 33.7 points on 58.5%/50.8%/86.6% shooting splits).
Beal figures to take on more of a playmaking and initiation role than he has in years past, while Booker will be free to play his typical role and shoot at will. The Warriors' backcourt of Curry and Paul is far from a defensive force, and we like Book to have a big night in the box score.
Head over to FanDuel to bet on our picks!
More NBA Stories