Quarterback - Deshaun Watson vs. TEN, $6,100
Watson has been a step above terrible this year. However, this matchup and the injury to Nick Chubb could force Watson to look entirely different in Week 3.
Running Backs
Travis Etienne Jr. vs. HOU, $6,900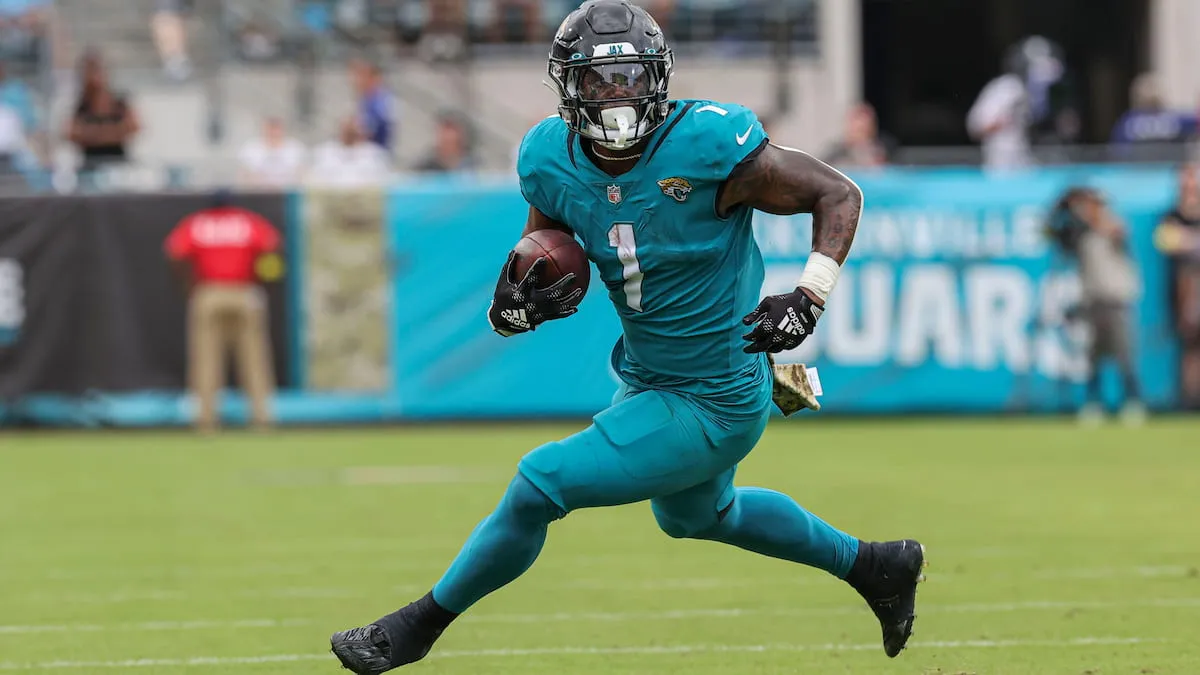 Week 2 marked a step back for the surging Jacksonville Jaguars, who stumbled on offense against the Chiefs. Etienne wasn't immune to that, finishing with just 42 all-purpose yards with no touchdowns before leaving with cramps late in the game.
But what people should be focusing on is Etienne's dominant snap count. He played 80% of snaps in Week 1 and played 72% in Week 2, again after leaving early with cramps. Despite preseason talks of Tank Bigsby working in tandem with Etienne, the rookie is the clear-cut backup and nothing more.
That shapes up Etienne for a performance far more like his Week 1 finish than his Week 2. Instead of facing a rejuvenated Chiefs defensive line led by the return of Chris Jones, Etienne will instead face a Texans defense that just allowed Zack Moss to finish as the RB10 on the week.
Etienne is a terrific play in this matchup.
Kendre Miller @ GB, $4,300
Miller was a big reason why TCU reached the national championship last season, and while he has been sidelined with a hamstring injury he is finally healthy and ready to show off his skills.
Here's why Miller is a strong, under-the-radar play with Jamaal Williams expected to miss time.
Wide Receivers
Justin Jefferson vs. LAC, $9,300
Here's the stud I'm paying up for this week, as Jefferson takes on a Chargers secondary that has allowed the most points to wide receivers so far this year. There's no need to make a big case for Jefferson, who is currently the WR3 overall without a single touchdown to his name.
With such a high floor with his yardage and receptions, Jefferson is well overdue for at least one touchdown. The Chargers have already allowed a ridiculous 565 receiving yards and four touchdowns to wide receivers alone. While they faced the Dolphins in Week 1, they also faced the Titans' "fearsome" passing attack in Week 2.
Tyreek Hill put up 47.5 fantasy points against the Chargers in Week 1. Now it's Jefferson's turn to do the same.
Zay Flowers vs. IND, $5,400
I'm certainly putting my money where my mouth is on my sleeper article, huh? Flowers is another one of my favorite picks of Week 3 against the Colts' secondary, which couldn't even dress up as a capable NFL secondary for Halloween.
Elijah Moore vs. TEN, $4,700
Moore has more targets than guys like DeVonta Smith and Chris Godwin this season but has fewer fantasy points than Nelson Agholor and Kalif Raymond thus far. That's not good.
But his usage in Kevin Stefanski's theme has been encouraging, and if we are counting on Watson to bounce back then he's going to connect with Moore. The former Jet only has one fewer target than Cooper and was consistently used downfield against the Steelers in Week 2.
He should have a strong week if Watson can get back on track against a Titans secondary that continues to struggle against the pass while shutting down the run. You can read more on Moore in my DFS values article!
Tight End - Travis Kelce vs. CHI, $7,200
Getting Kelce at the same price range as Chris Olave, D.K. Metcalf and Aaron Jones is absolutely nuts considering the positional advantage the Chiefs legend provides. While Kelce's first game back wasn't the dominant showing myself or others expected that's more so a testament to the ceiling Kelce still has.
For reference, there have only been five other players that outscored Kelce's 12.6 fantasy points. Kelce's off days are great performances by others.
He now gets the Bears, who allowed 50 yards to rookie Luke Musgrave in Week 1 and six catches for 41 yards to Cade Otton in Week 2. Imagine what Kelce can do to this defense, which is in shambles from the inside out as defensive coordinator Alan Williams resigned this week.
Flex - Tank Dell @ JAX, $3,600
At this price point, Dell will probably be more owned than one may like. But this roster needs to go cheaper to fit in Kelce and Jefferson, and Dell should massively outperform this value range.
Dell saw expanded snaps in Week 2 with Noah Brown sidelined, playing almost 80% of snaps and operating largely on the outside, which kept him on the field in two-WR sets. It was very encouraging usage and something the Texans benefited from doing, as Dell provided seven receptions for 72 yards and a score.
With Brown still expected to miss Week 3 Dell has an opportunity to keep his hot streak going against a Jaguars secondary that is far from proven this year. Michael Pittman and Skyy Moore enjoyed strong games against it in past weeks, but Houston should poise arguably the toughest threat yet at receiver considering the team's depth.
Ride with Dell one more week, and count on him to lead the way to a FLEX-worthy finish.
Defense - Washington Commanders vs. BUF, $2,400
No pain, no gain, baby! It may be tough to line this Washington secondary against Stefon Diggs and the Bills, but it's an under-the-radar play that has plenty of reasons to hit big.
The Commanders have compiled 10 sacks through two games – only the Cowboys match that total -- and now face a Bills' offensive line that looked overmatched in Week 1. While the team got on track against the Raiders' hapless defense, Washington is a far stiffer task.
Leftover budget: $100