Ever since the first two American Professional Football Association (APFA) teams played each other on September 26, 1920 at Rock Island's Douglas Park – the Independents beat the St. Paul Ideals 48-0, by the way – sports fans have come together on a weekly basis to enjoy the only game to ever rival baseball as America's favorite pastime.
For sixteen glorious games every season (and a few more in the post season if they're lucky), fans can watch their favorite players do spectacular things on the gridiron and for a few hours escape the pain and drudgery of day-to-day living.
The NFL provides that escape, and from September thru the first week in February, football lovers depend on it weekly.
But in the last few years, the simple act of taking a knee has divided American football's enormous fan base into two distinct and passionate camps: those who see kneeling as a respectful form of protest protected by the U.S. Constitution, and those who find it incredibly disrespectful to the American flag and the service men and women who fought and died to protect it.
NFL players, team owners, the commissioner, fans and even the President of the United States have all weighed in on the issue, but regardless of the arguments put forth, both sides remain completely unswayable in their beliefs.
Without taking either side, we wanted to take a moment and answer some of the most basic questions about this extremely complicated issue. Regardless of which camp you're in, knowing the facts surrounding this debate is essential, and it just might help everyone understand the other side a little better.
Here are some basic questions answered regarding the NFL kneeling protests.
When did the NFL start playing the National Anthem?
Marc Ferris, the author of Star-Spangled Banner: The Unlikely Story of America's National Anthem, writes, "The earliest documented performance [of 'The Star-Spangled Banner'] at a baseball game occurred on May 15, 1862, during the opening game played at Union Base Ball and Cricket Grounds in Brooklyn, New York."
Except hiring a band was expensive, so it was only done on "special occasions."
Once sound systems were added to stadiums during the World War II era, though, the song was played more often and moved from the seventh-inning stretch to the beginning of the game.
That tradition was soon followed at football games.
At the war's end, NFL commissioner Elmer Layden called for all of the league's teams to play "The Star-Spangled Banner" at their games. His argument was simple: "The National Anthem should be as much a part of every game as the kick-off. We must not drop it simply because the war is over. We should never forget what it stands for."
When did players appear on the sidelines during the anthem?
According to NFL spokesperson Brian McCarthy, players had always appeared at the sidelines for the Anthem during Sunday afternoon games, but for primetime games prior to 2009, players had remained in the locker rooms during the Anthem due to "network timing issues".
McCarthy confirmed the sideling Anthem practice began in 2009, the year that the NFL signed a marketing deal with the U.S. military. He added, "As you know, the NFL has a long tradition of patriotism. Players are encouraged but not required to stand for the anthem."
Are the rumors of 'paid patriotism' true?
Sen. John McCain and Sen. John Flake released a joint oversight report in 2015. In it, they referenced what they called "paid patriotism," saying the Department of Defense gave millions of dollars in taxpayer money to professional sports teams to honor the military at games and events.
Memes regarding "paid patriotism" circled the internet, enflaming and outraging the public.
To counter these claims, Pentagon representative Army Major Dave Eastburn made this statement to CNN regarding the Defense Department's current relationship with professional sports:
"DoD does not require or request that athletes be on the field during the playing of the national anthem when military members are part of the patriotic opener."
Aside from those few popular (and false) internet memes, there is nothing to suggest that teams were paid (or coerced) into fining or pulling players as a part of "paid patriotism" initiatives.
How did NFL kneeling get started?
In August of 2016, a month after police shot and killed Alton Sterling and Philando Castile, Colin Kaepernick, the very popular and talented quarterback of the San Francisco 49ers, did something that nobody actually noticed: during the pre-game singing of the national anthem, he sat on the bench instead of standing with his teammates.
His reason?
He was protesting what he referred to as the police brutality and the systemic inequality faced by people of color in the United States.
His direct quote to NFL.com was this:
"I am not going to stand up to show pride in a flag for a country that oppresses black people and people of color. To me, this is bigger than football and it would be selfish on my part to look the other way. There are bodies in the street and people getting paid leave and getting away with murder."
And there are statistics that seem to back up his claim.
In 2016, black people made up only 13% of the population but also:
They made up nearly 63% of unarmed people killed by police officers.
Black people were nearly three times more likely to be arrested for illicit drugs.
People of color not only make up a disproportionate amount of the prison population, but also are more likely to serve longer sentences for the same crimes as their white counterparts.
And since 70% of the players in the NFL are black males, those unbalanced (and many would argue unjust) numbers hit home in the world of professional football.
The primary confusion in this ongoing debate is over what the kneelers are protesting – but they insist it's not the American flag or its anthem. It's the "systemic oppression against people of color, police brutality, and the criminal justice system."
The national anthem is just the vehicle for the protest.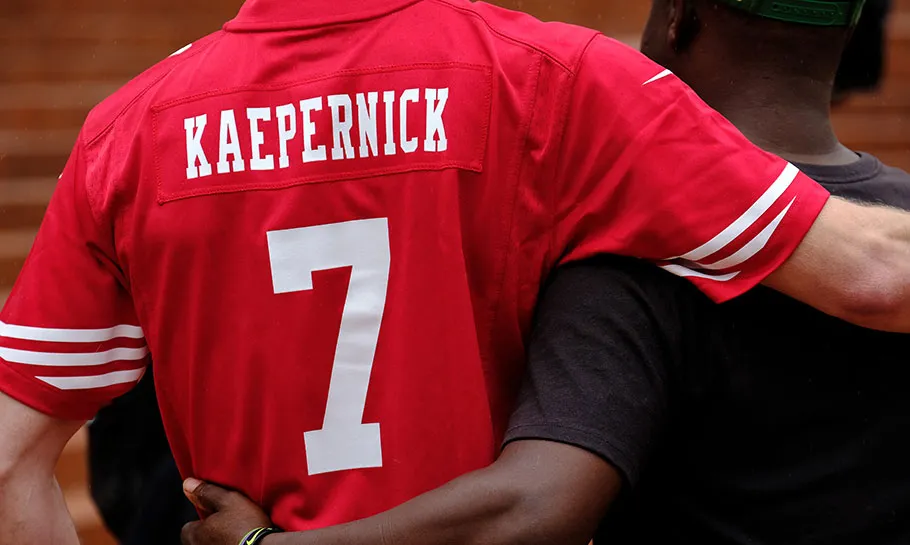 Why the knee?
The decision to take a knee (as opposed to sitting out the Athem on the bench) was a carefully made one. After discussing his protest with Nate Boyer, a former Green Beret and NFL long snapper, Kaeperick came to the decision to kneel. In his words:
"We were talking to [Boyer] about how can we get the message back on track and not take away from the military, not take away from fighting for our country, but keep the focus on what the issues really are. And as we talked about it, we came up with taking a knee. Because there are issues that still need to be addressed and it was also a way to show more respect to the men and women who fight for this country."
Ironically, it's when Kaepernick began to respectfully take a knee that his message began to be misinterpreted by many Americans as a direct insult to the U.S. military and the flag for which they've fought and died.
Why isn't Colin Kaepernick still playing for the NFL?
Good question.
The answer is that the NFL effectively had him blackballed.
The Washington Post's Kevin B. Blackistone explained it clearly in his column when he wrote:
"It wasn't just that Kaepernick last season dramatically protested the extrajudicial killings of mostly unarmed black men in this country by police who rarely get charged for their actions, let alone prosecuted or convicted. It was that he chose the anthem as his platform. By kneeling during its rendition, he appeared to mar the package of patriotism the NFL put together over the last half century that helped it overtake baseball as America's sporting pastime."
There's no other explanation of why Kaepernick, a six-year veteran player with a career quarterback rating (QBR) of 88.9, shouldn't at least be in a backup position. Especially in a league that's still happy to pay career backup quarterbacks like Josh McCown (QBR 80.8) and Matt Cassel (QBR 78.9) to this day.
When asked flat out if he thought Kaepernick was being blackballed, defensive end Michael Bennett told the hosts of Power 105.1 FM's The Breakfast Club:
"Of course I think Kaepernick's being blackballed. Obviously, all the stuff to do with the issues, I think nobody likes race and politics in sports. I think it's one of the things that nobody really wants to talk about. For him to bring up race and politics in sports, I think it struck a lot of people in the wrong way. You watch the people that really watch football, it's middle America and the people that buy tickets to the game aren't really African-American people, and for him to bring that into that crowd was one thing that people felt like shouldn't of been there."
Even Spike Lee agrees.
Lee posted this to his Instagram account:
And chances are Kaepernick, who has thrown for 72 career touchdowns with only 30 interceptions and who has led his 49ers twice to the playoffs (unlike scores of quarterbacks now working and starting in the NFL) concurs.
Are the kneelers protesting the American Flag or Military?
No, absolutely not.
Again, they're protesting the "systemic oppression against people of color, police brutality, and the criminal justice system."
The national anthem is just the vehicle for the kneelers' protest.
But because some big opponents of this protest (including the President of the United States himself) have repeatedly made a point to say that the protest is about the flag and the military, many football (and Trump) fans assume that it's true.
But according to Kaepernick, the other kneelers and countless military personnel who've stood by the protest, it absolutely is not.
During this offseason, Raiders tight end Jared Cook summed up how many players feel about the protest:
"We're here for a bigger platform. We're not just athletes. We're people that live this. It's people in our neighborhood, it's people that we grew up with, it's people that we know who are actually living through these circumstances. So when we speak on it, it's not like we're just speaking out of the side of our neck. It's things that actually touch home and things that we can actually relate to.
Who else besides Kaepernick started kneeling in the NFL?
Initially, Kaepernick's teammate, safety Eric Reid, made a decision not to stand as well.
Reed told the media, "I think it would be foolish if you were to say there isn't an issue in this country with minorities. There's a million issues in America and this is something [Kaepernick] feels strongly about and I respect him for voicing his opinion on it."
Reid later told Bleacher Report Magazine: "I really didn't have a plan. The goal was just to elevate the issue of police brutality and systemic oppression in this country and to continue to put public pressure on our government to change the system."
During the rest of the 2016 and 2017 season, dozens of other players joined the protest – some kneeling, others raising a fist, still others standing but with their hand firmly resting on the shoulder of a kneeler.
By Week 17 of the 2017 season, only seven players still knelt: the Seahawks' Duane Brown, the 49ers' Marquise Goodwin and Eli Harold, the Dolphins' Kenny Stills, the Giants' Olivier Vernon, Louis Murphy and Eric Reid.
Currently Murphy and Reid remain free agents.
Why are so many people angry with the NFL kneelers?
The simple answer to that question is many people feel that refusing to stand for the American National Anthem is the ultimate sign of disrespect to the U.S. flag and the military who have fought and died to preserve the very freedom it represents.
Period.
In their view, if you live in America, you should believe (as they firmly do) that the flag is the one symbol of this country that you do not disregard on any level, no matter what the cause. When they see someone refusing to stand during the anthem in front of the flag, it's interpreted as a direct slap-in-the-face to every military man and woman who has fought and died for America.
And they're in the majority, or so one Reuters/Ipsos poll indicates.
Barely.
According to that survey, 69% of Americans say they stand in silence while the national anthem is being played. 51% of that same group says they disagree with Kaepernick, while only 40% of them agreed with his protest.
The same Reuters/Ipsos poll also shows that 58% of Americans believe that players should be required by the NFL to stand for the anthem, to 33% opposing. And 43% of Americans oppose how the NFL is handling the issue.
There's also a lot of anger from fans who prefer the football world be a respite from politics.
Political disputes belong in the everyday world, they argue, not on the gridiron. Football is supposed to be a break from reality, a place where fans can escape politics and focus on their team.
They're also angry because the kneelers are essentially workers, and the NFL is the company that pays them millions of dollars to play ball, not to debate politics.
An often heard argument is: "If I disrupted my workplace and cost the company money, I'd be fired. Why shouldn't they?"
Is anger at the NFL kneelers at all racially motivated?
Supporters of the kneelers' cause suspect that a lot of the anger against the protest is racially motivated. Since 70% of NFL players are black, it would be impossible for race not to be a factor on some level.
Historically, whenever blacks protest unequal treatment, many whites refuse to listen.
The unspoken message to the NFL kneelers seems to be, "You're highly paid athletes who get to play football for a living in a country that rewards you handsomely. Stop complaining about discrimination and all the other butterfly effects of slavery – get over it!"
But Kaepernick decided in August of 2016 that he couldn't get over it.
He could no longer ignore the systemic oppression against people of color he saw – the police brutality, the criminal justice system he feels is unjust – and he used his national spotlight (and risked his NFL career and hefty paycheck) to protest in a way he felt was still entirely respectful.
But to a lot of racists, he was just an ungrateful rich black man who was disrespecting the flag of the very country that 'allowed' him such riches.
Opponents of the kneelers say it has nothing to do with race, but has everything to do with respect for the flag, for the military, for America.
Why is Donald Trump involved?
At first he wasn't.
But in September of 2017, at a rally in Huntsville, Alabama, President Trump responded to the NFL kneelers by saying this:
"Wouldn't you love to see one of these NFL owners, when somebody disrespects our flag, to say, 'Get that son of a bitch off the field right now, out, he's fired!' You know, some owner is going to do that. He's gonna say, 'That guy disrespects our flag, he's fired.' And that owner, they don't know it. They don't know it. They're friends of mine, many of them. They don't know it. They'll be the most popular person, for a week. They'll be the most popular person in the country."
And then, echoing a lot of the angry backlash the kneelers were receiving, Trump tweeted:
Instead of discouraging the protests, the president's messages caused an increase in the number of NFL kneelers during that next weekend of games. There were also many coordinated team responses – some entire teams refused to leave their locker rooms during the anthem, while other teams stood together on the sidelines and locked arms.
Then, in an entirely pre-planned move, Vice President Pence walked out of an Indianapolis Colts game after some 49ers players knelt during the national anthem. Pence claimed he was standing up for the members of the military.
He tweeted:
The political stunt went exactly as President Trump had intended.
Afterwards, Trump tweeted:
The cost to the taxpayers for that move was about $200,000.
Later, according to a Wall Street Journal story, Trump instructed Dallas Cowboys' owner Jerry Jones to relay a simple message to the other owners in the league:
"Tell everybody, you can't win this one," Jones recalled Trump saying, according to a deposition transcript. "This one lifts me."
What do service men and women think about NFL kneeling?
It's mixed.
Many service members, have expressed support for Kaepernick and the other kneelers.
Initially there was the aforementioned Nate Boyer, the former Green Beret and NFL long snapper who helped Kaeperick come to the decision to kneel instead of sit.
Then there's Michael Sand, a former Green Beret who comes from a family of military service members. Sand wrote this on Facebook about the fascism, communism and terrorism his family has fought:
"Three vastly different enemies, but enemies who shared one common trait," Sand writes. "ALL of them stifle free speech. All of them bully, degrade and terrorize those who hold opposing views and who peacefully express them."
And Autumn Barney is a military veteran who wrote this about what the kneelers are protesting:
"The truth is that there is racism in the country right now. It's a huge and disgusting issue, and we don't seem to be doing a lot to fix it. I understand the argument that kneeling during the national anthem is being disrespectful. I'm a veteran who loves this country and is proud to have served. But I served for a country who is supposed to respect all people. Right now, we aren't that country."
Of course there are plenty of veterans who feel the opposite.
Johnny Itliong's father and uncles served in World War II in the U.S Army in the Pacific.
During a speech at a California university, Itliong told an audience:
"If my father and uncles…were alive today, they would pull these boys up by their ears and cuss them out for disrespecting our National Anthem. They fought for their rights and fought for our country during WW2. These spoiled Millionaires."
Ironically, one of those rights they fought for is the right to free speech, the one which allows Americans like Kaepernick and the other kneelers to protest.
What is the NFL's National Anthem policy?
Right now it's complicated, but the bottom line is the NFL anthem policy is frozen. For now.
In May of 2018, the NFL team owners gathered and created a new anthem policy that they felt was a decent compromise between the two opposing sides.
Essentially, the policy gave the players the option to stay in the locker room during the anthem. It said that any player who decided to come out for the anthem must stand and "show respect" for the flag and the anthem. If a player demonstrates in any way, the league could fine his team and then the team could discipline the player.
Except they created the policy without consulting the NFL Players Association (NFLPA), which created an even bigger problem than if they'd simply left the situation alone.
What does the NFLPA think about anthem policy?
At first the NFLPA said it would file a grievance against any change in the collective bargaining agreement, which is basically what the new anthem policy was.
In July of 2018, the Associated Press reported that anthem misconduct was on the Miami Dolphins' list of "actions that could be considered detrimental," meaning incidents could be punishable by fines or a suspension as long as four games.
The NFLPA quickly filed a grievance with the league challenging its anthem policy.
Before the Dolphins could announce how they'd handle such misconduct, the NFL and NFLPA released a joint statement announcing a freeze of that policy.
It read:
"Commissioner Roger Goodell reached out to NFLPA Executive Director DeMaurice Smith today and both he and player leadership will attend the League meetings next week. There has been no change in the current policy regarding the anthem. The agenda will be a continuation of how to make progress on the important social issues that players have vocalized. Everyone who is part of our NFL community has a tremendous respect for our country, our flag, our anthem and our military, and we are coming together to deal with these issues in a civil and constructive way."
Why aren't I seeing NFL kneelers on TV anymore?
Normally, the TV networks never show the anthem except for special occasions like the Super Bowl. Last season that policy changed as the kneeling controversy grew bigger. But that backfired as the attention grew negative and attendance and viewership was affected.
So the television networks adjusted.
Fans who watched NFL games last year might have noticed that by the finals games of the season, there were very few television shots of players taking a knee during the anthem. CBS, Fox and NBC finally decided that instead of showing players protesting and fans booing, it would be better to just skip the anthem altogether and air commercials during that time instead.
After returning from commercial break, the announcers didn't mention anything about what had happened on the field and just began announcing the game.
That will most likely be how they'll handle it during the 2018 season.
How has the kneeling affected the NFL's attendance & TV ratings?
There has in fact been a decline in NFL viewership that opponents of the kneeling protestors like to attribute to a fan base unhappy with the disrespecting players.
Except that's probably not what's affected the viewing numbers at all.
Competition from TV news and the changing viewing habits of millennials were more likely the culprits of that decline.
Brian Hughes, a senior vice president at Magna, an audience-tracking firm, told CNN, "In general people's attention spans have changed. There's evidence that people are intensely interested in fewer things and generally interested in more things, and I think that's a function of deluge of content that we are finding ourselves in nowadays."
Also, add to that the fact that the kneeling protests have caused no real revenue drop to the team owners since the NFL's revenue is contractually obligated.
For the NFL, handling the anthem protests has become less about losing money and more about managing a future crisis. The league must handle the situation effectively before those revenue contracts come up for renewal.
Can NFL players be fined for kneeling?
No, right now with the NFL policy still frozen, no player or team can be fined for kneeling during the anthem.
After some players were seen kneeling and raising a fist while the anthem was being played during preseason games, the NFL releases a statement that says:
"The NFL has been engaged in constructive discussions with the NFL Players Association regarding the anthem and issues of equality and social justice that are of concern to many American. While those discussions continue, the NFL has agreed to delay implementing or enforcing any club work rules that could result in players being disciplined for their conduct during the performance of the anthem.
Do the NFL kneelers do more for their cause than just kneel?
Yes, they absolutely do.
The NFL and the Players Coalition, which is a group of about 100 current and former players co-founded by Malcolm Jenkins and Anquan Boldin, are leading the way. They've been working in tandem on efforts to support player initiatives in the community and for a variety of social issues.
The NFL is putting its money where its mouth is by committing $90 million over the next seven years to social justice causes in a three-segment plan that involves league players.
And plenty of other players are doing the same.
Kaepernick has promised to donate $1 million to different organizations that focus on helping oppressed people. In January of this year, despite being out of work for two seasons, he reached his goal and spread that $1 million across 41 charities, including:
100 Suits for 100 Men
Lower East Side Girls Club
Communities United for Police Reform
He has also funded free "Know Your Rights" camps throughout the world
Strong safety Eric Reid has created his own foundation to give people in disadvantaged communities the tools they need to develop into leaders and plans to build a homeless shelter in his hometown of Baton Rouge.
The Saints' Demario Davis and Benjamin Watson endorsed a Louisiana voting rights bill.
In 2016, the Seahawks' Doug Baldwin demanded a nationwide review of police training. The next year, Baldwin and Roger Goodell signed a letter on behalf of the NFL to support a criminal justice reform bill. Baldwin also helped create the Seahawks Players Equality & Justice for All Action Fund whose first action was to hand out grants to seven non-profits.
The Malcolm Jenkins Foundation helps underprivileged youth, and Jenkins, the Eagles' safety, has visited congress to advocate for criminal justice reform as well as done ride-alongs with the Philadelphia Police Department. After Trump canceled the Eagles' visit to the White House, Jenkins silently held up signs that detailed stats about police brutality, the prison population for people of color and the activism of his fellow NFL players.
During the 2017 season, Eagles defensive end Chris Long donated his game checks to help raise $1.3 million for education equality. His foundation has four main causes: clean water, homelessness, the military and youth in need.
Dolphins' wide receiver Kenny Stills organized town halls and a ride-along program meant to further develop the relationship between the South Florida community and police.
And truly, the list goes on and on.
Why should NFL players be able to kneel?
The easiest way to answer that question is with two words: it's America.
In the United States, a citizen has the right to peacefully protest. Period. It's a fundamental right that is backed up by the Fourteenth Amendment to the United States Constitution and it doesn't just apply to issues we all agree on.
And that's regardless how inconvenient or annoying the protest happens to be to football fans.
The players are being quiet and respectful by taking a knee or raising a fist, and despite all the negative pushback they've received have never allowed it to overstep or muddy their message.
They should be able to kneel because, in Kaepernick's own words, "there are issues that still need to be addressed and it's also a way to show more respect to the men and women who fight for this country."
One thing is for certain, the kneelers have begun to achieve their goal, which is to bring attention to the injustice still suffered by American people of color.
And that's despite the attempt of some (including the POTUS) to redirect the focus.
Says Raiders' tight end Jared Cook, "All I have to say is, I just think it's sad that it's veered from something that stood for good and the whole narrative has changed into something that's negative when that was not what it was initially about in the first place."
Despite what the President has decided for his own personal political gain, NFL kneeling is not about the flag, the anthem or the military. It's about being treated equally regardless of skin color.
As a Twitter user named KD (and a lot of circulating memes) put it:
"Rosa Parks was not protesting the bus. Gandhi was not protesting the food. The colonists were not protesting the tea. Players are not protesting the flag or the anthem. They are protesting injustice."
If Americans truly want the NFL kneeling to stop, the best way to begin is to properly "address the issue of police brutality and the systemic oppression in this country and to continue to put public pressure on our government to change the system."
Until that happens, prepare to have your football slightly interrupted.