Betting on the UFC is really easy.
It's actually got a lot in common with betting on other major sports but there are a few unique points to keep in mind.
In this section, we're going to run through the basics of UFC betting.
Even though these steps are easy enough for beginners, more experienced gamblers can still benefit from them, especially if you're new to UFC betting in New Jersey.
There are a few different ways to bet on UFC, which means you will have to decide which kind of betting works best for you.
Each of the points below explains a unique feature of UFC betting.
You can either bet on UFC online or in-person. If you want to bet online, you can find a list of the best online sportsbooks for UFC betting in New Jersey further down this page.
Once you have chosen one of these sites, you'll need to create an account. For each of the sportsbooks below, you can check out our comprehensive reviews which include a sign-up guide, deposit, and withdrawal information and instructions on how to get the best sign-up bonus – which you can use to bet on UFC.
Online bets can be placed on your laptop or PC, but these days mobile betting is the most popular and convenient way to bet. All of our recommended NJ betting sites have cutting-edge mobile betting apps.
If you prefer to bet in person you can also find a list of land-based casinos further down this page that accept UFC betting. To bet in person you won't need to create an account. Instead, you can simply go to the physical sportsbook and place your bets at the cashier or at an automated kiosk.
Whether online or in person, all the same betting options are available for UFC.
The most popular form of betting on UFC is a moneyline bet on which fighter will win an individual fight. This works just like a picking the winner in an NBA or NFL game.
With moneyline odds, the amount you win depends on the odds which are based on what the sportsbook thinks the probability of each fighter winning is. We will explain moneyline bets in more detail later.
Another popular and slightly more complex type of UFC betting is parlay betting, in which you correctly predict the winners of a number of fights. This can be more profitable than single moneyline bets but it's also riskier since you have to predict multiple correct outcomes.
Totals bets (also called over/unders) are popular in UFC too, but unlike in other sports where it's based on points, totals betting in UFC refers to the time or round that a fight will be stopped. For example, you may be able to bet on whether a fight will go over or under 1.5 rounds.
Depending on the sportsbook, you may also be able to place more technical prop bets, such as the exact time the fight is stopped, or the method of victory. There are hundreds of things to predict in a UFC fight beyond simply who will win, and many sportsbooks will let you bet on them.
Most sportsbooks also offer live UFC betting, which means you can bet as a fight is happening in real time. If you think the tide is turning in one fighter's favor, you can quickly get out your mobile and place a bet before the odds change too much.
If you'd like to know more about the UFC, visit our UFC odds and predictions page and check out the different weight classes in the UFC.
Best UFC Betting Sites in New Jersey
Legal sports betting arrived in New Jersey in June 2018. Since then over a dozen online sportsbooks have opened up shop.
The best UFC betting sites in New Jersey offer competitive UFC odds and tons of different wagers on the biggest UFC fight nights in Las Vegas and beyond.
With sports betting fans in New Jersey spoiled for choice, it can be hard to decide which is the best NJ online sportsbook for betting on UFC.
Each one is a little different, and the bets and lines available on different sportsbooks will also be slightly different.
WSN.com has tons of experience with every sportsbook in New Jersey. You can read full reviews of each one for free and use our signup links to get the best possible bonus.
To make things even easier, here are the top four betting sites that we think should be at the top of your list when it comes to New Jersey UFC betting.
Each of these sportsbooks has their own strong points.
Don't forget that it's a great idea to have accounts with a few different books so that you can shop around for the best odds.
DraftKings
DraftKings has one of the most diverse betting menus in New Jersey, which makes it essential if you are looking for some of the more obscure UFC prop bets.
If you happen to already play DraftKings daily fantasy sports then this sportsbook is especially suited to you. The layout of the sportsbook is modelled on the fantasy game, so it will be familiar. You won't even need to sign up to start betting – you can simply log in using your existing information.
If you sign up with DraftKings NJ today using our links, you can claim a risk-free bet of up to $500 that you can use on the next big UFC fight night.
Read our full DraftKings review for more information.
888sport NJ
888Sport is another sportsbook with a super-comprehensive range of UFC bets available. 888Sport also lets you choose your preferred odds format on in the UFC section of their website, so you can use European or UK odds if you prefer them.
As well as 100% deposit bonus for new members, 888Sport even gives you a $10 free bet just for signing up – so you can place a $10 bet on a fight today without depositing so much as a cent.
888Sport's live betting section is great for betting on UFC, with graphics that give you all the information about each fight in real-time, as well as useful pre-match statistics before the fight begins. Having all this info so accessible can make a big difference when you are live betting on UFC.
Read our full 888sport NJ review for more information.
FOXBet NJ
BetStars NJ is one of the most usable sportsbooks we have come across, with both the website and app boasting best-in-class design and functionality. Smooth usability makes a difference to the betting experience when betting on UFC and it really helps to be able to find whatever bets you are looking for so easily.
BetStars NJ has an intelligent bet slip that allows you to easily build your UFC parlays. Simply click on each bet and it will be added to your slip, where you can choose which kind of multi-bet you want to place.
BetStars also stands out for running continuous bonuses and promotions which you can use to bet on UFC. You can expect regular free bets and enhanced odds for the biggest fights, as well as accumulating reward points for every bet you place.
Read our full FOXBet NJ review for more information.
FanDuel NJ
Like DraftKings, FanDuel NJ is a great choice for users who already play FanDuel fantasy sports. Betting on UFC with FanDuel is super easy, and there is even an interactive guide built into the software which give you background information about the fight before you bet.
FanDuel has tons of offers and bonuses which can make UFC betting all the sweeter. These include daily boosted odds for big fight nights, and the chance to get your money back if there is a certain outcome in a fight, like a first round knockout.
FanDuel's range of betting options is top of the line, so you can expect loads of betting options for every UFC fight.
Read our full FanDuel NJ review for more information.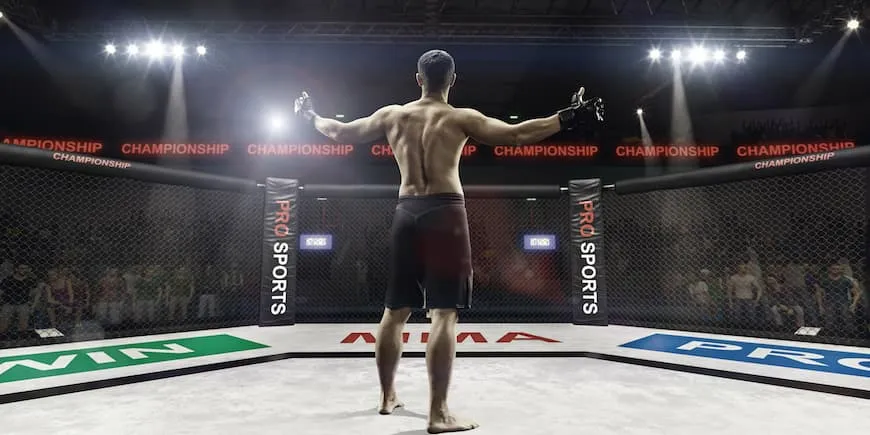 UFC Betting Apps in New Jersey
The most popular way to bet these days is undoubtedly using mobile devices. There are some good reasons for this.
Mobile software has become so advanced that anything you can do on your computer, you can now do more quickly and easily from your phone.
Betting apps allow you to bet anywhere, at any time. You can browse the odds on the latest fight while in transit, or quickly place a bet that slipped your mind earlier in the day.
Mobile betting is the future. It really takes the convenience of betting to the next level.
Each one of our recommended sportsbooks above has a dedicated mobile app that you can use to bet on the go, provided you are physically located in New Jersey. The apps have all the functionality as the websites and are all available for both iOS and Android devices.
Where Can You Bet on UFC in New Jersey?
According to the new laws in New Jersey, all online sportsbooks have to have a physical venue as well so all of the online sportsbooks in NJ, including the four above, have signed deals with some of the biggest casinos in New Jersey.
In addition to these agreements, some NJ casinos have created some truly impressive physical spaces for their sportsbooks.
Betting in person is a different experience compared to online gambling. Many sportsbooks have huge screens to watch the events live, as well as bars and restaurants.
Overall, it can be a much more exciting and social way to bet, and a fun way to spend a Saturday night.
These are our top three picks for the best physical sportsbooks in New Jersey for UFC betting.
The Borgata Hotel, Casino and Spa
The Borgata was the first casino to offer sports betting in Atlantic City.
The space is very impressive, with a wall of screens for watching multiple sporting events live, as well as 100 seats, 10 betting windows and multiple kiosks.
There is also a fully stocked bar, and Borgata regularly has events for the biggest UFC fight nights so you can watch and bet in an exciting atmosphere with other fans.
Borgata now has its own sportsbook. Check out the Borgata Sportsbook to see if its right for you.
Monmouth Park
If you're not located in Atlantic City you can always make your way north to the huge sportsbook located at Monmouth Park, which is powered by Caesars Sportsbook.
The space is an eye-watering 15,000 square feet, with over 100 TVs and 23 betting windows.
There is also a bar and restaurant located right in the sportsbook, and a full calendar of sports events which you can check out on the Monmouth Park website. You can be sure the biggest UFC fight nights will feature.
Meadowlands
And further north still, directly across the Hudson from Manhattan, you can find the Meadowlands complex at East Rutherford. Meadowlands is also a fully operational racetrack.
Meadowlands sportsbook is almost 7,000 square feet, including 20ft screens and 35 betting windows. The sportsbook is powered by FanDuel.
There is also a bar and restaurant on-site, making Meadowlands a very comfortable place to watch fight nights for those in north Jersey and for New Yorkers who want to make the short trip.
Full List of Physical Sportsbooks in New Jersey
Borgata
Golden Nugget
Hard Rock (not yet live)
Harrah's
Meadowlands
Monmouth Park
Ocean Resort
Resorts
Tropicana
Wild Wild West
Free UFC Betting Picks
One great way to help you get into the world of UFC betting is to make use of the free UFC betting picks and predictions available on WSN.com.
Betting picks are essentially predictions and tips from experts and there are lots of advantages to using them:
Expert picks save you time researching the matches on your own.
Picks help you maximize your profits.
Picks are a great way to get started if you're a beginner.
Picks are especially useful when you are starting out in sports betting, as you might not know how to spot the same valuable betting opportunities as the experts.
For example, imagine you are considering backing Jon Jones in an upcoming fight. He has won a lot of fights recently and is favorite to win again.
What you may not consider is that his opponent has a wrestling-centric style of fighting that Jones has a hard time defending against, and even though he is the favorite the odds he has been given are much too short.
Furthermore, a lot of Jones' fights have been going the distance lately, rather than ending in KOs.
In this case, the smart move may not be to bet on Jones to win despite your first instinct, and instead bet that the fight will be decided by the judges' decision. These are exactly the kind of spots you'll be able to take advantage of by using our free UFC picks and predictions.
Picks are also a huge time saver for busy people. If you want to make a smart bet but don't have time to crunch the numbers yourself, let an expert do it for you.
The great thing about the picks on WSN.com is that they are 100% free and you can use them as much or as little as you want. You can even just use them for research – keep an eye on the picks and monitor them, without betting, to help you get the hang of UFC betting strategy.
Many professionals charge for picks, but on WSN.com all the expert tips are provided at no charge. You can find tips for UFC and other MMA leagues.
UFC Betting Odds
By and large, odds in UFC are similar to other sports. If you are used to betting on sports in general, you'll have no trouble getting the hang of UFC odds.
That said, there are a few differences to be aware of, and a few types of odds and bets specific to the UFC.
How Do UFC Odds Work?
The most common bets you will come across in UFC betting are in the money line format.
Moneyline odds, also sometimes called Vegas or American odds, are the most common style odds used at NJ betting sites and sportsbooks.
In UFC, betting on the money line is a bet on which fighter will win a fight. The sportsbook takes into account which fighter is most likely to win and assigns odds to each fighter.
The odds reflect the fighter's chances of winning and also tell you how much money you'll win depending on how much you bet.
UFC Moneyline Example
The best way to understand money line odds is through an example. Take the following lines for a potential match between Conor McGregor and Khabib Nurmagomedov:
Khabib -135
McGregor +145
In every MMA fight there will be a favorite and an underdog. With money line odds, you can tell which fighter is which by whether the number is positive or negative.
The negative value is always the favorite, which in this case is Khabib, and the positive value is the underdog, in this case, McGregor.
To understand what these numbers mean, and how much you would win if you bet on them, there is a simple formula for each.
Betting on the Favorite in UFC
The best way to understand the odds of the favorite is knowing that, whatever the negative value is, if you bet exactly that amount you will win $100 in profit.
In our example from above, to win $100 on Khabib you would need to bet $135. So, in that case, your stake would be $135 and your return if he won would be $235. That's $100 in profit and your original $135 bet.
If Khabib's odds were -200, you would need to bet $200 to win $100, and so on.
Of course, you don't have to bet that amount – you can bet whatever you want. In the above lines, if you bet $75 dollars on Khabib, you would stand to win $55.55.
Understanding the favorite's odds is a little complex at first, but you get the hang of it surprisingly quickly. Check out the lines expressed in other formats below to help you understand it even more clearly.
Betting on the Underdog in UFC
Underdog odds are even easier to understand. With the underdog, the positive number is how much profit you'll win if you bet $100.
In our example McGregor has odds of +145 which means betting $100 on McGregor would win you $145 in profit (or a total return of $245).
If McGregor's odds were +250, you would win $250 with a $100 bet.
Again, you don't have to bet $100. For example, if you bet $50 on McGregor with the above lines you would win $72.50.
Underdog odds are more straightforward to get the hang of than favorite odds, especially if you are likely to bet with $100 stakes.
Other Odds Formats
Like we said, money line odds are by far the most likely format you will see if you are betting on UFC in the US. However, there are other formats to be aware of, and they can help you understand money line odds more fully.
The other formats express exactly the same idea, they are just written differently.
UK odds use fractions. In the UK, the exact same example betting line we used above would appear like this:
Khabib 37/50
McGregor 29/20
European odds on the other hand, use decimals. In a European sportsbook, that line would look like this:
Khabib 1.74
McGregor 2.45
Remember, all these lines express the same thing. With UK odds, just apply the fraction to your stake to work out your winnings. With European odds, just multiply your stake by the number, and then subtract the original stake to work out your winnings.
Chances are you won't come across these odds formats in the US, but just remember that they all express the same information anyway.
If you do encounter them, however, you can always use our handy odds converter tool.
UFC Betting Strategy
Betting strategy in UFC has a lot in common with the best betting strategies in other sports but there are some special points to consider.
Like any sport, the more you watch and bet on UFC, the more you will learn and understand about the sport and how oddsmakers are making odds and betting lines.
To help you get into the world of UFC betting, we have compiled our top five UFC betting tips. There is no magic formula to win every time, but following this advice closely will definitely maximize your chances.
We strongly recommend you take all of the following into account before you jump into making bets.
#1 – Focus on Fighter Styles
Depending on your knowledge of UFC, you might know a lot about popular fighters already, or you might just know the basics. Every fighter has their own unique style of fighting that has its own strengths and weaknesses.
Do they typically win via knockout or submission? Do they prefer striking or wrestling? How versatile are their styles? How adept are they at a scrambling defense when a fight goes in a direction they had not anticipated? What about more simple things like whether they are taller or heavier than their opponent?
These questions are really the tip of the iceberg. There are a million variables that can strongly affect the outcome of a fight. The more you know about the style and characteristics of the two fighters, the more you can piece the fight together like a jigsaw puzzle and correctly predict the outcome.
#2 – Research Research Research
This tip is really true of all sports betting and ties in with our previous tip. Conducting thorough research into both fighters before a fight can make all the difference when it comes to placing your bets.
And research does not mean remembering that one fighter won their last couple of fights impressively. It doesn't even mean looking at their full win record. Rather, it means taking a measured and informed look at all the relevant information available to you.
Say a fighter has a 25-1 record. Don't be fooled by the 25 victories. Check out that one loss, see what kind of style got the better of them and if their upcoming opponent can fight in that style too.
Check out their preparation. Who are their training partners and will they be effective practice? Check out their coaches. Some coaches are specialists in helping fighters beat certain opponents.
The more knowledge and insight you have, the better you will be at betting.
#3 – Look Beyond the Moneyline
Moneyline bets on who will win the fight are the most common form of betting in UFC. However, there is tons of value to be found in looking beyond them, at prop bets or totals bets.
Say for example you want to bet on an upcoming fight, but you think it will be super close and can't pick a winner. However, thanks to your knowledge of the two fighters' styles, you know that it is likely to be a conservative or cagey fight, with both fighters happy to play the long game rather than look for a quick KO.
In this case, you can simply bet on the fight going the distance, or take the over in a totals bet.
Likewise, if you know both fighters are extremely heavy hitters and light on the defensive side of things, you can bet on the fight ending with a KO.
Chances are, if you think you can predict the fight going a certain way, even if it's not necessarily the outcome, you can still find a prop bet to profit from your prediction.
#4 – Be Wary of Media Hype and Heavy Favorites
This ties in with something we'll talk more about below, namely whether it's better to bet on favorites or underdogs in the UFC. A good rule of thumb is to avoid big favorites, and be suspicious of a lot of people betting in one direction, especially if there's a lot of hype coming from the media.
This is even truer in UFC than most sports. MMA and UFC is a comparatively young sport. Compared with something like Basketball or Baseball, a tiny fraction of people compete in MMA. The UFC was formed in 1993, while MLB was founded in 1903. That said, UFC is one of the fastest growing sports in the world, with more and more people attracted to it both as fighters and spectators.
All this adds up to a hyper-evolving sport, which makes predictions difficult. Fortunately, this also means there is a lot of value to be found if you can bet effectively.
With a comparatively small pool of fighters and accelerating public interest, you can be sure both fans and media can easily get carried away. Don't be fooled. Let your analysis determine your bets, not media hype.
#5 – Embrace Live Betting
Due to the way a fight can change so much in real-time, live betting can be uniquely effective in UFC. The more fights you watch, the more you get a feel for how a fight will end based on what's happening in early rounds.
If you sit down to watch a fight and you can sniff that something is not right for one of the fighters within the first minute, you can quickly whip out your phone and place your bet on his opponent.
Paying close attention to a fight can be really profitable. It's entirely possible, with all the excitement of the fight, that you can pick up on an injury or a flaw even before the commentators. Make sure you're ready to capitalize when you notice something important like this.
UFC Parlay Betting
Parlays are a great way to get creative, and win more money from just one stake. Just remember, more reward always comes with more risk.
A parlay bet (which is a type of multi-bet) involves correctly predicting the winners of a number of fights, unlike a single moneyline bet which is only concerned with the outcome of a single fight.
As you can imagine, correctly predicting a number of winners will result in much more attractive odds than simply predicting the winner of one fight.
Parlays are a great way to make money when you want to bet on favorites, even if their odds are not great. As we know, we should be wary of huge favorites, and betting on favorites all the time. But, at the end of the day, if you are pretty certain the favorite is going to win, you should still back them.
If there are a few of favorites you like you can combine them in a parlay, and if they all win you will stand to win way more money than if you backed them each individually.
You can even back a couple of outsiders in a parlay, and stand to make a really big profit.
Parlays in UFC can generally be as many legs as you like, and they are an important strategy to consider.
Betting on Favorites Vs. Underdogs in UFC
As we touched on above, you should be wary of backing favorites all the time, and especially wary of backing huge, superstar favorites. That's because, generally speaking, the value is worse than betting on underdogs.
The are two main reasons for this. One is media hype, and the other is the uninformed general public.
As we said, UFC is a young sport with a comparatively small pool of fighters. New fighters with fresh hype appear regularly, and individual fights are quite susceptible to flukes or one-off wins.
Furthermore, the UFC loves to market its fighters in creative and dramatic ways. There is always a big star who is portrayed as unbeatable, like Conor McGregor or Amanda Nunes.
You can be certain that the vast majority of media attention for any event featuring someone like McGregor will focus on him. The public are naturally influenced by the hype and bet on McGregor, causing his odds to artificially plummet.
Even if you thought McGregor was going to win the big fight, chances are his odds will be so bad that you should just leave it alone.
Instead, it is always worth looking at the underdog in situations like this. You might only need to win one in every three or four bets when you bet on the underdog to be profitable, whereas you basically need to win every bet on big favorites to make a profit. Which is very unlikely to happen over time.
If you do want to bet on favorites (which can be the sensible option sometimes), consider a parlay bet with a couple of other fights you think you can predict.
How to Make Money Betting on UFC
In addition to the specific strategies mentioned above, there are a couple of other things to keep in mind to if want to become a long term winner betting on UFC.
Shop around for the best lines: Line shopping is solid advice for all sports betting. You can find a list of some of the best sportsbooks for UFC further down the page, but to really optimize your winnings you should never just stick to using only one site.
There will always be one sportsbook which has slightly better lines than the others for a specific bet. The difference might seem small, but regularly finding that little edge can make a huge difference in the long run.
Keep an eye on line movement: Again, this is sound advice for betting in general. Sportsbooks routinely change their lines based on how the public is betting, to try to balance their action, and based on other developments.
The more you bet, the more attuned to line movement you will become. There is always an optimal time to place a bet. If you see a bet you think is great value, you should bet on it right away. If you see a bet you are interested in but think the odds could be better, as well as shopping around you should keep an eye on the line in case it moves.
Getting a feel for line movement and monitoring it goes hand in hand with shopping around for the best lines.
Avoid betting based on emotions: Remember that winning sports bettors never bet on what they would like to happen, or what they think would be an exciting outcome.
Your bets should be based on analysis, not emotions or hype.
Start Betting on UFC in NJ Right Now
There has never been a better time to start betting on UFC, especially if you live in New Jersey.
The sport is growing every day and sportsbooks are offering more betting options all the time.
With such a young and vibrant sport, things are unpredictable compared to more established leagues like the NFL and NBA. Oddsmakers are also less experienced setting accurate UFC betting odds and lines.
That all adds up to a big opportunity for knowledgeable, smart UFC gamblers.
The tips and tactics we've have laid out here are essential reading for any prospective bettors out there. There is no easy way to the top of UFC betting, but the more you study and gain experience the more effective your bets will become.
New Jersey has never been a more exciting place for sports betting. Both online and in person, fans have got so many options to start betting today.
We are happy to say that the four sportsbooks we recommended above can all guarantee you a top UFC betting experience. If you decide to sign up, make sure you use our links to get the best possible signup bonus and ongoing promotions.