New Jersey residents and those within driving distance will soon be spoiled for choice in the world of online sports betting. Since online sports betting was legalized in New Jersey in 2018, tons of new sites have gone live.
Fox Bet NJ is one of the most interesting options that now lets people in New Jersey bet on sports online. In this review, we take a closer look at what makes Fox Bet a great choice for legal New Jersey sports betting.
Get ready, we're going to take a deep dive into all the site's most important features and it gets pretty comprehensive.
Our experts will review:
The variety of sports and types of betting available.
The software and interface.
The mobile app that lets you bet on smartphones and tablets.
What works well?
What could be improved?
We'll also walk you through the history of the company and give you a bit of background on the legal side of things. We even show you how to sign up at Fox Bet NJ and make sure you get the best possible introductory bonus on offer.
This page has everything you need to know about Fox Bet NJ. We want to give you the most comprehensive overview of the site available anywhere so you can decide whether it's the best sportsbook for you.
Fox Bet NJ at a Glance
Fox Bet Information
Fox Bet NJ bonus promo code
None
Welcome bonus
$1000 Sign-Up Bonus
Land-based partner
Resorts, Atlantic City
Website URL
https://www.foxbet.com/
Fox Bet was already a big player in the European sports betting market and made the trip to New Jersey in the wake of the Supreme Court decision to remove the federal ban on sports betting in May 2018.
Fox Bet NJ went live with their app in September of the same year and finally unveiled the full site in January 2019.
Here is a quick primer on Fox Bet NJ to get you started:
The sportsbook is operated by The Stars Group, the company behind the world's leading online poker site, PokerStars.
Fox Bet NJ is partnered with Resorts Atlantic City Casino.
The sportsbook is fully licensed and regulated by the New Jersey Division of Gaming Enforcement.
You must be 21 years of age to make an account and you must by physically in the state of New Jersey to bet.
Fox Bet NJ has a wide range of worldwide sports available to bet on, as well as a wide variety of different kinds of bets.
Fox Bet NJ in a newcomer to the US market, but has a trusted reputation within European sports betting. Next, we are going to get a little more in-depth with some of the features of this full-service online sportsbook.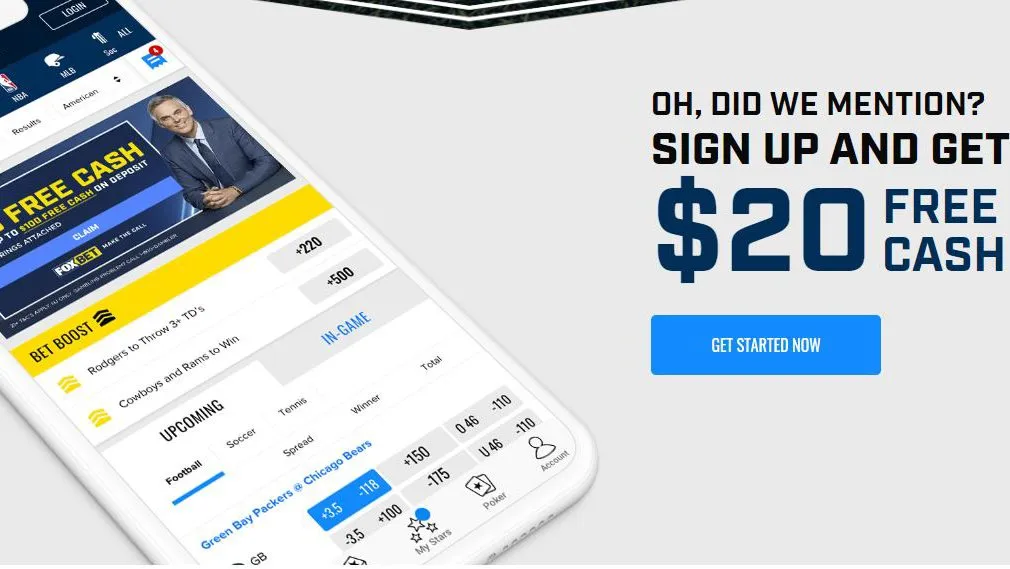 Fox Bet NJ Software and Mobile Sports Betting App
The Fox Bet NJ user interface is simple and effective. There is always a balance to strike between making a site easy to use while also offering a comprehensive range of bets, and Fox Bet NJ understands that well.
The site uses a lot of white space and avoids flashy colors which makes it easy on the eyes even when you're using it for long periods of time.
When you land on the homepage the most popular bets are immediately visible, with options for different sports also visible on the bar at the top of the site. Clicking different sports leads you to different bets available within that sport.
The Bet Slip feature, which is activated when you click on a bet, also works well. You can test out how much you would win by putting in different stakes before placing your bet. Clicking multiple bets will mean the Bet Slip opens the possibility to select a parlay bet or stick with singles.
Our experts really liked the Fox Bet NJ mobile app too, which took the best parts of the website and scaled them down to a mobile format. A nice bonus feature of having a Fox Bet account is that you have automatic access to other Stars Group services, like PokerStars NJ. The app lets you access both together.
The app can be downloaded from the app store, and from the Fox Bet NJ website. See where it ranks in our list of the best sportsbook apps in 2021.
Fox Bet NJ Software and App Highlights
Bright and easy to read.
The most popular kinds of bets are prominently displayed.
Easy to navigate and to understand, especially for beginners.
The app complements the website very well.
Automatic access to PokerStars from the app.
Things to Improve
Customer service and help options could be more prominent.
The categories of the different bets could be clearer. Our experts had some issues finding the specific bets they were looking for, even though they were available.
Bonuses and Deals at Fox Bet NJ
As a veteran of offering deals and incentives to poker players over on their sister site, Fox Bet NJ has thankfully decided to include similar incentives for new sports bettors in New Jersey.
Bonuses tend to change regularly to keep things interesting for members. Anyone looking for a little something extra to sweeten the deal of joining Fox Bet NJ can expect attractive offers. Here is an idea of the typical kinds of offers available:
Welcome Bonus (New Player Bonus)
Fox Bet has a generous welcome offer, they offer a new player bankroll building offer of $1,000 sign-up bonus. You can build it up out of $500 risk-free bets and a $500 deposit bonus.
Plus, for all customers both new and existing, they offer up to 50% matched deposits up to $500. On top of that, Fox Bet offers boosts each week.
You also have the option of being a part of their Fox Sports "Saturday Super Boost", a highly boosted payout on one of their favorite games of the day.
Weekly Free Bet
To keep existing customers happy, Fox Bet NJ has other promotions running continuously. This one is very simple: bet $25 on anything from Monday to Sunday and receive a free $5 bet in return.
It's not the biggest amount of money in the world, but it's a straightforward little sweetener. The only conditions are that the $25 must be bet between 00:00 ET on Monday to 23:59 ET on Sunday. There are no other restrictions on odds or kind of bet.
See how Fox Bet's bonuses compare to other NJ sportsbooks by taking a look at our in-depth NJ sports betting bonus guide.
Stars Rewards
Fox Bet NJ likes to encourage users to interact with their poker and casino sites as well, and this promotion is common across all their platforms. Basically, the more you bet, whether sports betting, poker or in the online casino, the more chances you have to win cash prizes or personalized rewards based on your betting.
There are no conditions here: simply the more you bet the more chance you have of winning free stuff. Don't forget that all of these are just a taste of the bonuses and deals on offer. Chances are, there will be more running if and when you decide to set up a Fox Bet NJ account.
Kinds of Bets and Odds (Betting Markets)
There are lots of things to consider when you are evaluating the kinds of bets and odds available on an online sportsbook. In this section we'll break down all the different styles of bets, betting lines and odds available on Fox Bet NJ.
Variety of Different Sports
Our experts are happy that Fox Bet does fairly well in this category. All of the major sports are represented. With fourteen sports covered in total, it is not quite as comprehensive as some, but should be enough to keep all casual fans happy.
Types of Bets
Again, Fox Bet does well here. All the most common forms of betting, like moneyline bets and point spread bets are covered and easy to read. If you dig a little deeper, Fox Bet has the option for many more complicated bets, which will appeal to more experienced bettors.
Odds and Betting Lines
Our experts were happy to report that they were competitive with other top online sportsbooks in New Jersey.
Unique Selling Points
Fox Bet NJ does especially well in this section. Likely influenced by its poker and casino sites, the sportsbook has a number of fun and interesting ways to make betting more exciting, such as Spin and Bets. This is likely to appeal to new and casual bettors.
Let's take a closer look at some of the specific kinds of bets and odds offered by Fox Bet NJ:
Popular Bets on Fox Bet NJ
As we said, the majority of sports bettors like simple bets, and these are the most prominent on the Fox Bet NJ homepage. To the right of each game listed on the screen, you can clearly see the point spread, moneyline, and totals bets available.
You can easily find more complicated bets, but putting these universal bets front and center is a smart move from Fox Bet NJ.
Prop Bets
When you do click through to look for other bets, only the most advanced bettors will be disappointed. New Jersey sports fans are given a good range of options for props on Fox Bet. All games in the major sports have multiple markets associated with them, such as half time scores and point scorer markets.
In comparison with the most comprehensive sportsbooks out there, Fox Bet NJ does not have quite the same range of prop bets – lacking more technical markets like player rebounds in the NBA, or rushing yards in the NFL. However, the lack of bets like these will not affect the vast majority of sports bettors.
Fox Bet NJ has a competitive selection of futures available, where you can bet on the overall winners of a division or competition later in the season.
In-Game Betting (Live Betting)
Fox Bet NJ's in-game section is very easy to use. Simply by clicking the second tab on the home screen, you are presented with all the games currently happening that are available to bet on.
Just like the regular betting screen, the most popular bets are displayed prominently, and more complicated bets are available when you click through the game or competition.
Live betting can sometimes be a little hectic, but our experts loved the layout of this section for its simplicity and clarity. Green text is used to show odds getting larger, and red text is used when odds getting shorter, along with notifications of the latest scores.
Fox Bet NJ does a great job of combining the fast-paced fun of live betting with an easy-to-use interface.
Spin and Bets
This is a very fun little feature that helps set Fox Bet NJ apart from its rivals. Inspired by the popular Spin and Go feature on Pokerstars, a spin and bet is a chance to increase the odds of your bet by sacrificing a little more of your stake.
When placing a bet, you can choose to give 10% of your stake away in exchange for a random increase in odds, between 1 and 10 times the original odds. Once you place your bet, a spinner like a slot machine will determine your increase. It is possible you will be left with the original odds if the spinner lands on 1, but you could also get a very juicy increase in odds if it lands on 5 or 10.
This feature is likely to appeal to casual bettors, and fans of casinos and games, rather than more serious sports bettors. However, our experts thought it was a great way to inject a bit of fun into the traditional betting experience.
Other Betting Options
The more you use Fox Bet NJ, the more betting options you will discover. As well as the bets already mentioned, there are odds boost features, parlay cards, buying points on the spread and more.
Certainly, the sportsbook has a wide enough variety of options for New Jersey residents to continue learning and growing as a sports bettor.
Sports You Can Bet on at Fox Bet NJ
Fox Bet has a good range of sports available to bet on. The major leagues like the NFL, NBA, MLB, and NHL are well covered with a deep range of bets available in every game.
College sports (as long as they don't feature New Jersey colleges) are also available to bet on, as well as minor leagues and tons of other sports from around the world.
Here is a full list of the sports currently available to bet on Fox Bet NJ:
NCAA Football
NCAA Baseball
NCAA Hockey
Soccer (MLS, Premier League, Champions League, La Liga, international and more)
International Basketball
Boxing
Cricket
Cycling
Rugby Union
All in all, unless you are hoping to bet on an extremely obscure sport, Fox Bet NJ should have you covered.
Options for Deposits and Withdrawals
Fox Bet has a wide range of options for depositing money, and almost as many for withdrawing it, meaning that sports bettors in New Jersey should easily be able to find an option that suits them well.
Different bettors have different preferences for how they like to manage their finances, and offering a range of options is essential for any successful sportsbook. Our experts were happy to report that Fox Bet NJ has everybody's preferences covered.
Here is a full list of all banking methods accepted by Fox Bet NJ, both on their online sportsbook and via the app:
Deposit Options
Instant eChecks
Stars Transfer – a direct online transfer from your bank account
PayNearMe – deposit using cash at 7-Eleven convenience stores in New Jersey
Resorts Cage – deposit in cash at Resorts Casino and Hotel, Atlantic City
PokerStars Play+ Card – a personalized card that is linked to your Stars Account
Withdrawal Options
Instant eChecks
Skrill
PayPal
Neteller
Resorts Cage – withdraw in cash at Resorts Casino and Hotel, Atlantic City
PokerStars Play+ Card – withdraw to your personalized card, linked to your Stars Account.
Betting with fully licensed and regulated US sportsbook means that you never have to worry about your money being kept safe. Fox Bet NJ is fully regulated by the New Jersey Division of Gaming Enforcement, so you can trust that no matter which method you choose to manage your money, it is secure.
Banking Methods Comparison
Here you can compare and contrast the characteristics of all of the different transaction methods, to help you decide which one is for you
| Method | Withdrawal Possible | Processing Time | Minimum Deposit | Maximum Deposit | Fees |
| --- | --- | --- | --- | --- | --- |
| Instant eChecks | Yes | Immediate for deposits Up to 10 business days for withdrawals | $10 | $500 | No |
| Skrill | Yes | Immediate for deposits Up to 10 business days for withdrawals | $10 | $1000 | No |
| Neteller | Yes | Immediate for deposits Up to 10 business days for withdrawals | $10 | $1000 | No |
| Resorts Cage | Yes | Immediate | $10 | $30,000 | No |
| PayPal | Yes | Immediate for deposits Up to 10 business days for withdrawals | $10 | $1000 | No |
| PokerStars Play+ Card | Yes | Immediate for deposits Up to 72 hours for withdrawals | $10 | $640 | No |
| Stars Transfer | No | Up to 24 hours | $10 | $500 | No |
| Visa | No | 10 minutes for deposits | $10 | $1000 | No |
| Mastercard | No | 10 minutes for deposits | $10 | $1000 | No |
| PayNearMe | No | 10 minutes for deposits | $10 | $500 every 24 hours | No |
Signup and Registration
Our experts found that the signup and registration process for Fox Bet NJ is just about as simple as it gets. Remember that there is always some kind of welcome bonus available when signing up to new online sportsbooks, and Fox Bet NJ will be no different.
If you have ever played online poker on PokerStars, you won't even need to create a new account for Fox Bet NJ. You can simply sign in using your existing username and password. You can even use money in your account to begin betting on sports right away.
Anyone in the US can sign up for an account with Fox Bet NJ, but don't forget you have to be physically in New Jersey in order to place bets.
To sign up to Fox Bet NJ, simply follow these steps:
First of all, make sure you are getting the best welcome bonus! Use the link on this page to make sure you are not missing out.
When you get to the JOIN screen, put in your country of residence and email address, and then choose a username and password. Make sure you choose something easy to remember for both. When you have done that, click CONTINUE.
Next, you will be asked to check a couple of boxes. One is to confirm you are at least 21 years old and have read the End User Agreement. Another is to confirm you have read the Privacy Policy. There are links for you to read both of these documents, and they are very typical of online sportsbooks. You need to check both boxes to finalize your account. You can also check on an optional box, which keeps you updated on special offers and bonuses from Fox Bet.
When you are ready, click CREATE ACCOUNT and you are done. With only two screens and minimal information required, it really is a very straightforward signup process.
Once your account is created, you will be directed towards the cashier, where you can deposit funds using one of the options already covered, and start betting.
One of Fox Bet NJ's strong points is undoubtedly its usability. The site is easy to read and navigate, and it is well served by the stress-free signup process. It took our testers under two minutes to create an account.
Security and Gaming License
New Jersey was one of the first states to fully embrace legal online sports betting once the federal ban known as PASPA was removed in 2018. Unsurprisingly, security and professionalism were high on the list of priorities for the Garden State in the face of the huge new market that sports betting represents.
If you have only ever used unlicensed offshore sportsbooks in the past, you can rest assured that sites like Fox Bet NJ provide a much greater level of transparency and security.
Fox Bet NJ is licensed and regulated by the New Jersey Division of Gaming Enforcement, a governmental body committed to ensuring the highest standards of security for gamblers in New Jersey. Your personal information and online transactions, as well as the software of the sportsbook, are all guaranteed to be well monitored and 100% safe.
Although Fox Bet NJ is something of a new kid on the block for US sports betting, its sister company PokerStars has a worldwide reputation that has been built up over many years.
Our experts are happy to say we can fully recommend you sign up to Fox Bet NJ, safe in the knowledge that your information and money will be secure.
Customer Support
As straightforward as Fox Bet NJ is to navigate, new users will always have hiccups as the get used to the software. For this, Fox Bet NJ has a fairly comprehensive customer service page, which can be accessed by clicking HELP at the top of the home page.
On this page, you are provided with a list of FAQs and solutions to common problems. If you can't find what you are looking for here, you can send an email to the customer service team, which is available 24/7.
At the moment, Fox Bet NJ does not have the option of live chat, which is a pity because instant customer service can be extremely useful when you want to sort out an issue before placing a bet.
Overall however, our experts are happy that they found the customer support team to be responsive and helpful.
Summary of Fox Bet NJ Pros and Cons
| Pros | Cons |
| --- | --- |
| Great design and layout | Somewhat limited range of bets |
| Easy signup process | No live chat option |
| Competitive odds | Standard signup bonus |
| Fun features like Spin and Bet | Could use more unique offers |
Things Fox Bet NJ Is Doing Right
Fox Bet comes with a big reputation that it has earned through many years of operating a successful online poker room and casino, so it's no surprise that the company's sportsbook has been a great addition to the new online sports betting options in New Jersey.
Our experts found that Fox Bet is generally competitive in all the areas we looked at, while also bringing some fresh ideas of their own. Let's take a look at the highlights that really stood out for us:
We loved the design and layout. The website is clear and easy to use, with a lot of white space which is easy on the eyes. The app is also super usable, mimicking the format of the website without feeling too cluttered on the small screen.
The in-game betting section is also easy to navigate and quick to respond which is essential for live betting.
Signing up could not be easier. If you already have a PokerStars account, no sign up required.
We found the odds on offer to be competitive with the best sportsbooks in New Jersey and around the world. The Odds Boost feature can make their odds really attractive.
We love the fun elements of Fox Bet NJ, and the influence of the company's other site, PokerStars. Features like the Spin and Bet inject an element of excitement into the sports betting experience. They can attract new customers who have a casual interest in both sports and casino games, and offer something new to sports bettors who were falling out of love with betting.
Things Fox Bet NJ Could Work On
While overall our experts enjoyed the Fox Bet NJ experience, they did come back with a few issues that the site could work on.
Although the range of bets is good, it is not the most comprehensive sportsbook in New Jersey. Bets around player statistics, such as rushing yards in NFL or number rebounds in NBA are not typically available. This is unlikely to bother 95% of sports bettors, but it is something to note if you enjoy making these kinds of live bets.
A live chat option for customer support would be a great addition.
The sign-up and deposit bonuses available are fine but quite standard. We think Fox Bet NJ could push the boundaries a bit here and offer more unique bonuses by applying the same creativity they used to develop Spin and Bets.
Fox Bet NJ Company History
Fox Bet NJ is the New Jersey branch of the sportsbook BetStars, which is itself a member of the Stars Group company. The company also owns PokerStars, the biggest and most well known online poker company in the world.
The Stars Group, formerly known as Amaya, was founded in 2001 in Toronto as an online gaming company. The company acquired PokerStars in 2014. In recent years, the company has turned its attention to the world of sports betting, with Fox Bet quickly becoming a fixture on the European online sports gambling scene.
2018 has been a time of expansions for the Stars Group. The company acquired Sky Betting and Gaming, which focuses on the UK market. Fox Bet meanwhile, has made big moves to get in on the sports betting scene in the US by partnering with the Resort Casino in New Jersey, as well as Mount Airy Casino in Pennsylvania.
The Final Word on Fox Bet NJ
With a whole host of options for online sports betting making their way to New Jersey residents, we are happy to report that Fox Bet NJ can compete with the best of them. It also has some unique features that set it apart.
The website and app are both user-friendly and super effective. The wide variety of bets available – from moneyline, point spread, and parlays to more exotic options and live betting – means that we think Fox Bet NJ is a great option for New Jersey residents wanting to get into the sports betting scene.
Only those bettors who are searching for the most obscure bets are likely to be disappointed with the range of bets and sports available. It is true that Fox Bet NJ is not quite at the forefront regarding the most specialized bets, but that is unlikely to matter to the vast majority of users and the site is introducing new options all the time.
The influence of the Stars Group's poker and casino sites is clear. We love these fun elements of Fox Bet NJ, which helps distinguish it from other sportsbooks and will likely attract a new kind of bettor. Having access to the other Stars sites with your login details is a nice bonus for BetStars NJ users.
Overall, our experts decided to give Fox Bet NJ one of our highest scores, 9.2/10, and we are confident you will have a great sports betting experience if you decide to set up an account.
Make sure you use the link on this page to get the based bonus when you sign up.
Similar Sportsbooks to Fox Bet NJ
Sportsbook
Fox Bet NJ
DraftKings
BetMGM
Rating
9/10
9/10
8/10
Bonus
$500 Free Bet
$1000 Deposit Bonus
$1000 Risk-Free Bet
Top Features
✔ Great in-game betting section

✔ Smooth signup process

✔ Attractive Odds Boost feature

✔ Great banking

options

✔ Access to

fantasy sports

✔ Beginner-friendly

✔ Parlays with

enhanced odds

✔ Impressive range

of bets

✔ $10 free bet

every week

States Licenced In
Currently licensed in
NJ, Colorado,
Michigan and Pennsylvania
Currently licensed in 14 states.
Currently licensed in 19 states.
Payment Methods
Instant eChecks
Skrill
PayPal
Mastercard
Visa
Neteller
Stars Transfer
PayNearMe
Resorts Cage
PokerStars Play+ Card
MasterCard

PayPal

Discover

Online Banking

Play+

Wire Transfer

VIP Preferred

e-cheque

Cash

VIP Preferred

e-cheque

Visa

PayNearMe

Discover

Electronic Transfer

Online Banking

PayPal

MGM Rewards

Mastercard

Support
Live Chat

Email

Email

Phone

24/7

Live Chat

Email
Fox Bet NJ FAQs
Is Fox Bet NJ legal to bet with?
Yes, Fox Bet NJ is fully licensed and regulated, and completely safe to use. Remember you need to be in New Jersey to place a bet.
Can you bet on mobile with Fox Bet NJ?
Yes. Fox Bet NJ has a great app that you can download for Apple and Android smartphones and tablets from Google Play or App Stores.
Do you have to be in New Jersey to bet with Fox Bet NJ?
Yes. To bet, you need to be physically in New Jersey.
Does Fox Bet NJ offer a no deposit bonus or free bets?
Yes, although the exact nature of the bonus or free bets tends to change from time to time.
Does Fox Bet NJ have good odds?
Yes. We found that the odds on offer were competitive with the top sportsbooks in New Jersey.
Other Legal Sportsbooks in New Jersey
Check out our expert reviews of other NJ sportsbooks listed below, so you can compare their bonuses and offers, as well as other aspects of the betting experience they provide.