Darrell "Bubba" Wallace Jr. is just 25 years old but is already making a big name for himself on the NASCAR scene.
When he came in second at the 2018 Daytona 500 he set a record for best ever finish by an African American in the race. He's also made history and holds a place in NASCAR's record books as the first and only African American to win a Truck Series race.
Bubba Wallace first competed in Bandolero and Legend car racing at age 9. As a 12 year old he won 35 of 48 races and at 15 years old he set a record for the youngest winner ever at Franklin County Speedway in Virginia.
Wallace has a bright future ahead of him and nearly added a Rookie of the Year award to his growing resume when he finished second in voting in 2018.
Keep reading for comprehensive information on Darryl "Bubba" Wallace including his bio, stats, highlights and more.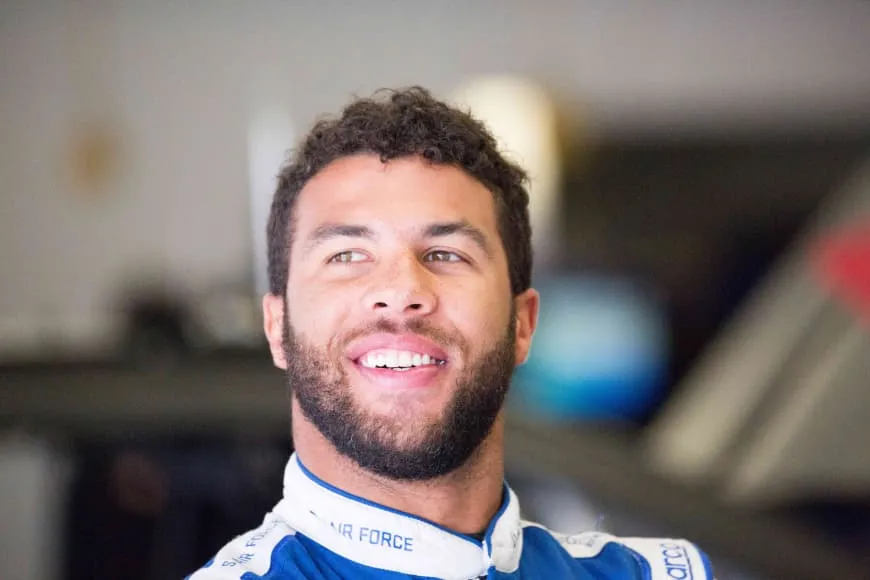 Fast Facts:
Full name: Darrell Wallace Jr.
Born: October 8, 1993
Hometown: Mobile, Alabama
2010 K&N Pro Series East Rookie of the Year
2008 UARA-Stars Rookie of the Year
Acted the voice of Pixar movie character Bubba Wheelhouse in the movie Cars 3.
Subject of a documentary called Behind the Wall: Bubba Wallace
Recognized on Ebony Magazine's 2018 Power 100 list.
Biggest Results:
6-time Truck Series race winner
6-time K&N Pro Series East race winner
2012 – OneMain Financial at Dover International Speedway
2015 – Buckle Up 200 at Dover International Speedway
2018 – 2nd at Daytona 500
2018 – CanAm 500 at ISM Raceway
2018 – O'Reilly Auto Parts 500 at Texas Motor Speedway
Bubba Wallace Bio
As a younger driver, Bubba does a great job of keeping in touch with his fans on social media. With over 179k followers on Twitter, he makes sure to keep them posted and has more than 11,000 tweets on his account.
Moving forward he has big aspirations for the 2019 season and beyond.
Having previously been signed under Kyle Busch Motorsports and Joe Gibbs Racing, he now drives the No. 43 Chevrolet for Richard Petty Motorsports.
NASCAR Xfinity Series and Monster Energy NASCAR Cup Series
Wallace has 40 total Cup Series races so far. His best showing was 2nd place at the Daytona 500 in 2018. He also has two other top-10 finishes.
At the Xfinity Series level he's been in 85 races. He's won the pole spot twice and has 35 top-10 finishes.
First NASCAR Win
Although Wallace is still looking for his first Cup Series and Xfinity Series wins, he has had his fair share of NASCAR victories, twelve in fact. He has six wins in the K&N Series and six other victories in the Truck Series.
Career-Best Season
In 2015 Bubba had 14 top-10 finishes in the Xfinity Series. That year he also won a pole position at Dover's Buckle Up 200.
2014 was also a remarkable year for Wallace as he had four Truck Series wins, two poles, and 14 top-10 finishes.