Texas Motor Speedway
is scary fast. For a while, in the mid-2000s, it held tenure as the fastest "non-restrictor plate" speedway in all of NASCAR.
Unfortunately, due to wear and tear on the pavement, that title has since been passed on to Atlanta Motor Speedway.
Nicknamed The Great American Speedway, it should come as no surprise that the speedway they built in Texas, where they do everything bigger, has some of the most excessively massive stadium fixtures in the whole sport.
Behind the speedway's second turn is a circus themed carnival called the Wild Asphalt Circus which was constructed in 2012.
Two years later, at one of the track's annual Cup Series races, they unveiled a newly constructed HD video scoreboard screen affectionately named "Big Hoss". At a whopping 218 ft wide x 94.6 ft tall, the Panasonic HD screen is by far the largest scoreboard in all of NASCAR.
It needs to be that big considering the whole complex, at its highest capacity, could sit 181,655 spectators. These days the stadium has been reconstructed and most NASCAR races have maximum seating at 112,552.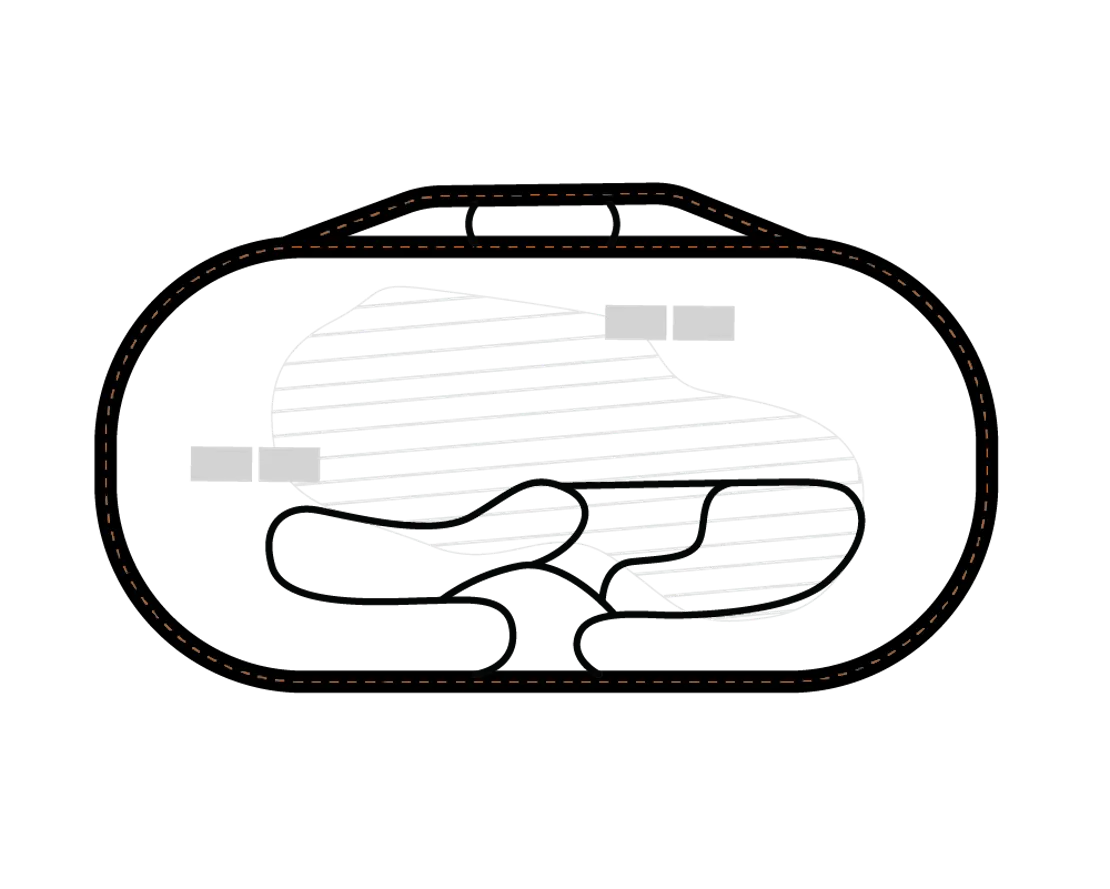 Key Races at Texas Motor Speedway
Each season the track holds a myriad of events with three main racing weekends taking top billing. Texas Motor Speedway has six total NASCAR races per year with a pair each from the top three divisions of Truck, Xfinity, and Cup.
In early April (occasionally late March) the speedway hosts an action-packed weekend of thrills and spills. Not only do race fans come to see four days worth of Truck, Xfinity and Cup races, the organizers also find time to stick in a smash'em up Super Trucks battle called the No Limits Off Road Rumble.
Later in the year a weekend in June showcases both NASCAR and IndyCar Series racing as NASCAR's Truck Series Rattlesnake 400 combines with IndyCar's DXC Technology 600.
Fans love this particular weekend because of the contrasting styles of racing and vehicle types. Plus it nicely fills in the long gap between the main-draw Cup Series events in spring and late fall.
That late fall weekend, usually in early November, has a lot on the line as it means the season is nearing a conclusion and playoffs are in full swing. The events kick off with the Vankor Texas Sprint Car Nationals on the Thursday evening before making way for both Xfinity Series and Cup Series playoff race.
This article is going to take a closer look at some of the track's history and most notable features, but before we get into that, let's take a quick look at the most important facts about Texas Motor Speedway.
Fast Facts:
Location: Fort Worth, Texas
Built in: 1996
Owned and operated by: Speedway Motorsports Inc.
Track Types: Oval 1.5 miles (2.4 km)
Oval turns: 4.
Turns 1 & 2 banked 20 degrees; Turns 3 & 4 banked 24 degrees
Race lap record: 200.915 mph Kurt Busch in a Ford (MENCS) 2017
Capacity 112,552
Major Races – Monster Energy NASCAR Cup Series: O'Reilly Auto Parts 500, AAA Texas 500 | Xfinity Series: My Bariatric Solutions 300, O'Reilly Auto Parts 300 | Truck Series: Vankor 350, Rattlesnake 400 | IndyCar Series: DXC Technology 600
Texas Motor Speedway History
Texas Motor Speedway wasn't originally going to be the name of the track. Instead it was supposed to be called Texas International Speedway. However, due to legal issues and a suit filed by a nearby track, the naming choice became a problem.
Once settled and the new name took hold, it left behind a small batch of items and memorabilia with the original name that few lucky fans hold (or sell) as collectables to this day.
When the speedway debuted in 1996 it was immediately lauded for its high end speed on straights and when entering corners. For the better part of a decade, records were consistently written and re-written at the track in both NASCAR and IndyCar series.
At less than a quarter-century in age the track is still one of the newer speedways in the NASCAR circuit but has endured quite a bit of usage-erosion over that time. Over the years bits and pieces of the track have undergone repaving to both fix issues and to maintain high-end speed for drivers.
One driver who has never had issues with the track at full speed or otherwise is Jimmie Johnson. His resume at Texas Motor Speedway is nothing short of impeccable. In his near two-decades of racing at the track, he's the all-time leader in track wins (7), top-5s (15), top-10s (21), and most laps lead (1041).
The Firestone Firehawk 600 That Never Was
Aside from NASCAR and the occasional IndyCar Series race at the speedway, there was also a brief moment in time when plans were in the works to host a CART race. The scheduled race was the Firestone Firehawk 600 and it was supposed to go down on April 29, 2001.
Unfortunately, the actual race never got started.
On the days leading up to the race, 21 of the 25 drivers said they felt disoriented and dizzy in qualifying. The issue stemmed from the the speedway's configuration and banking combined with the cars' turbocharged engines.
As the vehicles were all easily averaging speeds in excess of 230 mph it became evident that the excess G forces generated from the Indy cars were higher than at other tracks. Drivers were unable to handle the stress and made the entire situation too dangerous to proceed.
Not wanting to deal with any kind of preventable tragedy, organizers cancelled the event two hours before the race was to start.
Other Popular Events
When the stadium isn't busy hosting massive NASCAR and IndyCar Series events, it still have its hands full coordinating lots of other fun-filled activities and events.
Two popular driving schools are offered on the premises. One is the popular Texas Driving Experience which brings in aspiring drivers both young and old and from far and wide. The other, called Team Texas High Performance Driving School, has a wide assortment of activities and classes taught by some of the best drivers in the world.
The speedway is also famous for non-driving related events and in 1997 held two of the most highly regarding outdoor concert experiences in the country's history. The first, the Fruit of the Loom Country fest, invited 185,000 visitors.
The second event, just a week later, was a 15-hour concert called the BlockBuster Rock Fest and sold 385,000 tickets. To this day it remains one of the top attended one-day concerts of all time.