At only 26 years of age, it is quite impressive that Chris Buescher is already a full-time competitor at the Monster Energy NASCAR Cup Series level.
At just 20 he was already the ARCA Series champion and at 23 became the 2015 Xfinity Series champion. Those are lofty achievements coming very early in his career that's expected to get even better.
Like most elite drivers, Buescher's racing accomplishments started way earlier. At age 12 he won the Bandolero National Championships and by 14 held claim to the title of youngest ever winner of the Legends Car Series Pro Division.
Those are just a few highlights of his wildly successful career Chris Buescher's had so far. In this NASCAR driver profile, we'll explore his history and the rest of the reasons Buescher is on our racing radar.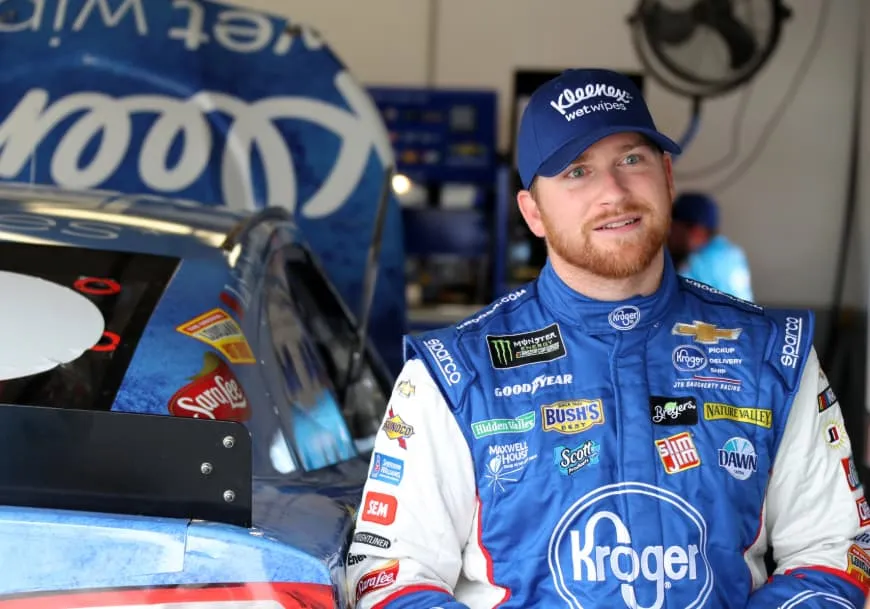 Fast Facts:
Born: October 29, 1992
Hometown: Prosper, Texas
Height: 5'11"
Began racing motorcycles at age 6
2011 ARCA racing series Rookie of the Year
In 2012 became the only driver to ever complete every lap of an entire season in the ARCA series
Cousin of 2012 NASCAR Camping World Truck Series champion James Buescher
Biggest Results:
2012 ARCA Series champion
2015 Xfinity Series champion
2014 Nationwide children's Hospital 200 at Mid-Ohio Sports Car Course
2015 3M 250 at Iowa Speedway
2015 Buckle Up 250 Pres. by Click It or Ticket at Dover
2018 Pennsylvania 400 at Pocono
Chris Buescher Bio
Growing up in a racing family from Texas and driving motorcycles before grade school is a pretty good indication that someone is destined for a career in speed racing.
That's exactly what the future had in store for Chris Buescher.
He's made swift moves through the ranks in NASCAR as his domination in ARCA Series led to a step up into Xfinity racing, followed by his current permanent position as a full-time Monster Energy NASCAR Cup Series driver racing for JTG Daugherty Racing team.
2019 will be his fifth full season at the highest level and expectations for him are high.
NASCAR Xfinity Series and Monster Energy NASCAR Cup Series
Chris Buescher has had success at every level of racing he's competed in.
In four years of Xfinity Series racing, he had 36 top-10 finishes in just 74 races. That's an incredible percentage considering the competition. Of those top-10 finishes, three were wins – once in 2014 and twice in 2015.
Buescher competed for four years in the Cup Series where his highlights include eight top-10 finishes and a cork-popping podium win at the Pennsylvania 400 in 2016.
First NASCAR Win
Buescher had his breakthrough NASCAR win at the Nationwide Children's Hospital 200 at Mid-Ohio on August 16, 2014. At the time he was driving the No. 60 Ford for Roush Fenway Racing.
His first Cup Series win came two years later in the Pennsylvania 400 at Pocono Raceway.
The win was a memorable one as not only did he take a late lead being on an altered pit sequence, it has also happened just as a large cloud of fog fell onto the course. After close to an hour of delay, and with the forecast worsening, officials decided to call the race with Buescher in the lead.
The win also made Buescher the first rookie to win at Pocono since Denny Hamlin in 2006.
Career-Best Season
Statistically speaking, 2012 and 2015 are Buescher's best seasons in ARCA Series and Xfinity Series racing, respectively.
In 2012 he won four races and finished top-10 sixteen times while taking home the season championship.
In 2015, while racing in the Xfinity Series, he added another season-champion trophy to his case as his incredible year saw him finish in the top-10 in 20 of the 33 races he competed in.
Two of those twenty results were outright wins which happened in Iowa and Dover Speedway less than two weeks apart.