There's never a dull moment when Charlotte, North Carolina's Corey LaJoie is behind the wheel.
Although he's drawn the ire of many in NASCAR over the years, LaJoie has been able to carve out a solid racing career and has earned a full-time spot in the sport's most elite division, the Monster Energy Cup Series, since 2017.
LaJoie had racing in his blood from a young age, with his father Randy LaJoie also racing NASCAR and scoring two victories in the former NASCAR Busch Series.
While the younger LaJoie hasn't had quite the success of his father yet, he's proved himself to be a capable driver who has what it takes to win. Keep reading to learn more about Corey LaJoie's driving career, highlights, stats and more.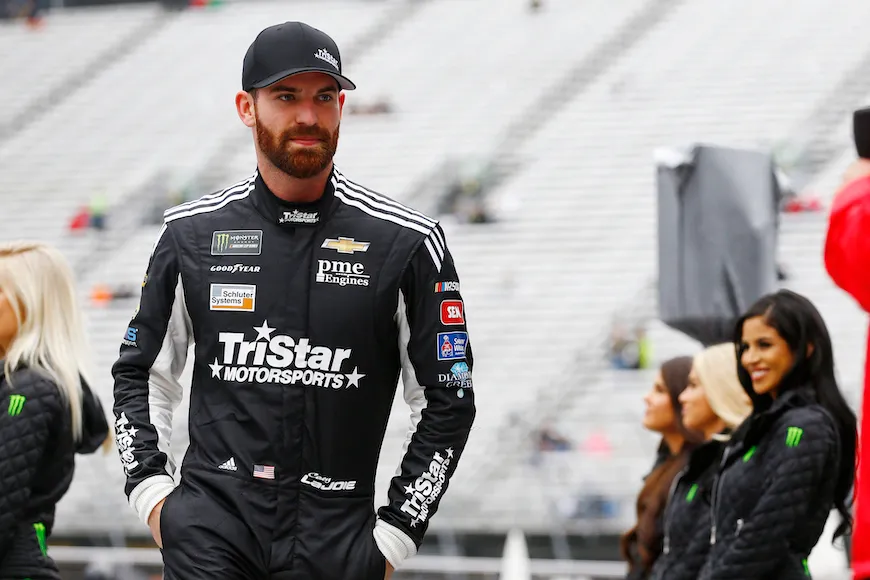 Fast Facts:
Full Name: Corey Daniel LaJoie
Hometown: Charlotte, North Carolina
Born: September 25th, 1991
Height: 6'1"
Current Home: Concord, North Carolina
Father: Randy LaJoie (two-time NASCAR Busch Series Champion)
Career Highlights:
Started competing in kart events at five years old
12 career wins in INEX Bandolero Series
Won 10 of 12 races in Aaron's Pro Challenge Series
Three career wins in ACRA series
Six career wins in NASCAR K&N Series (Five wins in 2012)
Made Xfinity debut in 2013
Made Monster Cup debut in 2014
Full-time on Monster Cup Series circuit since 2017
Corey LaJoie Bio
While Corey's father Randy LaJoie is still the most well-known race car driver in the family, Corey LaJoie is actually a third-generation racer. His grandfather Don LaJoie is actually a member of the New England Auto Racing Hall of Fame.
Corey's father Randy won twice on the Xfinity Series in 1996 & 1997. That probably explains why Corey LaJoie was competing in go-kart races at the age of five.
After dominating kart racing as a youngster, LaJoie slowly started competing in vehicles with a little more power. He competed in other developmental circuits in his teens such as the INEX Bandolero league, Aaron's Pro Challenge Series, and the UARA-Starts Late Model Touring Series.
After picking up wins in all of those leagues (including 10 of 12 in Aaron's Pro Challenge Series), LaJoie made the move the NASCAR's K&N Pro Series circuit in 2009 as a 17-year-old.
LaJoie Catapults from K&N Upwards
LaJoie proved early on in the K&N circuit that he could compete against top drivers. He raced two years part-time in 2009 and 2010, where he ended up with three top-five finishes in seven races.
He went full time right before the 2011 season and turned heads with four top-five finishes in 12 races. However, it was the 2012 K&N season that really put LaJoie on the racing world's radar. He won his first race in June, 2012 at Bowman-Grey stadium, and finished in the top five in 10 of 14 races that year.
After enjoying success on the K&N circuit, LaJoie dabbled in a number of different NASCAR leagues. He made his Xfinity debut in 2013, Cup Series and Gander Outdoors Truck debut in 2014.
It wasn't until 2017 that LaJoie found a permanent home in the Monster Energy Cup Series. His best race to date was the Daytona 500 in 2017 where he finished 11th overall, despite qualifying in controversial fashion.
Controversies Plague LaJoie
Both LaJoie and Reed Sorensen were considered "open" drivers heading into the 2017 Daytona 500. Both were the only open drivers without a guaranteed spot. With 15 laps to go in qualifying, LaJoie spun out Sorensen, who was incensed after the race.
LaJoie admitted to feeling bad after the race but Sorensen was upset.
"I really do feel bad about Reed," Lajoie said in an article from Frontstretch. I just tried to fill a hole, but it was getting down to it. I probably did have position on him. I'm trying to get into the Daytona 500. If my mom was in that spot, I would probably wreck her, too."
LaJoie also had to go through sensitivity training with NASCAR after an offensive tweet surfaced in 2013.
Despite the controversies, LaJoie will look to put that behind him and gun for his first top-ten finish in NASCAR Cup Series when he drives for Go Fas Racing in 2019.