Hermie Sadler, older brother of current NASCAR driver Elliott Sadler, has had a long and successful racing career and today remains on the NASCAR scene in a television capacity working during races as a pit reporter.
His efforts are focused primarily on NASCAR Grander Outdoors Truck Series events for FS1 broadcasts.
The Sadlers are a well known racing family as Hermie's father, uncle and brother have all been behind the wheel in professional races.
Hermie started young and was a national karting champion in 1988. Just five years later he found himself on the Xfinity Series (then called Busch) circuit and performed well enough to win Rookie of the Year honors.
Sadler's daughter, who was diagnosed with autism in 2001, is the driving force behind his crusade to help and contribute to the ongoing pursuit of autism awareness and scientific research. He and his brother have created the Hermie and Elliott Sadler Foundation which accepts charitable donations for the cause.
In this article, we'll dig into the details around Hermie Sadler's racing career, highlights, stats, bio and lots more.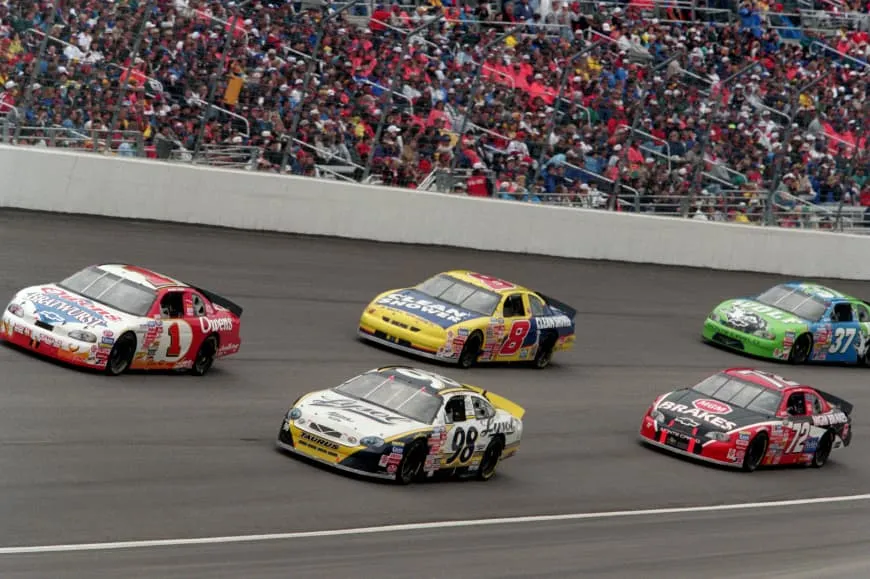 Fast Facts:
Full name: Herman Marion "Hermie" Sadler III
Born: April 24, 1969
Hometown: Emporia, Virginia
Height: 6'2"
His younger brother Elliott Sadler also races in NASCAR.
Married to wife Angie and together they have three daughters: Cora, Halie, and Naomi.
Owns and operates an Italian restaurant called Fosho in his hometown.
Graduated from the University of North Carolina.
First Nationwide win came in his rookie season.
Biggest Results:
1993 – Polaroid 300 at Orange County Speedway
1994 – Pantry Stores 300 at Orange County Speedway
1996 – Sears Auto Center 250 at Milwaukee mile
1997 – Moore's Snack 250 at Bristol Motor Speedway
1997 – Detroit Gasket 200 at Michigan Speedway
2003 – Flagstar 200 at Michigan International Speedway
Hermie Sadler Bio
Hermie Sadler's impressive 1993 debut on the Busch Series scene, where he placed 10th overall on the season and won Rookie of the Year, really set his career off on a skyward trajectory.
That year included his first NASCAR top-level race win and he proved it was no fluke by repeating the feat the following season.
Although he had a healthy dose of Cup Series races in his career, his bread and butter was the Xfinity Series and his two wins and 3 pole positions highlight his accomplishments at that level.
As an interesting side note, we should mention that Hermie also has a lengthy professional wrestling resume that started in 2002 in Total Nonstop Action Wrestling, followed by the United Wrestling Federation in 2005, and then once more in Global Force Wrestling from 2014-2017.
NASCAR Xfinity Series and Monster Energy NASCAR Cup Series
Sadler has 66 Cup Series races under his belt but unfortunately has never had a top-10 finish.
His Xfinity Series career has been far more illustrious and started off with a bang. He has two career wins and they both came early on. On top of that, he won the pole three times and has 18 total top-5 finishes.
In his 15 career Truck Series races his best performance was 5th place in the 1995 Goody's 150 at Martinsville Speedway.
First NASCAR Win
Hermie Sadler's first career win came in 1993 when he raced in the Busch Series Polaroid 300 in Rougemont North Carolina. He won his only other NASCAR race sixth months later on the same track.
Career-Best Season
1993 was Sadler's best season when you consider it was his breakout season and he won the Rookie of the Year for all new Busch Series drivers.
You could argue, however, that statistically speaking he performed even better in 1994 when he also had a race win but had more top-5 and top-10 finishes.