JJ Yeley's initials stand for Jimmy Jack but this driver's real name is actually Christopher Beltram Hernandez Yeley. He gets his famous alliterative nickname from his grandfather and a family friend, respectively.
The 42-year-old cut his teeth in Quarter Midget racing and then in the United States Auto Club (USAC) National Series before moving into the Indy Racing League.
Yeley made a big mark on the racing world at a relatively young age. In 2003 he became just the second driver, after Tony Stewart in 1995, to win the "Triple Crown" of USAC racing by winning the National Sprint, Silver Crown, and National Midget Series all in the same season.
Throughout his lengthy NASCAR career Yeley has represented several teams. In 2018 he re-joined forces with former team BK Racing. Let's take a look at the past, present and future of JJ Yeley's career.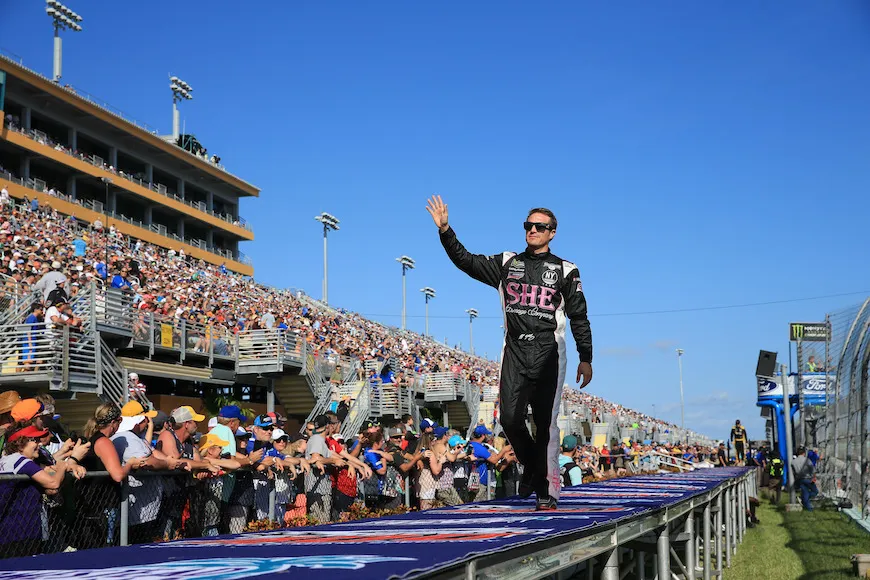 Fast Facts:
Full name: Christopher Beltram Hernandez Yeley
Nickname is Jimmy Jack which is an homage to his grandfather and a family friend
Born: October 5, 1976
Hometown: Phoenix, Arizona
Height: 5'9"
3-time Xfinity Series pole position winner
1997 USAC Sprint Rookie of the Year
2001, 2003 – USAC Sprint champion
2002, 2003 – USAC Silver Crown champion
2002, 2003 Non-Winged Driver of the Year
2003 USAC – "Triple Crown" winner
2003 USAC – Midget champion
Biggest Results:
2006 – Hershey's Kissables 300 at Daytona International Speedway
2006 – Aaron's 312 at Talladega
2006 – Winn-Dixie 250 at Daytona
2007 – Coca Cola 600 at Lowe's Motor Speedway
2008 – Lenox Industrial Tools 301 at New hampshire Motor Speedway
2007 – Citizens Bank 400 at Michigan International Speedway
JJ Yeley Bio
JJ Yeley broke onto the racing scene in a big way. In 1998, at age 21, he became the youngest (at the time) driver to qualify for the Indianapolis 500.
In NASCAR, Yeley has nearly equal experience in both Xfinity Series and Monster Energy NASCAR Cup Series competition and in total it reaches nearly 600 races. Although he doesn't have a win in either division, he does have four pole victories.
Although he doesn't have a win yet, his stats suggest that he's certainly capable of it.
NASCAR Xfinity Series and Monster Energy NASCAR Cup Series
In 13 years of racing spread across both Xfinity Series and Cup Series racing, Yeley is one of the rare driver who seems to split time evenly in both divisions.
In Cup Series racing he has 276 races which includes 1 pole win and 8 top-10s. His best two finishes were a 3rd place result in 2008 and 2nd in 2007.
At the Xfinity Series level, in 314 races he has three pole wins and a whopping 46 top-10s. Of those he's been second twice and third three times.
First NASCAR Win
It's quite unfortunate that in close to 600 races Yeley still does not have a first place finish on his resume. It's not like he hasn't been close with four separate second place finishes across both divisions and multiple third place results.
Career-Best Season
2006 was Yeley's best Xfinity Series (then Busch Series) season. On top of three pole wins, he also had 22 top-10 finishes including one second-place result.
He then followed up that season with his best Cup Series year in 2007. That season he posted impressive numbers that included one pole win and four top-10s. That year was also the closest he ever got to winning the checkered flag as he came second at the Coca Cola 600, losing a tight race to Casey Mears.