To put it simply, Joey Logano has been one of the best drivers in racing for the last decade and things really came together when he had his best season ever in 2018. After years of success and accolades in NASCAR, Joey Logano earned a major feather in his cap by becoming the Monster Energy Cup Series champion.
It's hard to believe but ever since he was 19 years old, Logano hasn't missed a race on NASCAR's Cup Series circuit. Now, after ten years of racing in the sports highest division, Logano is truly sitting on top of the NASCAR world.
Keep reading to learn about Logano's amazing journey to becoming one of the best NASCAR drivers in the sport's history.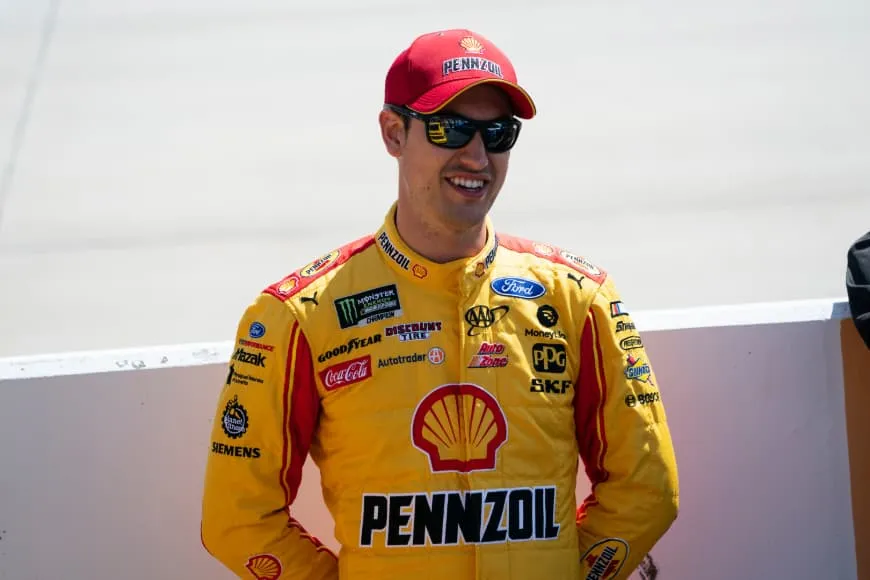 Fast Facts:
Full Name: Joey Logano
Nickname: Sliced Bread
Born: May 24th, 1990
Birthplace: Middletown, Connecticut
Wife: Brittany Baca (2014)
Siblings: Danielle Logano
Parents: Tom Logano, Deborah Logano
Height: 6'1"
Career Highlights:
Youngest Xfinity race winner (18 years, 21 days)
Youngest Sprint Cup series winner (19 years, 35 days)
2012 Xfinity Champion with Joe Gibbs Racing
30 career wins on the Xfinity series
21 career wins in Sprint Cup Series
2018 Monster Energy Sprint Cup Series winner
Joey Logano Bio
Like many professional racers, Joey Logano was racing competitively from a very young age. In Logano's case, he started at six years old in quarter midget races and late model races. Before he turned 10 years old, he had already won multiple regional championships.
Although many professional racers win when they are young, in Logano's case it was clearly a sign of big things to come.
Logano's family moved to Georgia and Logano continued to rack up wins on the track. He won the Bandolero Series Championship, set records at Atlanta Motor Speedway and won multiple races on the USAR Hooters Pro Cup Series.
Logano's Record-Breaking Rookie Success
By the time he reached NASCAR, Logano was plenty used to winning, and that didn't stop when he entered the Xfinity circuit as an 18-year-old. He made NASCAR history in just his third NASCAR race when he became the youngest driver to ever win a race at 18 years old and 21 days.
His rookie year was dominant, and it was only the beginning. Logano had 14 top-ten finishes in 19 races that season, spurring sponsorships that most drivers can only dream of. More financial backing allowed him to race full-time in the Monster Energy Cup Series from the 2009 season onwards.
Logano didn't let his sponsors down with an incredible rookie performance in Cup Series racing. He broke another record by winning his first race in that division at 19 years old and 35 days. By the end of the season, he had snuck into 20th place in the final standings.
For the next four seasons from 2010 to 2013, Logano was a mainstay in the top-ten during most races. He earned two more wins in those four years along with a plethora of top-ten finishes, However, the 2014 Cup Series season was Logano's real coming out party.
Logano Joins the Elite
After winning three races over his first four full Cup Series seasons, Logano shot up the rankings with five wins during his 2014 campaign. His first two wins both came in April at Texas Motor Speedway and Richmond. He was also victorious in Bristol, New Hampshire, and Kansas.
Logano finished a career-best fourth in the final standings that year. He followed that up with six more wins in 2015, even though he fell to sixth in the standings.
2016 was another career-best year for Logano, but it ended in heartbreak during the final race. Logano led the final race at Homestead for 45 laps but collided with Carl Edwards towards the end of the race, ending his chances of bringing home the championship. Logano finished 2nd overall in the standings.
The following year was a forgettable one for Logano's standards, but 2018 was the year he finally brought home a championship. Logano won two of his final four races, including the season finale in Miami. That victory was enough to give Logano his first career Cup Series championship, cementing his legacy as one of the best drivers of this generation.