Professional racing is known for having a few bad boys but Josh Bilicki is definitely one of the good guys. Bilicki and the rest of the team at Prevagen are proud sponsors of three amazing charities: Pets for Patriots, Vitamin Angels, and the Patriot Education Fund.
At just 23 years of age he is one of the youngest competitors on the scene and he's already competed in over 40 races in the Xfinity Series and Monster Energy Cup Series combined.
Even though he's yet to have any top 10 finishes, his early life track record suggests it's only a matter of time before we see him on the podium.
Let's take a closer look at Bilicki's short but growing track record.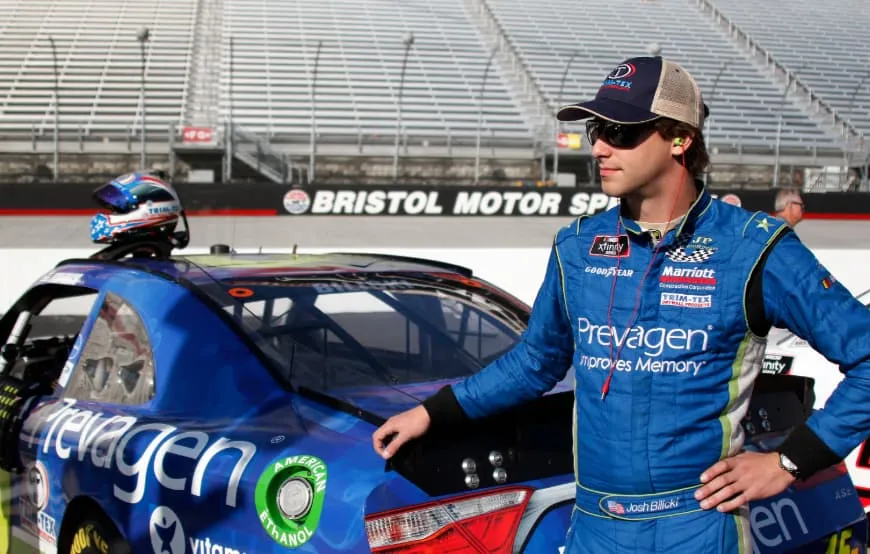 Fast Facts:
Hometown: Menominee Falls, Wisconsin
Born: June 3, 1995
Started kid-karting at age 4.
Won 2008 Road America SKUSA Super-Nationals
Teaches driving in his personal time
Donates time and money to multiple charities via his Prevagen sponsorship
Winner of the "25 Hours of Thunderhill" which is America's longest endurance race
Biggest Results:
2017 Xfinity Series – Johnsonville 180 at Road America
2018 Xfinity Series – Kansas Lottery 300 at Kansas Speedway
2018 Xfinity Rock n Roll Tequila 170 at Mid-Ohio Sports Car Course
2018 Xfinity Series – Drive For The Cure 200 at Charlotte Motor Speedway
Josh Bilicki Bio
Talent has shown through often in Josh Bilicki's young career.
In 2011, at the age of 15 and with just one year of sportscar racing under his belt, he earned two pole positions, four top-five finishes, and three podiums racing with the Sports Car Club of America (SCCA).
Given the amount of success Bilicki has had coming through the ranks, we're confident he won't be searching for his first top-10 finish on either the Xfinity Series or Monster Energy Cup Series for much longer.
His first early teenage transition from Shifter Karts to sportscars was seamless and with a bit more experience we expect his driving chops to help him climb the yearly rankings.
Before making the jump to the big leagues, Bilicki proved his worth in the 2017 Trans Am Series when he took home third place at Daytona International Speedway.
Having had tutelage with the Obaika Racing team, Rick Ware Racing, and most recently signing to B.J. McLeod Motorsports, each passing race and season is sharpening Bilicki's skills and getting him ready for something big.
NASCAR Xfinity Series and Monster Energy NASCAR Cup Series
Josh Bilicki is still very fresh on the Monster Energy NASCAR Cup Series scene. He's only competed three times over the course of two years.
Slightly more experienced in Xfinity Series events, Josh has 38 races over the same time frame with his best result coming at his home track at Road America in Wisconsin in 2017. Finishing just outside the top-10 with a twelfth place result, he was able to race down Elliott Sadler on the final green flag in front of dozens of friends and family in attendance.
First NASCAR Win
At the moment we have no wins to report, but that just makes the wait even more gratifying. Having shown improvement since his rookie year, chances are, if he keeps perfecting his craft, that we will need to come back to this page and update this section to report his first victory on tour.
Josh Bilicki Career-Best Season
To date the twelfth place finish at Road America is Josh Bilicki's most impressive showing. Consistency is beginning to shine through in his racing, however, as Bilicki posted five top-25 results in 2018 in a limited number of races.
All of those finishes came under the guidance of team J.P. Motorsports and in conjunction with his other sponsor Prevagen with whom he proudly shares charity foundations with.