Despite never racing full-time on any of NASCAR's circuits, Justin Marks was able to carve out a successful career with a few very memorable highlights. We're using the past tense here because Marks announced his retirement from NASCAR at the end of 2018.
The St. Louis native moved to California when he was eight years old and soon discovered a love for racing. He attended racing school while in high school and that early experience ultimately turned into a roughly two-decade career competing at the sport's highest levels.
Marks is now stepping away from driving to focus more on his family and children. Luckily for Marks, he managed to score a NASCAR victory before he announced his retirement.
Keep reading to learn more about Justin Marks' career including highlights, stats, bio and lots more.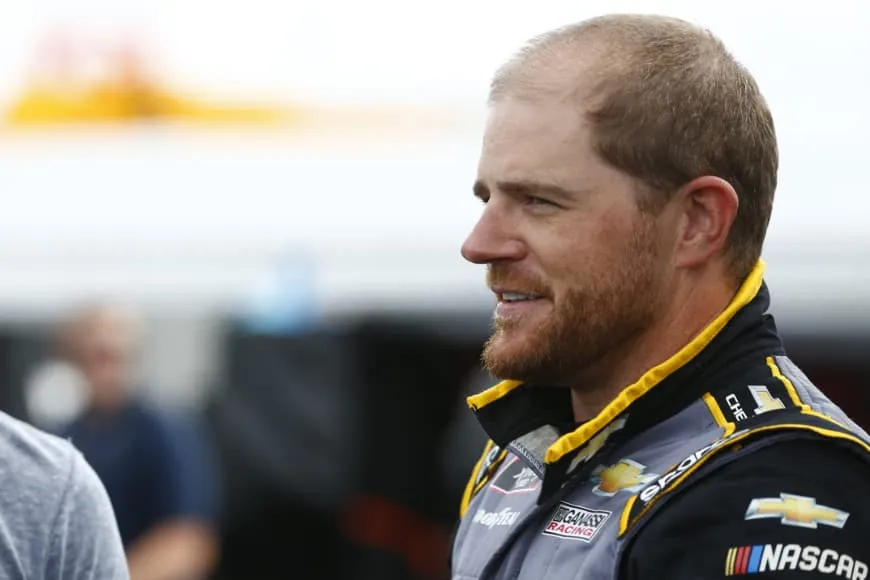 Fast Facts:
Birthplace: St. Louis, Missouri
Born: March 25th, 1981
Current Home: Rocklin, California
Attended California State University
Father Michael Marks is a minority owner of the Golden State Warriors.
Career Highlights:
Two 23rd overall finishes in final standings in Gander Outdoors Truck Series (2008, 2011)
Four wins in 12 races on Rolex Sports Car Series in 2004
First ARCA Racing Series win in 2010
First Xfinity race in 2008
First Monster Energy Sprint Cup Series race in 2013
First Xfinity win in 2016 at Mid-Ohio
Justin Marks Bio
Ever since he was a teenager, Justin Marks worked on balancing racing with school. He did so in high school, and he did so throughout his tenure at California State University.
In the end, though, it was racing that won out over academics. Marks withdrew from college just short of getting his degree in sports marketing so that he could focus full-time on racing.
The choice was motivated by Marks' early success as a young driver. After graduating high school, Marks raced in the SCCA Regional Racing Series and Speed World Challenge Series. His success there allowed him to compete in the Rolex Sports Car Series, where he dominated for two straight seasons.
In 2004, Marks had four wins and six podium finishes. He kept that success going in 2005 with three wins and seven podium finishes. His success there allowed him to move up further to ACRA Racing Series and the Gander Outdoors Truck Series.
Marks Makes NASCAR Impact
After some moderate success in Gander Outdoors Truck Series, Marks made the jump to Xfinity Series racing in 2008, competing in his first race at Montreal.
For the most part, Marks was just an occasional participant on the Xfinity circuit. However, he continued to race for a number of teams lots of other leagues as well. That included some near complete seasons in the Gander Trucks in 2008 and 2011. He also competed full-time on the ARCA series in 2010, where he came away with one win and seven podium finishes in 20 races.
2014 and 2015 for Marks saw some great success albeit in a limited number of races. He had two top ten finishes in just five races over those years, and it allowed him to race in 17 races on the Xfinity circuit in 2016.
That 2016 season brought about one of Marks of memorable moments. He only had one top-ten finish in those 17 races, but it was a victory. The event was a rainy one, and Marks dedicated the win to Bryan Clauson, who passed away in a tragic accident just a week prior.
Marks Retirement Announcement
At the age of 37, Marks announced his retirement from the sport to focus on his family and his other entrepreneurial endeavors.
His decision to retire was from the heart, as he told Kick in the Tires in an interview in 2018.
"The last six years of my career, I have not supported my family with [racing]," Marks told Kick in the Tires. "It's not what dad does to put food on the table. When the kids start to grow older and get bummed out about dad leaving for the track for four days, it's hard to look them in the eye and tell them I'm doing this for the family. That played a big role in it.
"I wasn't supporting my family because I was working really hard to build my businesses," he said. "When I wasn't in the car — we opened the Motorplex in 2012. I've spent the last couple of years building those businesses. I always considered that being my career."
Marks founded a business called GoPro Motorplex, a karting facility located in North Carolina. Also involved in the business is fellow NASCAR driver Michael McDowell. He originally planned to retire from NASCAR 18 months after funding it in 2012, but it took him six years to finally fulfill that promise.