There have been many astonishing rookie performances throughout NASCAR's storied history, but the tale of Kyle Larson ranks right up there as one of the best.
Larson drew interest in his teens from both NASCAR and Indy racing but decided to sign with Chip Ganassi Racing in 2012 when he joined the K&N Pro Series. That year Larson put on a jaw-dropping breakout season performance.
We'll go into more detail in the bio below but suffice to say, Larson became the K&N Pro Series Rookie of the Year after finishing first overall at the end of the season.
Over the next two years. Larson added more hardware to his shelf on both the Xfinity Series and Monster Energy Cup Series, NASCAR's two most elite divisions.
Keep reading to learn more about Kyle Larson's driving career, stats, highlights and more.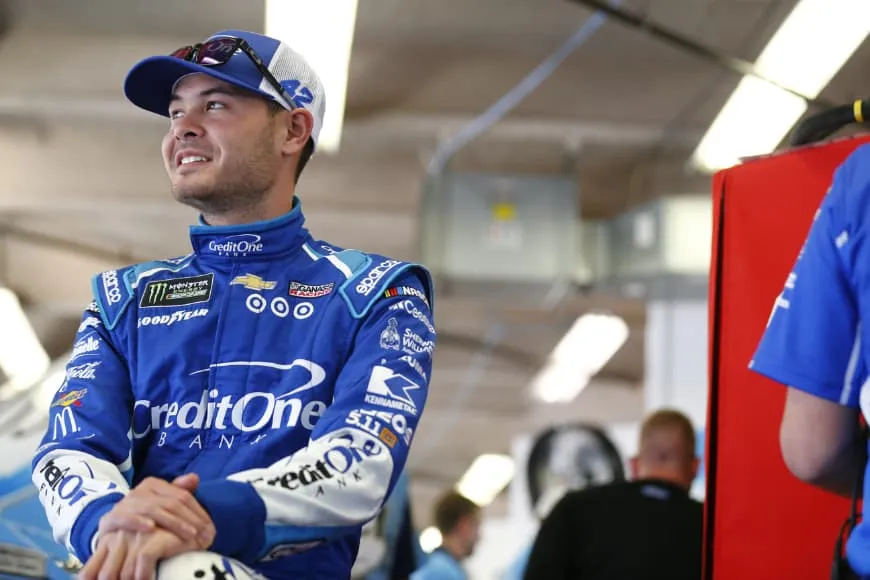 Fast Facts:
Full Name: Kyle Miyata Larson
Birthplace: Sacramento, California
Born: July 31st, 1992
Hometown: Elk Grove, California
Height: 5'6"
Weight: 135 pounds
Wife: Katelyn Sweet
Parents: Mike Larson, Janet Larson
Career Highlights:
2012 K&N Pro Series rookie of the year
2012 K&N Pro Series champion
2013 Xfinity rookie of the year
2014 Monster Energy Sprint Cup rookie of the year
Two career wins on Gander Outdoors Truck circuit (13 career races)
12 career wins on Xfinity circuit
5 career wins in the Sprint Cup series
Kyle Larson Bio
Lots of drivers got their first taste of racing at a young age but Kyle Larson might have them all beat. Kyle's parents said they took him to his first race when he was just one week old. Clearly, it was a sign of things to come.
Larson started racing in open-wheel circuits as a teenager, which is how he initially drew interest from Indy before choosing to sign in NASCAR. He raced in the United States Auto Racing Club and he raced in the World of Outlaws series before joining Chip Ganassi Racing in 2012.
His first season on the K&N Pro Series was pure domination. In a league where rookies can often take over, Larson shot out of the gate with 12 top-ten finishes in 14 races. He won his first race at Jefferson during the sixth race of the season and won once again at Loudon before season's end.
For an absolutely stunning season-long performance, Larson was named K&N Pro Series East Champion and Rookie of the Year.
Larson Continues Rookie Excellence
As a rookie in Xfinity Series, Larson was just as impressive.
He made the switch full-time to Xfinity prior to the 2013 season and was more than up to the challenge. He didn't miss a race in the entire 33-race season. Larson finished in the top-five nine times and finished in the top ten 17 times (more than half of the races).
It was deja vu all over again for Larson by the end of the 2013 season, after he was named rookie of the year again on the Xfinity circuit after finishing 8th overall in the final standings.
Larson was painfully close to winning on the circuit in 2013, with four second-place overall finishes. However, he's been rewarded on the Xfinity circuit ever since his rookie campaign. He hasn't raced full-time on the circuit since 2013 but has managed to win at least one race per season, including an astounding four wins in six races during the 2018 Xfinity season.
Larson's Deja Vu … Part Three
By 2014, it was clear that Larson was ready for NASCAR's top circuit, the Monster Energy Cup Series. His placement in the standings by the end of his first season in NASCAR's top tier was eerily similar to his rookie start in Xfinity the year prior.
By the end of the 2014 season, Larson had 8 top-five finishes and 17 top-ten finishes (compared to 9 top-fives and 17 top-tens in 2013 on Xfinity). That was enough to give him yet another Rookie of the Year award, narrowly edging out Austin Dillon.
Since then, Larson has gone on to be one of the top drivers in Cup Series racing which is saying something considering the competition at that level.
Larson won his first Cup Series race in 2016 and won four more in 2017. He's finished in the top ten for three straight seasons and in 2019 will look to improve on his 9th place finish from the end of the 2018 season.