Kyle Weatherman is still a relatively young racer and although he's still looking for a breakout win and more top-10 finishes, expectations are high for the driver from Missouri.
Weatherman's racing story started as a kid when his dad took him and his younger brother go-kart shopping. Kyle and his brother both went home with their own vehicle and the rest, as they say, is history.
Kyle's father not only taught him how to drive, he also instructed his son on the finer points of engine and vehicle mechanics. Kyle's technical vehicle knowledge ultimately helped him become the talented driver he is today.
In his mid-teens he was already a Bandolero go-karting national champion as well as a Legends Series National champion. By 15 he was already on the ARCA Menards Series circuit and despite not even running a full schedule in 2015 he earned Rookie of the Year Honors.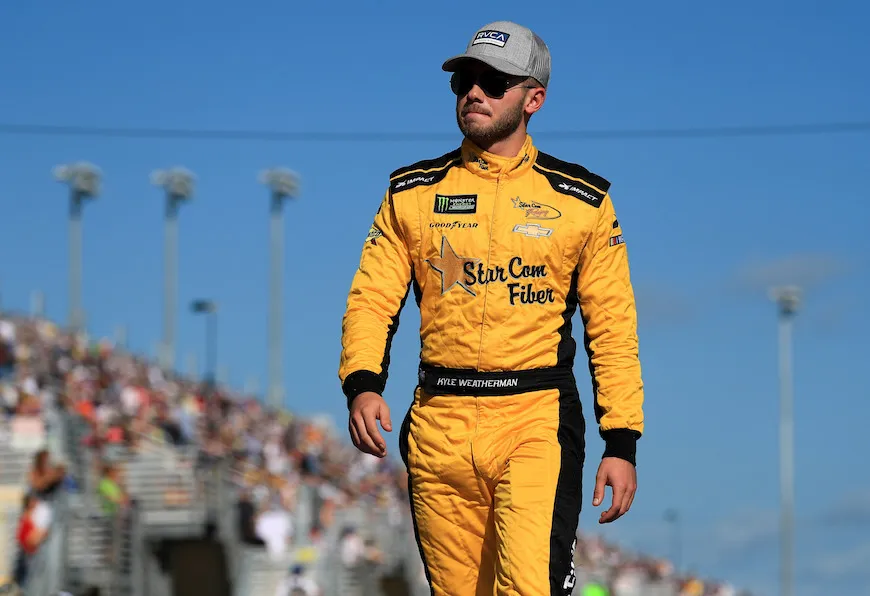 Fast Facts:
Born: August 28, 1997
Hometown: Wentzville, Missouri
4-time national champion (ARCA and previous)
Youngest International Motor Contest Association (IMCA) winner at 13 (twice)
Younger brother Clayton also races
Lived with his mentor, fellow NASCAR driver Chris Buescher, in Concord, North Carolina
Biggest Results:
2013 – Prairie Meadows 150 at Iowa Speedway
2013 – Kentuckian Ford dealers ARCA Fall Classic at Salem Speedway
2015 – ARCA Racing Series Rookie of the Year
2015 – ARCA 150 presented by Unique Pretzels at New Jersey Motorsports Park
2017 – Music City 200 at Fairgrounds Speedway Nashville
Kyle Weatherman Bio
Puns aside, Kyle Weatherman made it rain early in his career. With four national championships spanning multiple levels, plus a Rookie of the Year award in ARCA Series racing in 2015, it is safe to say that the forecast for this kid's future is bright.
While he is still relatively inexperienced at NASCAR's top levels, he's shown that he has the talent and the mental fortitude to learn and improve moving forward.
2019 and beyond should be very interesting for the young driver and his fans.
NASCAR Xfinity Series and Monster Energy NASCAR Cup Series
Weatherman has a total of 10 top national division NASCAR races under his belt so far in his career.
One was in the Camping World Truck Series and the other nine came at the Monster Energy NASCAR Cup Series level. His best finish thus far came in the 2018 South Point 400 in Las Vegas when he started 33rd but finished in 26th.
First NASCAR Win
We're still waiting for Kyle Weatherman's first NASCAR win but we shouldn't be waiting long. While Weatherman has been focusing on the top-tier Cup Series, it may also be prudent for him to try his hand at Xfinity Series racing to see if he can gain more experience.
Career-Best Season
2015 was an excellent season for Kyle Weatherman.
In ARCA Menards Series racing, on his way to winning Rookie of the Year, he had one win, three pole positions and finished second on four different occasions.
And he did all of that in just 15 of the season's 20 races.