Phoenix International Raceway
is well known for its scenic views, beautifully crafted race track configurations and, perhaps most of all, for its fan-friendly pricing, amenities, and overall value.
Most faithful fans who have been to Phoenix International Raceway still call it by that name. But technically, as of September 2017, they would be incorrect in doing so. The track has a new sponsor in Ingenuity Sun Media and it's new official name is ISM Raceway.
Originally, when the place was built in 1964, the intention was to make it western America's home of open-wheel racing. In fact, NASCAR stock car racing didn't even come to the raceway until fourteen years later 1978. It would be another decade still before any top level Cup Series events were held there.
All told, since Cup Series racing started in 1988, Mark Martin holds the all-time record for most Cup Series races at the track with 34. Of those 34 he finished top-20 in all but two. That's quite impressive. What's even more impressive is Kevin Harvick's track records: 16 top-5 finishes including nine victories.
The track hosts two Monster Energy NASCAR Cup Series events each year; one in March, the other in November. Harvick had a string of four straight wins across both spanning from the AdvoCare 500 in November of 2013 all the way up to the CampingWorld.com 500 in March 2015.
These days the two Cup Serie races are the TicketGuardian 500 which takes place in March and the Can-Am 500 in November. The venue also hosts two Xfinity Series races, one Truck Series race, and two USAC Series events per year.
This article is going to take a closer look at what makes Phoenix International Raceway so special. We'll dive a bit deeper into its unique history as well as what's happening at the track. Let's start with some of the most important stats.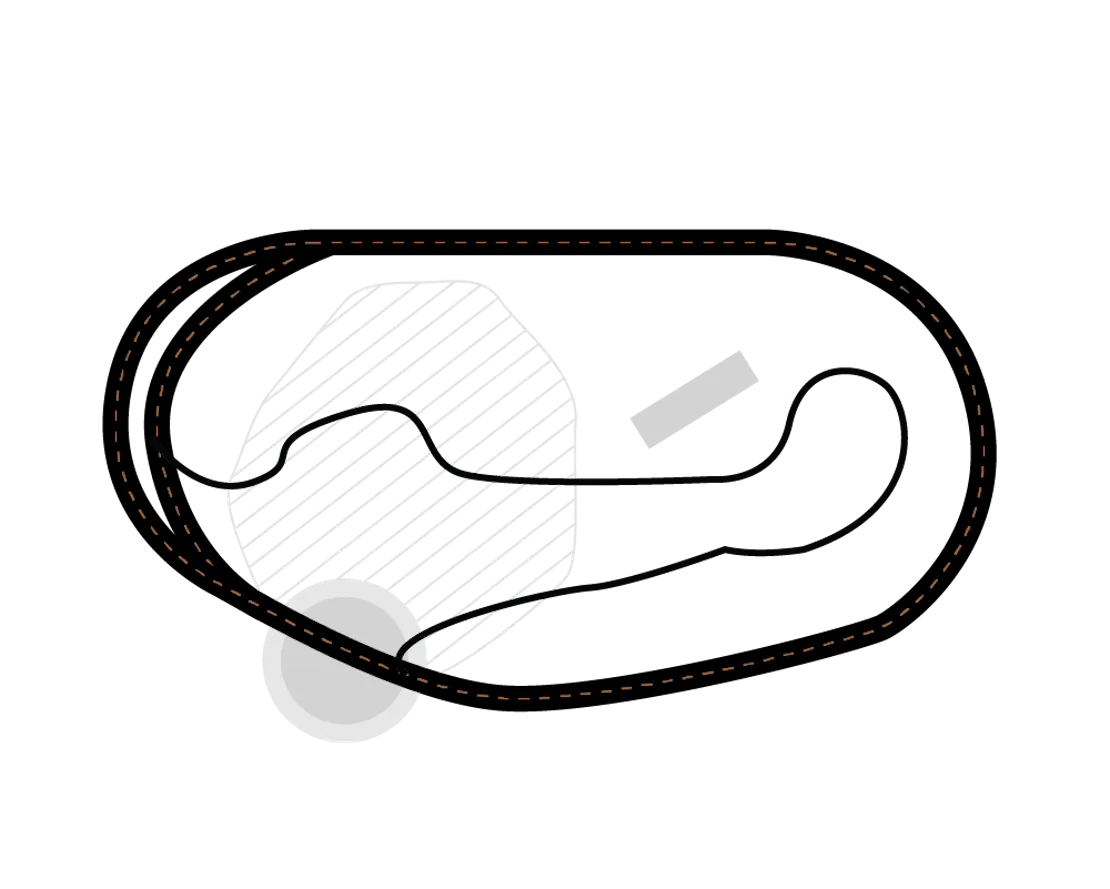 Fast Facts:
Location: Avondale, Arizona
Built in: 1964
Owned and operated by International Speedway Corporation.
Track Types: Dogleg Oval 1.022 miles (1.645 km); Road course 1.51 miles (2.43 km)
Oval turns: 4; turns 1 & 2 banked 8-9 degrees (variable), turns 3 & 4 banked 10-11 degrees (variable), frontstretch dogleg 10-11 degrees (variable), frontstretch banked 9 degrees, backstretch banked 3 degrees
Race lap record: 18.8701s Helio Castroneves with Penske Racing (IndyCar Series) 2017
Capacity 42,000
Major Races – Monster Energy NASCAR Cup Series: TicketGuardian 500, Can-Am 500 | NASCAR Xfinity Series: iK9 Service Dog 200, Whelen Trusted to Perform 200 | NASCAR Gander Outdoor Truck Series: Lucas Oil 150
Phoenix International Raceway History
Part of the allure of driving and viewing races at ISM Raceway is due to the Estrella Mountains and the surrounding landscape.
While it makes for a beautiful visual experience, it also literally impacts the driving thanks to the original road configuration adjusting and building around the terrain. This is most notable on the backstretch dogleg that doesn't comform to the standard oval shape.
Another unique track element created by the surroundings is the special viewing vantage spot called Monument Hill behind turns 1 and 2. Fans love it not just for the cool view but the more affordable family-friendly pricing.
Big changes were made to the track in 2003 to make it both faster and safer for spectators. Thanks in part to these changes, NASCAR announced that a second annual Cup Series race will be held at the venue starting in 2005. In unison with this addition, the track operators promised to put in a new state-of-the-art lighting system so that the second event can be run under the lights at night.
ISM Success Leads to More Upgrades
The two events proved to be a massive success and when combined with all the venue's other festivities, it is estimated that ISM Raceway brings in excess of $473 million in revenue each year.
That extra revenue is what lead to two major revamping projects that took place in 2010 and again in 2017.
The first project, in November of 2010 used a massive $100 million cash flow injection to do many refurbishings to the complex and the track itself. When they reconfigured the track, a main goal was to align the banking such that it would encourage side-by-side racing on a multi-groove track. The changes took just over a year to complete and first testers of the new course called road a "roller coaster" because of its changes in elevation going in and out of turns.
The 2017 enhancements, dubbed the Phoenix Raceway Project, were even more expensive, totalling in excess of $178 million.
Phoenix Raceway Project Sponsored by DC Solar
The latest upgrades to the facility were completed in November 2018. The lengthy list of additions included:
Seating capacity in the grandstand increased to 45,000. (in 2019 this has been reduced to 42,000.
Total renovated suites increased to 32.
Concourse renovations to improve foot traffic as well as upgrades on existing elevators and the addition of new escalators.
Changes and upgrades to guest services, medical aid facilities, and restrooms.
A Fanzone added to the infield as well as the brand new DC solar fan midway.
In field Busch Garage where fans can get up-close and personal with their favorite teams and drivers.
Multiple flat screen TVs across all common areas.
There were also several upgrades and changes made directly to the track itself to improve race performance. Those changes included:
Finish line relocated to where turn 1 and dogleg used to be.
Grandstand seating removed from frontstretch.
New pit road configured to have longer stalls and the pit entrance where the straightaway used to be making it on the new backstretch.
Experience the INfield
Another fan favorite activity at ISM Raceway is the INfield experience that allows fans to access a part of the infield via a newly made pedestrian tunnel that passes under the track. Fans willing to pay the premium for this opportunity get up-close look at the teams and drivers in one of the five brand new garages.
In most speedways they would be separated by a glass window barrier. At ISM there is no glass, you're just standing right there with them.
Before and after the race you can be a part of the introduction ceremony in the track's new crescent area or at the trophy celebration held at the extravagant Gatorade Victory Lane.
While you're there, become a part of history by signing your name right on the Start/Finish line.