Over the course of one of the greatest careers in racing, Kevin Harvick has pretty much done it all. Harvick has victories in all the major NASCAR divisions including Cup Series and Xfinity Series and he's even won the illustrious Daytona 500.
Harvick also became a celebrity off the track, appearing on tv shows like the Late Show with David Letterman, attracting sponsors like Budweiser, and getting to throw out the first pitch at a New York Yankees game.
Growing up, Harvick idolized four-time Indy 500 champion, Rick Mears, who was also from Bakersfield, California. While there was always a passion for racing, Harvick initially planned to go to school to become an architect but dropped out of school to pursue his NASCAR career full time.
Harvick will go down as one of the great legends of the sport and in this article, we'll dig into his career stats, history, highlights and more.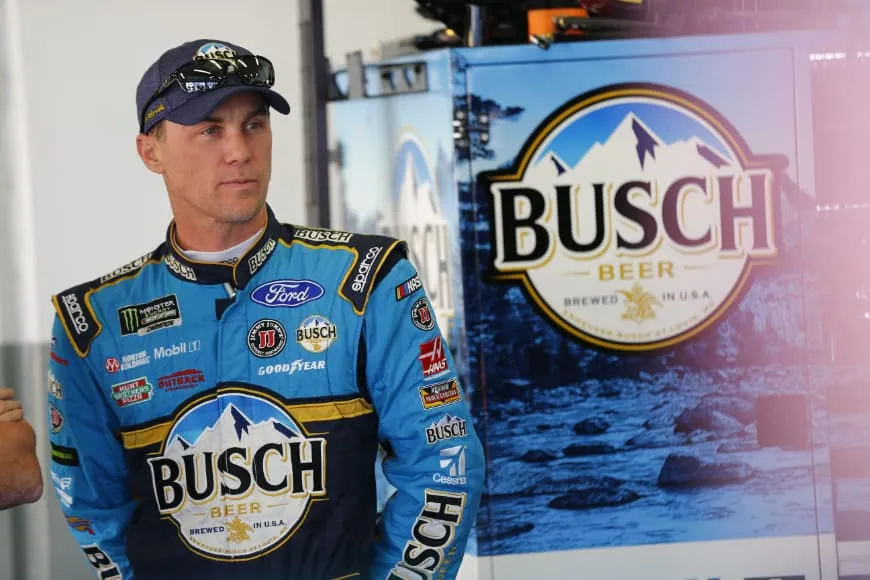 Fast Facts:
Born: December 8, 1975
Hometown: Bakersfield, California
Height: 5'10"
Won high school wrestling championship and also competed in soccer, baseball, basketball and football.
2014 NASCAR Sprint Cup Series winner
Two-time NASCAR Xfinity Series winner (2001, 2006)
Nicknamed 'The Closer' and 'Happy Harvick'
Once featured on MTV's Cribs
Considered by many to be one of the all-time greats
Biggest Results:
45 Cup Series win and 25 pole positions
47 Xfinity/Busch Series wins and 25 pole positions
2000 Busch Series Rookie of the Year
2001 Winston Cup Series Rookie of the Year
2001 Cracker Barrel Old Country Store 500 at Atlanta Motor Speedway
2000 Carquest Auto Parts 250 at Gateway International Raceway
2007 Daytona 500 at Daytona
2018 Rinnai 250 at Atlanta Motor Speedway
2018 AAA Texas 500 at Texas Motor Speedway
Kevin Harvick Bio
As a youth, Kevin Harvick's driving talent was obvious early on. He actually received a go-kart at age five as a kindergarten graduation present. By the time he was 16 he had seven national go-kart championships and had two Grand National championships on his resume.
These days Harvick is known as one of the greatest drivers in NASCAR history, in large part because of his incredible consistency and uncanny ability to come from behind and close out races.
Harvick is a former Cup Series champion (2014) and multi-time Xfinity Series champion (2001, 2006).
He's hard particularly good success at the Phoenix International Raceway, where he has a record nine wins. Harvick currently races for Stewart-Haas Racing.
NASCAR Xfinity Series and Monster Energy NASCAR Cup Series
In Xfinity and Busch Series events, Harvick has competed in 346 races over 20 years.
He has a total of 47 wins, with his best overall finishes being in 2001 and 2006 where he was the points leader at season's end. His last race win came in 2018 at the Rinnai 250 in Atlanta.
In his Cup Series career, Harvick has competed in 646 races over 18 years. He has 45 wins, with his best overall finish coming in 2014 where he was the points leader at season's end. His last win came in 2018 at the AAA Texas 500.
First NASCAR Win
Harvick's first NASCAR win came in St. Louis, Missouri at the Carquest Auto Parts 250 during the 2000 Xfinity Series.
His first Cup Series victory came a year later when he won the 2001 Cracker Barrel Old Country Store 500 in Atlanta winning by the slimmest of margins. The exact time had him 0.006 seconds ahead of Jeff Gordon at the finish line.
Career-Best Season
Hamlin's best season comes in 2014, where he took home his first and only Monster Energy NASCAR Cup Series title. He ended the season with five wins, eight additional top 5 finishes, and held the pole position in seven different races.
He ended the year with 5,043 total points and took home $12,762,411 in Cup Series winnings alone.