Spencer Gallagher started racing in the Bandolero Bandit Series at age 12 and it didn't take long for people to see that he had the chops to make it big.
Gallagher moved up to the Legends Car Series as a teenager before graduating to the Super Late Model Series vehicles in his early 20s.
But driving wasn't the only thing Gallagher succeeded at from a young age. He also possesses some serious business and academic acumen and at 19 was already holding down a lucrative position at a firm in silicon valley.
The son of Allegiant Air CEO Maury Gallagher, Spencer has already hinted at early racing retirement in 2018 and a full-time managerial role for his family-owned and operated GMS Racing.
Fortunately for his fans, he announced in early 2019 that he would continue to race on a part-time basis.
In this article, we'll take a close look at Spencer Gallagher's driving history, career highlights, stats and more.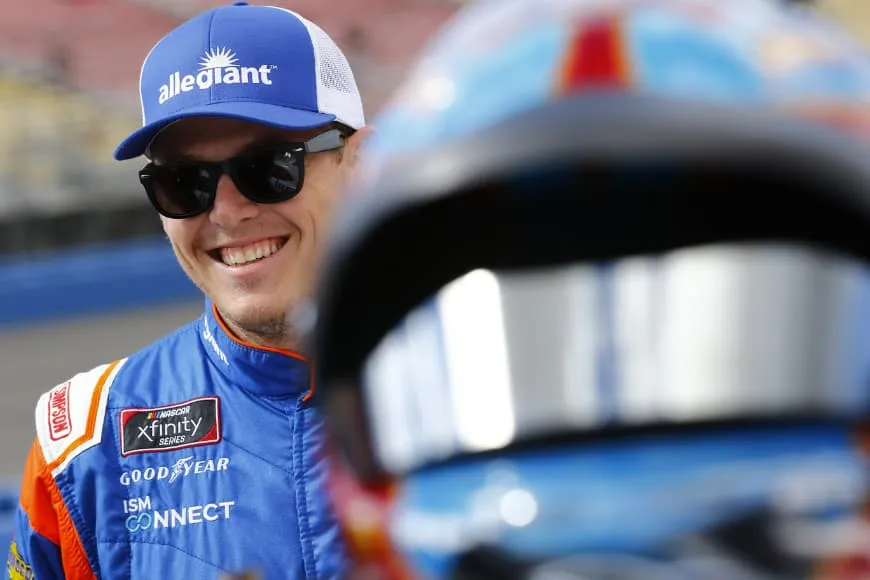 Fast Facts:
Hometown: Las Vegas
Date of birth: November 20, 1989
Grew up in the same neighborhood as fellow NASCAR driver Dylan Kwasniewski.
Father Maury Gallagher is CEO of Allegiant Air.
Nicknamed "Minister Gallagher" because he is ordained to officiate at weddings.
Biggest Results:
2018 Sparks Energy 300 at Talladega Motor Speedway
2018 Fitzgerald Glider Kits 300 at Bristol
2018 Bar Harbor 200 at Dover
2014 ARCA 98.9 at Kansas Speedway
Spencer Gallagher Elliott Bio
It has been a fairly level and flat career trajectory so far for Gallagher. With six years of Truck Series competition under his belt, he has 15 top-10s and two pole position wins to his name. His Xfinity statistics are similar, although he did have one recent breakthrough.
Gallagher, although hinting at retirement, hit what was most likely his career's pinnacle achievement in 2018 when he passed Tyler Reddick on the final lap of overtime of the Sparks Energy 300 at Talladega to win his first top-level NASCAR race. The jubilation was short-lived however when just four days later he was suspended by NASCAR for violating its substance-abuse policy.
NASCAR Xfinity Series and Monster Energy NASCAR Cup Series
Gallagher can now officially say he's raced at all three top NASCAR division levels. His first and only Monster Energy NASCAR Cup Series race came in August of 2018 at the Go Bowling at the Glen in New York.
He's had 59 career Xfinity Series races with twelve top-10 finishes and a champagne-popping podium win in 2018 at Talladega.
First NASCAR Win
Gallagher's first and only win was in 2018 at the Sparks Energy 300 at Talladega. It will be forever recorded with an asterisk next to it as he was handed a substance abuse violation suspension just four days after the race.
Gallagher's only other triumph at a top-level came in 2009 when he won the Silver State Road Racing Championship and then a year later taking home top spot at the INEX Legends Road Course World Finals.
Career-Best Season
2018 was Gallagher's best season and marked his only win on the Xfinity Series scene. He also had ten top-10 finishes as well as his debut performance at the Cup Series level.
While he planned to retire officially from racing at the end of the season, he announced on Jan 25, 2019, that he would come back to race part-time for JR Motorsport.