For some drivers, the road to racing's top levels is smooth but for Stephen Leicht, there were some big bumps in the road.
Leicht's first taste of driving was racing go-karts at just seven years old. However, a scary incident when he was 11 would keep him off the track for six months and put a big question mark over his future in racing.
When Leicht was competing in Go-Kart Nationals he made contact with a flag pole and was launched from his vehicle. The incident caused Leicht to suffer a burst spleen and he was sidelined for half of a year.
Despite that scary setback, Leicht returned to the track the following year which ultimately led to a successful career in NASCAR. Keep reading to learn more about Leicht's accomplishments.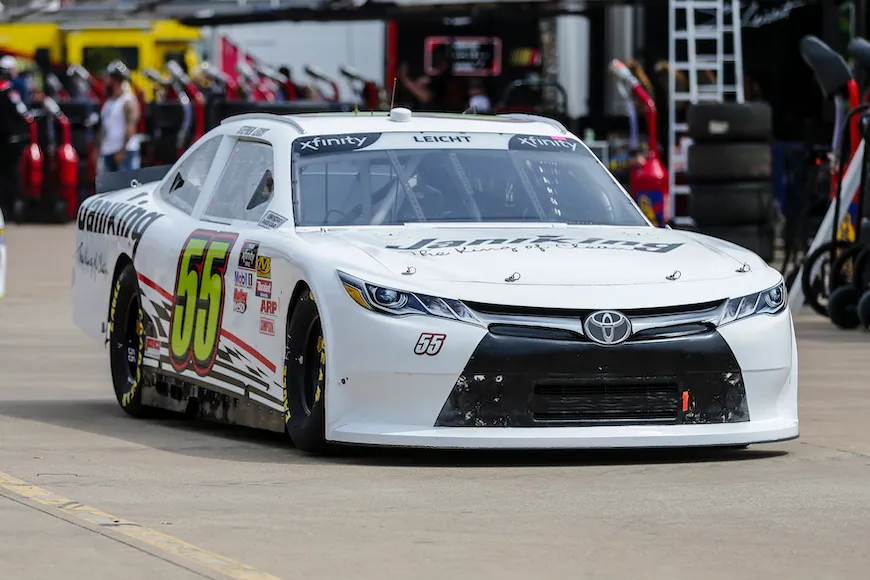 Fast Facts:
Full Name: Stephen Leicht
Born: January 9th, 1987
Birthplace: Asheville, North Carolina
Height: 5'10"
Moved to Wisconsin in 2005 to focus on a racing career
Career Highlights:
Motorsports Magazine Rising Star of the Year in 2000
2005 American Speed Association Late Model Champion
Xfinity Debut in 2005
First Xfinity win in 2007 (Kentucky)
2012 Monster Energy Sprint Cup Series Rookie of the Year
Stephen Leicht Bio
Despite suffering that scary incident as an 11-year-old out on the go-kart tracks, Leicht wasn't deterred from competing on racing circuits.
By the time he turned 12, Leicht was back out on the course. In fact, he got his GED early in his teens so that he could focus on racing full-time. In 2000 as a 12-year-old, Leicht was even named Motorsports Magazine's Rising Star of the Year for his eye-popping performances driving stock cars.
In 2005, Leicht made the hard decision to leave his home state of North Carolina to move to Wisconsin and race for Howie Lettow of the American Speed Association. He collected five wins that year and ended up as the American Speed Associations Late Model Champion.
That performance was enough to get himself a shot on the Xfinity Series that same year. Leicht competed in two races and finished in the top 15 both times.
In 2006, Leicht competed in more than half of the races for Xfinity (20 of 35) as a 19-year-old. His rookie campaign was met with moderate success. Leicht had one top-ten finish, although the opportunity was there for more with four top-ten starts.
However, he stuck with Robert Yates Racing for the 2007 season, where he improved drastically on the track. Leicht competed in all 35 races that season, winning his first-ever event in Kentucky. He also had two more top-five finishes that year and finished seventh overall in the final standings.
Leicht Forges Fame in Sprint Cup Series
After his career-best year in 2007, there was a bit of a lull in Leicht's career. He bounced between teams and raced part-time in different circuits before declaring rookie status in the Monster Energy Cup Series in 2012. He raced in 15 of 36 races that year, but it's all he needed in order to be named Cup Series Rookie of the Year.
It was impressive that Leicht achieved the feat despite competing in less than half the races. Nonetheless, he still finished 32nd overall in points on the year and enjoyed one top-ten finish.
After that, Leicht took a four-year absence from the sport following his rookie success. However, he rejoined NASCAR in 2017 by competing in six Xfinity races and one Cup Series race. In 2018, he raced in Xfinity on a part-time basis, competing in about half of the races for JP Motorsports, RSS Racing, and Mike Harmon Racing.
In 2019 Leicht will do something he hasn't done in over a decade: compete on the Xfinity circuit on a full-time basis. He hasn't done that since the 2007 season but has officially joined JD Motorsports to race the No. 1 car for the 2019 Xfinity season.